The latest Instagram feature is here! The app has just rolled out group profiles, offering plenty of new opportunities for users like you to grow and thrive online.
Similar to group features available on other social media platforms, Instagram's group profiles allow for incredible collaboration and account growth. Working with your fellow Instagrammers, you can use this new feature to optimize for success and achieve your business goals. Pretty cool, huh?
If you're feeling a little confused by what a group profile could really mean for your Instagram account, you're not alone. Luckily, Plann is here to show you the way and help you get the most out of this latest Insta innovation.
What is an Instagram Group Profile?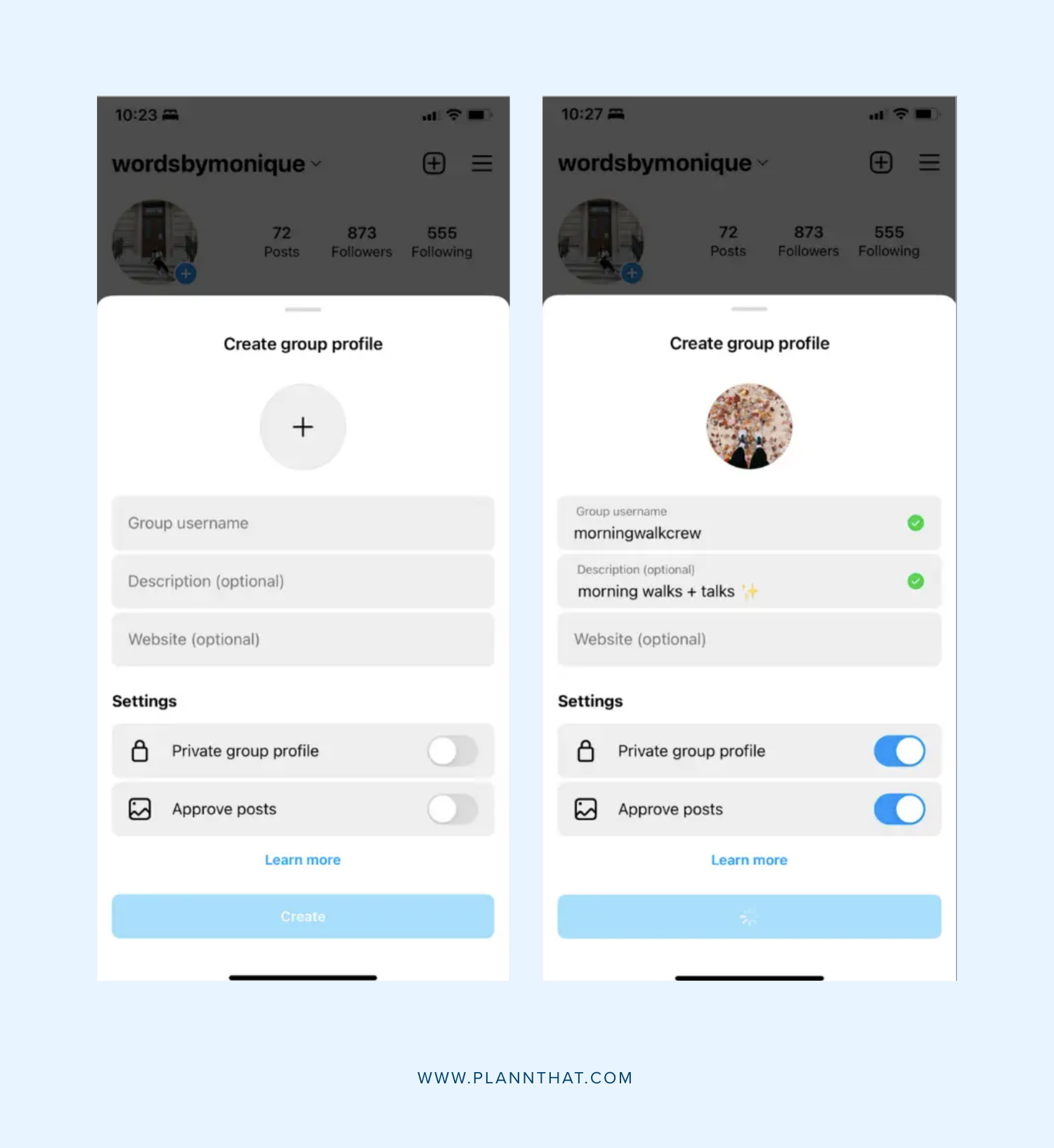 First thing's first: what is an Instagram group profile anyway?
The new group profile feature is designed to mimic the group options you know and love from Facebook and other popular social networks. Instagram group profiles allow multiple members to share content in one place, working together and collaborating creatively.
Including stories, reels, and grid posts, the group profile tool gives group members a chance to build community and meet people with shared interests, all without ever leaving the Instagram app. This is a major advantage for account growth, as well as engagement and other important social media stats.
Why Should You Launch a Group Profile?
Right now, Instagram's group profile feature is only available in Canada, but worldwide distribution is on its way, and we want you to be prepared when it arrives.
Group profiles signal a big change in the way that Instagram works and the tools at your disposal when it comes to building an audience. Learn to get the most possible value out of the change, and you could improve your reach results and overall content performance.
When you share content to an Instagram group profile, you can enjoy incredible reach potential while targeting people who care specifically about your niche and what you have to say. This can help you grow your following and boost your engagement stats in a way that promotes conversions and meaningful conversations.
A group profile is a great place to chat with people who care about your brand and what it can offer. All the while, you can direct traffic to your account and other online destinations, like your website. If you share content that group members love, you could be well on your way to Insta stardom in no time!
How to Use Group Profiles on Instagram
So far, the group profile feature looks simple and easy to use, so there's no reason you can't become the next content expert. With just some basic knowledge, you'll have everything you need to turn this new feature into your personal success story. Let's get started!
Creating a Group Profile
Want to set up a group profile of your own? This is an easy way to take control of your community-building strategy and create the content that matters to you.
Start by navigating to your own Instagram account. Here, tap the + icon at the top right of your screen, and select 'group profile' from the menu that appears.
Next, follow the prompts to set up your page. You'll be invited to add a group name, username, description, and profile picture. Remember to be consistent with your branding, and don't forget to include a few relevant keywords in your bio for extra discoverability.
You can also add a bio link and adjust your settings to determine whether your page will be private or public. Choose carefully! Once your group page settings go private, they'll stay that way.
When your page is live, you're ready to add members and share content! To add users to your group profile page, tap the 'invite' button that appears under your group bio. As an admin, you'll be able to search for any account you want to include in your group. Send an invite, and wait for a response.
Joining a Group Profile
What if you don't want to create your own group profile but would like to join someone else's while you learn the ropes? Easy!
To find group profiles, navigate to your Instagram explore page, and search for the name of the group you want to join. If you don't know of a specific group, try using keyword combinations that relate to your niche, and see what results these trigger.
Once you find a group you're interested in joining, navigate to the group profile page. Here, click the 'join' request button near the top of your screen, and wait for the group admin to admit you.
Alternatively, you might receive an invite to join someone else's group profile. This will arrive as a direct message, and you'll be prompted to go to the group page and accept your invitation.
Using a Group Profile
Once you're part of an active group profile, it's time to share some content with the world!
All you need to do is tap the + icon at the top of the group's profile page. From the dropdown menu, select your content type. In groups, you can share posts, stories, and reels.
Just like any other post, you'll be invited to write a caption, tag other users, and select a location. Finally, choose whether your content will be shared to your account or to the group, and click 'share.'
Your group profile content will show up in your feed, but your group posts won't appear on your personal profile. Instead, they'll be attributed to your account as part of your group community.
Like always, you can continue to comment, share, and engage with other users who love your content. In fact, you can use your posts as a direct source of traffic, encouraging users to follow your personal account.
Plann for the 'Gram
New Instagram features are a great chance to learn more about social media and improve your account's performance.
Be an early adopter of the group profile feature, and get ready to take the next step toward achieving your brand goals.
Ready to get started? Learn more, and Plann your content ahead of time. Sign up for a free 7-day trial of Plann Pro today!