We've all thought about it, but how do you actually quit day job to pursue your passion?
What does that look like?
And how could Instagram help?
We spoke to Danielle Zeman, the creative and clever cookie behind Sweetcheeks Cookies and Cakes about Instagram for business, and how to use the platform to turn your hobby into a side hustle, and then making the leap to full time job.
Grab a cup of tea and something sweet, and get ready to feel inspired.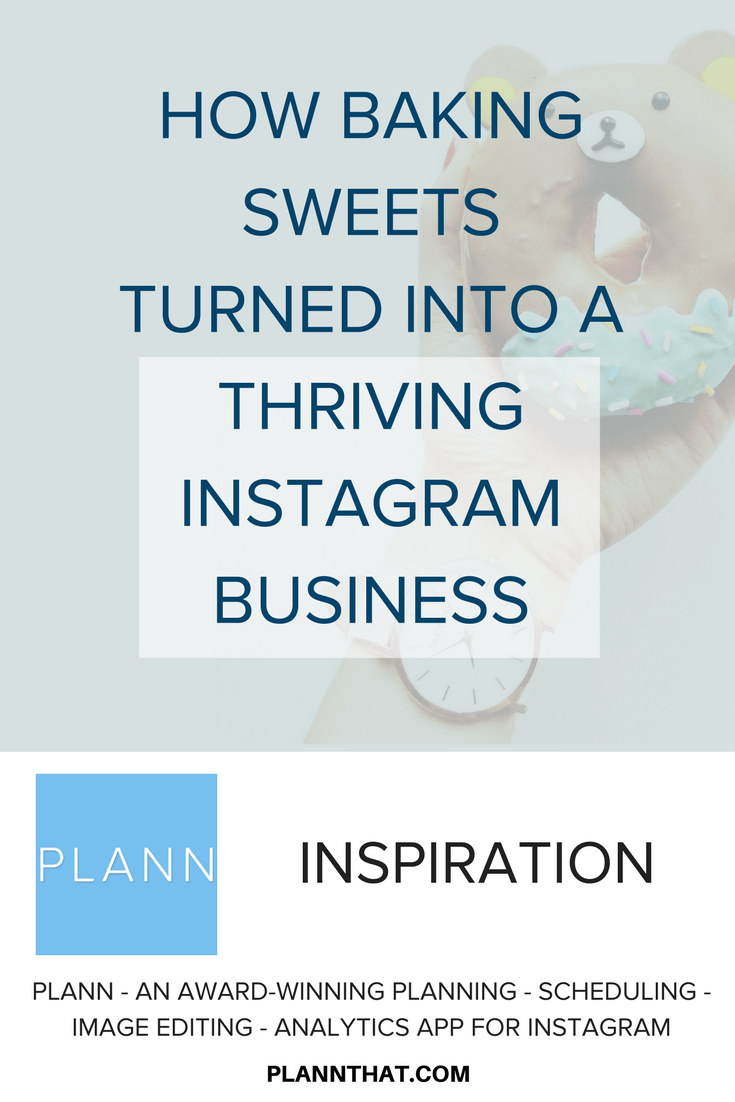 Find out how Sweetcheeks Cookies and Cakes' Danielle Zeman used Instagram for business to transform her hobby into her main hustle
How it all started
Tell us how you got started and the inspiration for Sweetcheeks Cookies and Cakes?
(we LOVE the name!) 
Thanks! I'm often complimented on the name and it gives me a little moment of pride each time I do!
I'd already been running a business since I was 13 years old, and by the time I was 16, I had others subcontracting and working for me in that business (private music tuition). So I had the basics of business down and my hobby of cake and cookie decorating actually evolved quite naturally, bit by bit into a business.
I was teaching music in High School full time, then when orders got a bit more demanding, I dropped back to 4 days teaching, then just 2 days, before leaving that job completely and putting all my heart, soul and sugar into Sweetcheeks. 
We've read that you come from a family of cake decorators – did you always know this was what you would do?
That's right! My Mum and my Nan were both cake decorators, but no, I always saw baking and decorating as a hobby only! Until I was diagnosed with a neurological condition, which makes me prone to 'attacks' whereby I go temporarily blind, lose control of my muscles, and fall unconscious. Before I was diagnosed, these attacks were just happening and we didn't know why. I had a bad one where I cut my lower lip completely in half, so that was the end of my career as a musician. I could still teach of course, but playing professionally was just not going to be possible anymore. So instead of complaining – I got to building another business!
Tell us about how the business has grown over time.  

For a long time I did both teaching music and Sweetcheeks, because I truly love both, but as the business grew and became the name and brand it is today, and having the big clients that we have, Sweetcheeks really demanded more of my time and I was very happy for that to happen.
I still get my teaching fix, as I offer private lessons in cookie and cake decorating from time to time.
I've gone from a one woman part time business 8 years ago, to now being full time for me, with two part time staff.
NEED A DASH MORE INSPO? FIND OUT HOW LIZZIE DARDEN TURNED HER INSTAGRAM INTO A PROFITABLE BUSINES IN 12 MONTHS
Using Instagram for Business
You've created some beautiful pieces for some of the biggest brands in the world, how did that happen? Talk us through it!
Thank you! I feel so lucky to have the clients that we have, and never take it for granted. I'm especially lucky in that we've never actually had to 'go after' any of them, they have all come to us because of the name and quality that Sweetcheeks is known for.
Our first big one, and continues to be probably our biggest one today, is Tiffany & Co. We've been creating their cookies for all their Australian stores for over 5 years now. We've also created and continue to create cookies for Dior, Ferragamo, Gucci, Lulu Lemon, Forever New, and too many more to mention.
Instagram for business is so invaluable though – I say that we didn't have to 'go after' these clients, but really, it's our marketing along with our product and name that has them calling us wanting to order our cookies and cakes. You can have the most beautiful, most fun, or most appealing product in the world, but if no one can FIND you, you're probably not going to do too well in business!  
GOT BIG BUSINESS PLANS? FIND OUT THE BEST WAY TO WORK WITH INTERNATIONAL BRANDS 
Did you have a strategy for growing your Instagram?
The strategy to start with was to always grow naturally and not to focus too much on the number of followers, but the 'profile' of the follower – we want people who are in our target market, people who are interested in our product and who ultimately would consider purchasing our product.
I've done giveaways, collaborations, and shares with other businesses – some work (i.e get the attention of new qualified followers), some don't and I'm always happy to try something new when it comes to Instagram for business.
These days (and actually since Plann came into my life) I do have much more of a set social media plan which basically revolves around Instagram, and I am addicted to keeping it that way. From colour schemes (you'll see it's all in blocks of one particular colour, it might be all yellows, then pinks, whites, blues, greens and even greys) to hashtags and engagement which is REALLY high on my priorities. I answer pretty much every single comment on any of my posts, and try to get back to all DMs as quickly as possible, whether they be an enquiry or just a nice comment on what I've posted on IG stories that day.
What impact has Instagram had on your business?
Instagram for business, at least for a business like mine, is absolutely essential. What we do is so visual, and that's what Instagram is all about.
I'd say about 30% of all our leads come from Instagram these days – it's taken time to get it there, but I've noticed a huge surge in that number since developing an actual schedule and 'Plann' for my Instagram account. It's clear that I need to put a lot of love and attention into growing the account and making it enjoyable for people to follow.
Sweetcheeks ships cookies literally all over Australia – everywhere! So it's important to be able to reach potential customers, all over Australia, and Instagram plays such a vital role in that process. I actually recently caught the attention of the instagram for business expert Sue B Zimmermann – she's over in the U.S.A and asked for some cookies to promote her latest seminar – which she then shared on her IG. I actually have quite a few clients in the USA and UK in particular who purchase from me, for their family and friends here in Australia.
The right hashtags coupled with the right image, can have a huge impact, either suddenly, or over time.

Asking for the sale
What Calls-To-Action have you found have been the best way to get your audience to purchase?
Well let's be honest – we ALL love a freebie – so if the call to action has a deal or something attached to it e.g 'call/DM/email now to receive free shipping for your order' it always gets noticed more, creates more urgency to actually 'call now'
What's the number one piece of advice you'd give to other business owners who are trying to market using Instagram?
Honestly? Download the Plann app and get scheduling! Scheduling my instagram posts honestly changed our account (and my life!) and it's efficiency. Followers now see us regularly in their feed, instead of once, maybe twice a week, or just when we have something new to post.
This app ticks so many boxes – I can load the photos, plan the LOOK and style of the feed, I can develop HASHTAG banks – because I need to use different ones for cakes than I do for cookies, and different ones for corporate cookies than I do for wedding cookie favours. I can manage the FREQUENCY at which we post, and now has a few handy STATS like growth and best time of the week/day to post based on my best performing previous posts.
On creating a brand styling on Instagram
There's a definite minimal, beautiful style behind the layout of your gallery. What is going on in your mind as you plan your Instagram feed?
In my mind when I'm taking photos specifically for Instagram, I always want a fresh white background, so there's nothing to detract from the cookies, cake or cupcakes in the shot. I absolutely use props from time to time, but even then I tend to use the same few props that compliment, not detract – for consistency in the look and style of the feed.
Looking back on my feed prior to using colour blocking and the same background – yes the cakes and cookies are still gorgeous, but I don't feel the feed flowed as well – you want to make it very easy on the eyes, very pleasurable for people to look and scroll through. I don't want them to just double tap the one photo that comes up in their feed – I want them to scroll and keep scrolling because they love everything they see.
You've also got a great eye for styling and taking your Instagram shots – could you share any food styling or photography tips you live by?
Number 1, above all else, photograph in odd numbers of your product – so you'll never see a photo of two cookies on my feed or website; 3 or 5 is great, and every now and then I'll make an exception and post or take what I call a 'crowd' shot – for example; 100s of Tiffany & Co cookies all in their rows, waiting to be packaged.
And any props should be a compliment to the shot, not the focal point. I do like to get some branding in there sometimes – I LOVE all things branded and have leggings, a beautiful wooden chopping board (which has NEVER had a knife taken to it) a necklace, and of course something as simple as business cards or postcards – they can all make great shots when used the right way.
NEED TO KICK START YOUR INSTAGRAM STRATEGY? FIND OUT HOW TO USE PLANN'S PERFORMANCE METRICS AND START ANALYSING
What's your favourite thing about being on Instagram?
As a user of Instagram for business, my favourite part would be connecting with other like minded business owners and followers, so the engagement part of it all. I've always been quite a shy person but one that LOVES people and getting to know them, hear their stories, and I LOVE to be able to help – whether that be in the form of advice to a new business owner, or to create amazing cookies for someone in Darwin or Far North QLD where they find it hard to find beautiful delicious cookies, or even to get a comment back from someone I look up to on Instagram
Lastly, how do you keep yourself healthy? We've been sitting discussing how much cookie dough we would eat within 3 months of running a business like yours!
Well at the moment I'm 36 weeks pregnant and taste testing a little more than usual, but I'm actually (gasp) not THAT much of a sweet tooth – if you offer me cake, or a bowl of wedges – I'll go the bowl of wedges 90% of the time. I DID however put on 6 kilos in my first year of business… and then realised you don't NEED to taste test everything, Danielle! I've worked so hard on my recipes and they turn out the same every time – I already know they taste amazing, I don't need to check.
But when you work so much and such long hours (contrary to popular belief – I don't just sit and play with sugar all day, it's a really labour intensive profession I've found myself in) – you do really need the energy to keep going and so you have to look after yourself. I have an amazing trainer who has set me a food plan that is super easy to stick to the majority of the time, and then I let myself have a treat when I feel like it – food is fuel but it's also to be enjoyed, and my whole business is creating that food to be enjoyed.
I'm actually just about to launch our next project and product line, which I'm really excited and passionate about; cupcake mixes that are egg, nut and dairy free. There'll be a gluten free line, and a bunch of yummy scrummy flavours. Still more of a 'sometimes' food, but a LOT healthier than what's out there on the market at the moment and all real ingredients – there are no numbers, preservatives or words you won't recognise in the ingredients list. So when I DO feel like a treat, the vegan chocolate cupcakes are a bit of a 'go to' at the moment!
So there you have it! Do you have any tips on using Instagram for business that you've found helpful? Comment below to share!
Feeling inspired to start using Instagram for business and turn that hobby into a side hustle?
Download Plann now from the iOS and Android stores now, for everything you need to plan, edit, design, schedule and analyse your Instagram to grow a business online.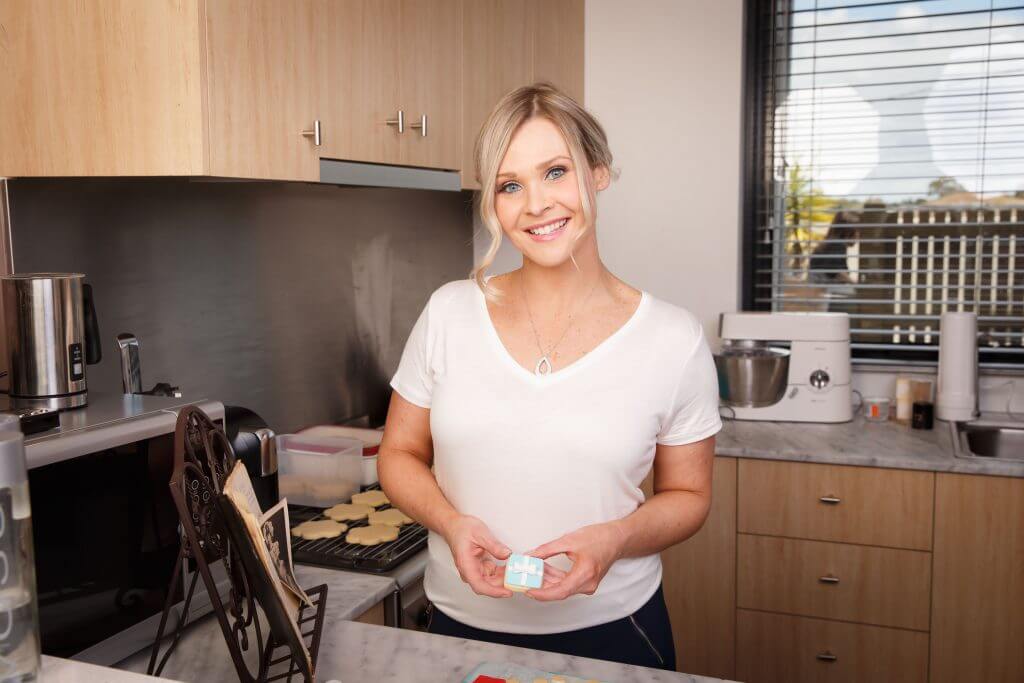 Hello Danielle!
Sweetcheeks Cookies and Cakes create custom Cakes, and cupcakes in Melbourne and ship their custom cookies Australia wide. Clients include Tiffany & Co, Dior, Ferragamo, Lulu Lemon, Forever New, TV WEEK Logie Awards and more.
From Birthdays, to Weddings, and Corporate Functions to Marketing campaigns, they have the look and taste to make that special event even more memorable. And now you can mix your creativity with Sweetcheeks great taste with their at home cupcake mixes shipped Australia wide.
You can find Danielle and Sweetcheeks Cookies and Cakes over on Instagram here.