No matter where you're focusing on energy on social media, one thing is for sure — captions are king.
Yes, they're the words that accompany your image or video, but they're also so much more. They're a storytelling device and an opportunity to transmit your unique message to your audience in a way that images and videos simply can't (but of course, all of these elements play an important role) Captions can also tell your audience what step to take next — whether it's visiting your website or booking a consult call with you — which increases your sales and conversions.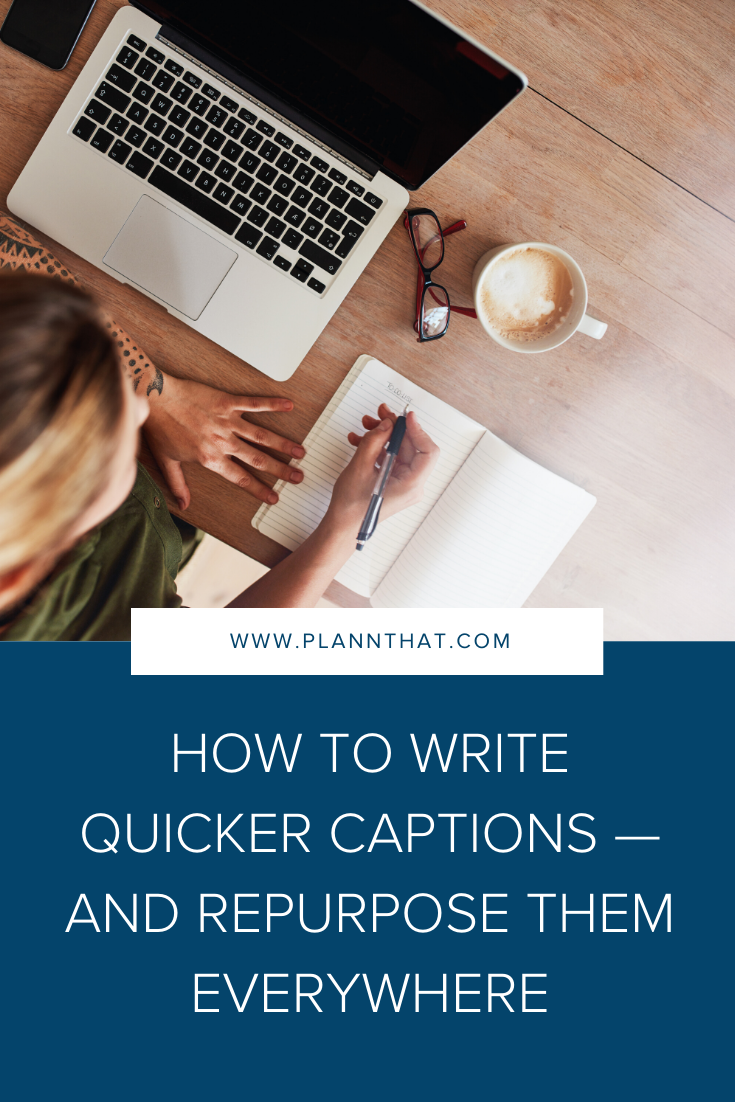 Yep, there's no doubt that captions are a powerhouse marketing tool. But, let's be honest — they can also be time-consuming, especially if you don't consider yourself a wordsmith. And, we would never be your words to be the thing holding you back from showing up consistently on social media. 
So, in this article, we're taking you through everything you need to write high-quality captions, quickly — from where to find caption inspiration, the speedy caption writing method, and how to repurpose the same caption across 3 different platforms. 
How to have your captions written for you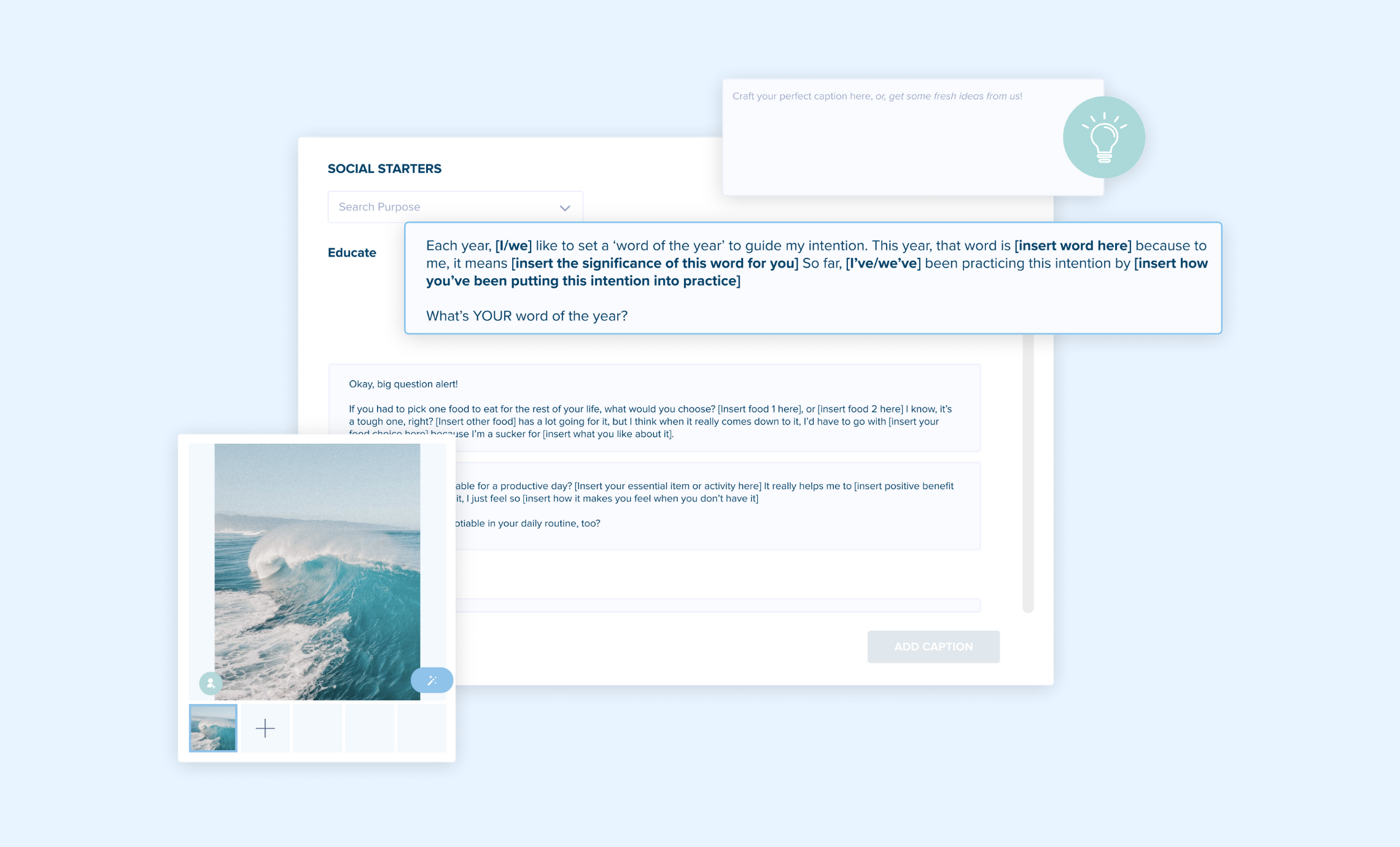 Feel like you have to reinvent the wheel every time you post a caption? Not anymore! With our brand spankin' new, done-for-you social starters, we've done all the heavy lifting for you! Now if you're a Plann Plus user, you can find hundreds of prewritten captions from these categories:
Behind the scenes

Community
Educate
Engage
Inspire
Product
Run a sale
Take action
Social Proof
All you have to do is find a caption template you like, fill in with your own details, add some hashtags and voila, you're ready to post! It's a first-of-its-kind feature that is guaranteed to chop your caption writing time in half.
Where can I find Social Starters?
When creating your next Instagram Post, you'll spot a new lightbulb icon designed to give you those lightbulb moments we're wishing for you when you're stuck thinking of your next caption. Currently, Social Starters are only available with Plann Plus (any of our upgraded plans) on Plann Desktop at www.plannthat.com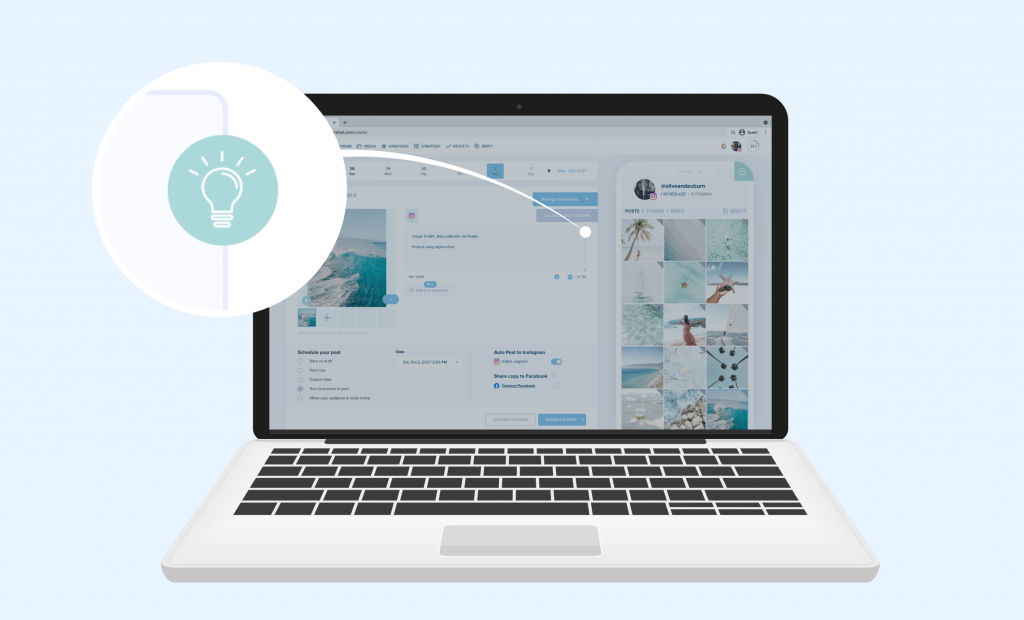 Where to find caption inspiration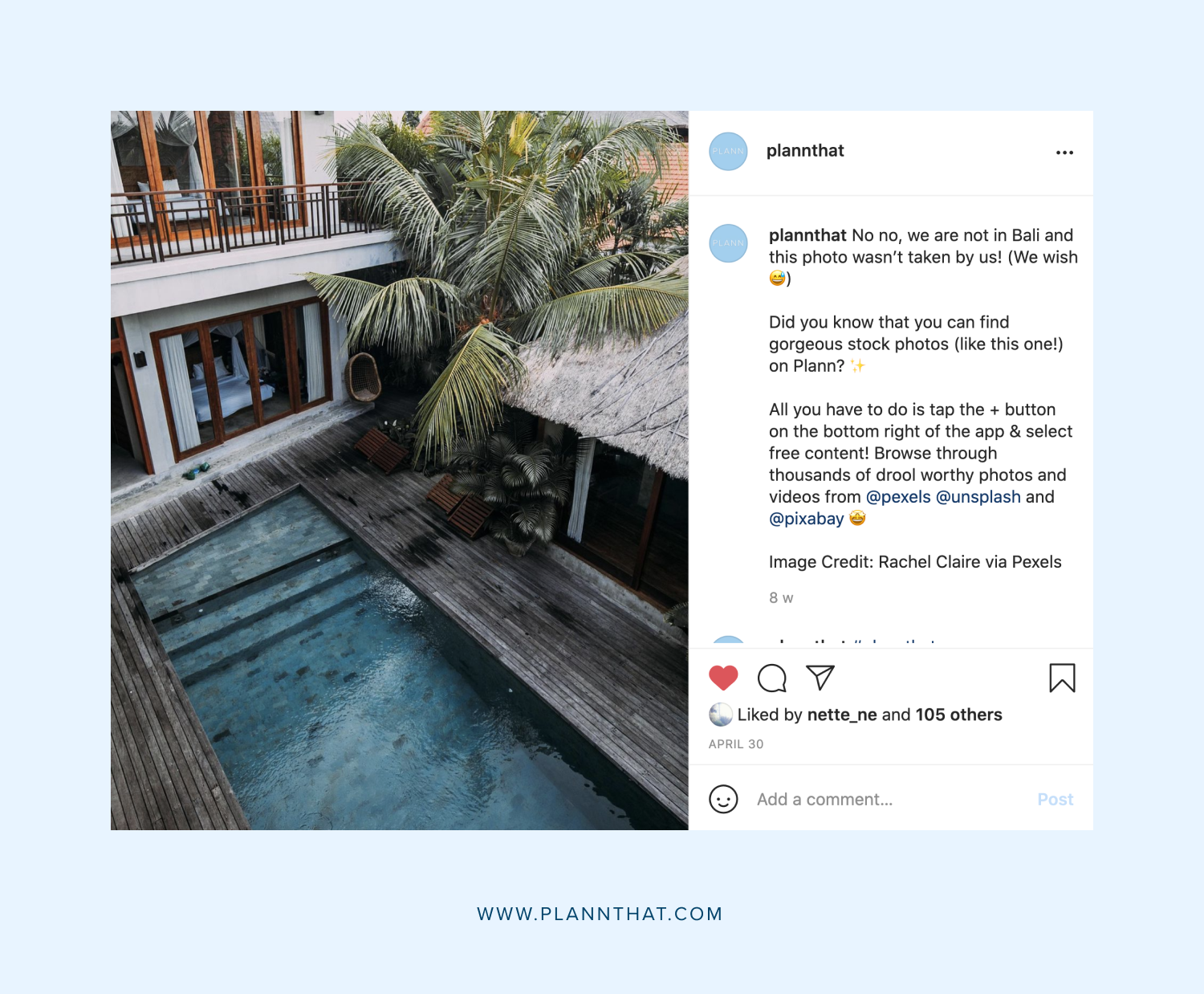 Ever have those days where you want to post on social media, but are drawing a complete blank on what to write? You're not alone — writer's block is real! The good news is, caption inspiration is all around you. You just need to keep your eyes peeled and your ears open! Here are some strategies you can use to source your next caption:
-Eavesdrop on conversations! On the bus, in the grocery store, at work… the world around you can be great fodder for captions. Say, for example, you're a dating coach and you hear a woman complaining to her friend about how her boyfriend hates talking on the phone but is otherwise a great boyfriend. This could spark inspiration for a caption on different love languages or communication styles.
-Lurk in Facebook groups. These can be a goldmine of insight into the hopes, struggles, and experiences of your target audience, and can help you write captions using the very same terminology they can use to describe their pain points. 
-Talk it out! If you struggle with writing, you can voice bomb your ideas onto your phone, then use a transcription service like Rev or Otter.ai to turn your voice into words. Both iPhones and Android devices also have their own in-built transcription tools you can use to this, too. Then, you can use an editing plug-in like Grammarly to tidy up your note into a polished and coherent caption. Believe it or not, this very strategy was used in the blog post you're reading right now — as it was repurposed from a webinar!
-Start with your image or video. We tend to start with an idea for a post then find the perfect visual to accompany it, but it can also work the other way around. We have an extensive library of beautiful few images and videos inside Plann that you can use as the starting point for your caption. For example, perhaps you find a beautiful picture of a turtle that reminds you of the first time you saw a turtle with your dad in the wild. You could use that as inspiring to share a touching story about that!
-Use our caption calendars: If you're feeling stuck on captions, our free monthly content calendars can be a life-saver! Not only do we provide 30 days of content ideas and beautifully designed Canva templates, but it now also comes with daily content prompts. All you need to do is take our caption starters, fill in the blank with your own content, add your own hashtags and schedule it to your socials. Psst…. many of these are also now available in our social starters tool, so you can customize your caption right inside Plann
The 5-step method to writing quicker captions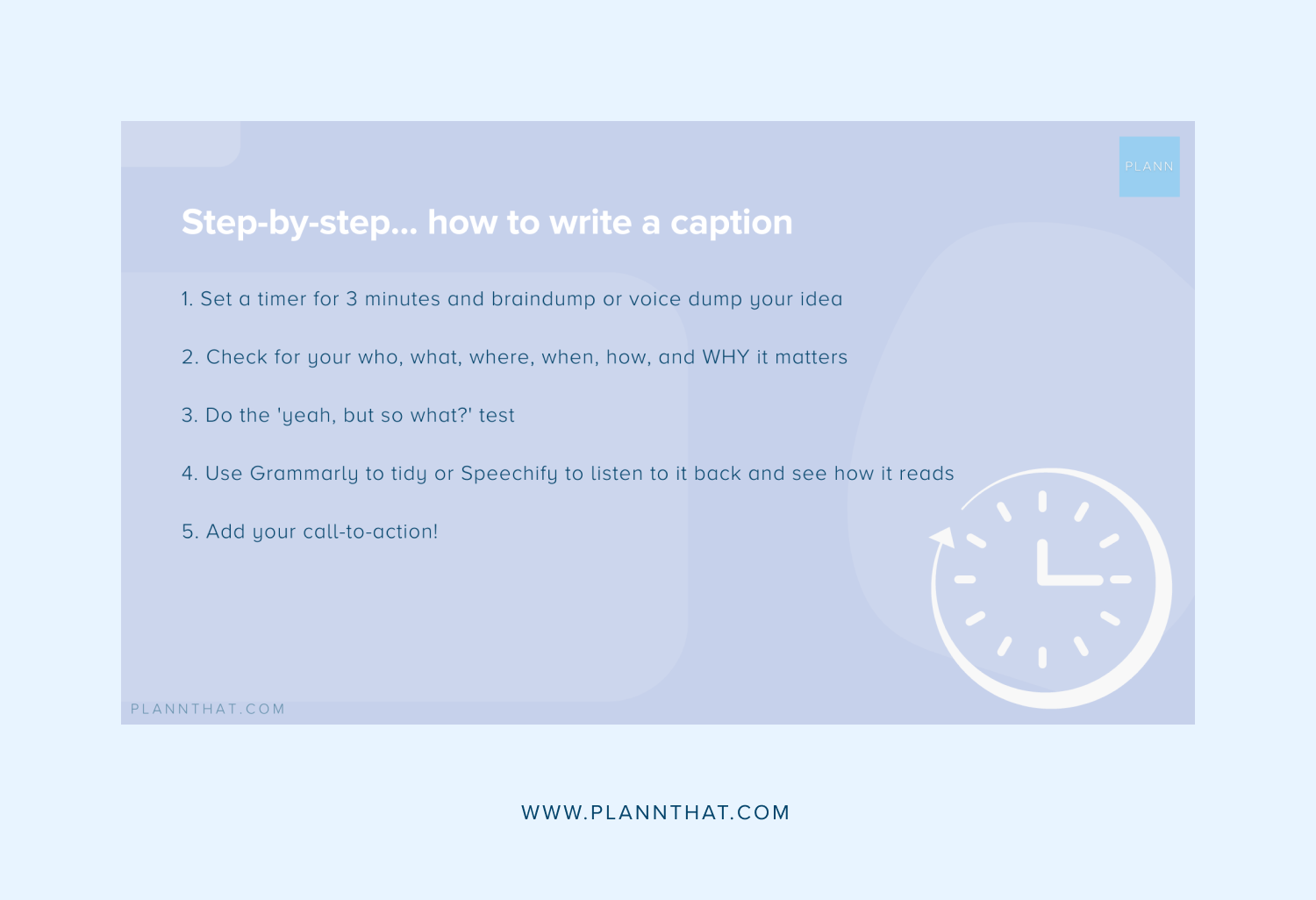 1. Set a time for 3 minutes and braindump your idea in a Google Doc or Plann, or voice dump using your phone. Remember, don't police yourself! It's about writing first and editing later
2. Check for your who (who was involved in your story?) what (what happened?) where (where did it happen), when (what was the timeline of this story?) how (what were the steps or events leading up to it? And most importantly, WHY it matters (how is this relevant to your audience?) While you won't always have all of of these, ticking off most of these is a sign that your caption is valuable and engaging
3. Here's a great writer's trick that will help make your caption punchier and more effective. Do the 'yeah, but so so what?' test. Each new sentence in any piece of writing should bring something new to the table — whether it's sharing new information or coloring a story with more context. So, to make sure you're doing that when you write captions, ask yourself "so what?" with every line you've written. If you can't justify why that sentence matters, it's gotta go! I
4. Use Grammarly to tidy up the spelling, punctuation and grammar of your caption. You can also read it back or use a tool like Speechify to make sure it reads well
5. Add your call-to-action. This is the part of your caption that tells your reader what to do next, and it's a very important part. Every single one of your captions should have one!
Some examples of effective call-to-actions include:
Tag someone you know who NEEDS to see this
Come back tomorrow for an exciting announcement
This was just a taste. Get on the list for the full enchilada
Tag 3 friends and we'll DM you a 30% off promo code instantly
Save this post to read it again later
How to repurpose your captions across multiple platforms
The beautiful thing about a great caption is that you don't have to use it only once! Once you have your primary caption sorted, you can tweak them and repost it to platforms (such as Instagram, Facebook, and LinkedIn) This is a strategy we use frequently at Plann HQ to get more bang for our content buck. 
Here, we'll show you how you could use the same caption from our content calendar across three different platforms.
Instagram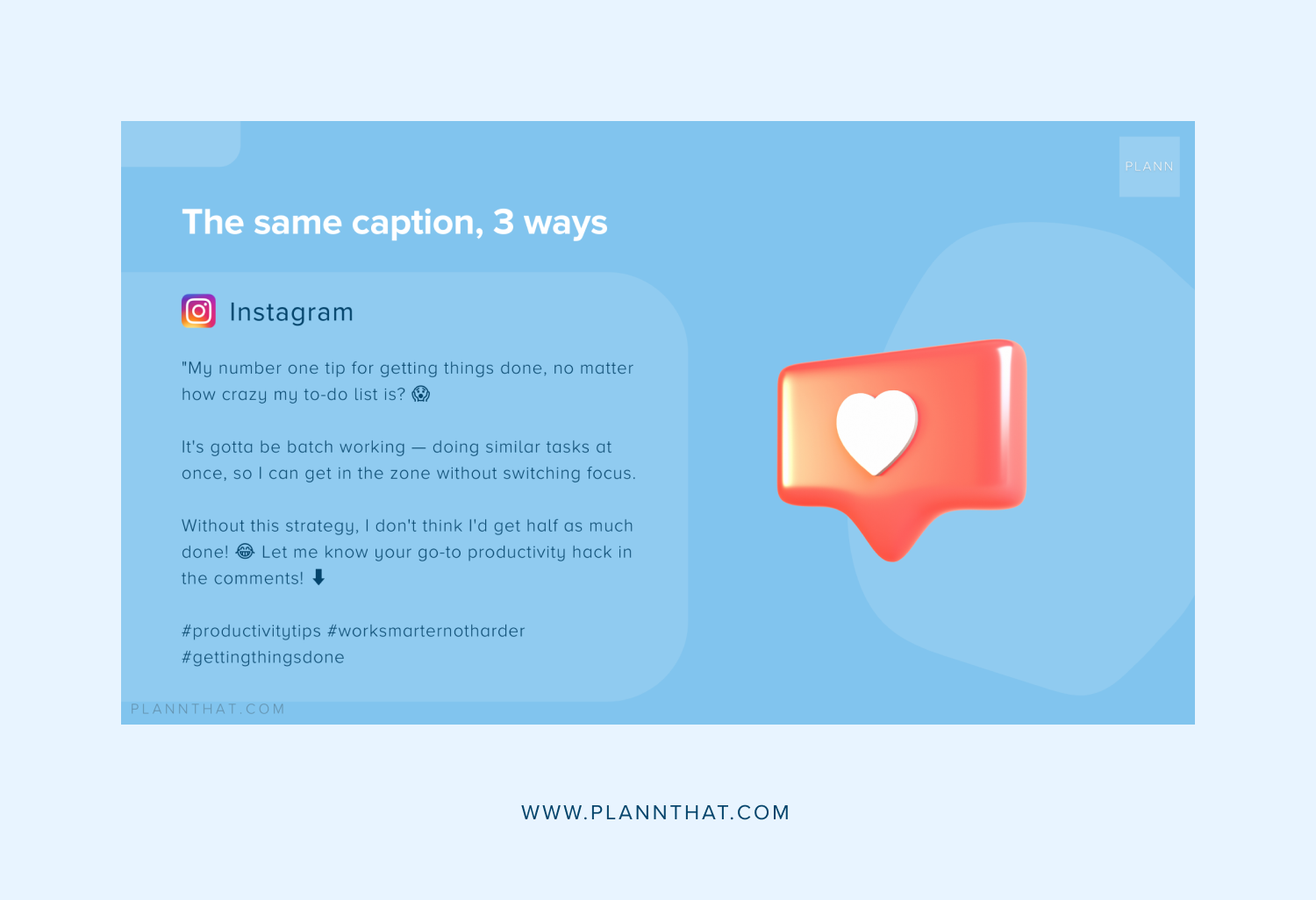 Copy and paste version: "My number one tip for getting things done, no matter how crazy my to-do list is? 😱  It's gotta be batch working — doing similar tasks at once, so I can get in the zone without switching focus.  Without this strategy, I don't think I'd get half as much done! 😂 Let me know your go-to productivity hack in the comments! ⬇️
#productivitytips #worksmarternotharder #gettingthingsdone
As Instagram has the youngest audience base of these three platforms, it tends to be the most fun and casual. As you can see we've thrown some slang and emojis in there to make it more engaging. We've also broken it up as people tend to skim on Instagram, and we've added a call to action to generate engagement by asking them to share their go-to productivity hack in the comment. And, of course, some hashtags for extra Instagram visibility.
Facebook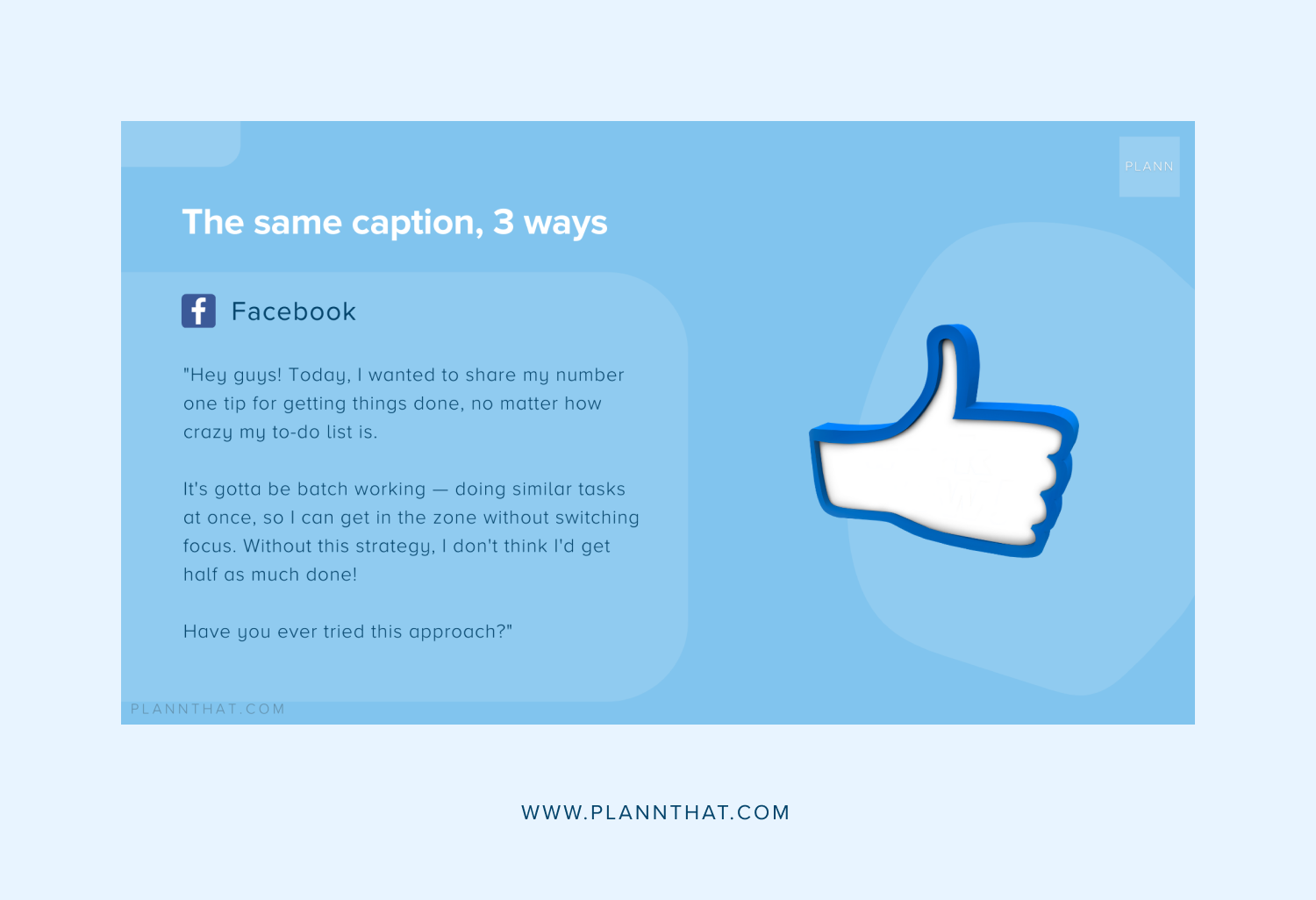 Copy and paste version: "Hey guys! Today, I wanted to share my number one tip for getting things done, no matter how crazy my to-do list is. It's gotta be batch working — doing similar tasks at once, so I can get in the zone without switching focus. Without this strategy, I don't think I'd get half as much done!  Have you ever tried this approach?"
You can think of Facebook as that warm, friendly aunty. As you can see, we've taken out the emojis and hashtags as they obviously don't really translate to Facebook. We've also made it slightly less casual, but also still conversational like we're talking to the reader not just at them. We're still asking a question at the end, but in a more thought-provoking and subtle manner
LinkedIn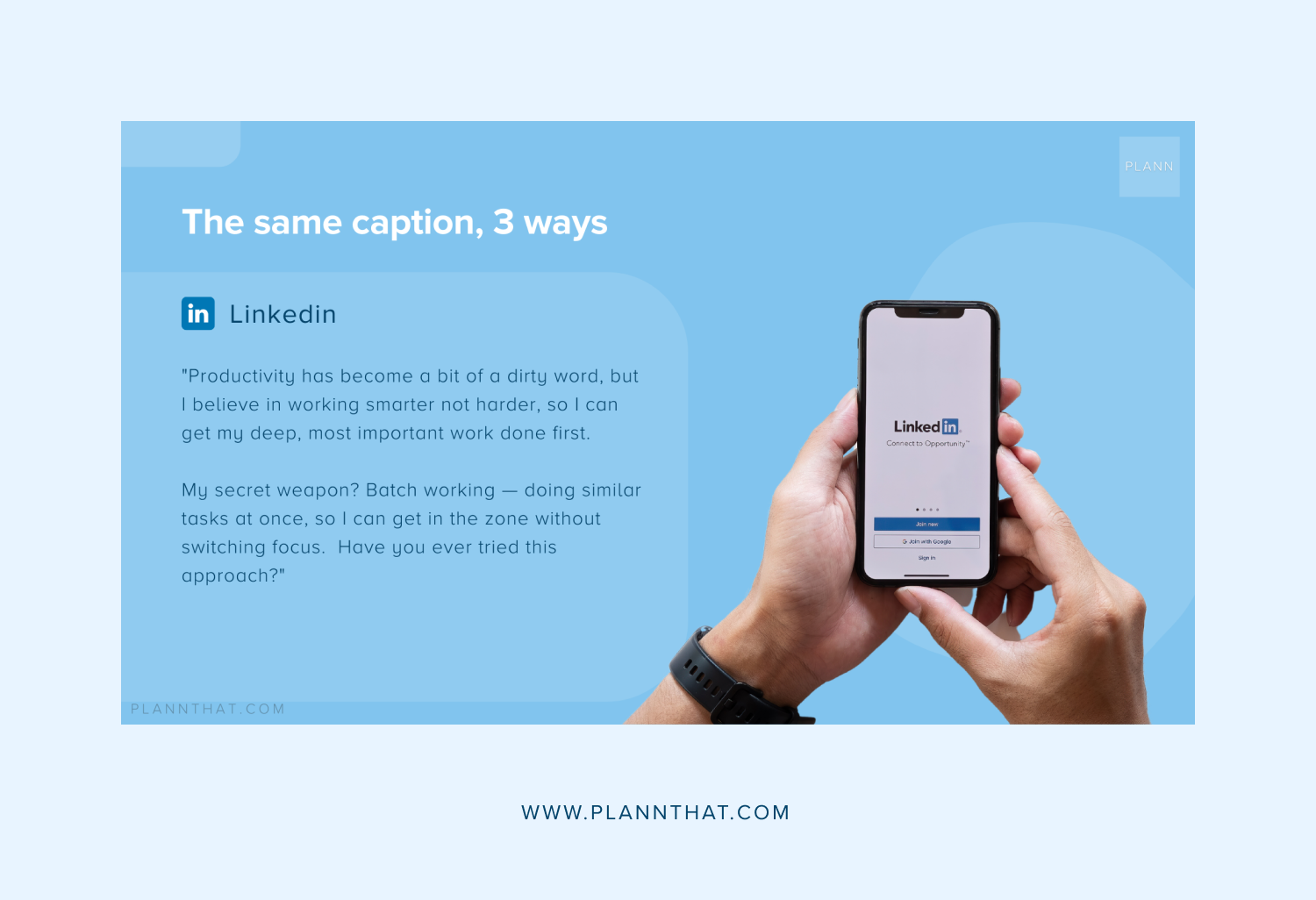 Copy and paste version: "Productivity has become a bit of a dirty word, but I believe in working smarter not harder, so I can get my deep, most important work done first. My secret weapon? Batch working — doing similar tasks at once, so I can get in the zone without switching focus. Have you ever tried this approach?"
LinkedIn is more like the corporate cousin. LinkedIn started as a professional networking platform but in recent years we've kind of seen it transition into more of social media platform. But as you'll see, this has a more serious, less flippant tone. It feels more like a thought leadership post, positioning you as an expert. The key here is to talk about this tip within the context of work so it's LinkedIn appropriate. However, you're still encouraging conversation with the call to action at the end.
Repurpose and schedule your content with Plann!
 It's extremely quick and easy to repurpose and tailor these across the various platforms using Plann. In create tab, you just head to this blue button at the bottom right of your image, select 'recreate' and choose which platform you want to repurpose it on. Then, that will pull up a window where you can edit your caption and make it appropriate for that platform. Once you've got that, just hit schedule and watch your masterpiece go live