It's twenty-twenty-two.
The perfect year to set social media goals which will help you crush your business objectives and see genuine growth in your business.
By the time you get to the end on this article, you'll know:
• What is your purpose on social media?
• How to set realistic social media goals
• What you need to accomplish to achieve your intentions
• How to track your goals and adjust your strategy
Sound good? Let's get cracking!
Why You Need to Set Goals for Social Media
Without clear goals, it's hard to know how well your social media strategy is performing. Goals give you metrics you can use to measure your progress, stay accountable and help you become 10x more successful.
Before You Set Your Social Media Marketing Goals, Do This
#1 Know Your Objective
Before we jump into setting and achieving goals, you need to lay the groundwork by answering this question:
"What do I want to achieve with my social media accounts? What is my purpose?"
For example:
"I want to use my posts to educate my target audience about the damage plastic waste causes in the ocean."
This is your objective. Think of it as your road map or a guiding light between all the double taps, re-tweets and duets.
Next, you need to identify how you will know if you've been successful.
For example:
"I know I will have achieved my purpose by getting 10,000 people to signup for local beach cleans."
Creating your objective and benchmark of achievement FIRST will make sure you're setting goals on a solid foundation.
#2 Set SMART Social Media Goals
There are many goal-setting techniques out there, the ever-popular SMART method stands out from the rest.
It will help you weed out those impractical goals and the ones that aren't going to move the needle forward in your business.
When setting your social media goals, make sure they follow the SMART framework:
• Specific: Dump the wishy-washy statements. You want clear and defined goals
• Measurable: You must be able to track and measure your progress
• Achievable: Dream big, but also assess how likely it is for you to achieve the goal
• Realistic: Your goals need a healthy dose of practicality and realism. You want to make sure you're not going to have to sacrifice the rest of your priorities to achieve them!
• Time Sensitive: Without a clear-time frame, you'll find it tough to get started or will lose interest before you finish
#3 Conduct a Social Media Audit
Next up: setting your baseline targets for your social media goals.
You can't have a goal like 'gain 10,000 followers in a month' when your current growth rate is 150.
Baselines help you keep your goals trenched in reality and laser-focused. Plus, prevent illusions of grandeur that will leave you feeling disheartened! 
Go through Plann's 'results' section for your accounts and track where you currently are with your growth rate, engagement, and conversions.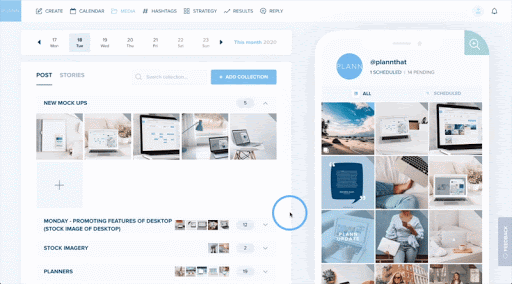 Once you have a lay of the land, you'll be in a much better position to smash your social media goals for 2023.
#4 Use a Calendar & Tracking System
Once you've set your goals, you need somewhere to track them.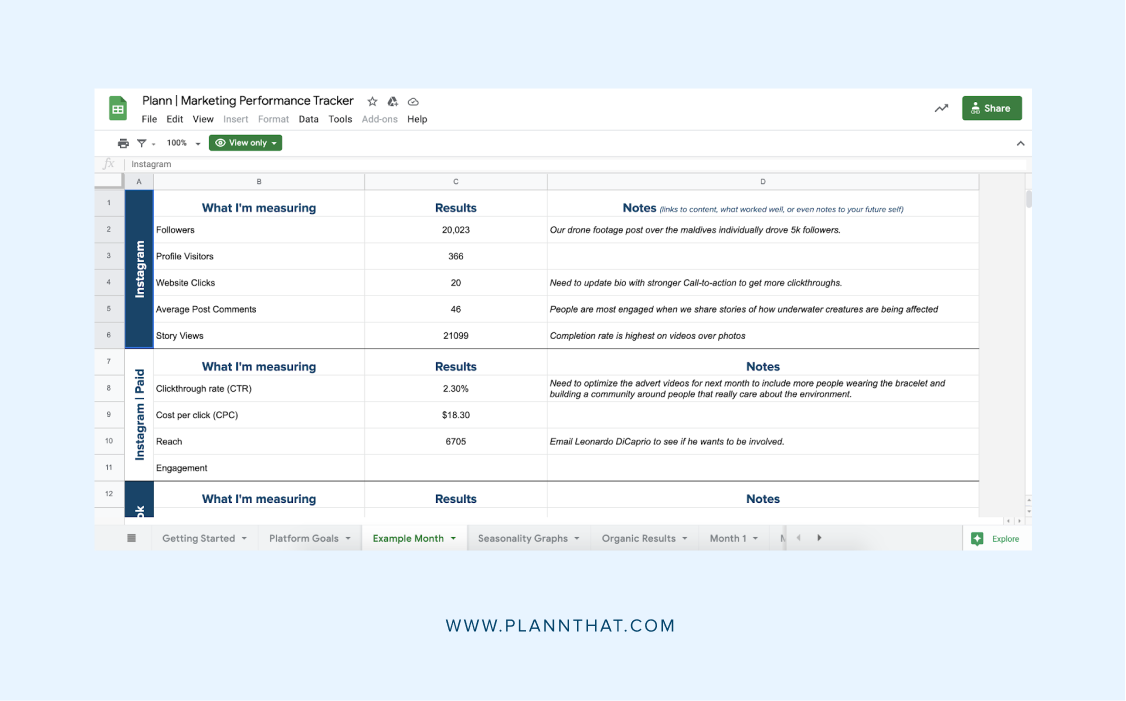 Using a tracking system like our Marketing spreadsheet will keep all your data in one place, and you can see your overall performance at a glance.
Download our tracking spreadsheet and track your:
• Platform goals
• Organic results
• Monthly goals and results
• Seasonality trends
A social media calendar helps make sure you schedule in all the actions for your goals.
For example:
If your goal is brand awareness, you need a consistent posting schedule. 
You need to show up on Instagram Stories, feed posts and Reels to boost your chances of new people discovering your brand and engaging with it. The best way to stay consistent with any social media platform is by using a calendar and marrying yourself to it.
Use Plann's calendar and custom event feature to schedule in your social media tasks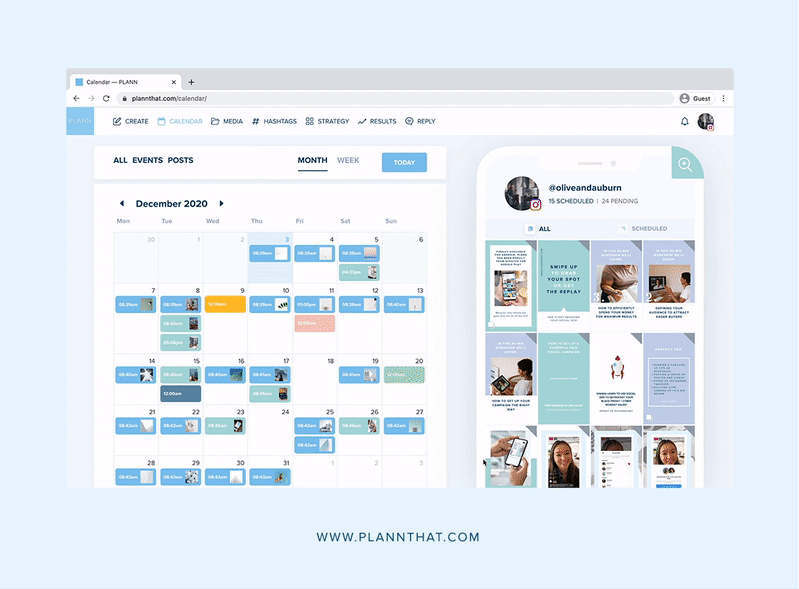 4 Social Media Goals Your Business Should Set
Not sure what to even focus on when it comes to growing your social media? These metrics are the perfect place to start.
#1 Growth
Growth (i.e. the number of followers) you have is a vanity metric, but it's still important to track.
Why?
It gives you information on your current growth trajectory.
If you're in the red, ask yourself why:
Are you not posting regularly or at the wrong time?

Are the hashtags you're using not giving your account traction?
These clues can help you tighten up your social media strategy and stop any leaks on the path to achieving your goals.
Set Your Goal: If your baseline is 1,000 new followers a month, challenge yourself to hit 1500. State clearly how you plan to improve your growth.
E.g. Add Instagram Reels to your content strategy and commit to uploading two per week.
Ready, Set, Goals
Get your social media on track for 2023. Download our FREE marketing tracker and make 2023 the year you see the RESULTS you want from your content.