How's your Instagram following looking? Is it continuing to grow, or are you struggling to attract new, high-quality leads to your Instagram profile?
We've got an idea: why not spice things up with an Instagram giveaway? It's a fun way to grow your brand, give back to your community, and reach new potential customers.
But before you can host your first contest, there are a few things you need to know to run a successful giveaway, including Instagram's rules and the best ways to promote your Instagram contest.
Let's start with why you should consider giving away something for free in the first place.
The Benefits of Running a Successful Instagram Giveaway
Benefit #1: Boost Brand Awareness
People love free stuff.
"Buy 2, get 1 free!"
"Grab a free sample!"
"Sign up for a free trial!"
All of those sound like irresistible deals, right? Your giveaway is no different.
You're enticing Instagram users to engage with your business with the promise of free products or services. It's an excellent strategy to increase brand awareness and grow your audience.
Plus, if you make it an entry requirement to tag a friend or share the post to Instagram Stories, you're instantly increasing your organic reach and attracting potential followers who are likely to buy your products or services.
Benefit #2: Boost Engagement on Your Instagram Post
The Instagram algorithm feeds off user engagement.
The more people who like, save, comment and share your post, the more the Instagram gods will push out your post to a broader audience.
Essentially, you're hacking the system to get on the algorithm's good side.
By encouraging followers to like, comment, and share the post, you're instantly boosting engagement and helping your brand cut through the noise and bump your content to the top of users' feeds.
Benefit #3: Gain More Instagram Followers
The number one reason brands host giveaways? New followers.
If you want to stand a chance to win the prize, you usually need to follow the page, making giveaways one of the best ways to grow your follower count.
You're probably thinking, "but aren't those dud followers?"
Well, yes and no.
Some people will unfollow you after the competition ends, but most will stick around.
And the best part? Those who stick around are most likely your ideal target customer.
Benefit 4: Increase User Generated Content
Social proof is a powerful way to increase sales on social media.
It shows your followers that your product or service gets results.
Giveaways on Instagram can help you create a bank of social proof by encouraging users to create user-generated content (UGC).
Confused?
Well, instead of making your giveaway rules "tag a friend", you can stipulate that users need to use your product in a post and tag you to win. When done right, you can potentially receive hundreds of UGC pieces that you can share for the next couple of months as Instagram posts.
Even if you don't make your giveaway product-centric, encouraging users to share your giveaway on Instagram Stories is another way to get their stamp of approval. After all, shoppers are more likely to trust a brand recommended by a trusted source like a friend, family member, or an influencer.
How to Run an Instagram Giveaways
Curious about how to do a giveaway on Instagram?
Follow these five steps, and you'll be hosting your first Instagram contest like a pro in no time.
Step 1: Choose a Prize for Your Instagram Giveaways
Before you can run your first Instagram giveaway, you need to decide on a prize.
Remember, it needs to be something that excites people. The more irresistible the offer, the more entries you'll get.
Here are some Instagram giveaway ideas:
• Cape Union Mart (an outdoor adventure brand from South Africa) hosts regular giveaways where followers can win premium hiking gear and shopping vouchers.
• Team up with other brands in your space. Running a hotel? Approach other brands within the travel space. You could host a joint giveaway with a winery or a tour operator.
• Offer a free training session. If you're a service-based business, you can reap the benefits of Instagram contests by giving away a free program or one-on-one session with you.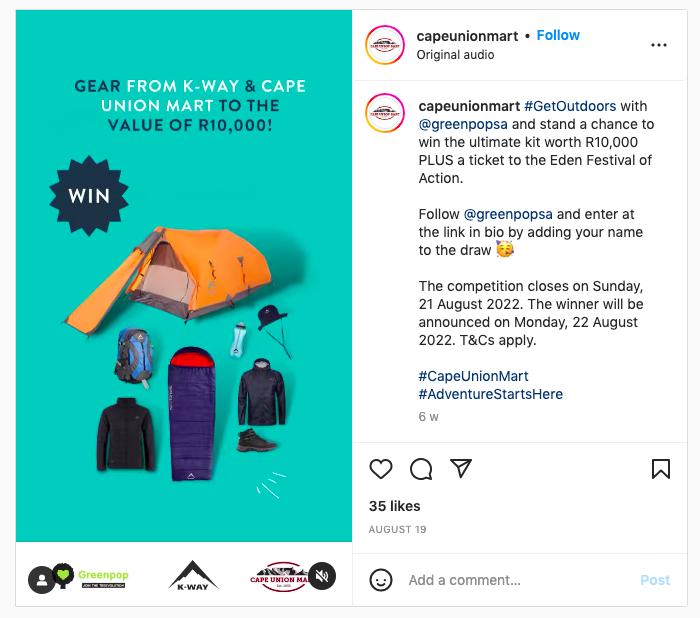 Step 2: Decide on Your Giveaway Entry Criteria
Next, it's time to iron out the finer details of your Instagram giveaway rules.
The first step: What actions do you want users to complete to become eligible to win the prize?
You can keep it simple and go with the standard "follow, like, share, and tag a friend", or you can think outside the box but keep it simple. The more actions people need to complete, the fewer entries you'll attract.
Whatever you choose, asking users to tag friends or share the post to their Stories and tag you is a must. That's how you will instantly boost your campaign post's reach and see a massive spike in engagement.
Once you have your Instagram giveaway rules, you'll want to make sure you tell users when the contest ends and how the giveaway winner will be contacted.
Step 3: Create a Giveaway Hashtag
You don't need to create a custom contest hashtag, but it's a nice touch for brand awareness. It's also helpful if UGC is part of your Instagram giveaway goal.
The campaign hashtag will make it easy for you to keep track of entries, share posts, and save your favourites for later.
Step 4: Create Your Instagram Giveaway Post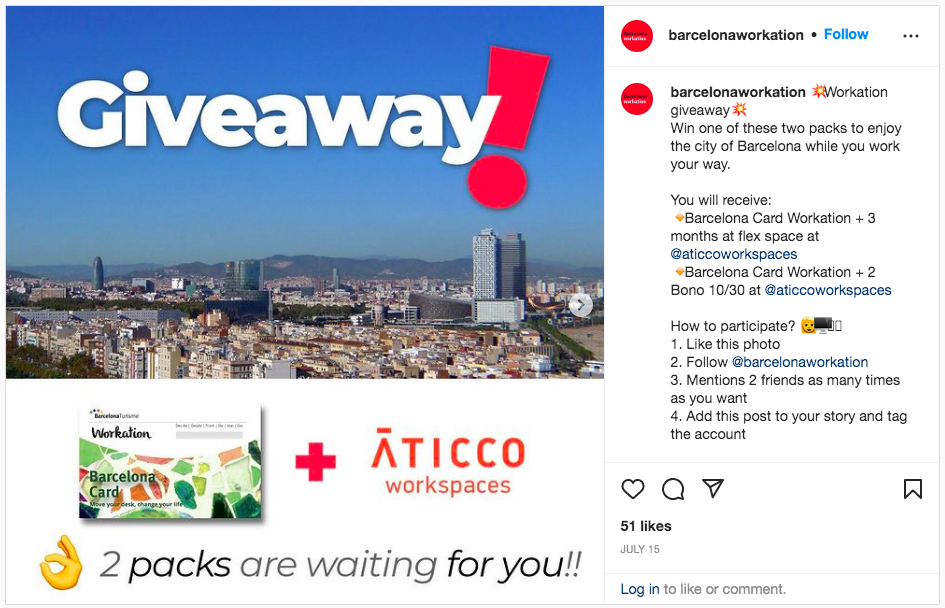 You've done all the prep work and the day is finally here. You're ready to launch your Instagram giveaway.
Sign up for a free Plann account and schedule your post to go out at the best time for maximum engagement. You can also use our in-app Canva integration to create an eye-catching visual for your post.
Next, write your Instagram contest caption. While you should aim to keep the text short and readable, you must ensure you include all the giveaway details. Users need to know the rules, how to enter, and when the contest closes.
Once it's live, re-share your announcement post on Instagram Stories and promote your Instagram giveaway on Reels to boost your engagement.
Step 5: Announce Your Instagram Contest Results
At the end of your contest, you need to select a random winner.
How do you choose?
Use one of the free Instagram giveaway picker tools like Comment Picker.
When you have a name, send a direct message to the winner and announce it on your Stories and Feed.
Tip: If you don't hear back from your first pick after a reasonable time, choose another winner.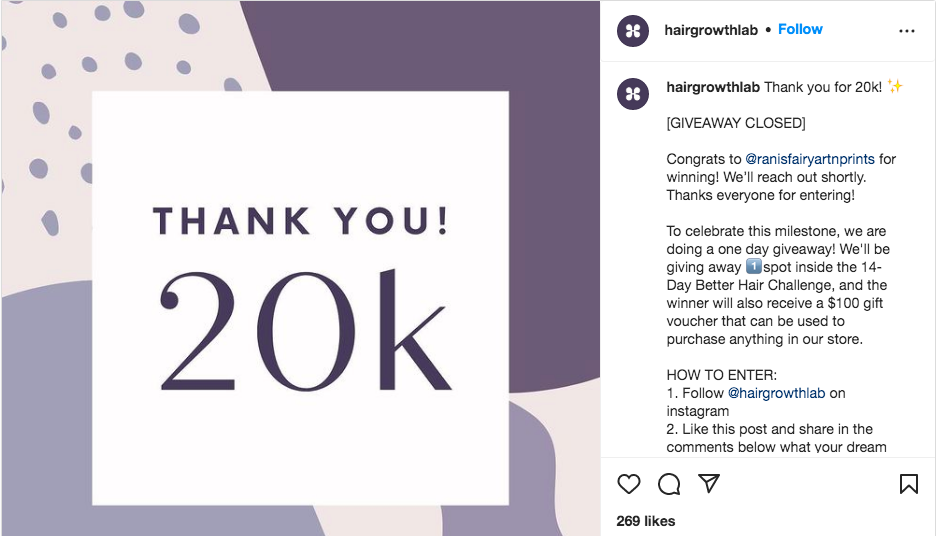 Plann Your Contest Posts
You know the basics.
Now it's time to Plann the perfect Instagram giveaway post.
Sign up for your free 7-day trial of Plann Pro, and get ready to host your first of many successful Instagram giveaways.