Is Facebook Analytics a complete MYSTERY to you?
Or does the thought of clicking on that "Insights" tab fill you with fear, dread and confusion?
Buuuuut you know those analytics mean SOMETHING.
As much as you would rather avoid that tab, you keep getting told that data is valuable. You're just not sure what to look at (that dashboard is pretty overwhelming) and what all those numbers actually mean for your business.
The good news is that you're not alone and figuring out Facebook Analytics is much easier than you think.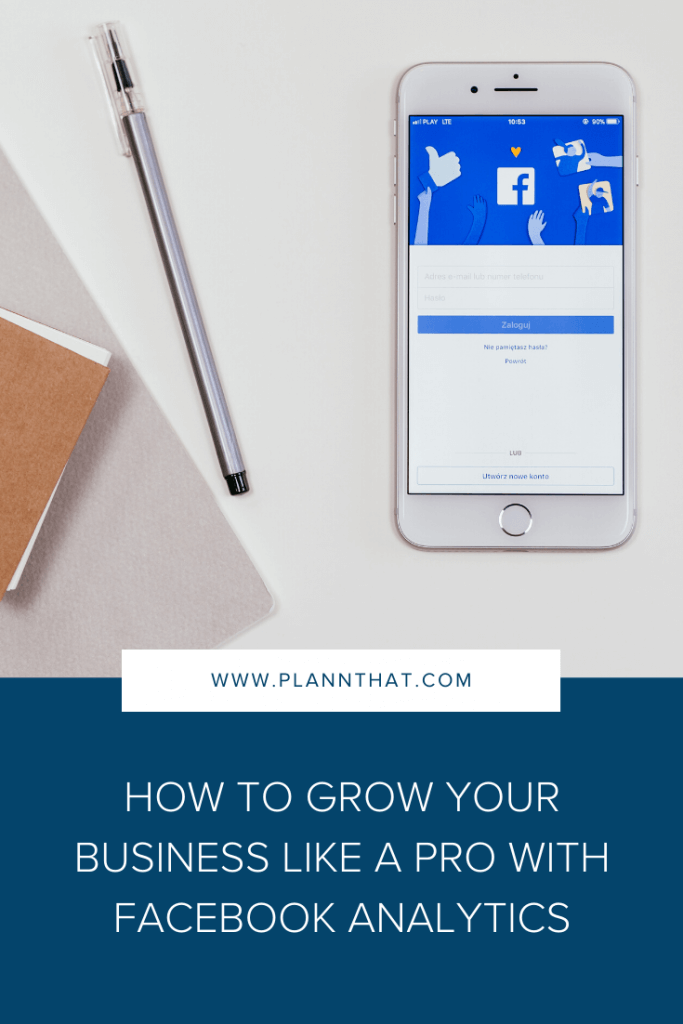 By the time you've finished reading this post, you're gonna know:
• What is Facebook Analytics?
• How it can help your business.
• Where to find your Facebook Insights.
• How to use Facebook Insights + what you need to track and why.
Let's get into it!
What is Facebook Analytics?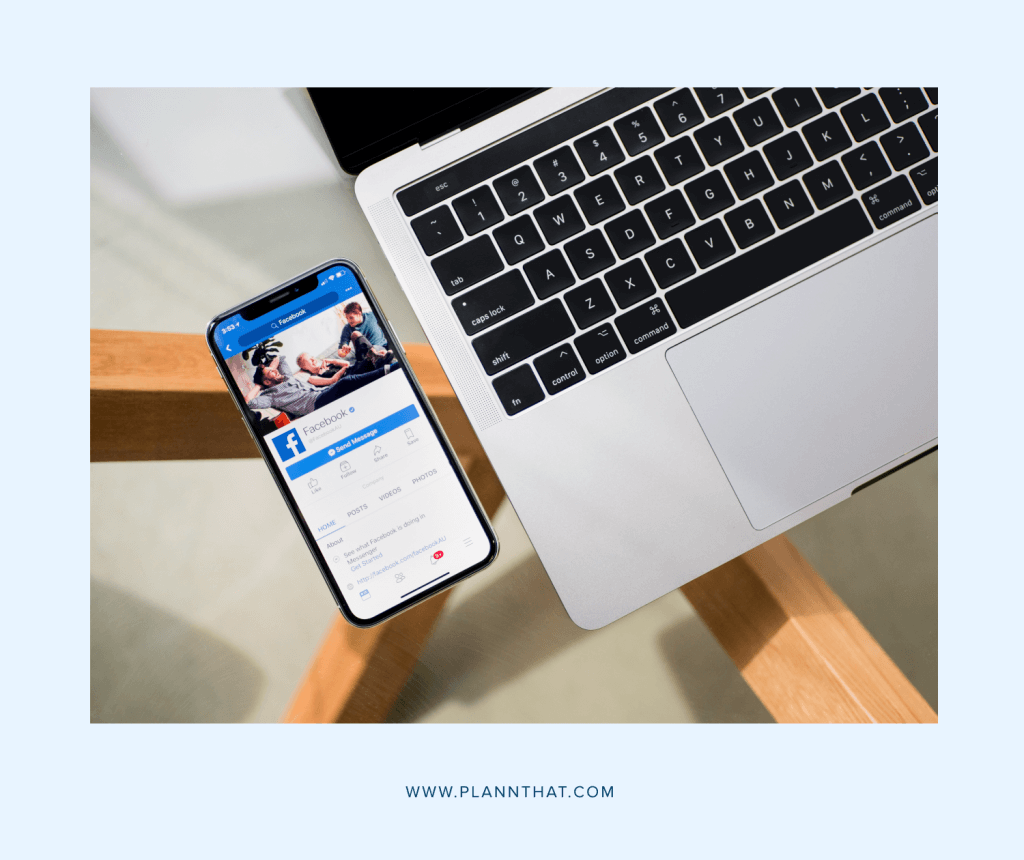 Facebook Analytics is the secret sauce to your content marketing strategy.
PLUS these insights are FREE!
You don't need to add another bill to your business to get these super juicy details on what's working and what needs some tweaking.
Facebook analytics will tell you about:
• Your page growth.
• Your post reach and engagement.
• Who is liking, commenting and sharing your page.
Why You Need to Look at Your Facebook Analytics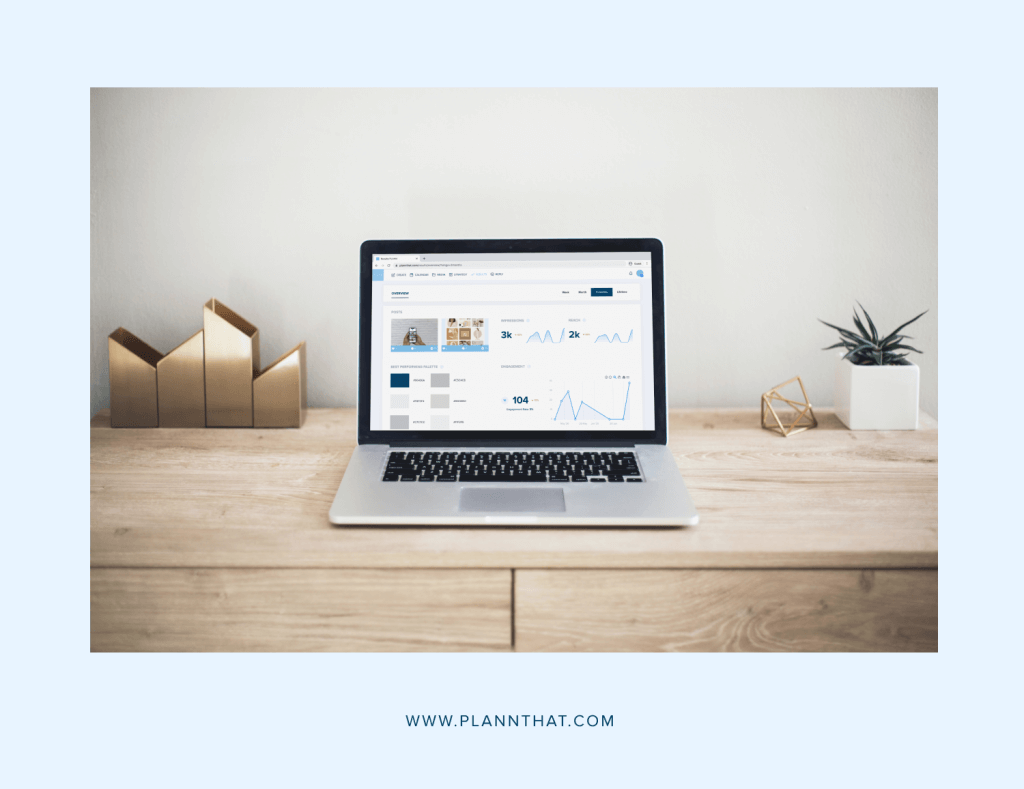 You know what's exhausting?
Pumping out content that gets ZERO traction.
When you take the time to dig deep and really understand what makes your Facebook page tick…you stop shouting into an endless void.
You have cold, hard data which means you can make informed decisions around:
• What to post (Are your videos outperforming images? Why is that?)
• When to post (Are you scheduling posts when your audience is sleeping?)
• Where to focus your paid ads (What piece of content is resonating?)
• Who is your audience (Where do they live? Is there a particular age group you're attracting?)
All of this will help you fine-tune and adjust your Facebook content strategy so you can get around that pesky algorithm and boost your reach!
Now that you know why it's important to track your Facebook analytics let's delve into what you need to measure to grow your business.
Where do I find insights for my Facebook Page?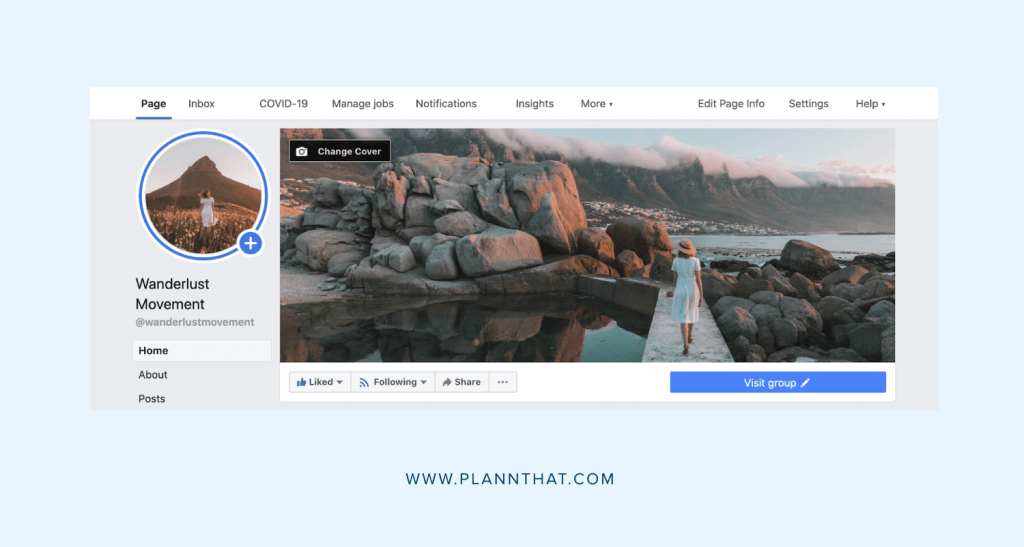 To access your Facebook Insights, all you need to do is head to your Facebook Page.
On your home page, you'll see an "Insights" tab on the top menu. If you don't see it, click on "More" and it will bring it up.
Once you've clicked on the tab, you'll be taken to an Overview of your Facebook page analytics.
This is where things start to get interesting!
How to Use Facebook Insights (What You Need to Track and Why)
If it's your first time clicking on that "Insights" tab, it's intimidating.
There's A LOT of information, numbers and graphs to take in.
But don't stress! We've got you covered.
Here's a quick and easy guide to Facebook Insights to help you get straight to the data that's going to have the biggest impact on your business.
Metric #1: Followers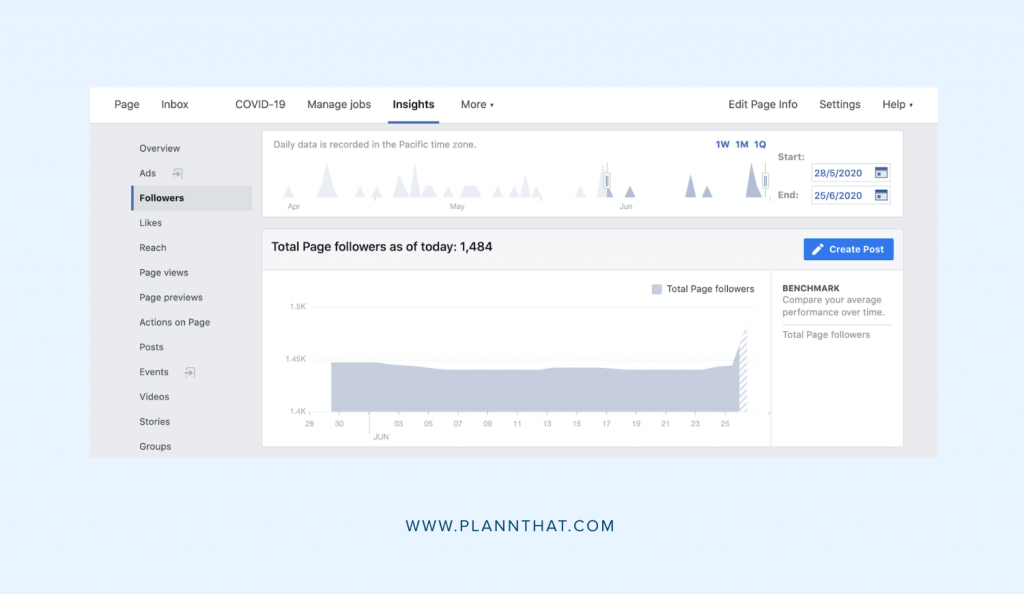 The "Followers" tab is where you can see the total number of likes for your Facebook Page. You'll want to check this section regularly to monitor the daily fluctuations of your growth.
Why?
If you get a sudden increase in followers, you need to figure out what happened so you can reverse engineer that success.
Was it a video you posted on a hot topic? Did you recently drop a new collection?
Until you figure out the reason, you can't take action.
Metric #2: Page Reach and Page Views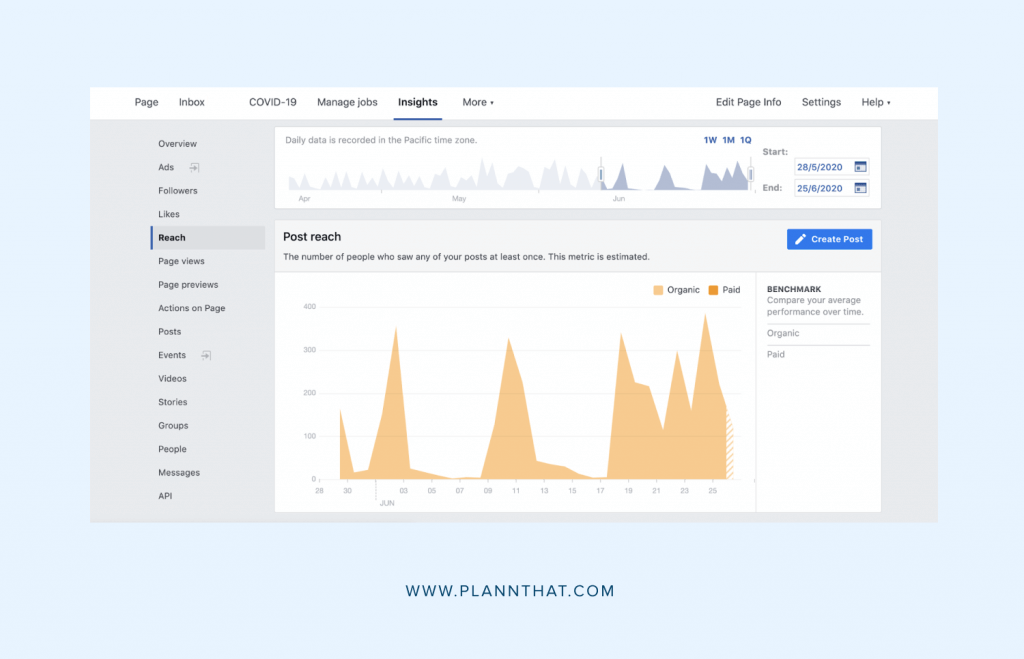 The "Page Reach" tab tells you all about the total number of unique Facebook users that have seen your content.
You can deep dive into:
• How many people have seen any of your posts at least once.
• How many people watch your brand's Facebook Stories.
• The number of reactions, comments and shares.
• How many people have flagged your page by reporting it as spam or have opted to hide all your posts.
"Page Views" takes this a step further.
You can use the tab to see:
• How many people have viewed your page and what sections.
• The demographic breakdown (country, city, age) of who is viewing your page.
So what does your business get out of these two tabs?
You can see at a glance if your page is attracting the RIGHT people and if your content is reaching your audience and getting engagement.
Metric #3: Posts and Engagement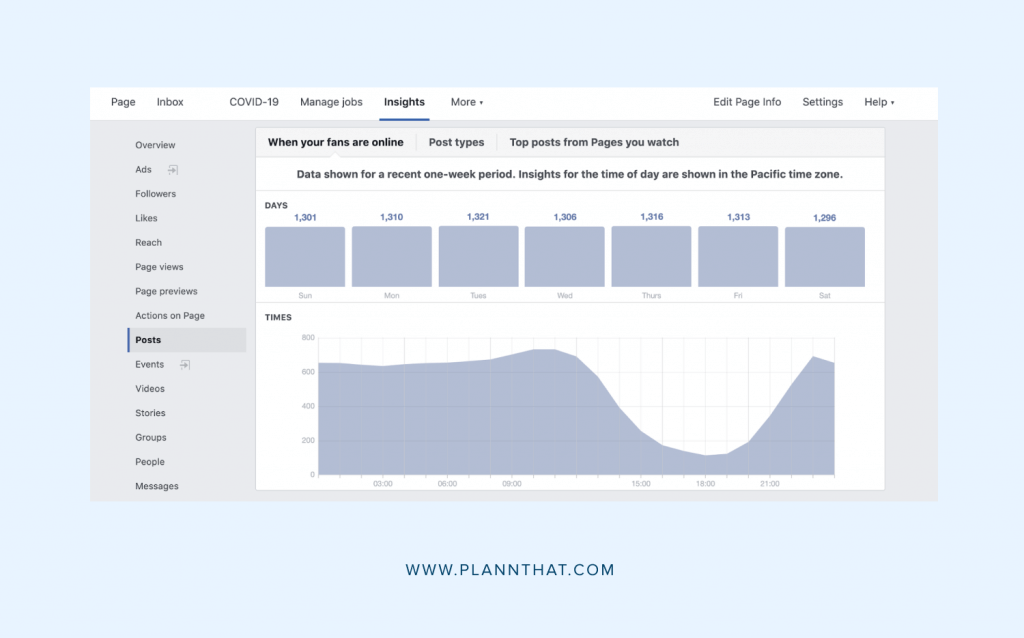 Is that Facebook algorithm driving you bonkers?
If you're struggling to get your posts SEEN without feeding the Facebook Ad machine, engagement is the solution to your problem.
You want your page to have a good engagement rate so that the algorithm pushes your posts to more people – free of charge.
To check up on your engagement, click on the "Posts" tab and you'll see how each individual post performed as well as the best time to post.
Got a standout post that's blazing a trail through Facebook?
Ask yourself what is it that's causing such a positive reaction, and how can you duplicate the post's success.
Similarly, if your latest post is tanking…
Ask why it is getting a lack of engagement. Is it the copy too long or too short? Are your photos not high-quality? Is it the subject matter?
Monitoring the rise and drop of engagement can tell you exactly what is working for your business and what's not.
Metric #4: People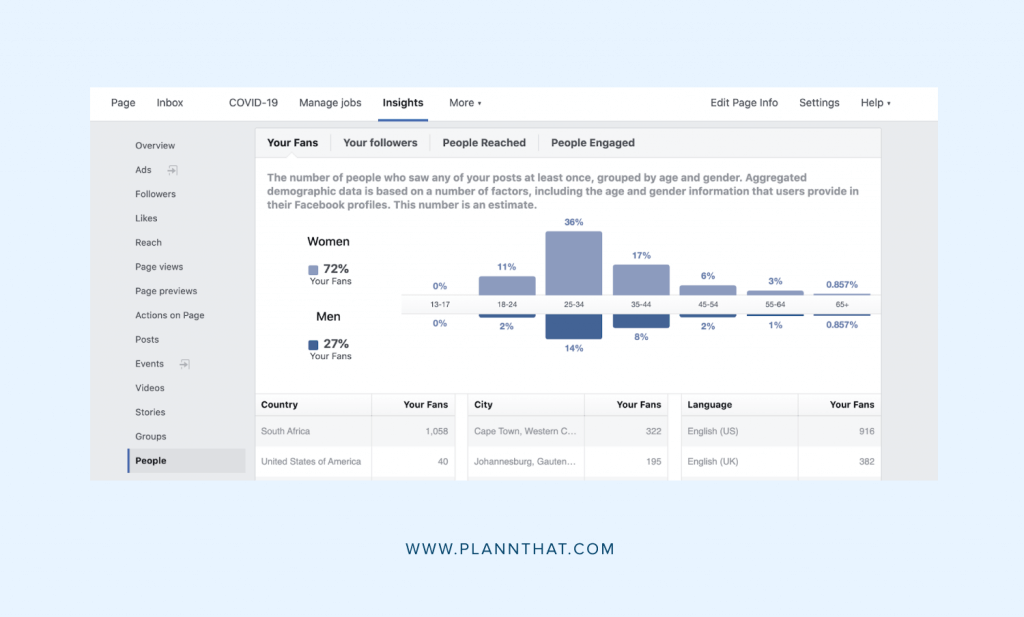 Imagine you release a brand into the world. In your mind, you're targeting men, but when you look into your analytics, women are your biggest fans.
This tells you two things:
Your marketing is off. You're attracting the wrong people.

It's an opportunity to pivot and lean hard into that demographic that's resonating with your brand.
The "People" tab on Facebook Insights will tell you exactly:
• Where your audience is from right down to country and city.
• What language they speak.
• Which age groups like your page.
• The gender breakdown.
When you analyse this data, you can make business decisions around:
• Which city should you host an event in?
• Your tone of voice (should you use a youthful tone and use phrases like "tea", "slay" and "basic").
• Should you target more women than men in your ads?
Metric 5: Actions on Page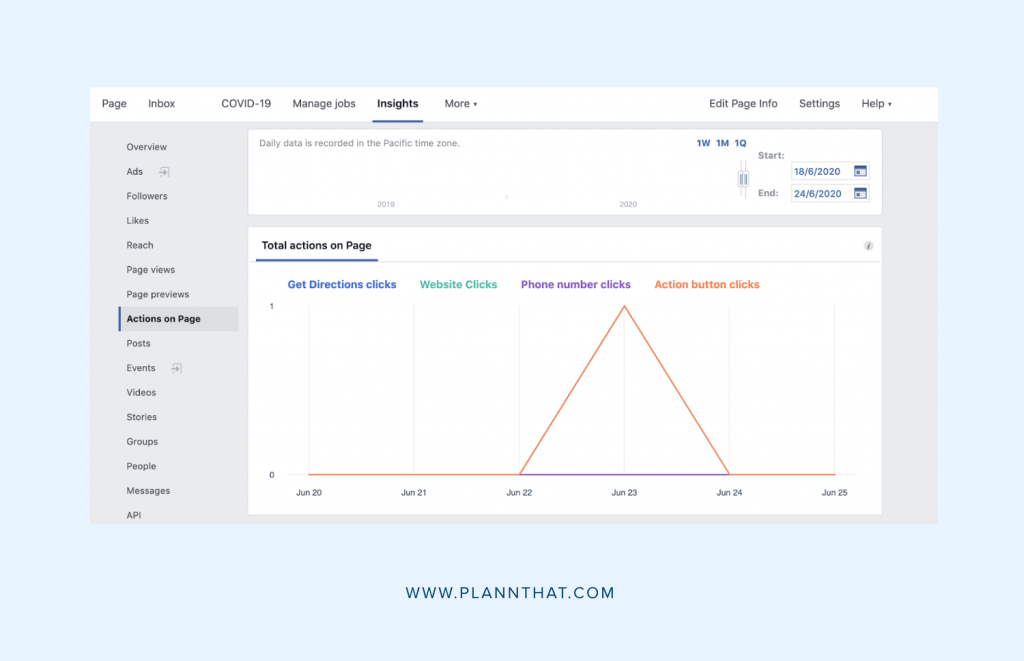 Do you have a call-to-action (CTA) set up on your Facebook Page?
If not, add it to your to-do list because it's a powerful way to build your brand and turn those social lurkers into paying customers.
The CTA button allows you to create a link for your:
• Newsletter.
• App download.
• Facebook group.
• Direct booking.
• Website.
• Phone number.
In the "Actions on Page" tab, you can track how well your CTA is performing.
It gives you data on:
• How many people have clicked the button.
• Their age.
• Country and city.
• Device used.
You can experiment with different CTA's to understand what attracts people to click, and WHO is taking that next step.
Read More: Facebook Marketing Tips You Can Use Right Now
Other Facebook Analytics You Might Want to Track
Depending on your business and its needs, here are some other metrics you can use to your advantage:
• Events (See reach, responses and ticket clicks at a glance).
• Videos (Monetise your video content and track your performance).
• Groups (Track members, posts, comments, reactions as well as demographics).
• Messages (See your responsiveness rate, blocked connections, and new connections).
Take Advantage of Your Facebook Analytics to Grow Your Business
Woo-hoo! You made it to the end, and you're officially prepared to conquer that Insights tab for your Facebook business page!
Once you've dived into your analytics and figured out your new content strategy, use Plann to cross-post between your Facebook and Instagram accounts.
The best part? You can do it with ONE click.
Create your free Plann account today.