Want to turn yourself into a GIF for Instagram Stories?
It is an excellent branding opportunity and a fun way to make your Instagram Stories stand out and memorable.
You can create GIFs for different emotions like excitement and shock or create elements to draw attention to specific actions you want your audience to take.
Curious about how you can turn yourself or your brand into a GIF? Here's a step-by-step guide that'll take your branding to the next level in four easy steps.
How to Create Instagram Stories GIFs
You don't need a graphic design degree to create a custom sticker for Instagram. Set aside a bit of time, and you'll have top-tier on-brand GIFs ready to go live. 
But before you start creating, you'll need to work through some admin first.
Step 1: Create an account on Giphy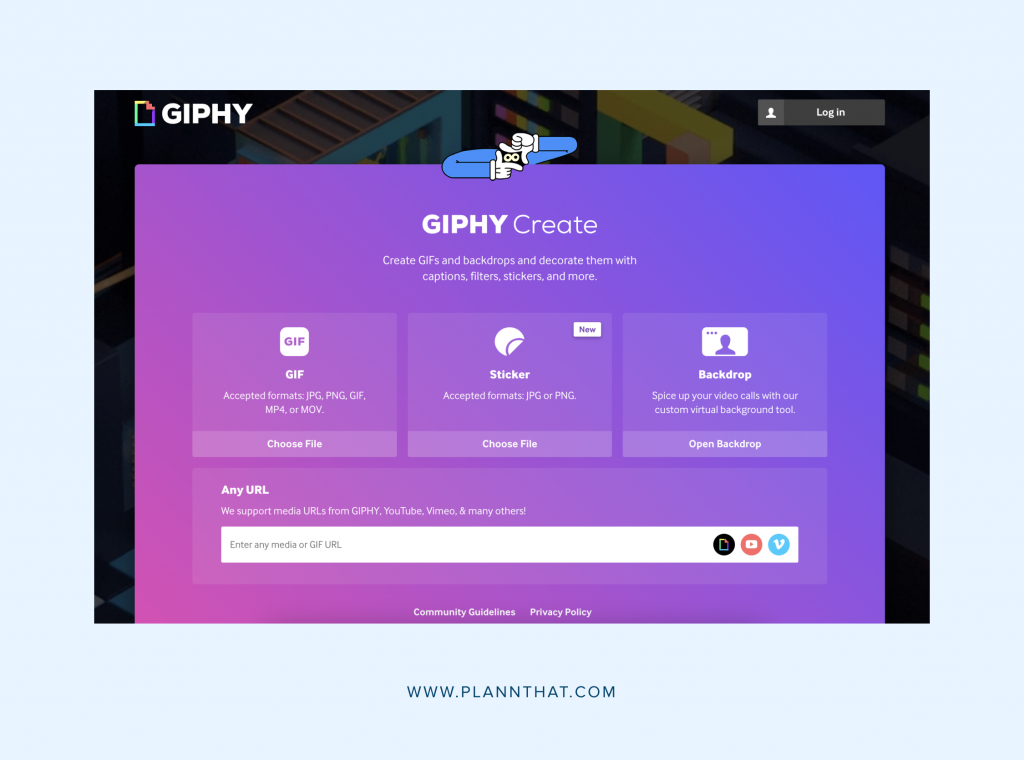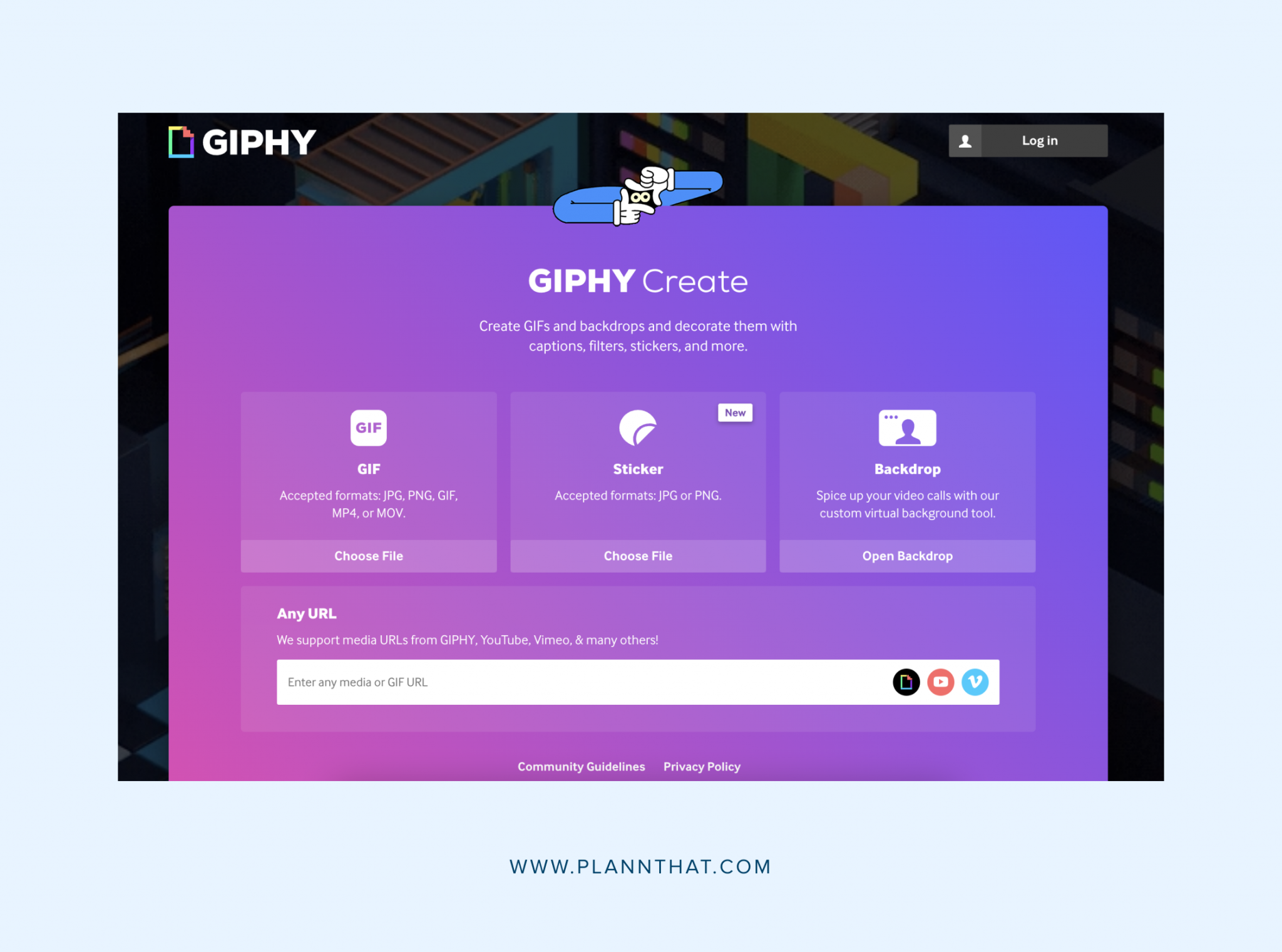 Instagram Stories use GIFs from a site called Giphy.
It's a massive search engine of GIFs and animated stickers with something for almost every mood, occasion, or reaction.
To get a GIF onto the site, you need to create a Giphy brand channel and apply to become a verified account on the platform.
The good news?
It's 100x easier than becoming verified on Instagram. You don't need press coverage, millions of followers or bot accounts pretending to be you.
All you need to do is follow the application process and make sure you meet the requirements.
Bonus: Once you create a brand channel and you're approved, you'll get access to a Giphy analytics dashboard. Here, you can measure the impact of your Instagram Stories strategy and which GIFs or animated stickers your audience loves.
Step 2: Create your GIFs
Got an in-house designer? Great!
But what if you're a solopreneur or influencer?
Even if you don't have an Adobe InDesign bone in your body, you can still create an Instagram Stories GIF.
Want to turn yourself into a GIF?
Follow this tutorial by Elise Darma. She shows you exactly how to record yourself, upload the footage onto Unscreen, remove the background, and export the file for Giphy.
But what if you want to create a custom animated GIF that's your brand logo or anything else that isn't you?
Head to Canva.
Louise Henry has an in-depth tutorial on using Canva to create high-quality and on-brand GIFs for your brand quickly.
Psst… Plann is an official Canva partner. You can create your designs without leaving our app! How's that for an efficient workflow?
Step 3: Upload Your Instagram GIFs to Giphy
When your account on Giphy is approved, it's time to start uploading your content.
But there is a small catch: to use your GIFs for Instagram Stories, you must upload the content as a sticker, not a regular GIF.
What's the difference?
A sticker has a transparent background, which is what you need. A normal GIF has a background like a funny clip from your favorite TV show.
If you've followed the GIF-making tutorials above, all your content should have a transparent background, and you're good to go.
But if you've created your GIFs another way, all you need to do is turn off the background layer on your Canva design. 
What are the technical requirements for uploading a sticker to Giphy?
Let's run you through a quick checklist of criteria you need to meet when uploading your content to Giphy:
• Upload your stickers as GIF files.
• Stickers must have at least 20% transparent pixels and no white or opaque color backgrounds.
• 500-600px with the same height and width.
• RGB color mode is mandatory.
• Set to loop Forever when exporting.
How to make your GIFs searchable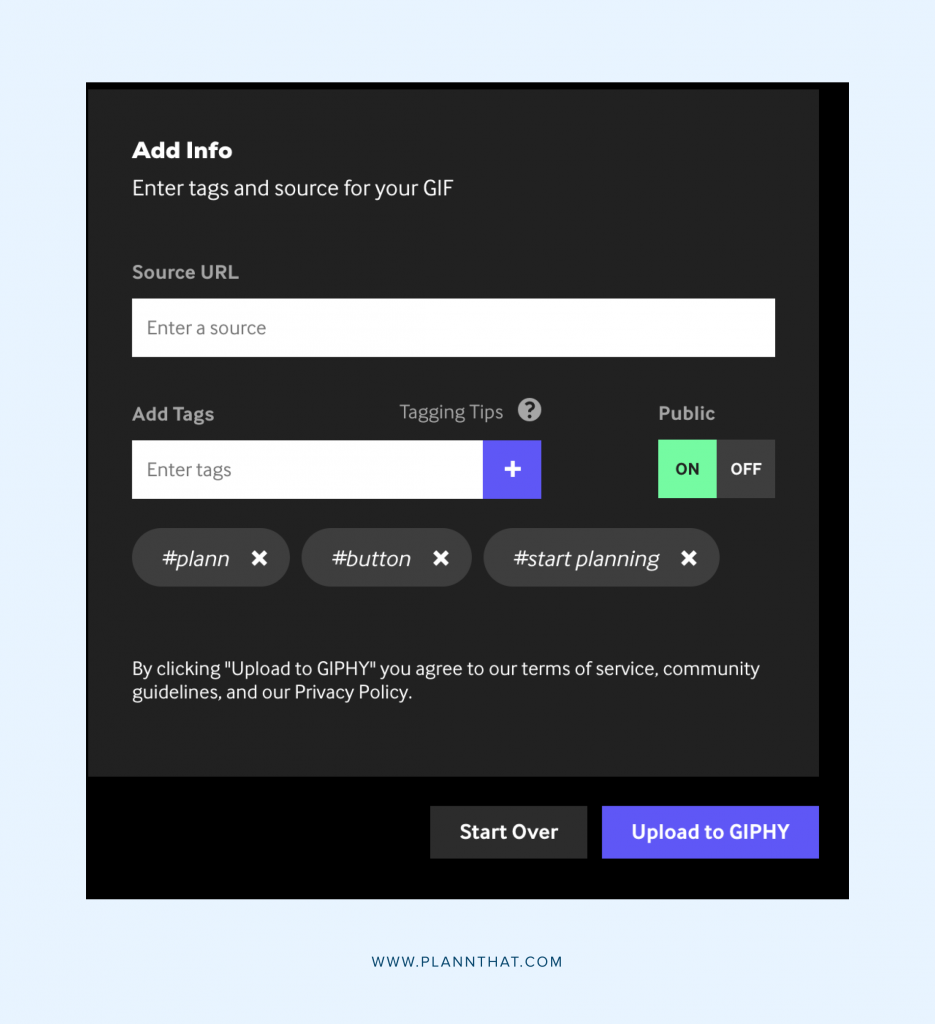 Giphy is a search engine.
Like any search engine, you need to make sure your content is discoverable by using the right keywords.
On Giphy, these keywords are "descriptive tags." When someone types in "green ball" on Instagram Stories, the site will load results with that tag.
Each sticker you upload should have 5 to 10 relevant tags.
For example, if you're creating a salsa dancing GIF, you should tag keywords like "salsa" or even "girl dancing". 
Tip: To help your followers find all of your Instagram stickers in one place, tag your brand name in the descriptive tag!
Step 4: Start using your GIFs on Instagram Stories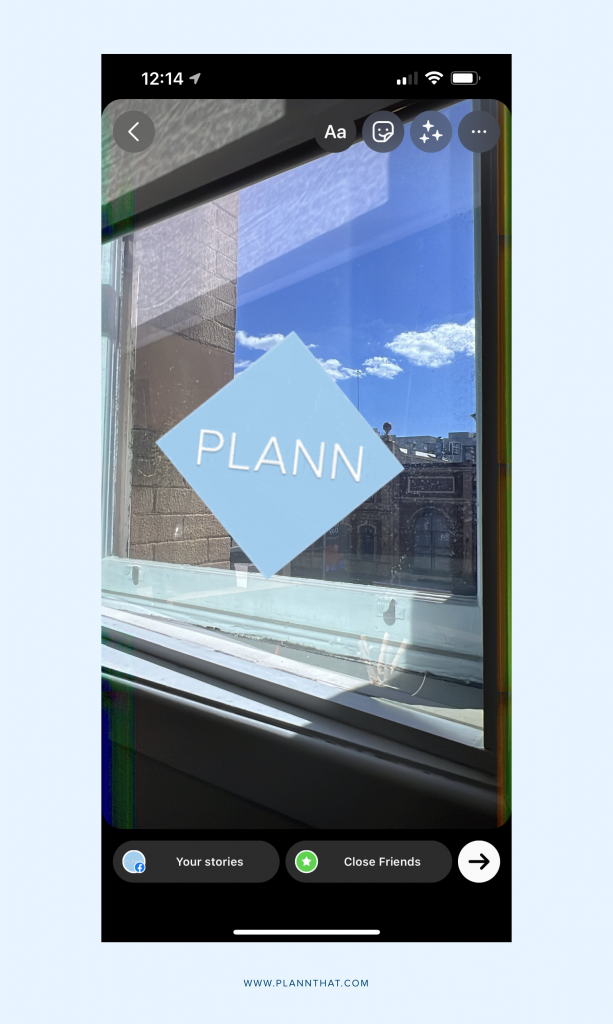 Once you upload all your content, you'll enter a final waiting game.
It can take up to a week before your GIFs pop up on Instagram Stories.
When everything is live, start using your custom Instagram GIFs and encourage your audience to do the same by letting everyone know how to find them.
How can you incorporate your custom stickers into your Instagram strategy?
Here are a stack of creative ways to add your custom GIFs to your next Instagram story:
• Create GIFs for your next product launch or event
• Use reaction GIFs to tease upcoming projects
• Create on-brand call-to-actions.
• Turn your viral catchphrases or moments into a sticker
• Use your GIFs in ads or other in-feed content
Ready to revolutionize your Instagram Stories game?
Looking for an all-in-one solution that simplifies your social media management? Plann has got you covered. 
With our groundbreaking Auto Post feature for Instagram Stories, you can effortlessly schedule and publish captivating content, engage with your audience in real time, and keep your brand top of mind. 
Take your Instagram presence to the next level with Plann and unlock the full potential of your Stories.
Go on, and redeem your 7-day free trial of Plann Plus. If you don't like it, keep using Plann for free!