If an Instagram profile picture speaks a thousand words, what is yours saying?
Remember: your profile photo sets the first impression a new follower has of your brand. Plus, this profile image is your golden ticket to increasing brand recognition.
The only problem? It's a teeny-tiny 100×100 square that has to say a lot without a lot of space.
If you're struggling to find the perfect photo for your account or feel clueless when it comes to making your profile "on brand", this is the post for you! Keep reading to discover how to choose an Instagram profile picture that will drive results for your brand.
Tips for Choosing an Eye-Catching Instagram Profile Picture
Ready to stop users mid-scroll? Follow these tips for choosing an Instagram profile picture that'll get you noticed.
Tip #1: Choose a Headshot or Your Logo
Wait…which one should you use? What if you're a personal brand or a business coach? When it comes to choosing between a logo or a headshot, we have a simple rule to follow: 
If you're an organization, company or business, use your company logo.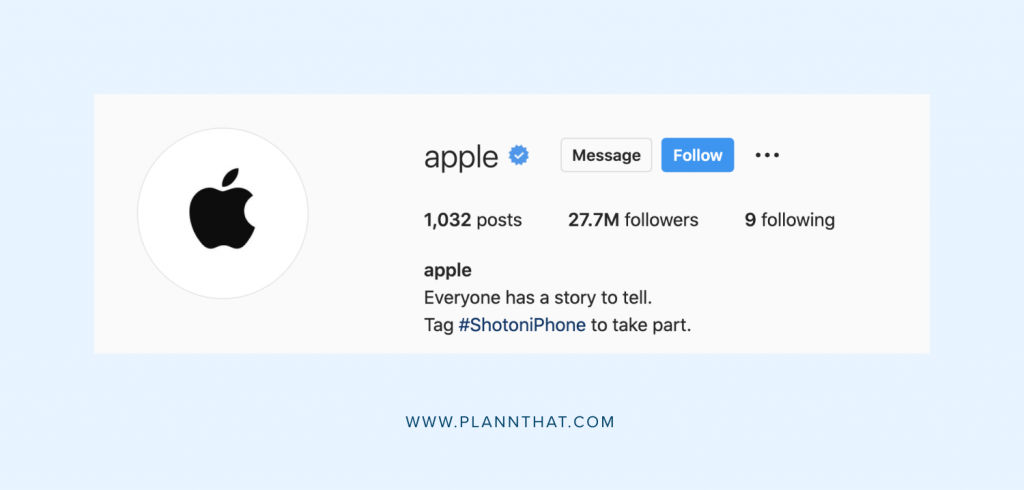 Use a headshot if you're an influencer, personal brand, or anything else where the business is built around you.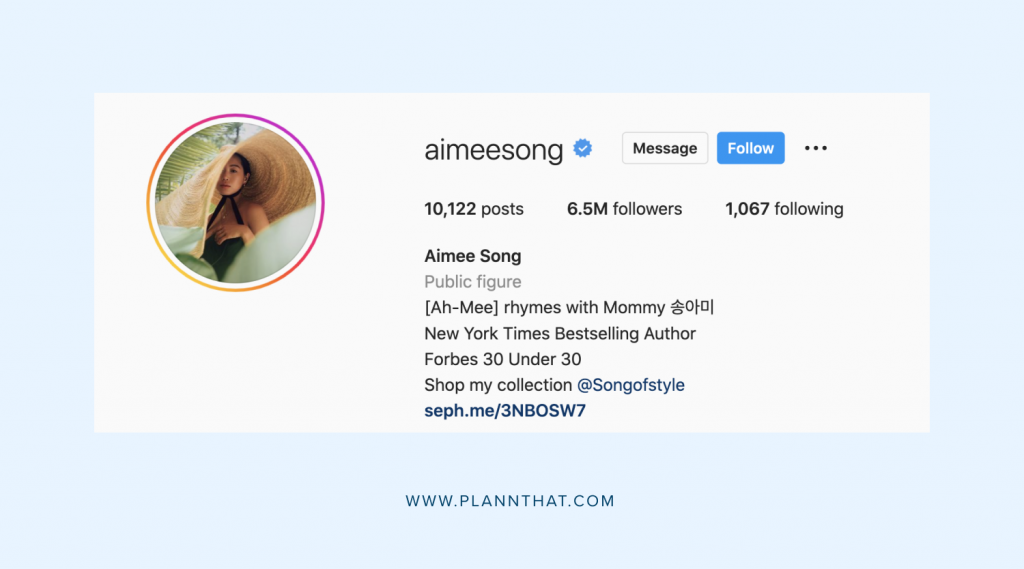 Why? A stunning headshot is much more personable. Your followers will trust you more if they know who is behind the account. On the flip side, a logo is a great option for professional businesses that don't want to be associated with one single person or leader. 
Tip #2: Use Contrasting Colors
Did you know Instagram's profile picture size is just 150×150 pixels?! That's super tiny!
With such a small canvas to work with, make the most of it with contrasting colors.
What does that mean? Take a page out of Elise Darma's book.
She uses a vibrant background to contrast against her headshot and ensures her photo stands out to followers and Instagram users alike.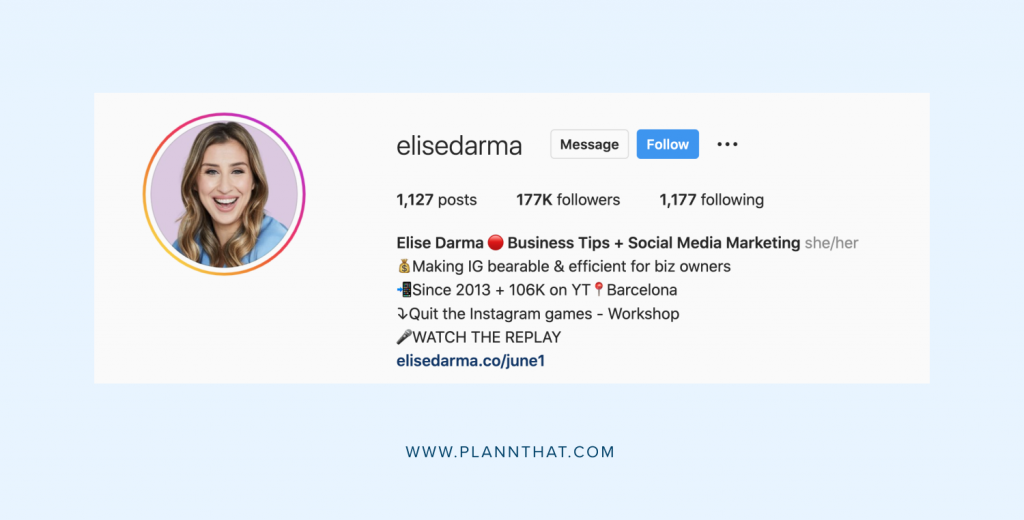 Another example is Vannessa Lau. The solid light background is eye-catching and makes her face stand out. Plus, this branded color builds recognition and allows users to instantly identify her content in the feed.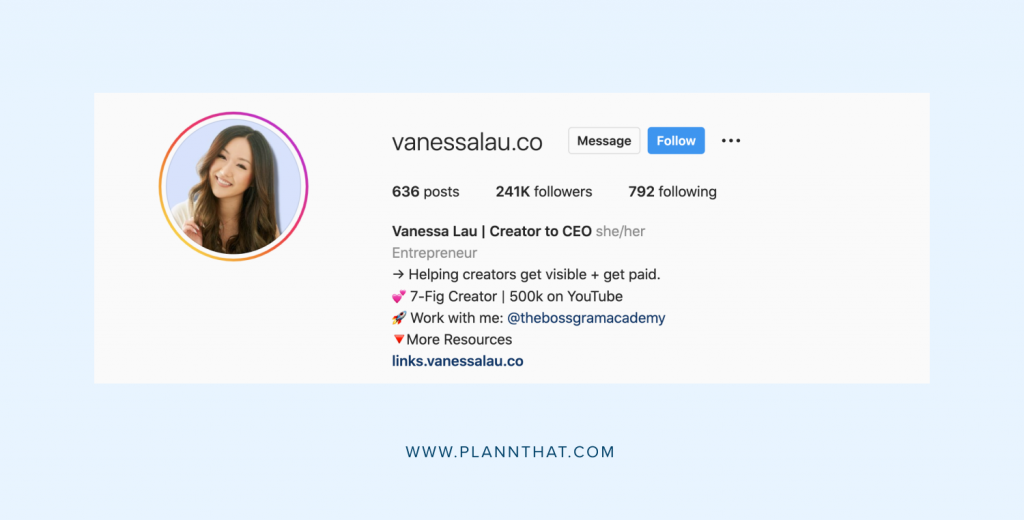 When choosing the color you want as your background (or what you're wearing), think about what's on-brand for you.
If you're full of personality, energetic, and bubbly, use a shade like neon pink to capture your vibe.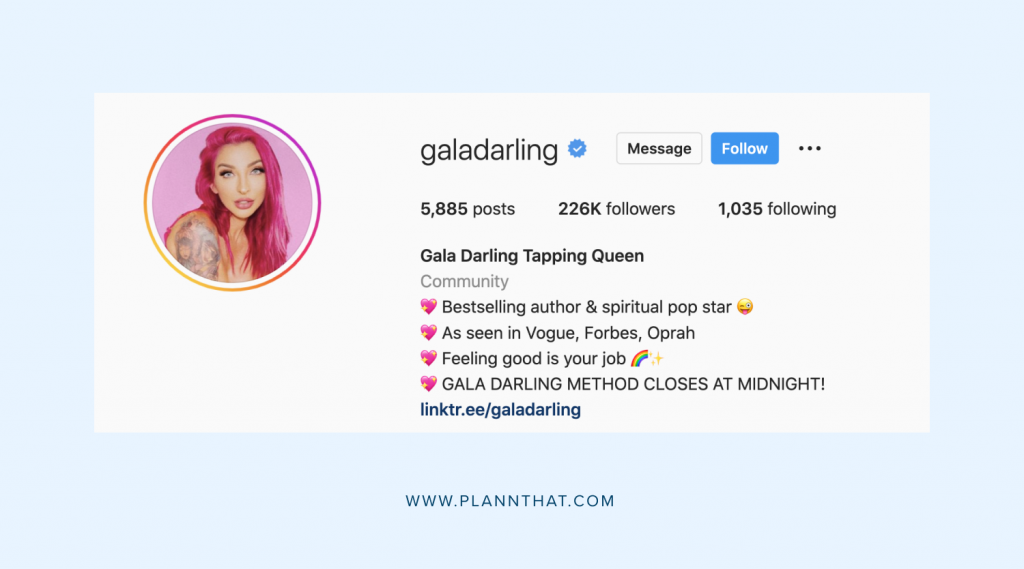 But if you're more down-to-earth and all about looking after your plants, choose grounding colors like neutrals or cool greens.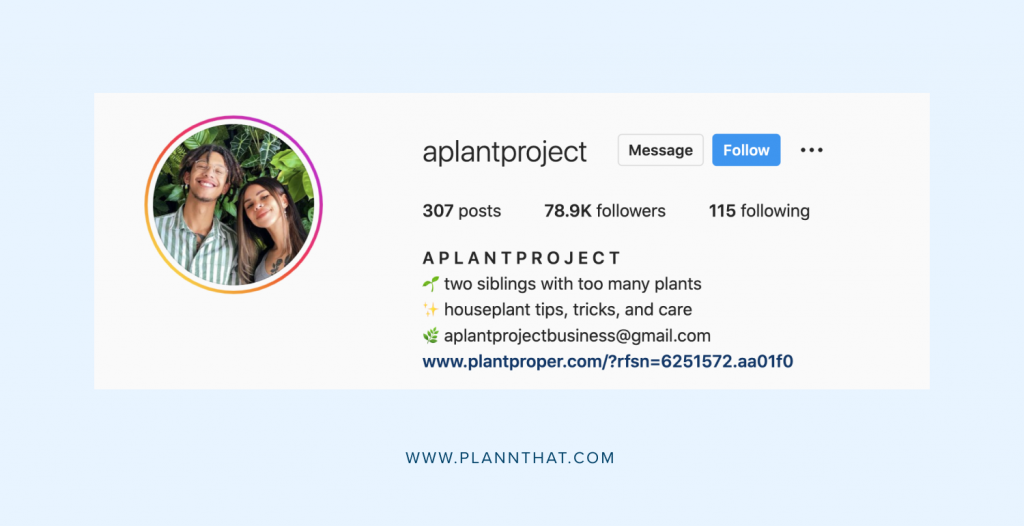 Tip #3: Crop It Down
Who doesn't love cute, creative angles amirite? But on Instagram, you want your profile picture to follow two rules:
1. Cropped to 1:1
2. Your face or logo in the centre taking up as much space as possible
Why should you follow these guidelines?
Well, when Instagram displays your profile picture on someone's phone or desktop, it's teeny tiny. You don't have a lot of room to grab attention, and you want the image to be as clear as possible.
The easier you can make it for a user to recognise your face or logo, the more boxes you're ticking for brand exposure and recognition.
Tip #4: Use Good Lighting
You don't need to hop onto Amazon and buy a ring light to take a good Instagram profile picture. But do need to know the basics of taking a well-lit photo to get the best results from your headshot. 
Where do you find magical rays that instantly make your photos go from drab to fab? Three places:
1. Golden hour: This is the hour before sunrise or sunset. The light is gloriously soft on your skin, and you'll look like Peter Pan dipped you in Tinkerbell's fairy dust.
2. A window: The diffused light will keep your photos bright and harsh shadows off your face.
3. Open shade: If you're shooting at midday, head to the edge of a tree or inside doorways. You'll get even light on the subject (you), but it's still light enough to avoid low-light grain.
But if you miss out on perfect daylight, get an affordable, good-quality ring light. One of the pros of investing in one? You don't need to wait for the "right time of day" to shoot. 
All you need is to plug it in, and you'll have continuous and balanced lighting.
Tip #5: Experiment!
Don't make the mistake of only taking one photo or only having one option to play around with. If you're a personal brand, creator or entrepreneur, taking multiple shots in one session gives you a bank of photos to use as your profile image or throughout your social content. 
Set aside a few hours to let your creative side run wild. Here are a few ways to experiment with your profile image photography: 
• Use props that make sense for your brand.
• Experiment with different facial expressions.
• Put together different outfits and accessories.
• Try different poses or angles with the camera.
When you're done, you should have a decent number of options.
Once you're done editing and adding the final touches, log onto Instagram and start testing out your favorites. Make sure to pick the shot that really stands out in your Instagram profile photo placement! 
Tip #6: Don't Use a Photo You'll Change Often
Remember: your Instagram profile picture as part of your branding.
The key to helping someone recognize your brand is repetition. The average consumer needs to see an ad seven to eight times before it sinks in. The same rule applies to your profile photo. 
The counter resets to zero if you're constantly changing it, and you miss out on building brand recognition.
Your profile picture is the "cover" for your Stories. If you change it up too often, your followers might not recognize you and skip past your updates.
Our tip? Choose an on-brand photo that isn't seasonal or time-specific. You want a classic, timeless photo that will grab attention and boost brand recognition.
Plann Your Instagram Takeover
Now you've learnt how to choose the perfect Instagram profile picture, it's time to take your Instagram content to the next level.
Sign up for a free 7-day trial of Plann, and you'll get access to all of our best tracking, scheduling, and content creation tools. 
Schedule out your posts at the best time for your audience, curate a bespoke strategy with all your content pillars, and create hashtag lists you can paste with a single tap.