It's that time of the year again when it is completely okay to put your co-worker's stapler in Jello-O. Yes, The Office fans, we're looking at you!
While April Fools' is the perfect day to pull pranks, it also gives you the chance to effortlessly boost business engagement on social media!
To help you create that perfectly witty post for your brand's Instagram account, we've curated a list of the best brand April Fools' pranks. These posts have made us stop and stare at the screen (and chuckle at our desk too).
Ready to get inspired and create thumb-stopping content? We've got some of the best April fool ideas for you. But, before we get into that, let's understand if you need an April Fools' Day post at all?
Do you need an April Fools' Day post?
First, let's look at why you need to create a post for April Fools' Day. We understand running a business can be overwhelming. And, to top it off, curating special content just for April Fools' might even seem like you are going overboard.
But, April Fools' Day posts are some of the most well-received among consumers, and can greatly increase your interactions on social media. That's because this kind of content is relatable, humorous and oh-so-entertaining.
So, if you are willing to score visibility for your brand and create a strong brand presence on social media, posting on this day might just work for you.
Five top examples of the funniest April Fools' Day social posts
Let's get your creative juices flowing with these hilarious examples of April Fool's Day social posts from brands you know and love.
Google Play
Google Play decided to increase its audience by marketing its games not just to humans but also to pets. Yes, you read that right. So, the next time you have to leave your pet alone, they can keep themselves busy with thousands of games throughout the day.
Also, these games have a 5-paw rating system. Clearly, Google Play didn't shy away from going all out with their April Fools' video!
McDonald's
How many times have you accidentally dipped your fries in your milkshake instead of sauce? Well, McDonald's decided to make this accidental combo a reality.
In April 2019, McDonald's UK published a short video on its Twitter account revealing its "sauce-pots". In these pots, you could avail yourself to banana, chocolate, vanilla, and strawberry flavors.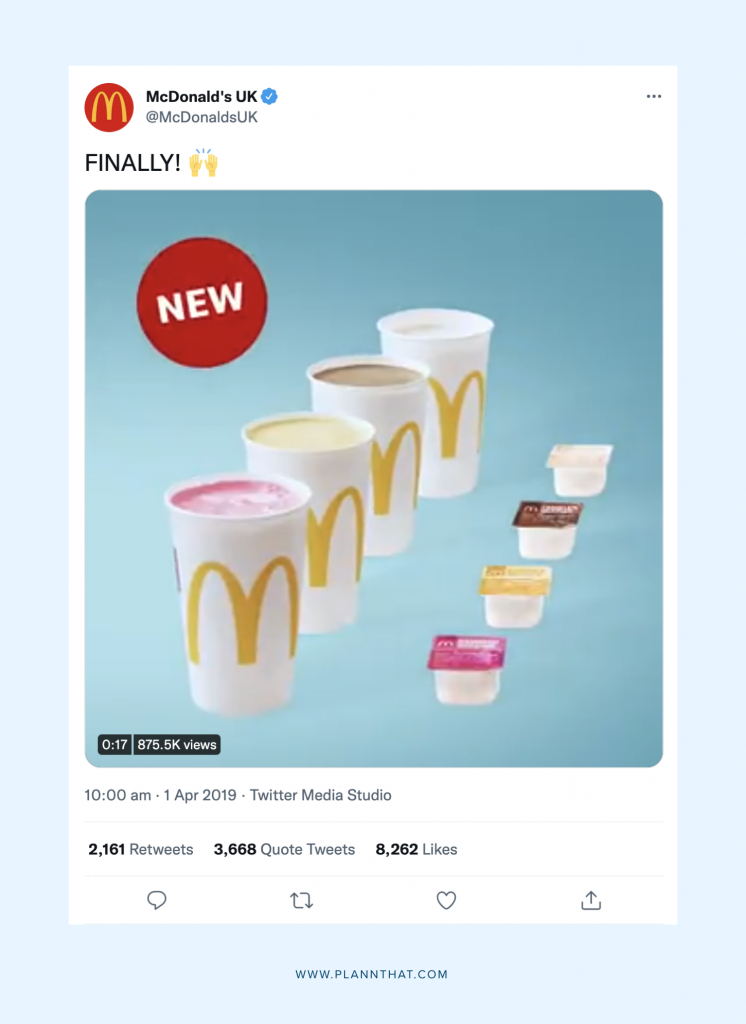 Another time, McDonald's India revealed its glow-in-the-dark burger, made for those who like to eat at night. This is hands down the funniest April Fools' pranks on this list!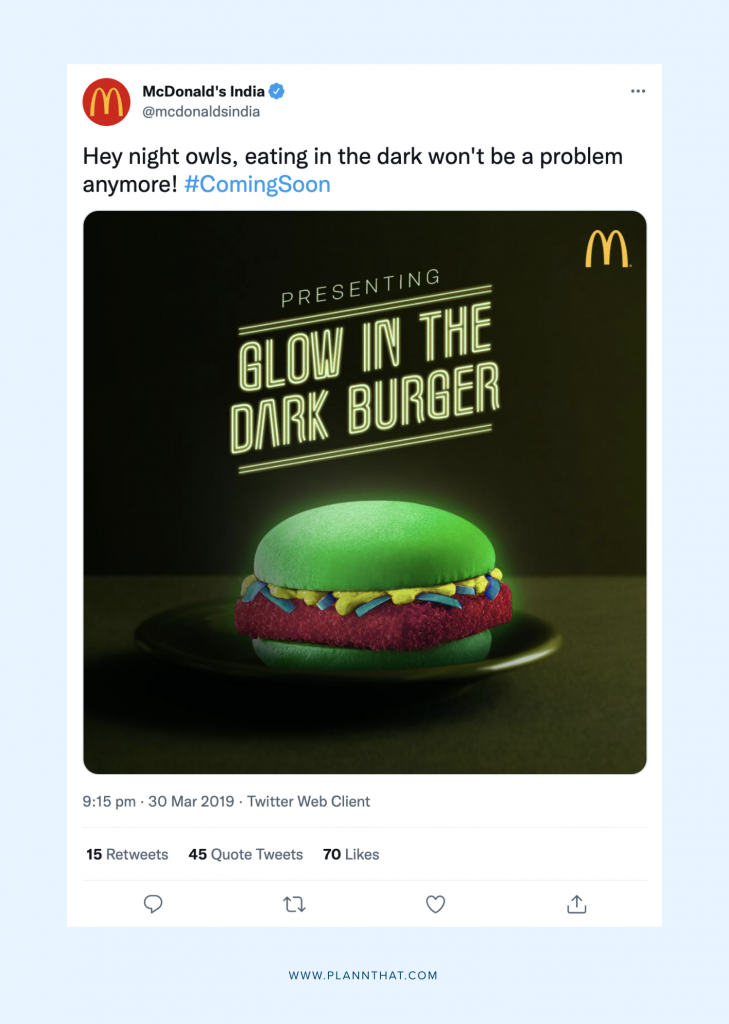 Subway
Just last year, Subway decided to offer its customers something more than just fresh food on April Fool's Day. This brand leveraged the 'Eat Fresh' slogan by creating a limited edition 'Super Fresh Daily Face Wash.'
This very unusual yet hilarious product launch featured seven ingredients including cheese, onion, lettuce, green pepper, and tomato, among others, one for each day of the week.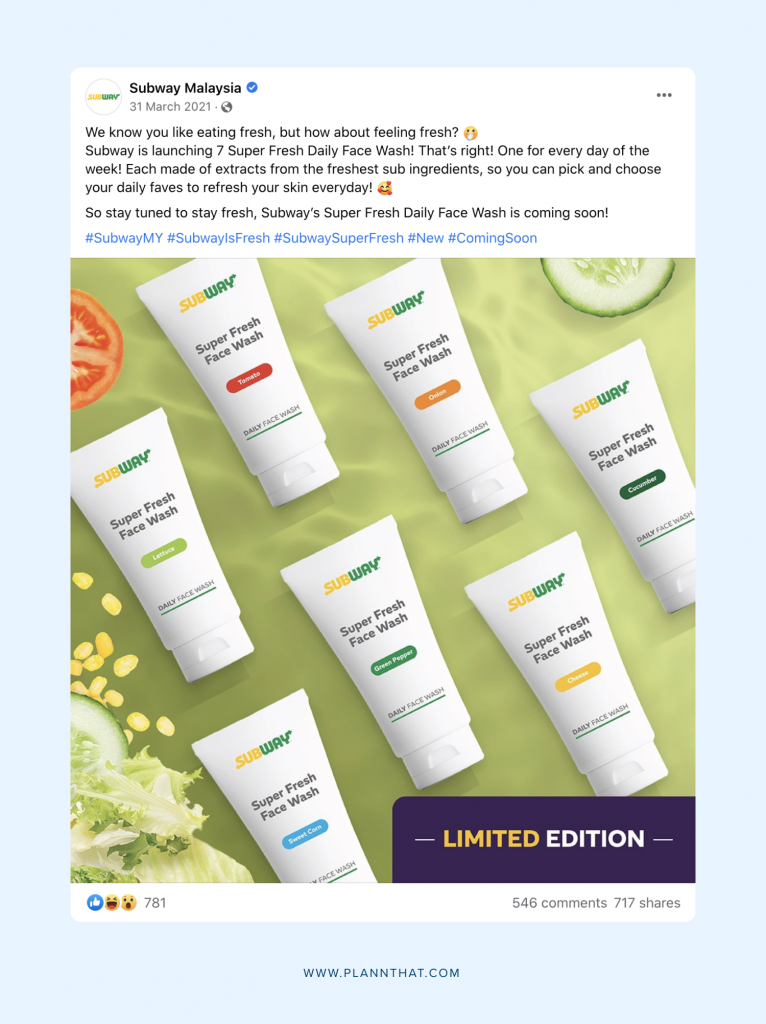 Subway didn't stop here. In 2021, it also launched its "helping-hand gadget." And, it is exactly what it sounds like; it holds your Footlong Sub for you. As this device holds the sub, you are to use your hands to scroll, swipe, and like without spilling the contents. A need of the lunch hour, isn't it?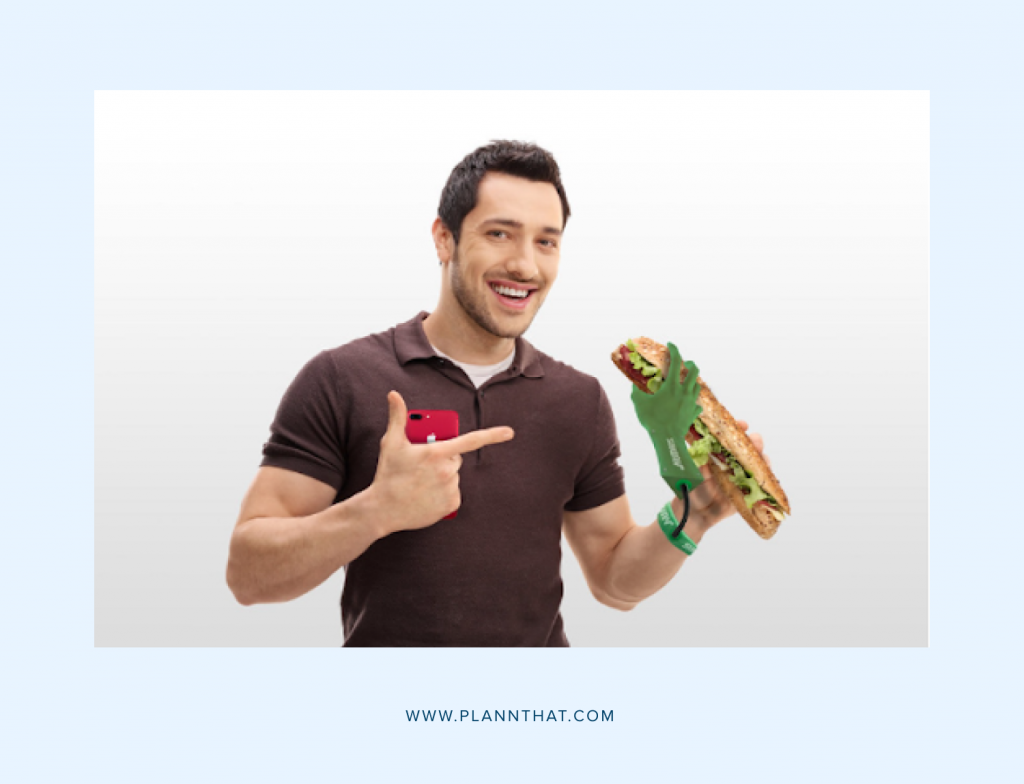 Paypal
Whenever you think of PayPal, you might think of transferring money or making a payment. But, this American multinational decided to take its mission a little too far on April Fools' Day.
In 2018, Paypay rolled out an invention we all have been secretly waiting for. The brand claimed that you can use your smartphone to print money. While this is quite futuristic and even a tad bit unrealistic, some users took this post quite seriously.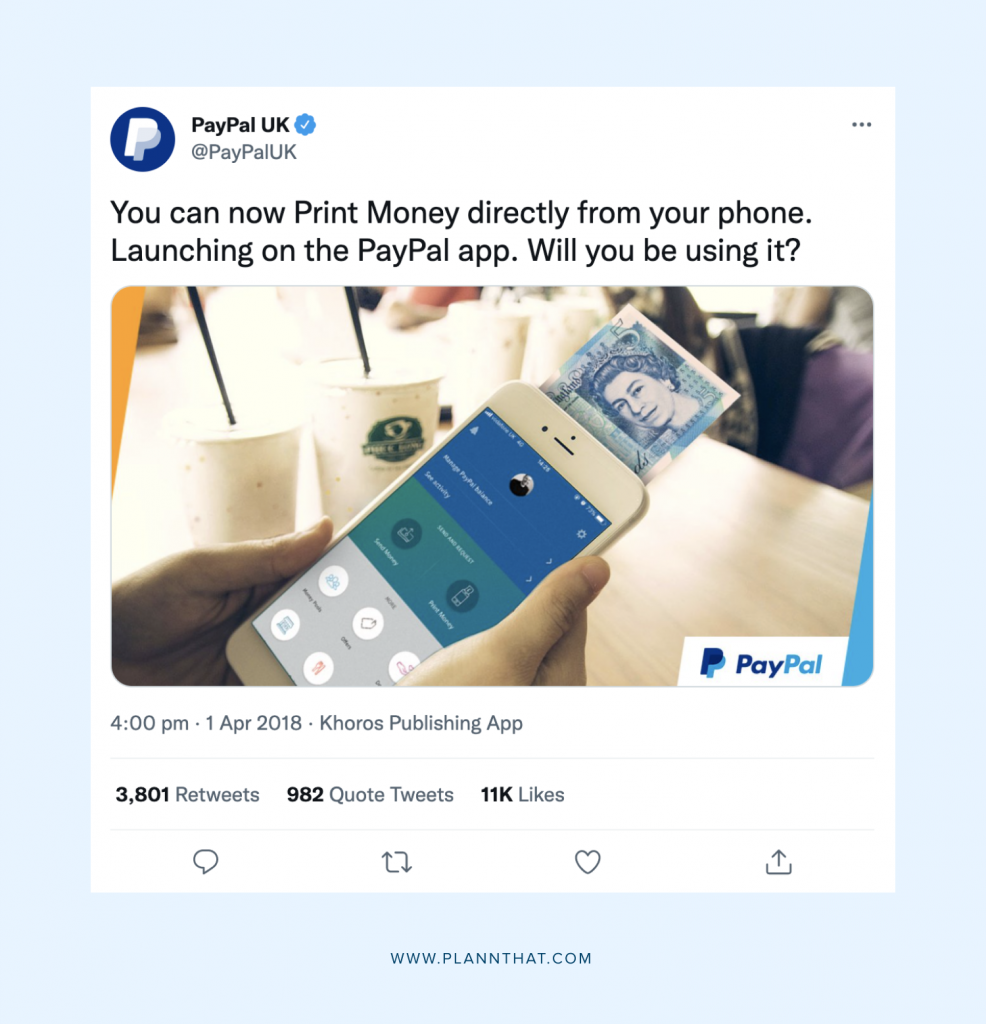 Burger King
Burger King would definitely win the 'Best Company & Brand Pranks' award if it existed. We know that baking bread was quite a hit during the start of the pandemic. And Burger King decided to hop on this trend and deliver its unconventional take on sourdough sandwiches.
In Burger King's sourdough sandwiches, you could expect everything, from Hershey Hershey Pies to Mini Shakes. To ensure this prank could grab more eyeballs, it changed its Twitter bio. It read "puttin' everything on sourdough since 2021".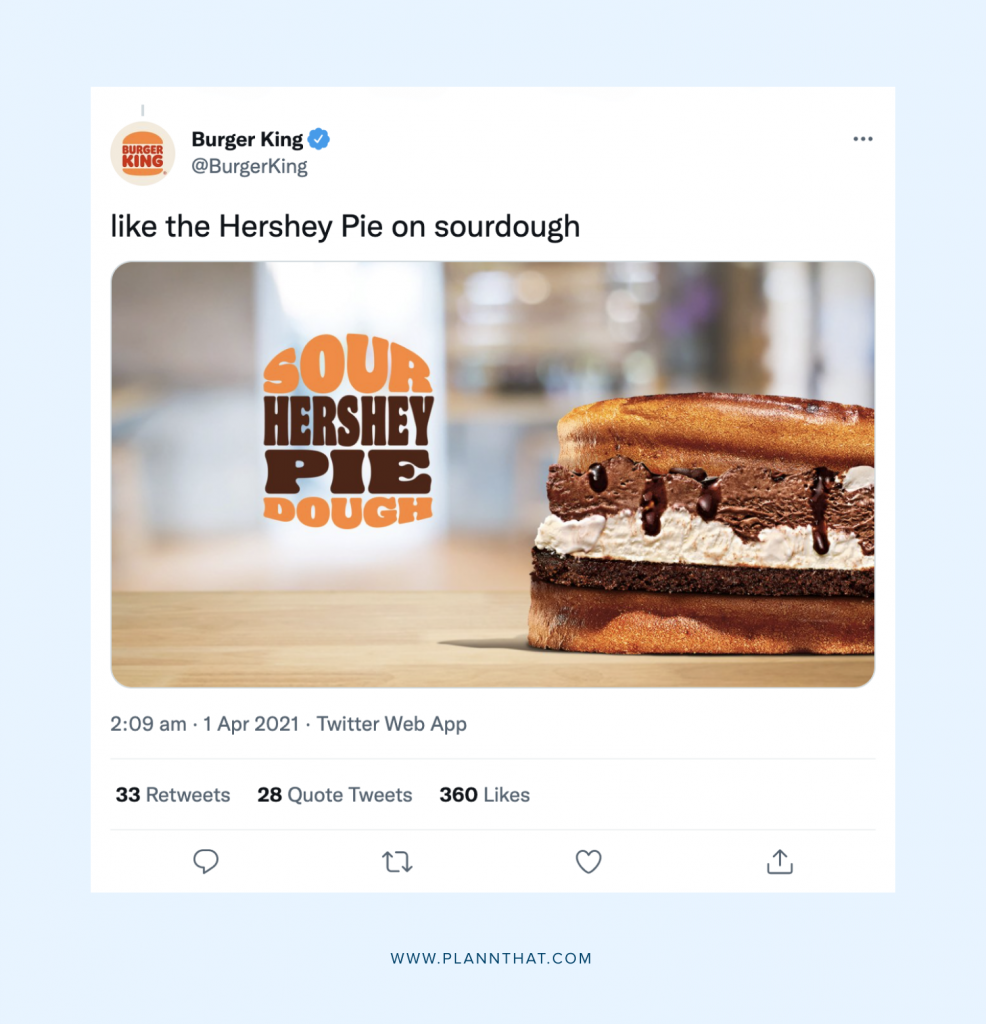 Here's another post that proves that Burger King is not afraid to crack a hilarious joke. Burger King Singapore took the sweet-salty combo to an unbelievable level. It paired its Whopper Beef Burger with a chocolate fudge sauce.
We're not sure how many customers were really interested in eating this burger, but it for sure got everyone talking about this unusual combo. Also, this beef-meets-chocolate Whopper wasn't just limited to social media. This fast-food company created this burger and offered it to its customers until April 15 (for real).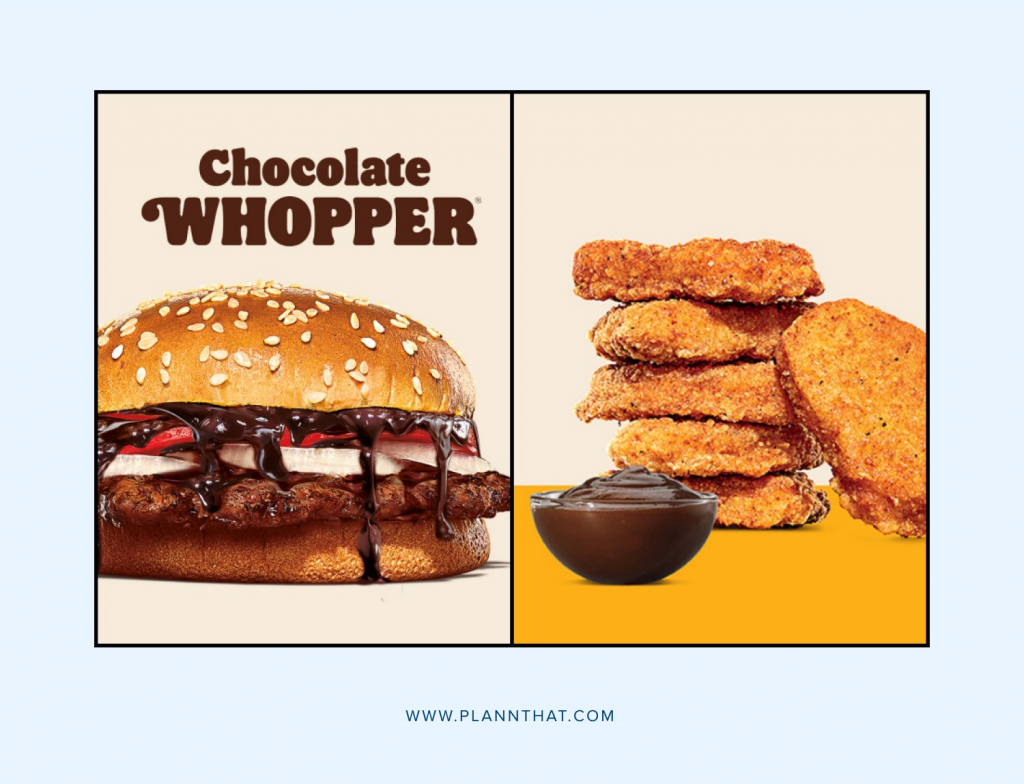 Get your April Fool's Day content sorted with Plann
Whether you are planning on launching a fake product like McDonald's or a limited one like Burger King, the key to an effective April Fools' Day post is to add some fun!
Make sure to stay true to your brand's voice, don't make offensive jokes and ensure it links back to your products or services.
By why wait until April to get your content sorted?
Here at Plann, we offer an award-winning all-in-one auto-scheduler, social strategist, designer, and content calendar suite. So, if you are ready to curate the perfect grid, join our community of Plann'rs, and we'll streamline your social media game!
Go on, sign up for a free 7-day trial of Plann today and manage your entire social media strategy from post idea to publishing with ease.