It's time for the August content calendar and that's lucky because it's almost August and you were on the verge on unbridled panic!
You can scroll on down right now and get started, or stick around up here for a few reminders and tips.
Let's get to Plann'ing…
Free 30-Day Instagram Content Calendar
You may have used our content calendars before – they're one of our most popular tools – but let's dig a bit deeper into how a few members of our community have used the calendar and been inspired!
Make it Visible!
Print off your calendar and stick it to the wall! Use post-it notes and images and pins and stuff to make an inspiration board and badda-bing, badda-boom, you've got yourself an awesome Planning month! Remember that movie, A Beautiful Mind? Just like that.
If you're not a 'paper person' – which is someone who uses paper a lot, not a human made entirely out of paper – then use the calendar as a desktop background or screensaver: you'll love it when you're having one of those days where creativity just doesn't want to strike.
Make it your Own
Don't let us restrict you! Your business and personal brand is unique and you know it better than anyone. Move things around, build your own calendar…heck, send it through to us and we'd love to share it with the world!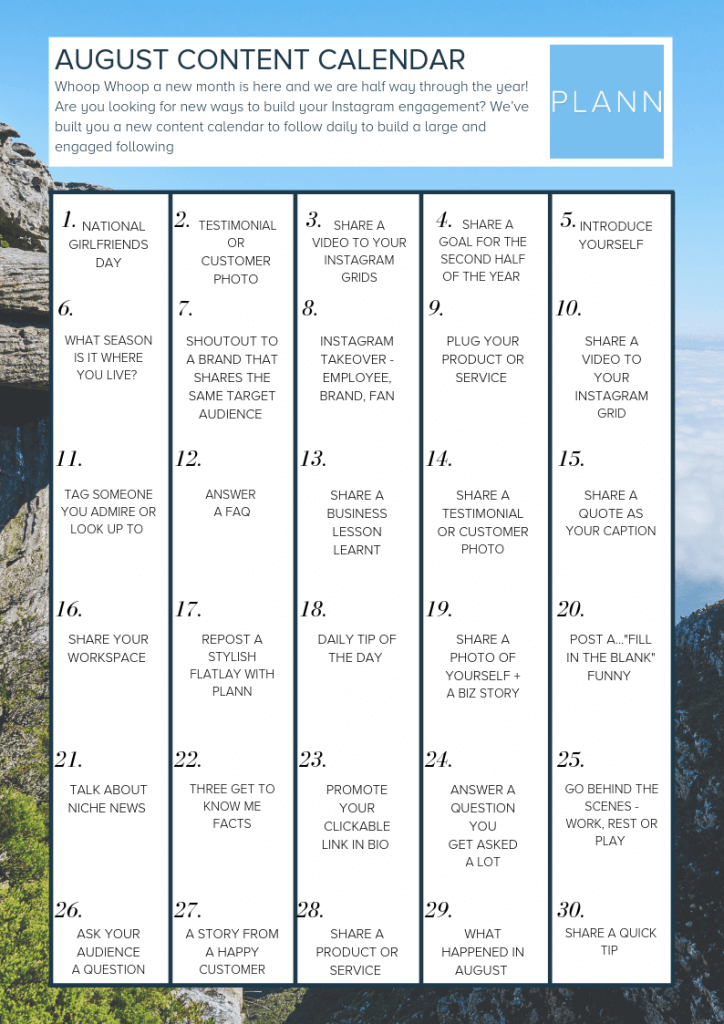 Laminate It
Yep, laminators are still a thing and so deserves a section of it's very own. Put the calendar in a laminator, get out a whiteboard marker and scribble your ideas all over it. Rub them out, start again, get inspired…then laminate everything else in your life because laminators are amazing!
GET ACCESS TO THE CONTENT CALENDAR
Click here to to download the Instagram Content Calendar for this month.
If you need any help along the way, we share helpful hints over on the Plann Instagram that are sure to brighten your day.
If you do follow along with the calendar, be sure to use the hashtags #plannthat and #planncalendar for your chance to be reposted on our stories!