Are social media holidays a waste of time? Not necessarily, but you need to be celebrating the right events strategically to get more eyeballs on your content.
Sure, it's extra work having to plan out content for specific days, but the extra elbow grease is worth it (especially if you're itching for extra sales).
In a world full of brands doing the bare minimum online, go the extra mile. Here's how to use holiday social media posts the right way to grow your business and slay the social game.
What are Social Media Holidays?
Social media holidays are special days that give you an opportunity to create an engaging marketing campaign. From World Pizza Day to International Women's Day, these annual holiday moments can be a way for your brand to jump on timely, trending topics.
The only requirement? You need to make sure the days you choose to celebrate resonate with your audience.
Still confused? Let's dive into an example.
The 20th of April is National Cheddar Fries Day. If you run a fast food joint that serves up this dish, you can create an entire campaign around this menu item. Check out this example from the crew behind Charly's Cheesesteaks.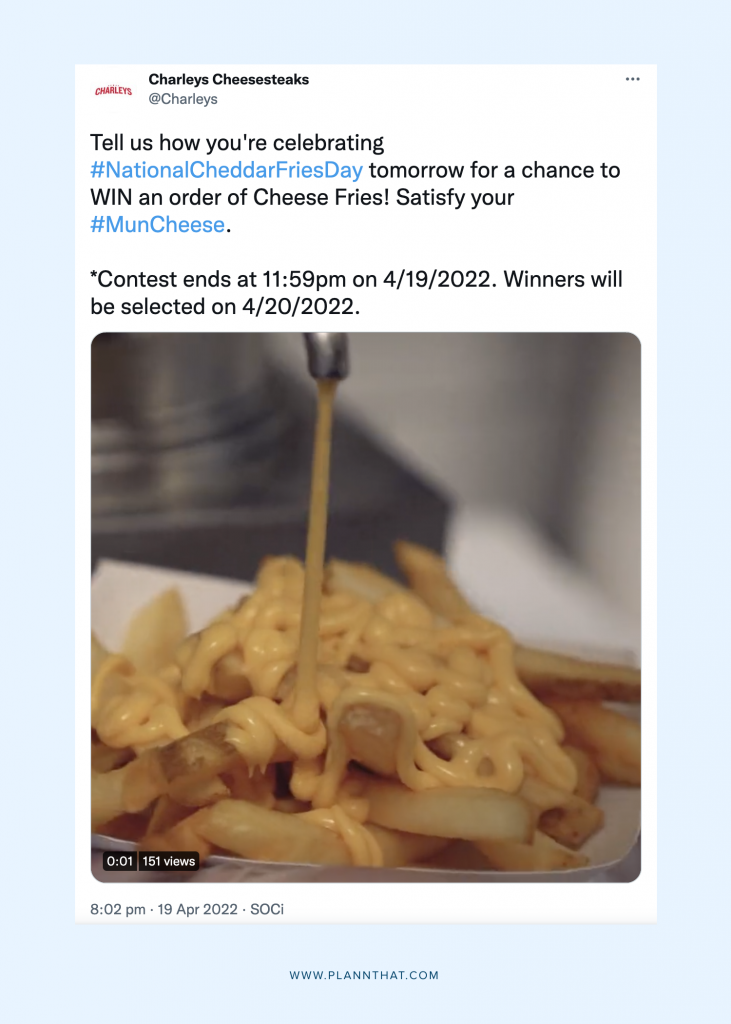 How to find Social Media Holidays to celebrate
One of the easiest ways to find out what day it is and which holidays to add to your social media calendar is to check out online directories, like NationalToday.
The website is a national holiday list goldmine. It has almost every social media event you can think of and uses categories like animals, causes, relationships and beyond, to help you quickly find days that make the most sense for your brand.
Pro Tip: Save time by using the navigation to jump to different months and specific days.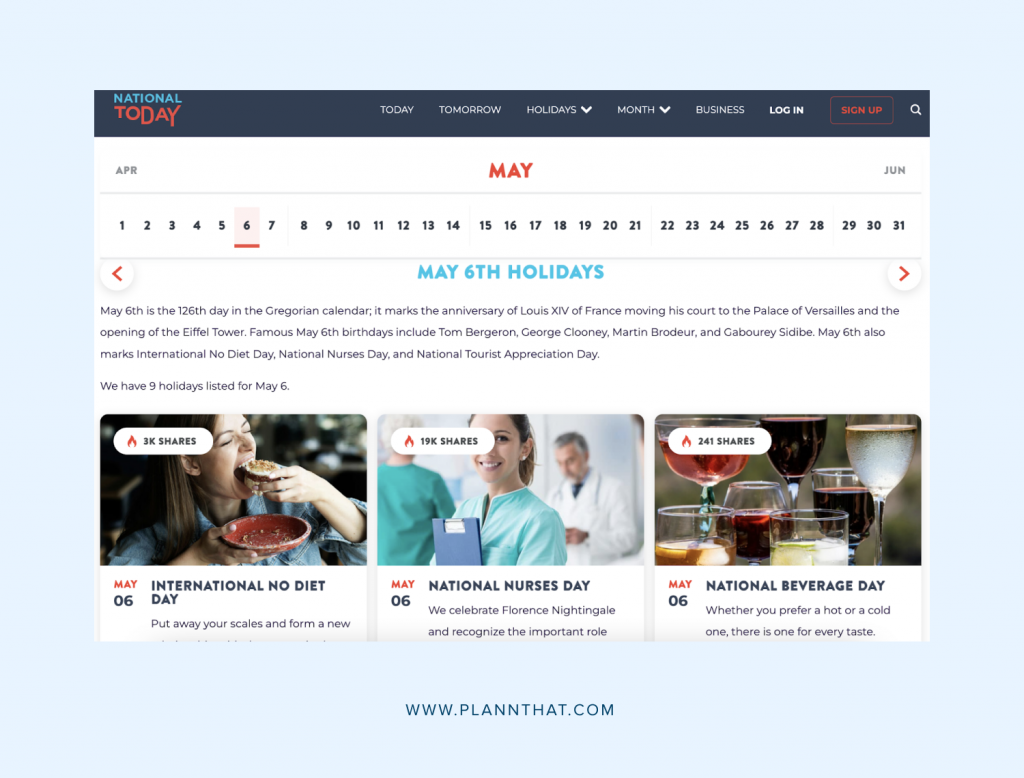 Want an even easier way to find out which social media holiday you should be celebrating? Within the Plann app, we offer seasonal content prompts for all the major social media holidays (complete with caption starters and hashtags).
In our humble opinion? Our social holiday captions prompts are the easiest way to keep your social posts timely and relevant.
Why should you celebrate Social Media Holidays?
If you're reading this blog post, you're probably asking yourself: "Okay, so what's in it for me? Why should I care about adding these international and national holidays onto my social media calendar?"
As silly as celebrating "national nail polish day" might seem on the surface, it can have a massive impact on your business when you dig deeper.
Let's run you through four powerful reasons why social media holidays need to be a part of your social media strategy, and how to make it happen!
It can increase sales (*Cha-Ching*)
As an online brand or business, you're building an audience to sell them stuff, and social media holidays can help your products or services sell like pipping hotcakes.
Just look at these statistics:
• 25-34-year-olds spend on average $300 every Valentine's Day, and consumers fork out an impressive $2.4 billion on candy alone.

• 88 million Americans shop during Black Friday and spend a whopping $8.9 million online shopping.

• $4.6 billion is spent on jewellery on Mother's Day and $4.4 billion on dinners or brunches.
If you don't have a content game plan for these lucrative national holidays, your brand is missing out on getting a slice of the pie.
Boost your engagement and reach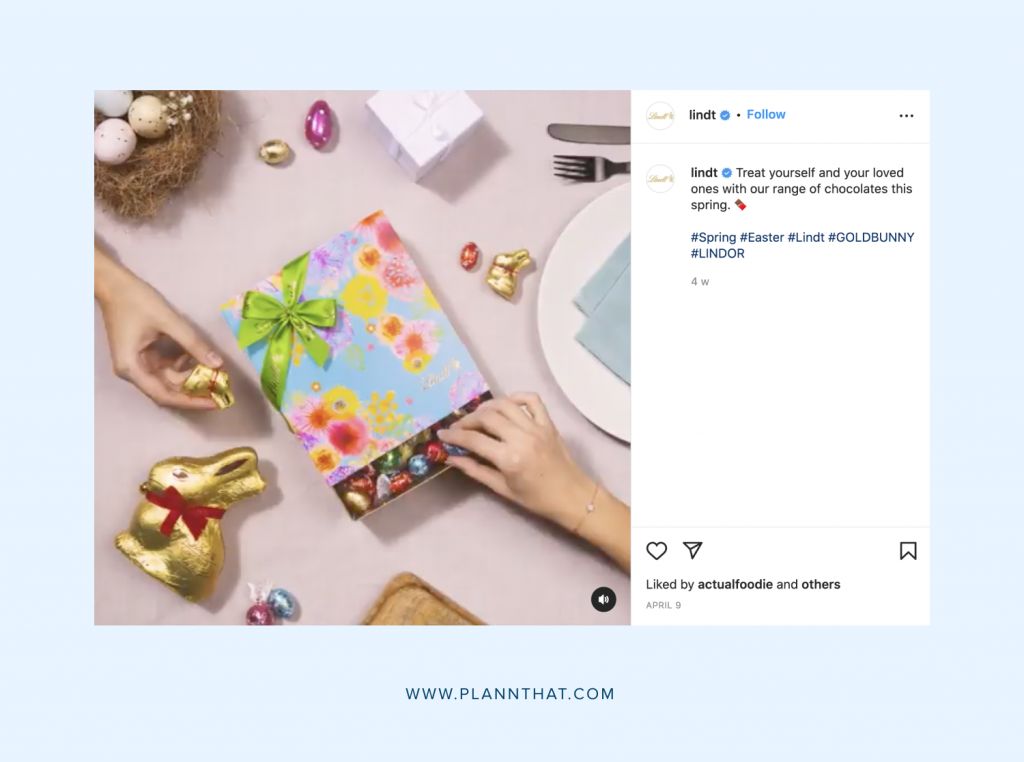 Algorithms and the sheer amount of content posted to social media each day make it harder and harder for your followers and new people to see your posts.
The solution? Hopping onto social media bandwagons like national holidays can help you to boost your reach and engagement.
Using relevant hashtags like #Easter or #WorldReefAwarenessDay, you can expose your brand to new audiences and show your current followers what your brand cares about and celebrates.
Start a conversation with your audience
Want to align your brand with a particular social cause or cultural movement? Use social media holidays to start a conversation and demonstrate your brand values.
The brand challenged its followers to "opt outside" and skip the Black Friday madness to combat over-consumerism over the holiday.
To solidify its commitment to the cause, the brand didn't leave the action up to its followers. For the 7th year in a row, REI closed its doors in more than 170 locations to give its employees the day off to spend with their loved ones and forgo the holiday's lucrative sales.
The result? REI sees an increase in brand awareness by going against the grain and strengthens its relationship with customers by staying true to its brand values.
Find a unique angle to promote your brand
The secret to making fun national holidays work for you lies in how you frame them. Framing is how you make people care about your content. It dictates recall and what your post was all about.
In short, the right angle is the deciding factor if someone will read your post and click through. The hard part? Finding a unique angle for a holiday and relating it back to your brand isn't easy.
But if you're up for the challenge, it's a great way to grab attention online and get your brand to stick in people's minds.
An excellent example is Amtrak. The North American train and bus service put a twist on National Space Day by throwing playful shade at its competitors and promoting the brand in one spicy tweet.
Plann your social media holiday content
Now that you know how social media holidays can give your brand an extra boost in sales, engagement, and brand awareness, it's time to start Plann'ing.
With a social media calendar, you can stay on top of your seasonal content and make sure your creatives are ready to go for the next holiday.
Here's how to set and forget your dates and never miss an important day again with your favorite all-in-one social suite, Plann.
Step 1: Log into your Plann account, and tap on "Calendar."
Step 2: Use the list of days already in Plann or NationalDay.com to plan which days you want to celebrate.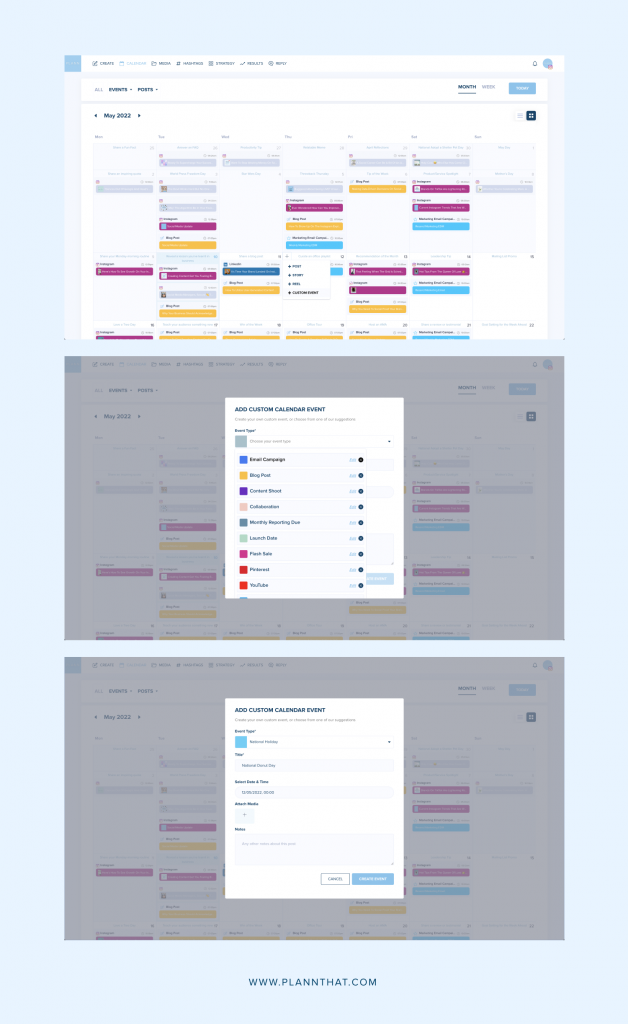 Not part of the Plann squad yet? Go on, sign up for a 7-day free trial of a fully-featured Plann account. If you don't like it, you can keep using Plann for free.