Content batching is an efficient way to create valuable and engaging content for your audience.
It helps you save time, maintain a consistent feed, and most importantly, post consistently.
In this article, you'll discover everything you need to know about batch creating your social media content, includng what the benefits are and how to do it right.
Ready? Let's get started.
What is content batching?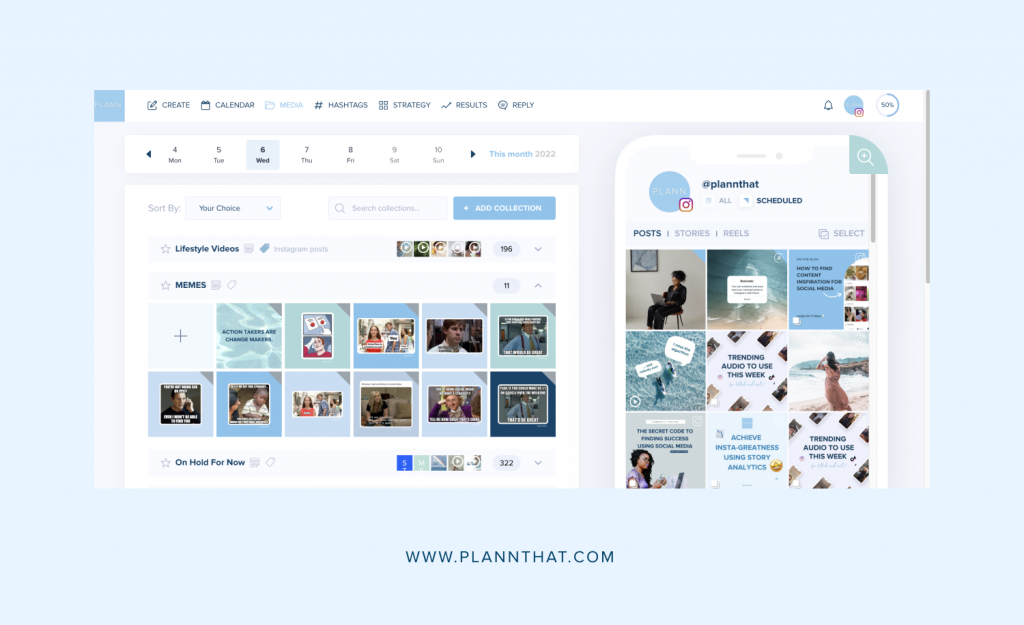 Content batching for social media simply means coming up with and creating all of your graphics and social media captions at once.
Instead of spending an hour planning, developing, and posting a single Instagram post, you'll spend one batch of time composing (a.k.a. "batching") a whole week's worth of posts.
While this might seem like a time consuming process, it will actually save you stacks time in the long run.
That's because content batching enables you to focus your energy on a single task rather than bouncing from one task to another. Plus, content batching eliminates the stress of publishing social media posts without any plan.
The benefits of batching your social media content
1. Batching content saves you time
Creating content ahead of time (and in one focussed period of work) gives you time to focus on what you do best: running and growing your business.
Rather than creating content each day to accomplish your social media goals, you'll dedicate one day to batch generate content for a week or even a month.
2. Batching content helps you maintain a consistent feed
By creating content ahead of time, you can easily predict and plan what your whole feed will look like. This will help you maintain a consistent aesthetic and brand voice on your social media feed.
How to batch create content
Finding content inspiration can seem challenging, getting stuck or in a creative rut can feel inevitable. So, we've rounded up a few practical tips to keep you motivated to batch produce quality content.
One product, different ways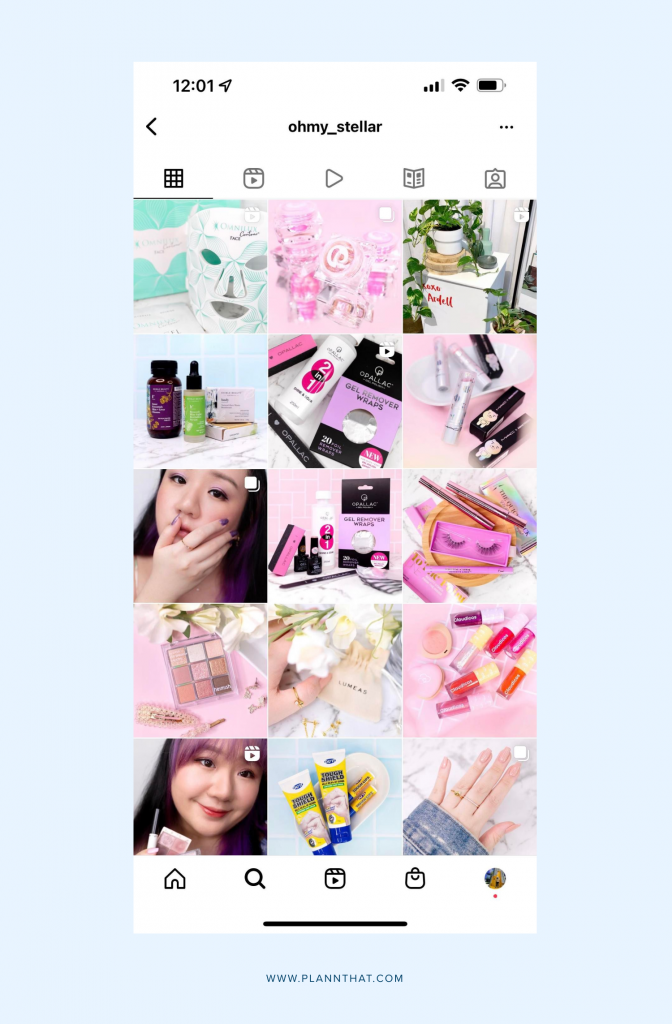 Want to make your content go further? Shoot the same product at least three times.
Instead of taking one photo at a time, why not capture a range of images of the same scene, service or product. By creating a bank of high-quality images in one go, you'll have a library of original content to draw on when batch creating your posts.
To show off your products, team or services to your audience, here are a few photography styles to experiment with:

‣  Lifestyle shots that show your products and people at play.
‣  Flat lays that show products styled with related objects.
‣  Reels that educate, inspire or entertain your audience.
‣  Stop motion videos that playfully showcase what you do best.
With this library of assets on hand, you'll easily be able to get ahead and plan your content in advance.
Curate a stack of user-generated content
Another great way to take the stress out of content batching is to harness the power of user generated content (UGC). By resharing posts captured by your customers or followers, you can tap into this valuable social proof and decrease the time it takes to create content for your business.
Take a look at your tagged photos, your geotags on Instagram and any branded hashtags your customers are using on social media. Save copies of these pieces of UGC and save them for future use.
By having this library of content ready to go, you can plan and schedule stacks of content in advance (and let your customers vouch for your brand, too).
Harness Plann's done for you captions and daily post prompts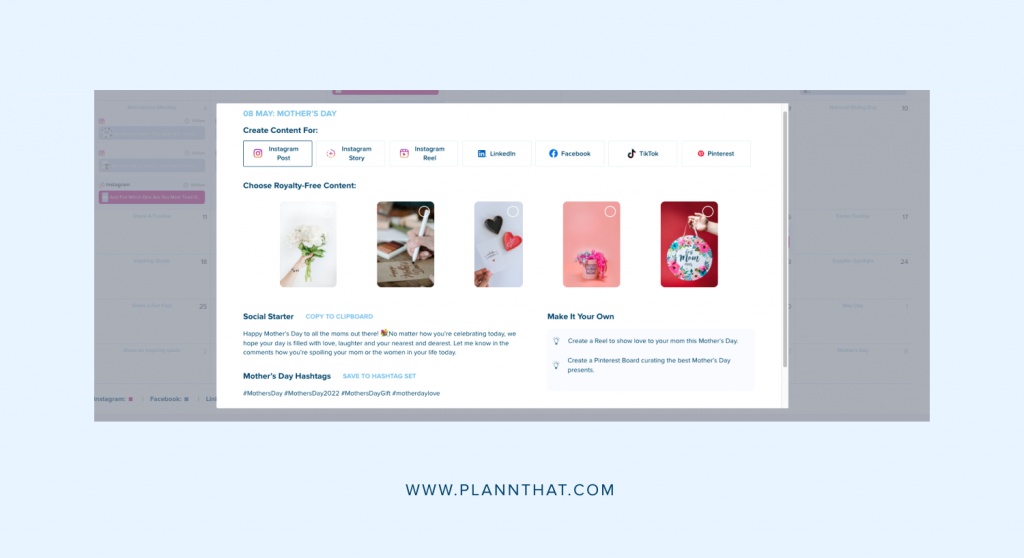 Never want to miss a seasonal holiday again? Whether you're looking for daily content inspiration and expert guidance about what to post, look no further than Plann's all-in-one social media suite.
One of our Plann'rs favorite features is this: our done-for-you content. Within the Plann app, you can access our Instagram caption generator (perfect for when you're out of post ideas).
Browse through royalty free content libraries, repurpose daily caption prompts and leverage our library of social media holiday posts (so you'll never miss an important date again). In our humble opinion, it's the easiest way to batch create your social content.
How to schedule your social content in batches
Now we've got your social post ideas sorted, let's get posting! Here's our ultimate formula for planning and scheduling your content in advance.
Step 1: Identify your content pillars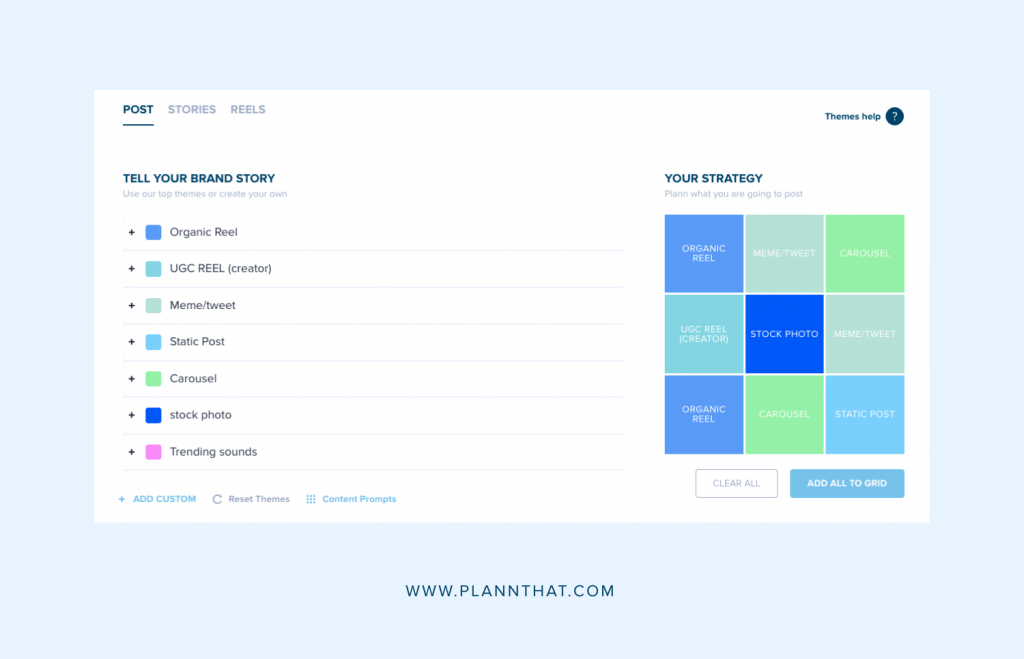 Before you begin batching content, the first step is to define your content pillars.
Content pillars are the broad topics or subjects that you'll use to anchor your social content. They should be themes related to your business, your industry or area of expertise.
We recommend jotting down pillars that define your brand and determining the subjects that interest your target audience.
P.s. want some help getting started? At Plann, we've got a stack of pre-defined content pillars ready for you to tap into and customize to suit your business.
Step 2: Analyze your existing posts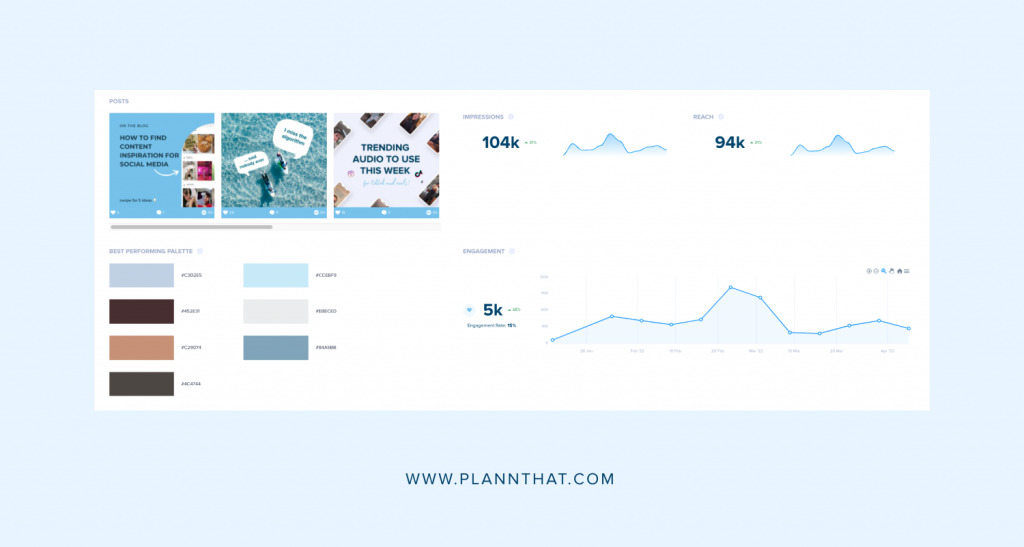 The next step in the content batching process is to analyze the performance of your existing content.
Analyzing your statistics with the Plann app will give a clear idea of the content types that engage and excite your audience.
Based on your social media analytics and data, you can also ask yourself the following questions:
• When was the content released? Was it the best time to post?
• What was the call to action (CTA) used?
• What content format did you use? Was it a video, a graphic, or a lifestyle photograph?

By checking your post analytics, you can refine your social media strategy and focus your efforts on your top performing content formats and themes.
Step 3: Brainstorm your post topics
Once you've established your content pillars and analyzed previous social media posts, it's time to brainstorm fresh content ideas. To begin, make a list of any notable dates, like holidays, product launches, and campaigns, to ensure your content is relevant each week.
After that, go through the commonly asked questions you've received from your community, any current news, or announcements relevant to your niche.
Then, start brainstorming other ideas, such as repurposing content or testing new trends.
Remember to bring up your content pillars throughout your brainstorming session. They'll keep you on track, so you don't go too far from your main points or themes.
Step 4: Get caption writing
Now that you have ideas for new content, it's time to start writing captions.
Here's a handy caption formula that can help you:
• Hook: Make sure that the first line of your caption draws your audience's attention and makes them stop scrolling. Use words and writing style that will compel them to read more.
• Line Breaks: Use line breaks to make your caption easy to read and avoid clutter.
• Emojis: Emojis can add personality and emotion to your caption. It also breaks down the text and makes it compelling.
• CTA: The best way to boost your engagement is to invite your audience to take action. Whether your goal is to make your audience comment on their thoughts, save your post, or follow the link in your bio, make sure to ask them in to action in the caption.
Step 5: Create and source your images and videos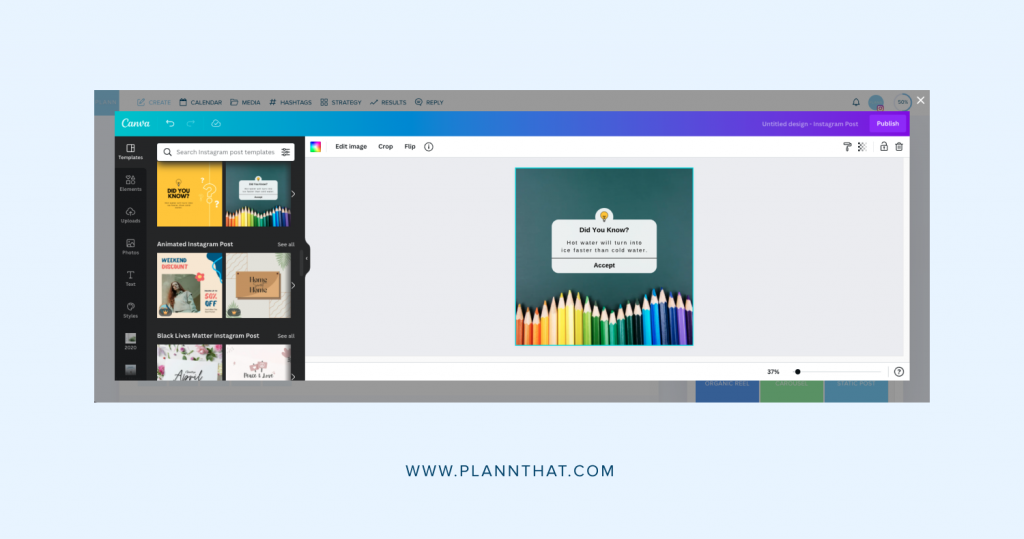 Once you know what message you need to transfer to your audience, it's time to start creating or sourcing your images and videos to match your captions.
Did you know you can design on-brand graphics on Canva directly in Plann? Our unbeatable social media integration means you can build graphic creation into your social workflow, without leaving the Plann app.
Plus, we offer stacks of royalty-free images and videos you can leverage to ensure your social content is fresh and high-quality.
Step 6: Schedule your content with Plann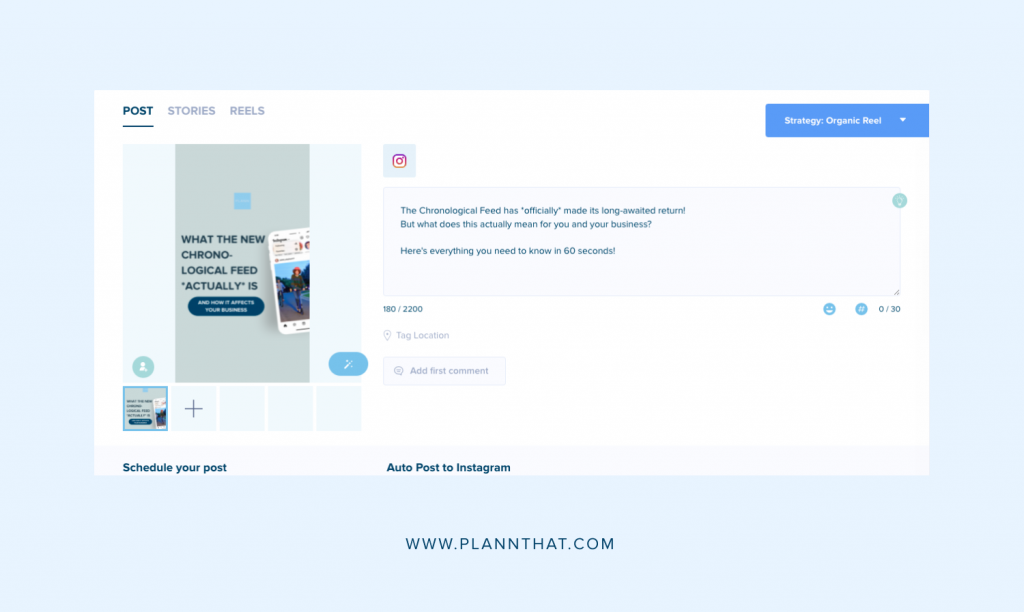 Finally, when you have a month's worth of content ready to publish, all you've left to do is create a publishing schedule.
Are you wondering how to plan your social media calendar?
With the Plann visual planner app, you'll see how your content will look on your feed before publishing it. This will give you an idea of what content comes next and enable you to publish your content with one click. It's that easy!
Schedule to multiple platforms at once with Cross Post
You can now create and share a single post across multiple social media networks at the same time, all in one step, with Plann's Cross Post feature!
The best part – you can make any edits and tweaks for each platform if you don't like the idea of just duplicating the same content everywhere – you can easily optimize for each platform and your different audiences, while optimizing your workflow to get back more of your time, win-win!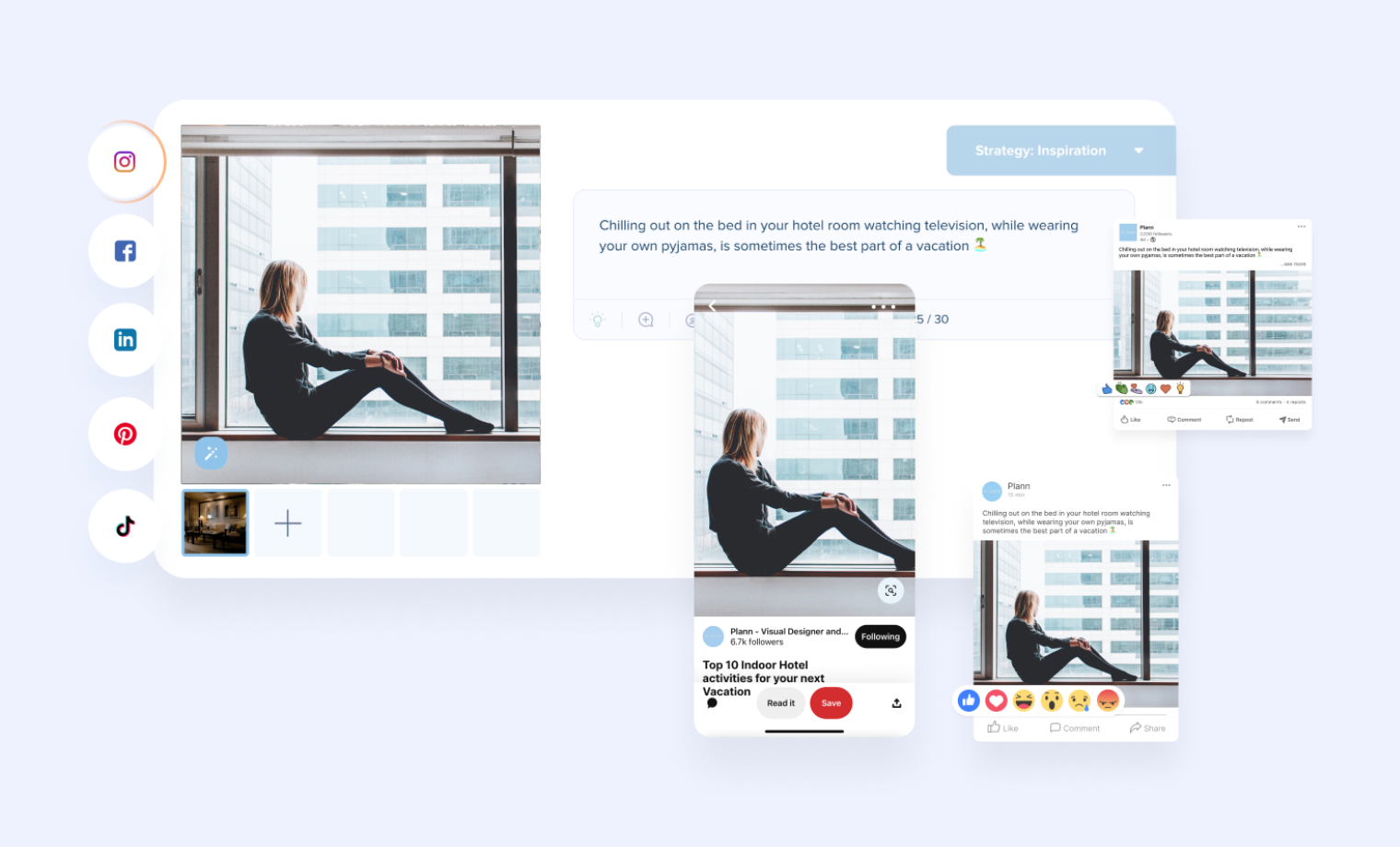 Ready to batch content for social media?
Now that you know the benefits of batch-creating content for your social media channels and how to do it, it's time to act on this new knowledge.
Identify your content pillars and analyze your previous posts to understand what content works for you and your followers.
Go on, sign up for a free 7-day trial of Plann, and try our all-in-one soical media suite for yourself.