For anyone who is building or launching a business, you know how important it is to get the word out there. In the early days of launching her wedding photography business, Jessica Douglas Photography, Jessica relied solely on word of mouth and hustling to secure bookings. 
But once she realized the opportunities social media marketing could offer her business, she's never looked back. From humble beginnings of posting a few of her favorite shots to Facebook, Jessica has grown her social media following to over 4,000 loyal fans on Instagram alone.
We had the pleasure of chatting to Jess about how she's grown from a small-town wedding photographer to a recognizable leader in her field, her favorite social media tools and her tips for other brands looking to grow and scale using social media marketing. 
Building a thriving online presence on social media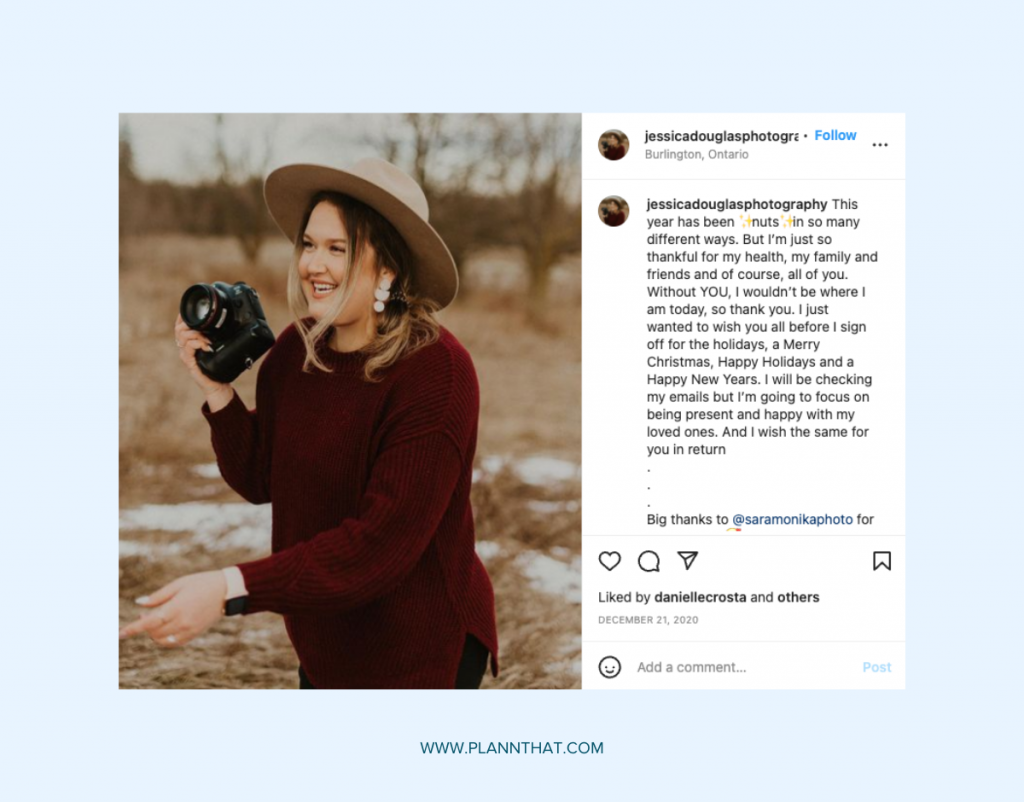 "When I first started my photography business, Instagram wasn't a thing and only word of mouth and hustling got me business. But then I figured out how I could post to Facebook and keep everyone interested in what I was doing. 
Without social media, businesses like mine would have to solely rely on their websites and SEO. For some, that's no issue. But for those like myself who don't know a single thing about web design or SEO blog writing, it can be overwhelming.
Social Media has given me a sense of control. I can easily learn different platforms like Instagram, TikTok, Facebook and beyond.
I can connect with those who might not be in my normal "circle" of referrals and align myself with businesses that share the same values as I do. Social media had single-handedly taken me from a small town wedding photographer who took on just a handful of weddings per year to being recognized at the mall in a town over (a moment that absolutely blew me away!).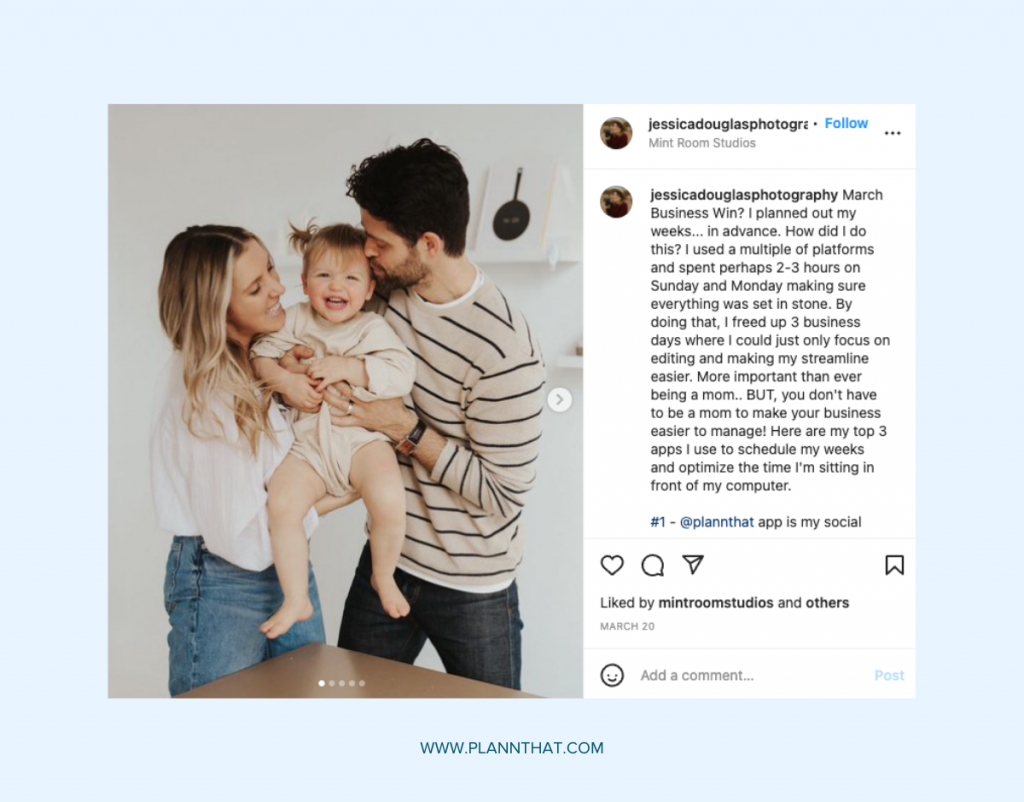 Now, I have to cap my wedding season at 30 weddings and am able to show off my work to a wider pool of potential customers using social media. 
Plus, leveraging social media has helped boost my bookings to the point where I could then raise my pricing, while still accepting new and amazing customers."
Life before and after Plann
"In short, it didn't work well!
If I remembered to post at all, it would be here and there and maybe once or twice a week. I wasn't gaining any traction and my posts were maybe getting a 1% engagement rate. I had no schedule and it totally backfired. My captions were blah, I never knew how to connect with my audience or really how to write an engaging message that would entice people to comment.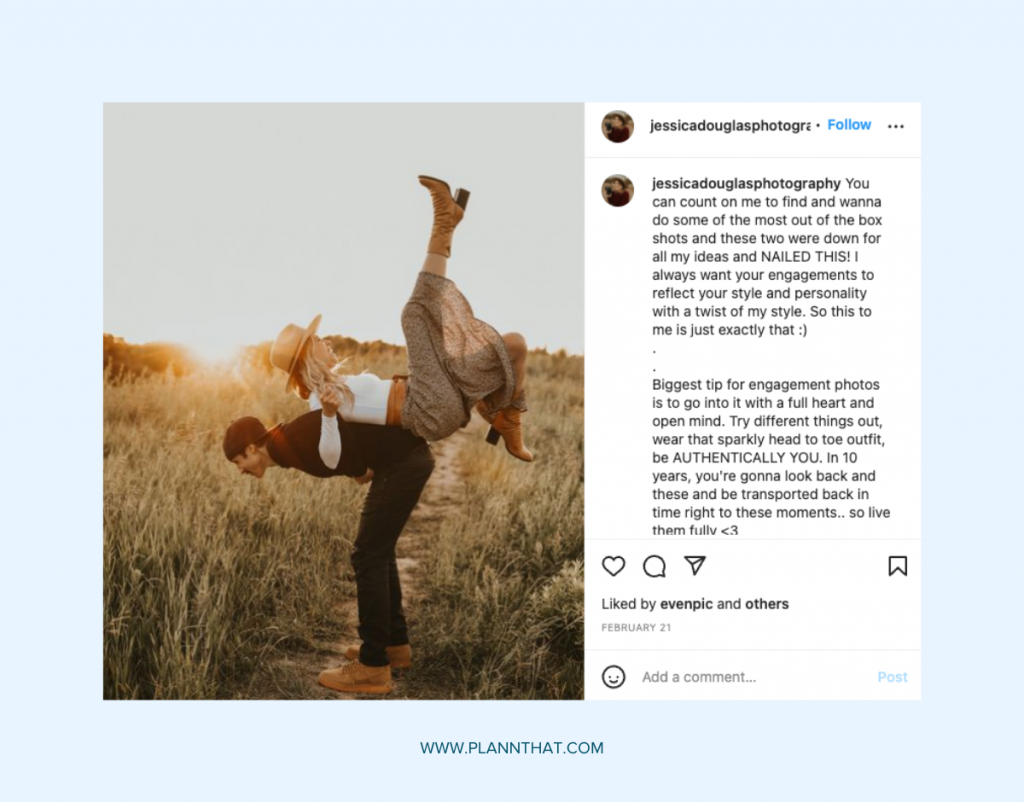 With Plann, it has allowed me to post consistently to all of my social media accounts. It makes growing my social presence super fun, easy and exciting.
It was a game-changer to set up an entire week's worth of posts and get Plann to post for me! I just became a mom in August 2021, so spending hours picking photos, responding to comments and posting on the fly wasn't going to work anymore.
With Plann, I found that it gave me my time back. Time I can now spend with my daughter, or editing client work and not falling behind. Even if I wasn't a parent, a lot of self-employed people wear many hats, so Plann is there to help you work smarter not harder."
And Jessica's favorite Plann feature?
"I love using Plann on desktop to pull images from my computer and get right into planning out a week of content. But I'd have to say my favorite feature of Plann is how I can visually plan how my feed will look once I've published my content. 
This is key for me because I pride myself on being the best golden hour photographer. So I want my feed to show that.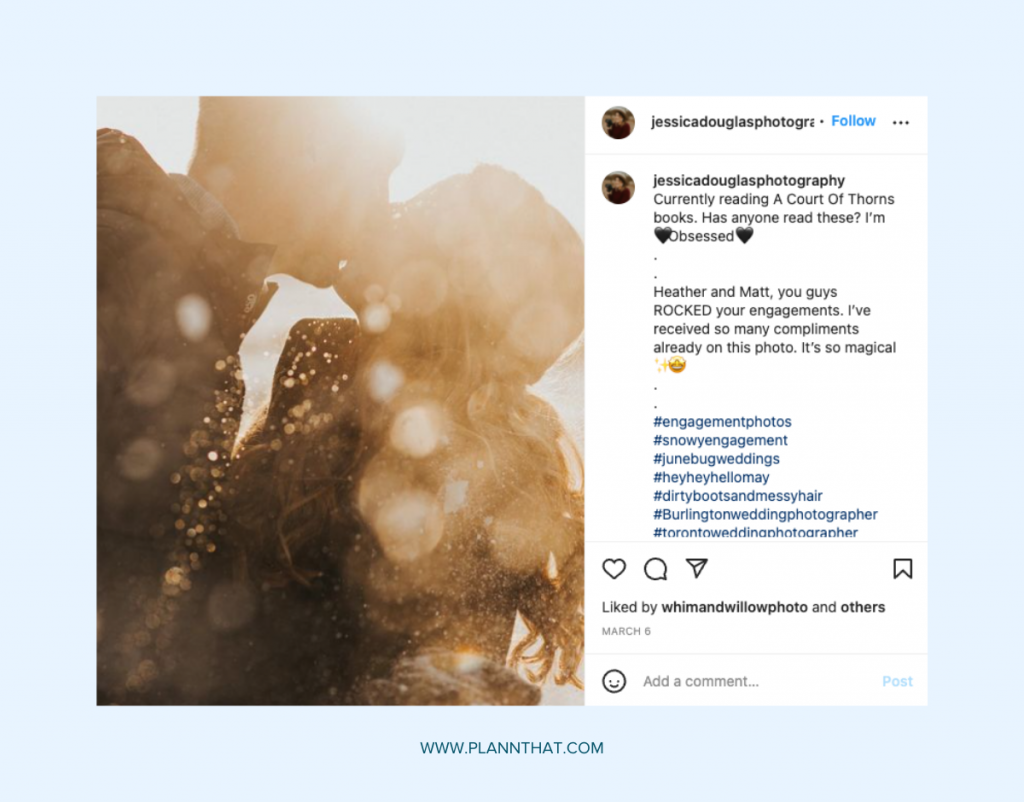 If I posted every day by myself, it would be hard for me to visualize what it would look like at the end of the week. So Plann really helps to keep my branding consistent and fresh! 
I also have to shout out the "when to post" feature because I'm also clueless when it comes to the best times to post. But Plann has my back and the more I use Plann and the more I post using it, the better the algorithm gets at recommending when I should be posting.
I'm not the best writer out there, nor do I feel like I'm creative when it comes to captions. But Plann helped me with daily caption prompts and gives me ideas for my captions that are engaging. I'd say that my engagement on posts since using Plann has increased significantly." 
Top tips for brands looking to succeed on social media in 2022
"First and foremost, show off what you want more of in your business. Use Plann to help layout those images and content that you really want to make an impact with. Plann also has customizable layout options to help keep your strategy consistent which is also a huge win. 
Using Plann's feature to visualize your upcoming content, you can use a colour palette too that represents your brand the best. Plann also has your back with this too, showing which colour palette has gained the most engagement on your channels.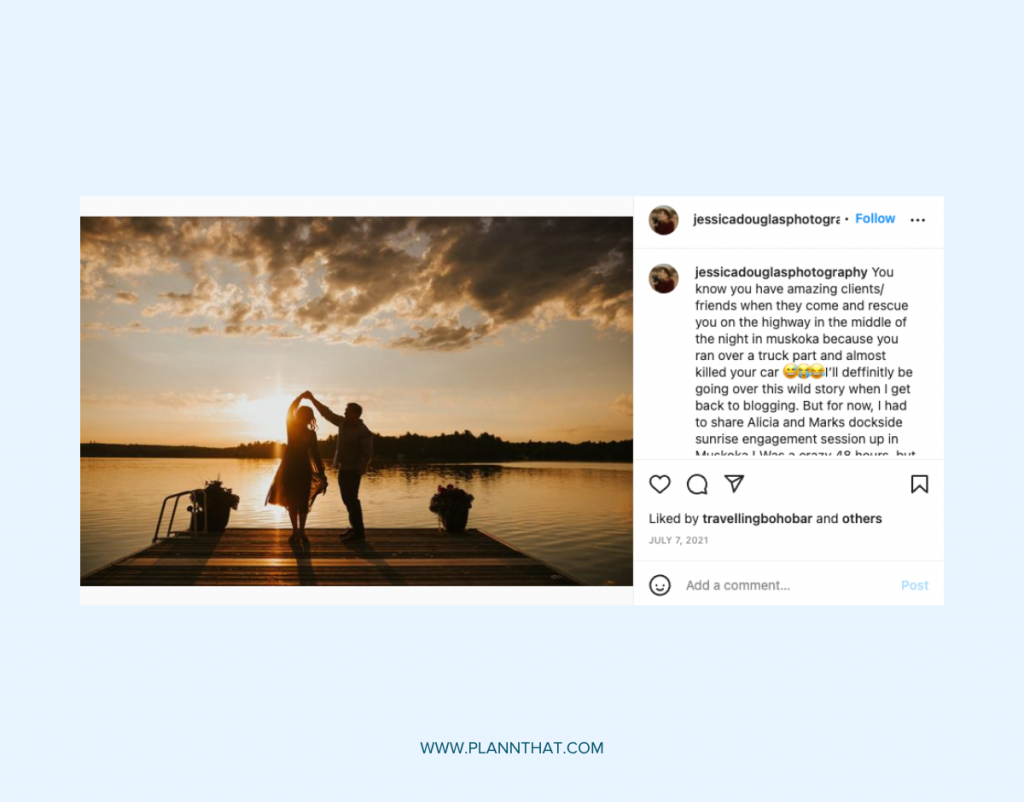 The biggest tip I actually tell myself, especially when it comes to social media, is to be authentically you. Don't force yourself to post certain content because it's trending. Trends come and go. Stay consistent and post what you want and you'll find your tribe more easily that way."
What's next for Jessica Douglas Photography?
"I am so proud of my wedding photography business and I would love to grow it by finding and narrowing down our niche a bit more. But I also have plans to open a studio in the next few years with a few photographer friends of mine. 
We want to create a space where other like-minded people can come and use our space to get creative and explore. Ideally having it become a home base for my business and a second home."
Ready to supercharge your success on social media?
Looking for an all-in-one content creation suite that allows you to effortlessly manage your social media channels? From mapping out your strategy and designing your graphics to saving plug-and-play hashtag sets, you'll find everything you need inside Plann. 
Go on, redeem your 7-day free trial of Plann Plus. If you don't like it, keep using Plann for free!