Are you leveraging the engagement power of Instagram polls for your business? With polls for your Instagram Story, businesses are better positioned to connect with their audience, gauge how their brand is perceived and generate ideas from the audience. It lets you ask questions and get answers directly from your followers by allowing them to vote.
In this article, we'll run you through how to make a poll on your Instagram Story, the benefits of running a poll on Instagram and some winning Instagram Story poll ideas to get you started.
The Benefits of a Poll on Instagram Stories
The name of the game on Instagram is driving meaningful engagement from your audience (and potential customers).
When you make a poll on Instagram, you can ask your followers to cask their vote and directly engage with your brand. Plus, the results of your poll can help you learn more about your audience (just by creating a post on your Instagram Story).
Still not convinced? Here are two powerful reasons why you should create a poll on Instagram and tap into the poll sticker on Instagram:
• Engagement: an Instagram story poll is a great way to boost your engagement metrics. It prompts the audience to interact more with your story and reach out to your business. All it takes is a simple yes or no question to learn more about your followers on social media.
• Direct Connect: What better engagement than connecting with your relevant audience directly? Whether product reviews, product feedback or building your brand, Instagram poll questions are very effective.
The best bit about using the Instagram app to create a poll? Instagram has recently upgraded its poll sticker functionality, making these prompts more interactive and engaging. From the basic 'yes' or 'no' poll options, it introduced new text customization tools and the chance to choose from four different poll options.
How to Create Instagram Polls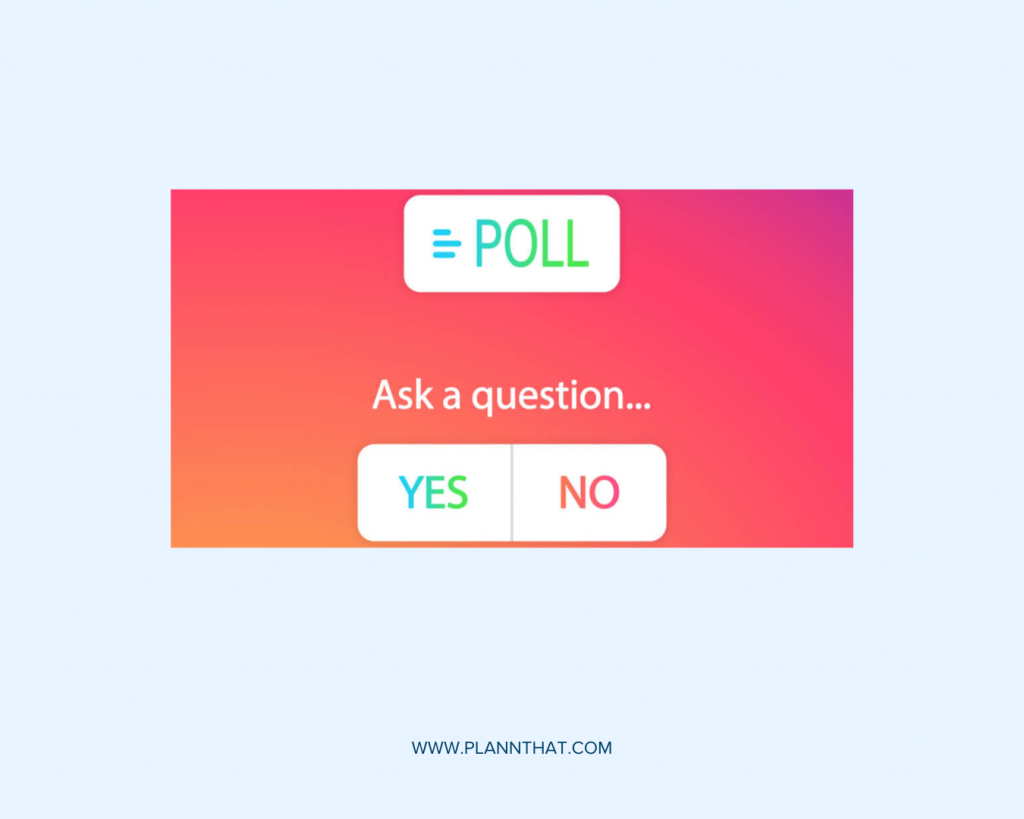 Ready to create your first Instagram poll or add a poll to your story? Here's our step by step guide to create a new Instagram poll:
1. Open the Instagram app.
2. Swipe open to your Instagram Story.
3. Take a photo or upload an image or video to your Instagram Story.
4. Tap the sticker icon (smiley face) at the top of the screen and hit the poll sticker.
5. Now, add your question and fill out your response options and click done.
6. When you're ready to publish, tap 'your story' and publish.
Instagram Poll Ideas for Small Businesses
Do you want to change up the way you interact with your followers? A great place to start is to make a poll on Instagram Stories. It's not only entertaining and simple, but it may also provide you with crucial customer insights.
Are you wondering how you can use these polls for your business? We have gathered four Instagram poll ideas that you can work upon to better understand your audience.
#1 Market Research Polls
One of the easiest ways to learn more about your audience is to get them talking! Exhaustive and boring surveys are long a thing of the past. With Instagram polls, interact with your audience informally, yet seek useful information.
With the intention of learning more about them, frame your questions to understand better what they like, dislike, what content they like to interact with, etc.
Here are a few Instagram poll questions to get you started:
• Which content would you like to see more on our Instagram page? Informative Content or Product Demo Video Snaps?
• What color theme do you like for your home? Warm Earthy Neutrals or All Black Exteriors?
• What's content formats do you enjoy watching the best? Instagram Reels or Stories?
#2 Gather Feedback and Generate Ideas
You don't have to run around the bush to generate opinions or feedback from your audience; ask directly with Instagram polls! Including your Instagram followers in developing your new product is a fantastic way to engage your audience, ensuring that your product is built with their input.
The job's just not done after you take polls. You need to let your followers know that their opinions matter. Once your poll on Instagram stories is complete, don't forget to share the results! Watch this simple tutorial on how to post your poll results.
#3 Instagram Polls to Tease New Products/Services
Add a poll to your Instagram stories to make your behind-the-scenes content more interesting. Using multiple stories with an Instagram poll as a teaser at the end creates excitement about upcoming products, services or bigger special offerings. Show a sneak peek and invite your followers to guess what it is or to express their excitement.
With Plann, pre-schedule multiple Instagram stories and boost engagement easily.
Ideas to get started
• Multiple stories ideas: Picture 1 > Picture 2 > Picture 3 > (Poll) Something's cooking, can you guess? Product Launch Party or Anniversary Celebrations?
• Are you ready for our spring sale? Hell Yes, or Nah, I'm Okay?
•What do you think this new geometric print is for? Skirt or Dress?
#4 Polls to Make Your Brand More Interactive
Using Instagram polls is a great strategy to learn how the audience perceives your brand and educate viewers about your brand. It's a great insight to have, especially when you want to track whether your marketing efforts are going in the right direction.
As a business, you want to build a brand that resonates and is interactive with the audience. Polls are a great way to do that. It's not always about promoting your product. With polls for Instagram stories, get your audience talking on their favorite topics like traveling, art, sports, movies, etc. and make them feel like having a friendly interaction with your brand.
Ideas to get started
• What's your favorite type of vacation? Exploring Beach or Hiking Mountains?
• Are you a pet lover too? Golden Retriever or American Bulldog?
• How do you like to spend your weekends? Binging Netflix or Bar Hopping?
Ready to level up your Instagram Poll game? Start scheduling them with Plann at your convenience and post automatically when you want them live!