Instagram is 10 years old this year and from double rainbows to graffiti walls, we've seen hundreds of trends emerge. I'm sure we're all guilty of trying to make replicas of them at least once.
Let's timewarp through the last 10 years of Instagram trends and see which ones you remember and which ones you can't wait to forget.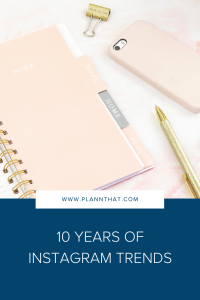 It all started with The Puppy.
The very first photo ever uploaded to Instagram was of a cute puppy by one of the Instagram founders themselves, we imagine during one of the very first tests in the early days.

It makes complete sense that the first trend of photos were of fluffy puppers. Who doesn't love a dog in a cute suit, bounding in snow or ripping up the couch?

Our furry friends were insanely popular way back in 2009 and…and still top-charting in 2019.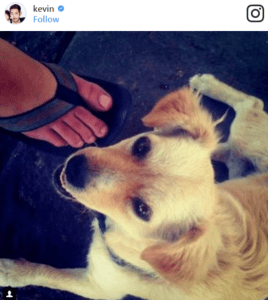 The Foodie
When Instagram started to really take off, it was full of pixelated, badly compositioned food.
We got to see terrible photos of everyone's meals leading to thousands of memes about hipsters oversharing their avo-on-toast. Everything from the morning cereal, brunch dates, fancy dinners and dimly lit cocktails on a night out.
While the trend still circulates (thankfully with higher resolution and more interesting layouts!), it was the beginning of a global trend that helped restaurants, food companies and healthy communities grow across the world.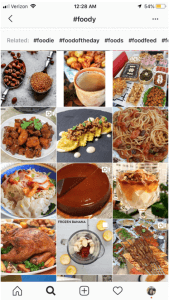 Collage of Captured Moments
Not only did Instagram help the scrapbooking world explode, but the same happened for scrapbook photo sharing.
Remember when you had downloaded ten million different types of apps that would help you mash together your favourite photos and share an entire month in one shot?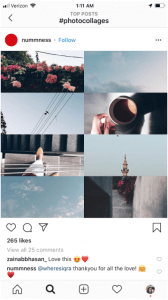 Outfit Of The Day 
The classic mirror, elevator or bathroom selfie is not totally out of fashion, we've seen the CEO of Instagram still rock it a few times a week even now in 2019.
It's as easy as standing in front of a mirror in the cleanest room of the home and taking a snap of your outfit. Peace sign optional.
The best part of #OOTD is trawling back through the hashtags that popped up and seeing the trends over the years. Cringe, laugh or love, you'll remember outfits you thought were cool back in 2009 and hope for their return. (Overalls made a return, so nothing is impossible!)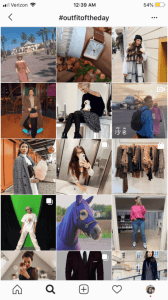 Inspirational Quotes
From block fonts to stylistic impossibly hard to read fonts, inspo quotes are a great way to relate to your audience.
Across Instagram, you'll find a desire for authentic quotes that connect with people so they understand you on a deeper or funnier level. Whether they're about breakups, empowerment or encouragement, they're still a wildly popular trend.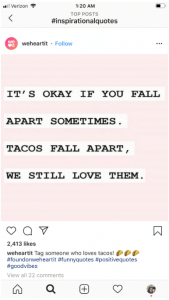 Throwback Thursday
Do you ever wonder how #throwbackthursday started?

According to legend, @bobbysanders22 started it with a simple nostalgic photo of race cars on Instagram. Since then, it has exploded across Instagram. If you love looking through old photos to reminisce, #throwbackthursday is a great place to start.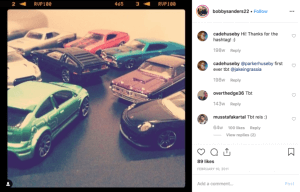 Extreme Hashtagging
When hashtags were born, it took a while for people to grasp how they can help you be discovered. It was easy to create a long list of words that possibly went with your photo. While it seemed great back in 2011, it is not as helpful in 2019 where every hashtag plays a role in moving your brand forward.
#5moresleepsuntilfriyay #notgonnahelpyourbrand

If you're still not sure how to use hashtags, we've got you covered, here's how to find hashtags that will grow your audience, and not your spam followers.
Creating the Perfect Flat Lay
Do you remember spending nearly all afternoon neatly laying items down and then standing on a chair to get it all in one photo? If you didn't know the name already, the trend of #flatlay started in 2017. While it was a major breakthrough then, it still continues to help brands showcase their products in a stylish way.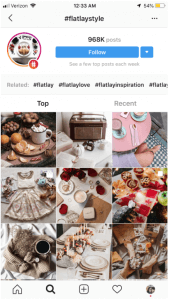 Cliche Travel Pics All Over the World
There was a time when you travelled and didn't tell a soul but when Instagram was born it was the perfect way to share your adventures with your friends (or make them jealous).

Everything started to become Instagrammable and it was hard not to post pics of you pretending to kiss historical monuments, holding up (or licking) the Leaning Tower of Pisa or swimming with dolphins on an exotic island.

One of our personal favorite trends on Instagram, our travel bucket lists have exploded and we hope this one continues.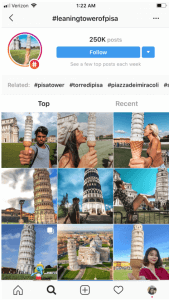 Hold the Cone 
It always took more than one shot to get the perfect picture, holding an ice cream cone up to a wall before it melted all over your hand.

This trend started with ice cream, but it took on a new look with the challenge of holding anything from burgers, champagne glasses (or shoes!) in front of crazy backgrounds.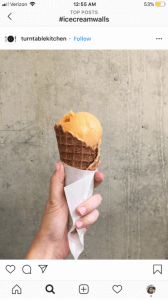 Have we missed your favourite old school Instagram trend?

Our mission is to keep you up to date with everything social media related so you don't have to. If you're looking for a way to keep up with the changing tides of Instagram, keep on track of everything with Plann, we got you covered from organizing your feed to creating a page that you are delightfully proud of.