As a brand or business on social media, you're spinning plenty of plates. At times, it can feel like you're a marketing strategist, a copywriter and a graphic designer, all rolled into one.
For many business owners, coming up with a stunning and cohesive visual identity can be a big challenge. But, the secret to crafting an aesthetically pleasing social media presence is having the right tools and framework in place to keep your posting consistently.
Nobody knows this better than Canva Coach and experienced Virtual Assistant, Russell Spurlin. Russell saw how many businesses were struggling with posting consistently to social media, which is what led him to launch his Canva template design business.
Now, his personal brand has gained hundreds of followers on Instagram. He shares his design and social media wisdom on his Instagram feed. Over on his podcast, 'What's Up, Rusty?', Russell has created an engaged community of listeners, chatting about mental health, world struggles and life in general.
We sat down with Russell to chat about the power of social media, the secrets to developing a stunning visual identity and his top tips for crafting an unforgettable Instagram feed.
Launching a Canva coaching business using social media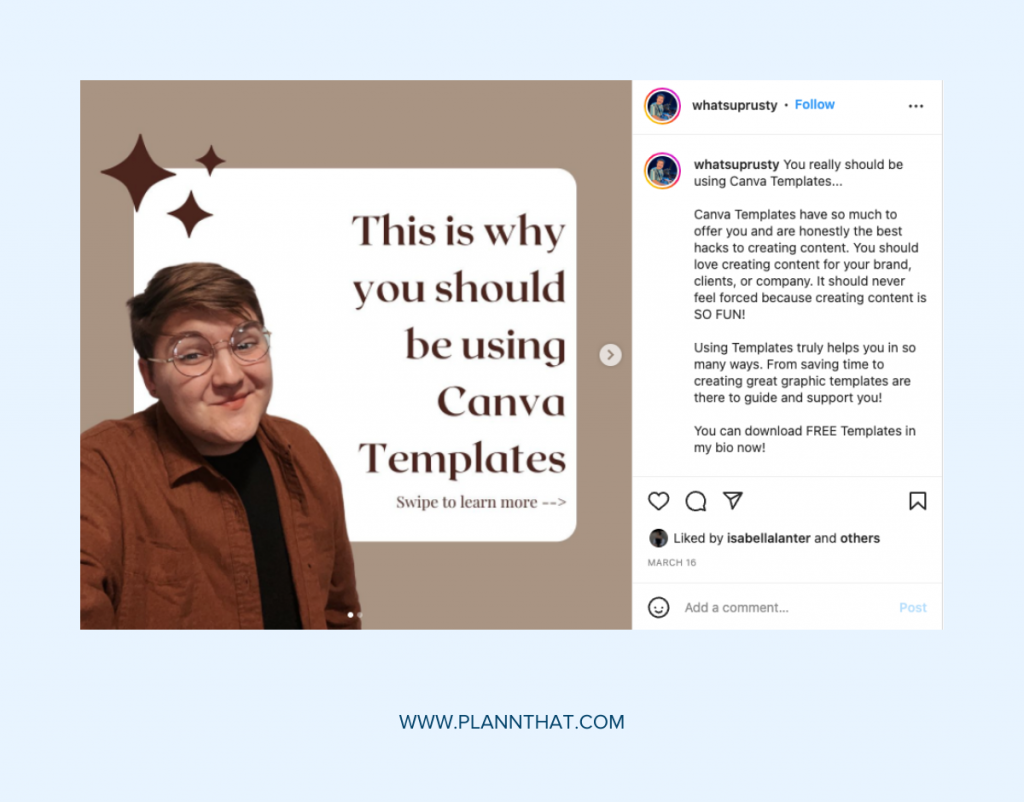 "I have a personal brand that focuses on educating and coaching people around the benefits of Canva. I also am a Virtual Assitant and work with clients to create stunning Instagram feeds. It's currently in the works for me to have my own Canva Coaching business before Summer which is so exciting.
Obviously, social media is key to gaining customers and clients. I have used social media to educate and reach others who use Canva.
I'm a lover of social media for many reasons. Social media allows you to connect with people in so many ways. I have met some amazing humans because of Instagram and they are now my really close friends.
Social media is the reason I have a community at all. Thankfully I have a community that loves learning about Canva and receiving the inspiration content that I post. "
Life before and after Plann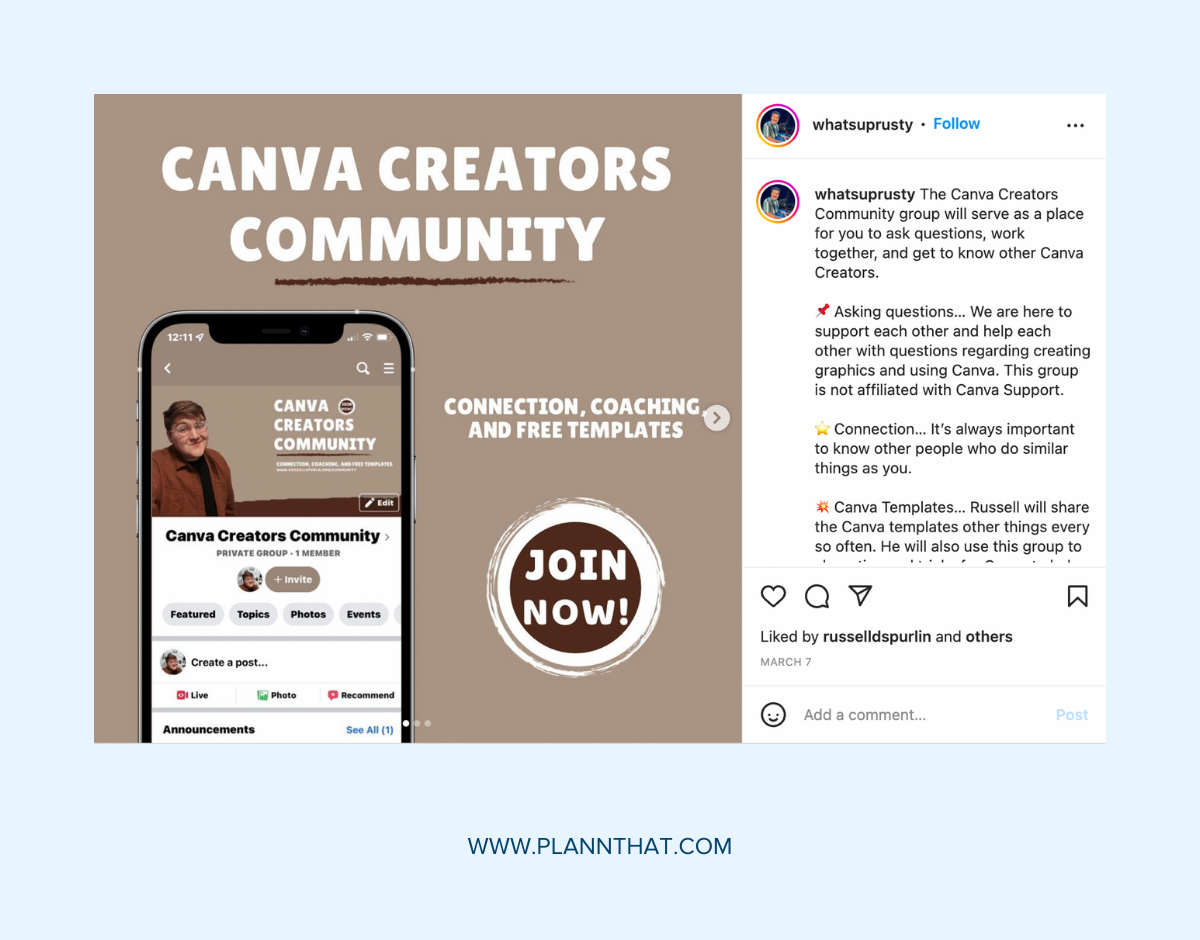 "Prior to using Plann, my life was much busier and more stressful. Now that I am able to schedule posts I can focus more time on content creation and working on things for my followers.
When I first started using Plann I noticed how much prettier my feed looked. Before using Plann I didn't think too much about the look of my feed but thankfully Plann has helped me find a style that I like!
Plann has helped in many ways. The first thing I tell my clients is "have you used Plann?" because once I show them Plann they are set. Plann helps you plan your post, view analytics, and give you ideas on the monthly calendar. I absolutely love Plann and use it every single day."
And Russell's favorite Plann feature?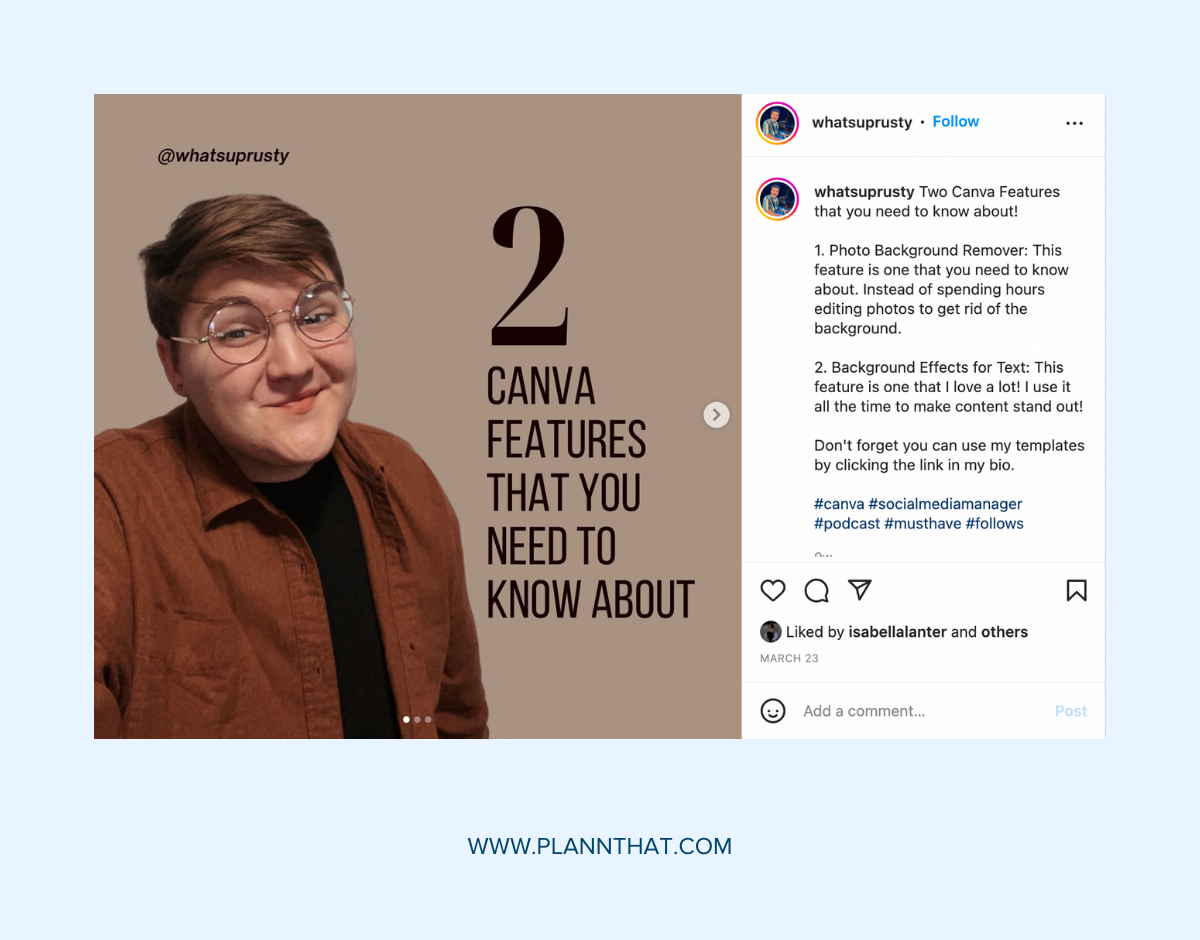 "The Plann feature that I love and use the most is the calendar, scheduler, results, and strategy. I love getting on and scheduling content because I am able to see my feed on the screen!
Plann also offers some really cool analytics to help you know which post did well and which post didn't do the best. Finally, Plann offers the strategy section which is super important to me since I do both Canva content and the inspirational "What's up, Rusty?" content."
Top tips for brands looking to succeed on social media in 2022
"Just start. Don't keep putting it off. You can have a beautiful aesthetically pleasing feed but you have to start. Use Plann to help you visualize what your feed is going to look like and it will look beautiful before no time!
I'm my own worst critic and often times will never think my content is good enough. I just want you to know that just doing your best is enough!"
What's next for Russell's coaching business?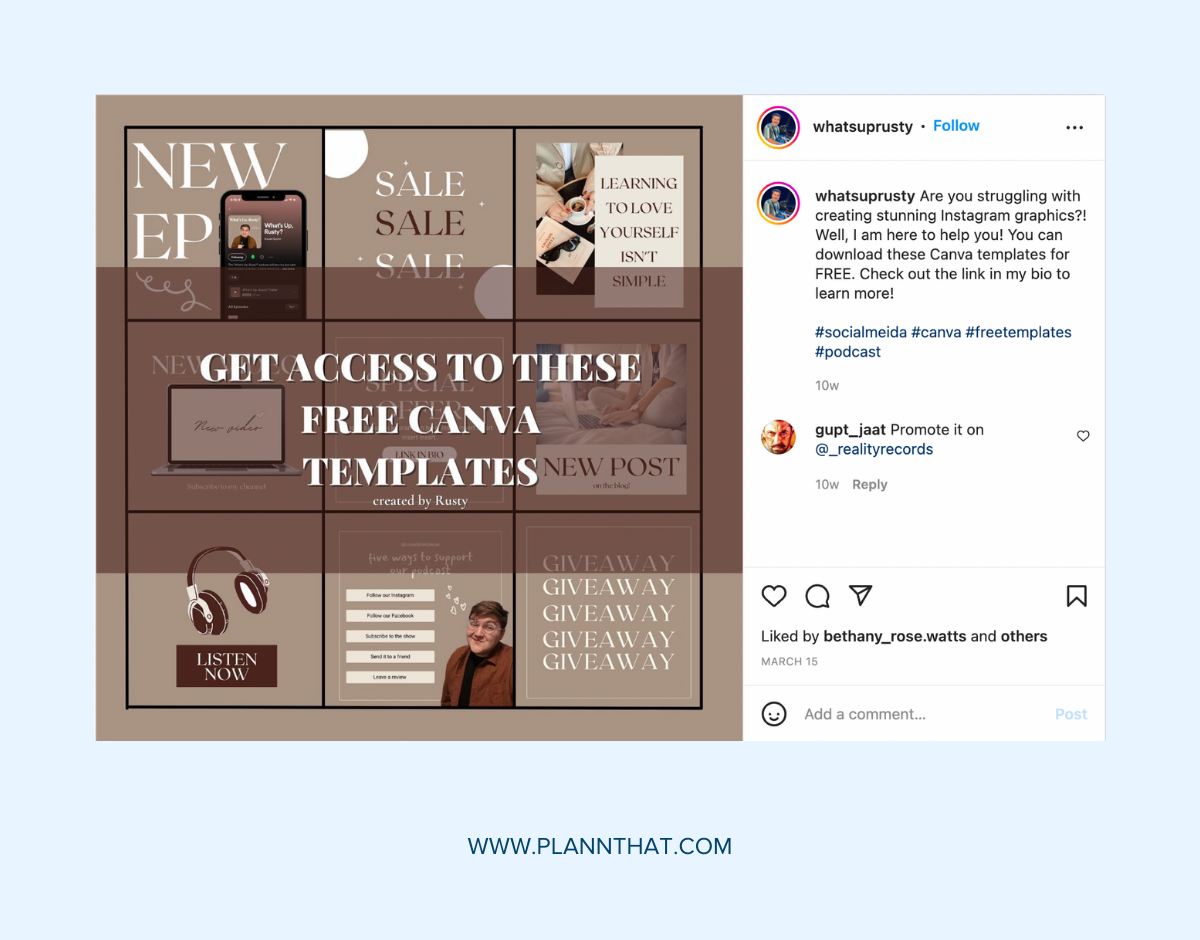 "In the future, you will definitely be seeing a Template Coaching page in the near future. It will be full of 100% customizable templates, tips, and tricks, and template course and coaching sessions."
Ready to supercharge your success on social media?
Looking for an all-in-one content creation suite that allows you to effortlessly manage your social media channels? From mapping out your strategy and designing your graphics to saving plug-and-play hashtag sets, you'll find everything you need inside Plann.
Go on, redeem your 7-day free trial of Plann Plus. If you don't like it, keep using Plann for free!