While Valentine's Day is typically a day dedicated to celebrating romantic love, we say — hey, why stop there!? What about the love between friends, family members, business collaborators or say, a social media scheduling app and it's amazing customers? (Psst…. That's us and you!)
If you haven't quite got the hint we're putting down, Valentine's Day is nearly upon us, and we have an early gift for YOU! Because we know that special occasions have a habit of sneaking up on us (seriously, wasn't it just Christmas), leaving you scrambling for what to post on your social media platforms.
That's why we've just added some Valentine's Day-themed content prompts to the strategy section of the Plann app! Whether you're wanting to build a sense a community by sharing the small business love, warm up your audience with cute BTS content or even holding a Valentine's Day sale, we've got you covered. These prompts will get your inspiration flowing to create content your audience will adore.
How do the Valentine's Day content prompts work?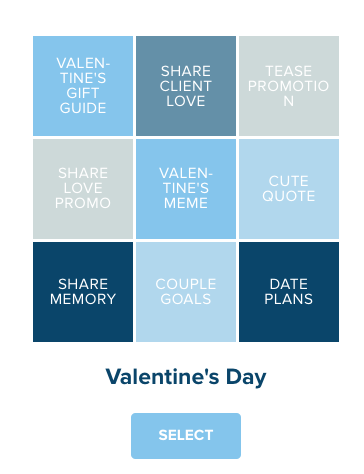 Think of our new content prompts as your Valentine's Day campaign in a box. They're designed over both your Instagram posts and stories so you know exactly what to post and in what order. These have been strategically designed to cover all types of post themes, from behind the scenes, building your community, and making more sales in your Valentine's Day promotion.
We've even colour-coded them against our known top-performing themes so you can see exactly how the strategy was created!
You can find our content prompts on both desktop and the Plann app. Head to the strategy section, and select 'prompts' down the bottom. Find the Valentine's Day selection and add them to both your grid and stories for a well-rounded campaign
How to use the Valentine's Day content prompts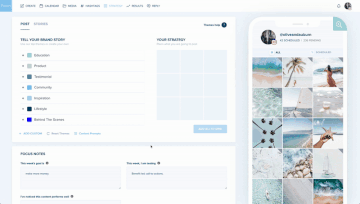 Once you've added your prompts to both your grid and stories, you can use them as is, or drag them around to heart's content to find a sequence that works for you.
Then, it's time to slot in your own photos — our extensive library of free stock imagery has hundreds of beautiful, Valentine's Day-themed images you can use from Unsplash, Pexels and Pixabay. Add in your own captions, schedule and watch your audience fall head over heels for your content!
Do you have content prompts for any other occasion?
We sure do! We've already added content prompts for seasonal holidays, hosting a giveaway and running a big sale, and are constantly adding to our prompt library for Christmas, Easter etc. We also have 50+ sets of content prompts tailored to specific industries. So, whether you're a blogger, a banker or a brick and mortar business, we've got you sorted.
Argh, I still feel stuck with my Valentine's Day content — can you help?
Absolutely! Be sure to grab our free, interactive February content calendar, packed with inspiration for your Facebook, Linkedin and Instagram channels. Plus, we've included beautiful free templates for every day of the month that you can make your own in Canva!
Still need a little more support and accountability? Come to our first Plan with Plann event on February 1st! Plann's Social Media Manager, Greta Rose, along with Plann CMO, Karina May, will lead this action-focused community planning session.
Spend the hour planning out a month's worth of content and have all of your sticky social media strategy questions answered!
Re-invent the way you plan out your content

(so that it's speedy!)
Create an effective strategy that aligns with your business and audience's interest so you're posting with purpose
Learn content creation hacks using Canva templates, Plann's stock image libraries and text editor tools
You can grab your spot here!