We're four months into the year, which means its time to let yourself off the hook and stop posting on your socials….
Sike, Happy April Fools!
If anything, all of your consistent posting in the first quarter of the year has set you up for sales success for the next. So, now is the time to keep charging forward with your amazing, value-driven content — and this jampacked
April content calendar
will help you do just that.
From content to warm up and get to know your audience to a mid-month sales campaign, it has everything you need to smash your socials across Instagram, Facebook AND LinkedIn (and repurpose across all three, so you're not reinventing the wheel every time you post!)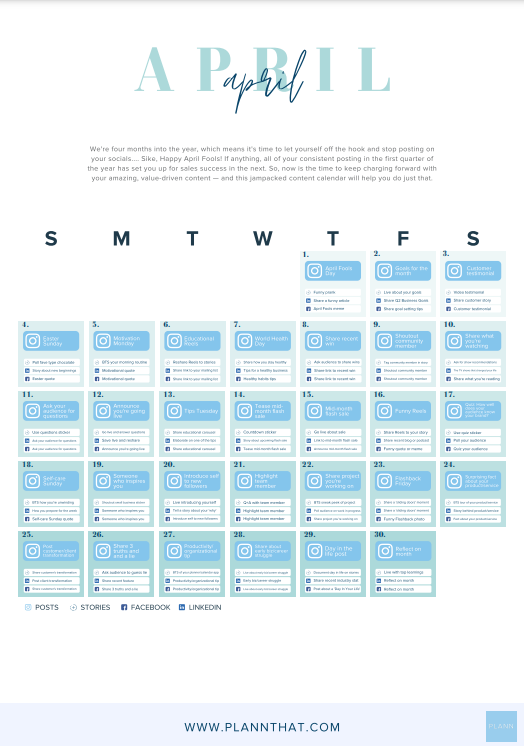 PLUS, inside the calendar, you'll find 30 days of beautifully designed templates, that you can make your own and schedule straight to your grid from Canva. This month, it's all about mixing rich and playful tones, with this peach and navy combo! There's one for every day of the month — you can get a sneak peek below!


Pssst…here at Plann, we're always looking for new ways to make our social media process easier and more streamlined. That's why we're so excited to announce that we've just launched first comment auto posting! Now, as well as setting and forgetting your social posts, you can automatically post your first comment on Instagram, too. This means you can automatically post targeted hashtags to get your content found — no more clogging up with caption, or having to go in to manually post your comment after you post. Auto post your first comment to Instagram!
Log into your Plann Plus
account or upgrade to take first comment auto posting for a spin today!
How to use our content calendar
Not sure how to make our April content calendar work for your brand? Check out how handy tutorial below!
Still need more help with your April social media content?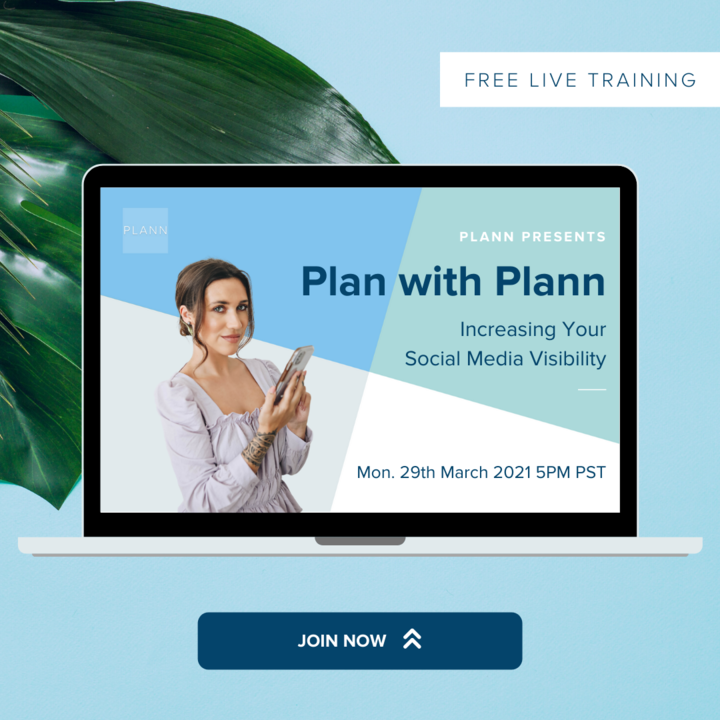 We've got you, boo! In our next Plan with Plann session on 29th March, Plann's Social Media & Community Manager, Greta Rose, will walk you through how to get more eyes on your Instagram account using Plann to grow your following and brand!
Bring along your stickiest social media questions and plan out April's content for maximum awareness.
You'll also get a deep dive of Plann's latest feature release – designed to make it even easier to organize, pre-plan and schedule your social content. Pour a coffee or wine and join Greta as she shares her insider social strategy know-how!