Know you need to be using Instagram Stories branding for your business but not sure where to start? With over 200 million daily users, Instagram Stories is the key to getting ahead on the platform, in terms of reach, engagement and discoverability. Still, a lot of users are not sure how to use them strategically and creatively (as opposed to just getting distracted by the filters… we've all been there).
We've decided to break down Instagram Stories branding tools and the best way to use them to bring your business or personal brand to life.
Buy the end of this blog post you'll be itching to get started!

Instagram Stories Branding?
The Big Picture
Instagram Stories allows you to take your community behind-the-scenes, show them what's new in your world, alert them to new products, services and events and so much more. Whether that's an actual person talking to the camera, or an interactive click-through of stunning imagery, the aim of the game is to engage your customers and build interest in and loyalty to your business.
Let's take a look at how to use Instagram Stories branding tools and build them into your marketing strategy to grow your business.
Consistency 
Just like any other social media tool, using consistent filters, props and effects can help your brand stand out.
When you're scrolling through your Instagram feed and you notice a particular 'look' that the user has achieved and you know exactly who's post it is, it's highly likely that they've used consistent branding so often that you subliminally know who it is that's speaking to you as soon as you see it.
Decide On An Objective
Before you get carried away with filters and boomerangs, decide on an objective for your Instagram Story.
What is it that you want to achieve?
Are you trying to tell your community about a new product and inspire them to buy it?
Or share some insight into your life to try and cultivate a connection?
Once you make your choice, try to stick to it to keep your story digestible and enjoyable – too much information and too many conflicting CTAs will get you nowhere.
PROCRASTINATING ON YOUR SOCIAL MEDIA? GET OUR PRODUCTIVITY TIPS FOR CREATIVES
Whatever it is you're trying to achieve, here are our top themes and content ideas for how to use Instagram Stories branding to bring everything to life.
Take us behind-the-scenes – Behind-the-scenes content is EVERYTHING when it comes to showcasing the people and personalities behind a brand. People buy from people, not businesses, so the more human you can make your business the better.
Show Us The Process – take your followers on a journey of how your product is made, or your thought process from doodles to done.
Take Us To An Event – introduce us to your people, tell us what's going on, show us around. Make your followers feel like they are right there with you.  Don't forget to tag your location in your story, as this will make it searchable/discoverable via the Explore page!
Do 'a-day-in-the-life' Style Series of vids/pics – take your followers with you every step of the way on a typical day of you/your business. We love how @jeffmindell talks straight to the camera and is super candid.
Jeff is constantly the face of his brand, taking us on location at his beautiful photoshoots, sharing family milestones and taking us to the coolest parties. And, he always has great hair.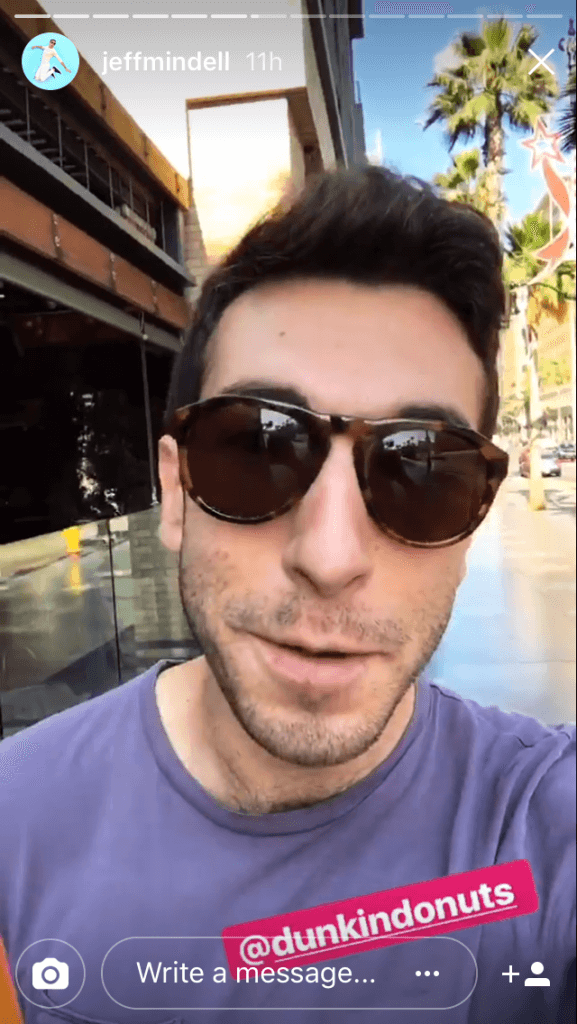 Collaborate – Ask Someone to Takeover Your Instagram Story for the Day – this way you can share audiences, and provide your community with insight into something (or someone) fresh and interesting. It's always a good idea to create some guidelines for takeovers, to ensure content stays on-brand.
Add Value – show people something they can't see anywhere else
Instagram Stories are the perfect place to provide some value to your community and show them something they can't see anywhere else.
Maybe it's a how-to or tutorial on a topic they're interested in or a Q&A session with someone they're dying to hear from. If you know your audience, you'll know what will make them tick and click, so channel that and start shooting.
The great thing with these types of stories is that the production value doesn't actually have to be that high. As long as you've got A+ lighting and are sharing information in a way that's helpful (and not offensively unattractive) you can definitely get away with a low budget approach and jazz it up with text and the on-screen drawing tool.
Add Visual Instagram Stories Branding Cues
As per Instagram branding, try and create your own way of standing out.
It doesn't have to be on every single post, but something that ties your string of stories together.
For example:
– Add your own handwriting over posts with the pen tool.
– Add text overlays from Image Editing apps so you always have the same style call-to-actions.
– Always use the same 'text' colour, background text colour.
– Show yourself, or your team. Create a direct correlation between your faces to your brand.
– Show your process from the same location (your desk, office or outdoor area).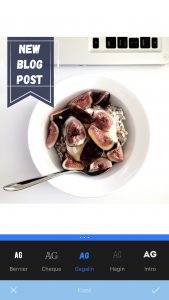 Psst, Plann's Image Editing tools make this incredibly easy.
Create an image that works for your Instagram story branding, save it to your camera roll, then simply remove the CTA stickers and add the image to your normal Instagram schedule.
WANT TO TAKE THINGS OFFLINE? FIND OUT HOW TO USE INSTAGRAM TO PROMOTE YOUR NEXT EVENT 
Show off your product
Got a fancy new product or cool update? Use Instagram Stories to update your followers on what's new, and inspire them to buy. You can get really creative with this – we love how @thefitfoodieblog shares pics of her editing her photos and then the final product.

You could also push a strong community vibe by sharing user generated content and share screenshots of your favourite shots from your community starring your product (don't forget to tag them so they know they've been mentioned!)
Make sure you hashtag these kinds of stories to make sure they're discoverable!
Tell a story
Instagram Stories provide an opportunity for you to take other content you've created – e.g. a blog – and present it in an exciting new way.
Take your blog and break it down into bite-sized pieces, creating graphic images with text specifically for the platform that highlight key takeaways. If you've got 10K + followers, you can even link your story to the blog itself, using the "Swipe up to see more" function.
Or, make like @jennakutcher and take us literally on a journey, like she did with this sponsored video piece. Road trip anyone?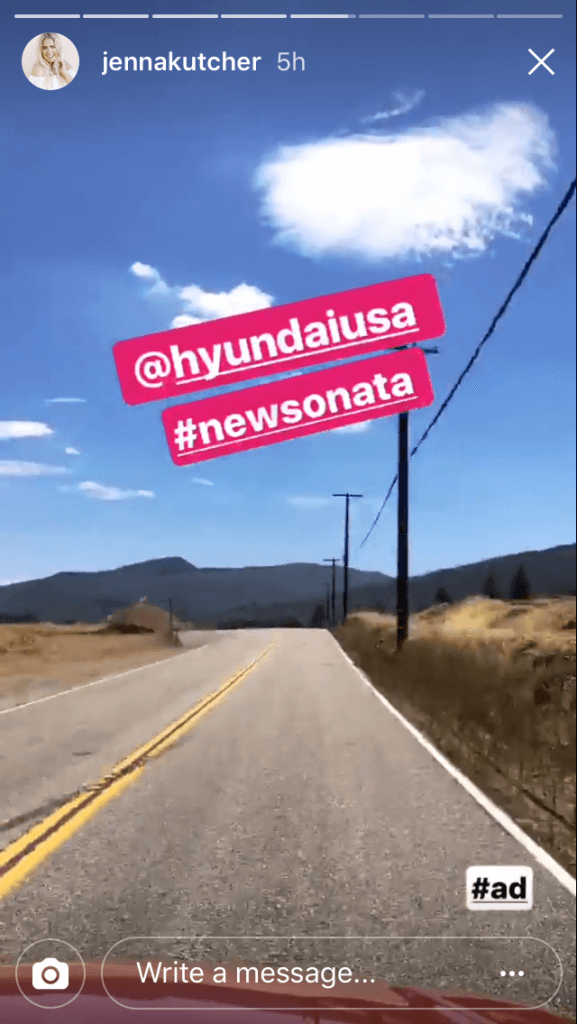 CHECKLIST
These tips will help you create an Instagram Stories strategy that aligns with the rest of your social media marketing.
A few last reminders for how to use Instagram Stories branding to bring your business to life are:
Don't forget the CTA – just like any Instagram post, every Instagram Story should have a CTA. It could be to head to the link in the bio to read more or shop, or to send you a DM to share their thoughts. (Make sure it aligns with the objective of the story!)
Promote your story – if you've got a killer tutorial or some cracking event coverage up in there, let your followers know and remind them to take a look.
Keep it vertical and fill the screen – make the most of every inch and be strategic in the way you shoot and design your story.
Play with allllll the effects – (filters, drawing, stickers, text, Boomerang, rewind, eraser – the look goes on!) but be selective with what you use. You can never go wrong with quality, thoughtful photography and videography as the base of a great piece of content.
And most of all, have fun!
Pick an objective and get creative.
We can't wait to see what you come up with.
What's the best Instagram Story you've ever seen? Who has the best consistency?
Comment below we'd love to check it out!
Feeling inspired to start using Instagram Stories for your brand and get your social media strategy in order? 
Download Plann now from the iOS and Android stores now, for everything you need to plan, edit, design, schedule and analyse your Instagram.