So you're using Instagram to build your brand and grow your business. But how should you implement an effective bio link?
Getting your link in bio landing page right is essential if you want to optimize your Instagram profile and drive traffic to your sales channels and other social media posts.
When you think strategically about how you design your Instagram bio link page and consider how to get the most out of your link in bio, you'll be well on your way to achieving marketing success.
What should you include, and why does it matter? Plann has the answers you're searching for.
Why your link in bio landing page matters
Your Instagram bio link is the key to using Instagram as a launching point for the rest of your marketing strategy.
By effectively designing your link in bio landing page, you can direct your audience to take action and support your brand goals, whether that means purchasing a product from your business or helping you build your impact as a creator.

While Instagram has long limited users to a single link on the main profile page, you can rebel against the rules, at least a little.
Using link in bio tools, it's possible to create a well-branded landing page that combines multiple links, giving your brand every chance to thrive.
Essential landing page inclusions
You know you need a link in bio page that allows your Instagram followers to navigate beyond your account. But what should your link page include?
Your website
The number-one inclusion for an effective bio landing page is a link to your website!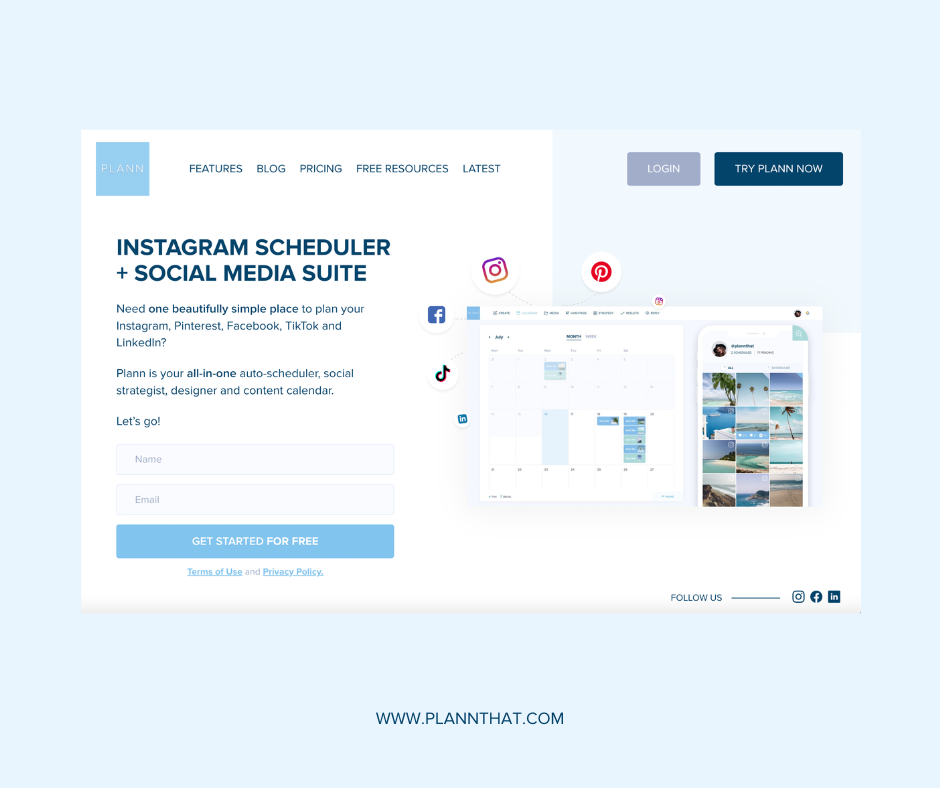 Whether you're selling products, promoting your services or simply trying to find your audience, even a simple website can offer you a level of branding control that just isn't possible on social media.
Use your bio page to direct traffic from your Instagram account to your website, and make sure you give users something to do once they arrive on site.
Hint: Try a discount offer for product sales or a newsletter signup option.
Product links
Next up, your Instagram bio page isn't complete without product links! This is also a great way to combine strategies if you run an Instagram shop.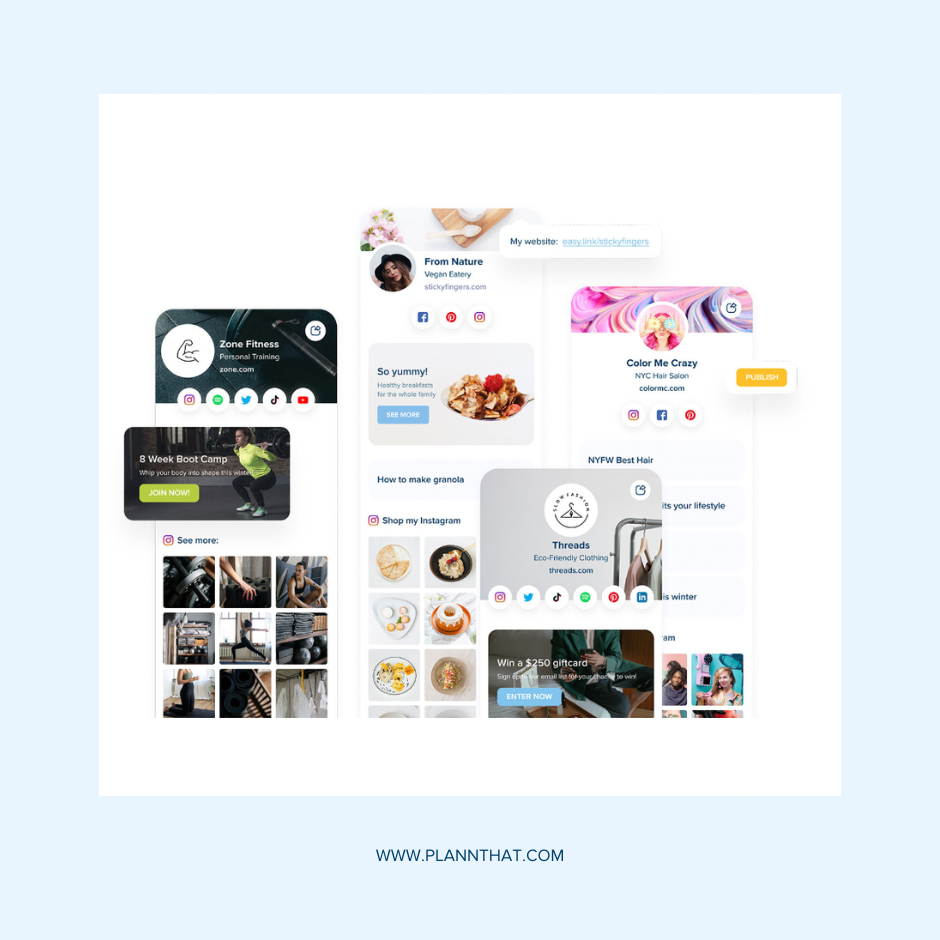 With some Instagram link tools (*ahem* Plann's EasyLink), you can add unlimited links that make the posts in your Instagram feed shoppable, turning every piece of content into a sales opportunity.
Using this approach, you can treat your bio page as a living, breathing digital destination that evolves rapidly and changes to suit your brand marketing mission.
Hint: Use EasyLink to lead users from your static posts to your favorite products, and easily turn followers into buyers.
Visual links
At its core, Instagram is a visual app, with Instagram posts and Instagram stories alike focusing on the power of photo and video media.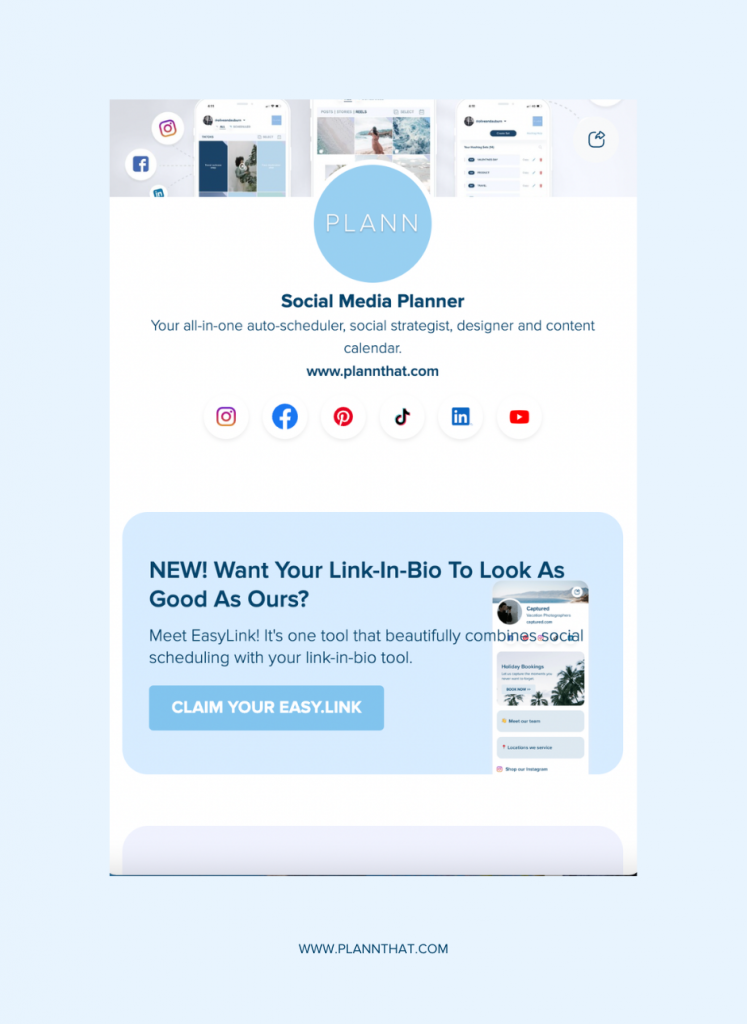 By taking a visual approach to your link in bio landing page, you can make the most of incredible branding potential that shows off your recognizable look and enhances your professionalism.
By making your link-in-bio a customized visual space, you can appeal more effectively to your audience and give your landing page the impact it deserves.
Hint: Don't stop the personalization mission at custom colors and designs. Add custom links too!
Other social media platforms
Instagram is a great digital marketing tool, but it doesn't stand alone. That's why it's a good idea to link users to your other social accounts.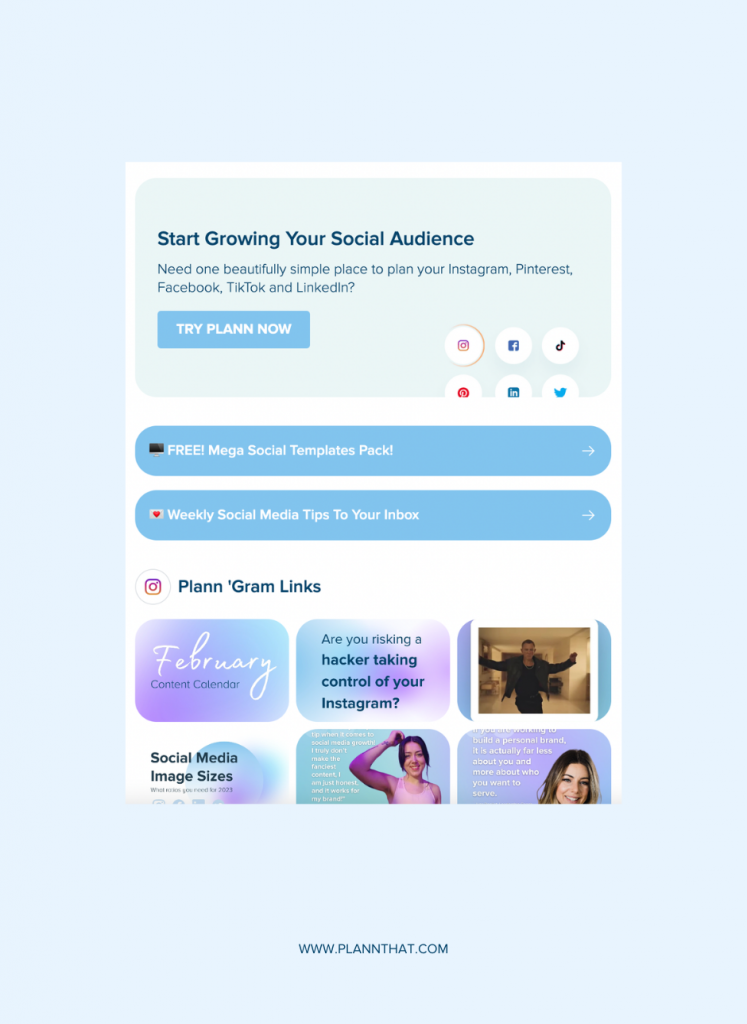 Using your bio page to drive consumers to your other content can help you reach users in new and innovative ways, providing fresh value and diversifying your social strategy.
Over time, you can use your Insta link to generate a follower boost across Facebook, Twitter, TikTok, YouTube, and more. The possibilities are endless!
Hint: Go beyond social. Direct your audience to your latest blog post or online video with a custom URL.
A clear call-to-action (CTA)
On your link landing page, a clear call to action is non-negotiable, helping you tell your audience how best to support your brand.

Whether you include one overarching CTA or several smaller calls for each individual link, calls to action can help you take charge of your goals – and keep better track of how effectively your landing page is working.
Every time you add a new link to your Insta, you have a new opportunity to communicate with your audience and influence the engagement results you earn.
Hint: Create stronger CTAs by using actionable language that encourages engagement.
Check out Plann EasyLink
Plann has recently launched EasyLink, a brand new link-in-bio tool that joins forces with your social planner. Here are some of the top benefits.
Simple integration
Say goodbye to confusing, hard-to-manage systems that see you working across multiple platforms at once. EasyLink integrates simply with Plann's social planning tools and allows you to manage content and links all in one convenient location.
Intuitive design
There's never been a quicker, easier way to brand your business. EasyLink offers intuitive user-friendly design tools that allow for a landing page that goes beyond links alone, adding color, emojis, text, and even images.
Shoppable functionality
Talk about great conversions! With EasyLink, you can make your posts shoppable, allowing users to find and buy your products or services in no time at all.
Link control
Want to take control of your links? EasyLink recognizes that fast-moving businesses need to be prepared for change. You can use the system to time-based links that disappear automatically as needed.
In-built analytics
You know the importance of tracking your insights. What if you could do the same for your link landing page? EasyLink includes in-built analytics tools that help you stay in control of your click rate and other metrics.
New features on the way
Best of all, EasyLink is still new and growing! That means that new features are on the way soon, with dynamic carousels just around the corner. Who knows what we'll add next!
Get started with Easylink by Plann
Don't wait to optimize your Instagram presence. Sign up and try EasyLink's free plan today!