Instagram Shopping is transforming the way we shop online. It gives brands the ability to use multiple channels to sell their products, one through traditional eCommerce websites and another through a streamlined Instagram Shopping experience.
Instagram's shopping features also give brands the ability to measure and track their insights to really get to know how their shoppable posts and tags are performing.
We're diving into how you can measure the success of your Instagram shopping posts, what all the metrics mean and why you should be looking at your insights regularly to boost your engagement and sales.
What are Instagram Shopping Posts?
Instagram has changed the game once again with Instagram Shopping. In a nutshell, Instagram Shopping allows you to open a digital storefront right from the Instagram app and tag your feed, Reels, stories, and live posts with items from your catalog.
Your digital storefront appears on your Instagram profile and any tagged shopping posts appear in your feed.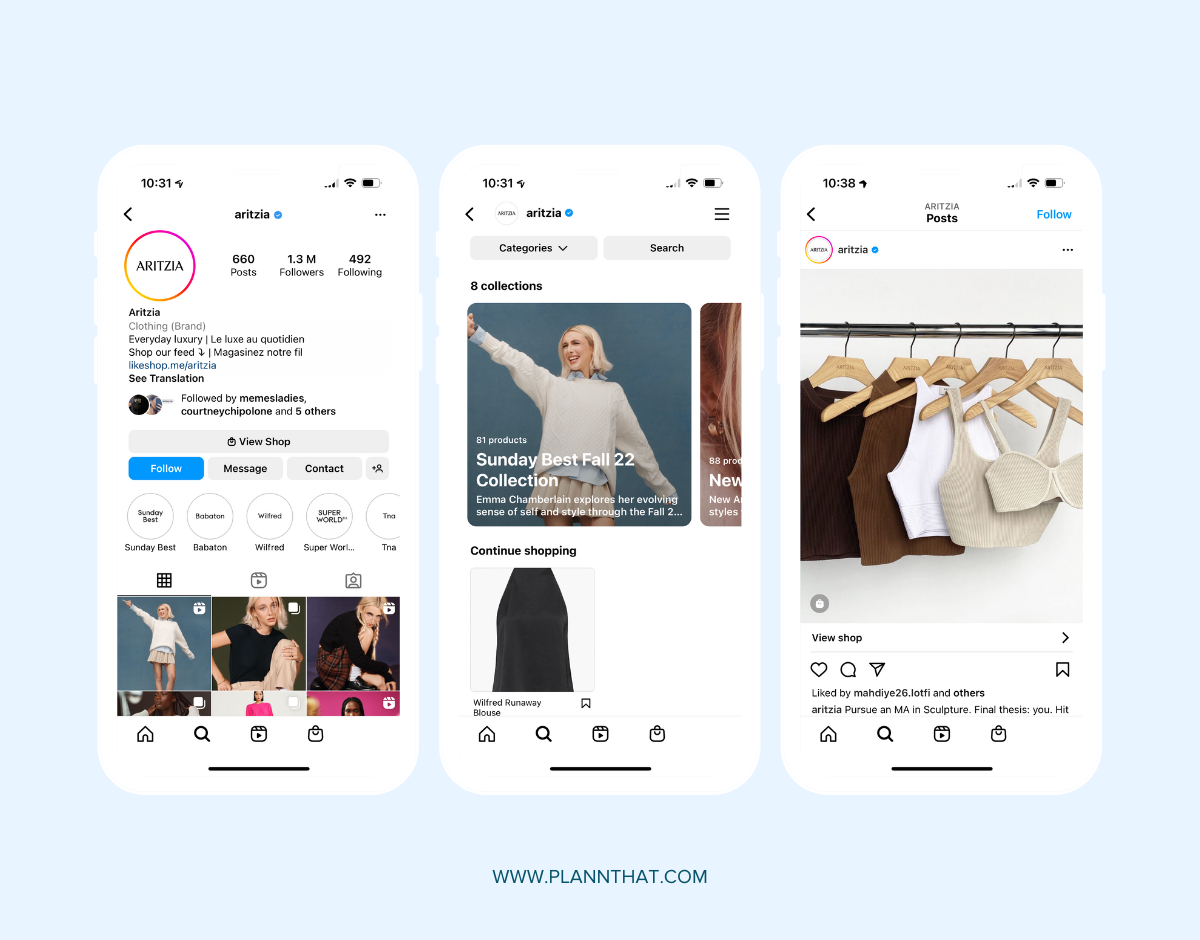 Instagram Shopping allows eCommerce brands to convert their audience into shoppers in just a few clicks, making the shopping experience a lot easier for your followers. Instagram's built-in features help brands to move customers through the discovery phase to purchase all through one app.
Plus, Instagram has announced its new 'payments in chat' feature which enables users to chat with businesses and make purchases through Instagram DMs (although this is currently only available for U.S customers).
To set up an Instagram Shopping account all you have to do is follow a few simple steps and start adding products to your catalog.
How to review your Instagram Shopping Insights
We all know that checking insights and analytics on Instagram is key to understanding how your social media strategy is performing. The same goes for Instagram shopping insights.
Tracking and measuring how well your product tags and posts are performing is essential for the success and growth of your business.
So, how can you actually review your Instagram Shop insights? There are two different ways you can check the results from your shoppable Instagram posts: either a simplified version through the Instagram Insights tab or a more detailed view through Meta's Commerce Manager.
Option 1. How to view Insights through the Instagram App
You can gain top-line insights through the Instagram app, simply by following the same easy steps as checking your normal Instagram Insights.
To view your Instagram shop insights head to a shoppable post, tap 'View Insights', and swipe up the tab to view insights on your tagged product posts. Here you'll be able to see the following insights:
Product views:

the total number of times people clicked on the tagged product post to view the product page.

Product button clicks:

the total number of times people clicked on the purchase button via the product page.
Plus, if you're using a third-party platform like Shopify you can check insights straight from your eCommerce store, too.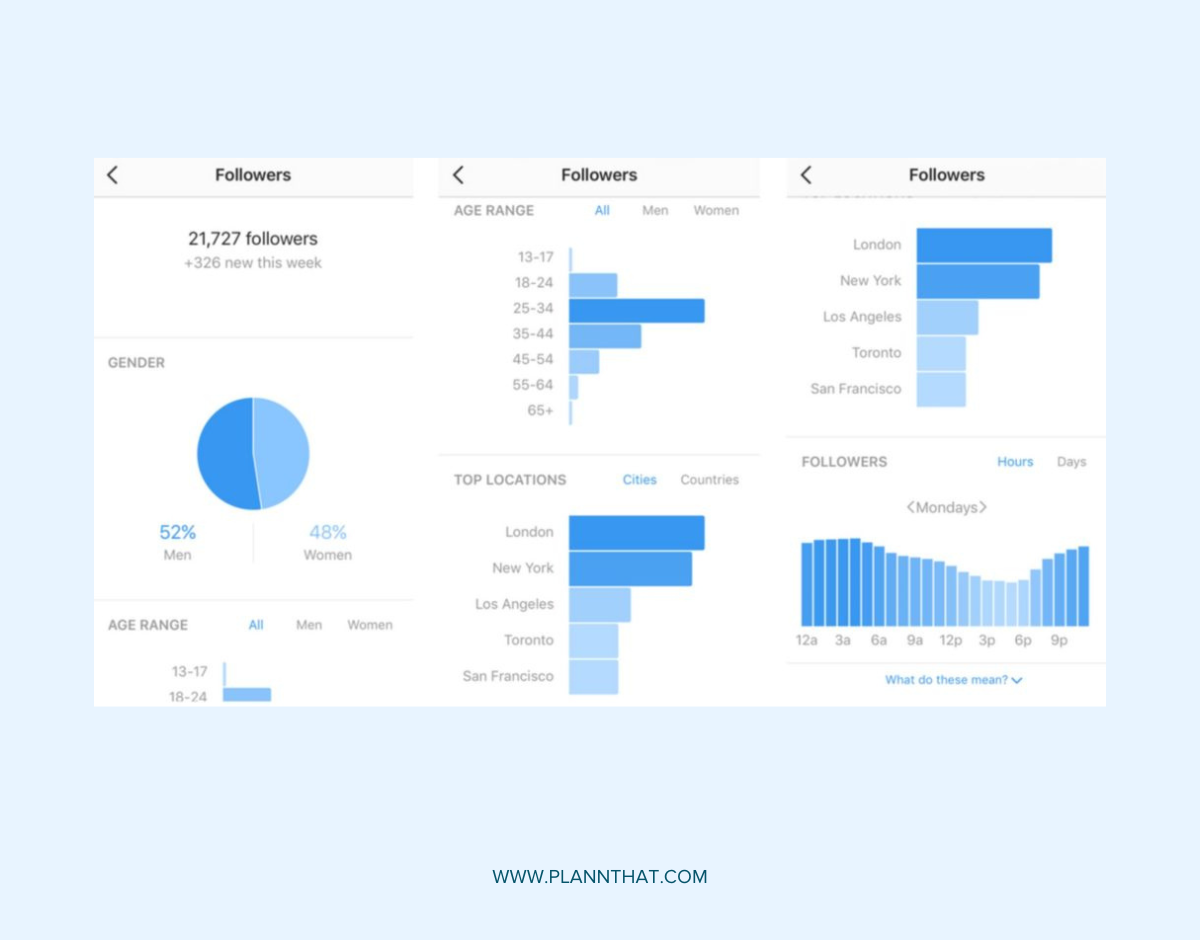 Option 2. How to view Insights through the Commerce Manager
For a more detailed view of your insights on shoppable posts, you can access the Insights Tab in your Commerce Manager dashboard on Facebook. This will give you a deeper understanding of how people are engaging with your products.
Through the Commerce Manager, you'll be able to see reports on insights including:
Product page views:

the number of views your product details page received from all of your tagged products.

Product page views per tagged product:

the number of views of a product detail page for each individual tagged product.

Performance:

see detailed traffic and shopping behavior which will vary depending on whether you sell directly on Facebook and Instagram or via your website.

Tagged content:

conversion metrics by specific products, variants, and content formats (such as Reels, Feed Posts, Stories, Live Shopping) and tagged content via your page or another creator.

Catalog:

insights about products and collections in your catalog.

Audience:

understand where your customers are visiting your shop from, and demographic metrics such as gender, age, and languages spoken.
Why tracking your Instagram Shopping insights is important
Now that we've shown you how to access your Instagram Shopping insights and what kind of metrics you'll be able to see, let's dive into how tracking insights can transform your eCommerce brand and level up your social media strategy.
Benefit 1. Understanding your target audience
For starters, insights and metrics help you gain a deeper insight into your audience – who are essential to the success of your business.
Insights give you a detailed look at who your customers are so you can tailor your content to their specific needs and interests. The better you know your audience and your ideal customers, the easier it will be to create Instagram content that attracts and inspires them to make a sale.
Benefit 2. Boost engagement
Once you've understood you're target audience you can start personalizing your content to boost engagement and interaction from your followers. This includes understanding which content formats perform best for your specific brand and audience.
Insights help you understand whether normal posts, carousels, or Reels videos have higher engagement so you can start posting more content formats that will give you more likes, comments, shares, and saves.
The more engagement and interaction your Shoppable posts receive, the more likely Instagram will reward you in their algorithm – so you're posts and profile are getting boosted to more people.
Plus, with Plann you can actually tag your products before they go live (thanks to our new product tagging feature!) with our all-in-one scheduling tool. We're here to make your life easier, so you can batch-make content whenever suits you best and you don't have to worry about remembering to post or tag products after your content is published.
Benefit 3. Increase sales
Once you've understood your target audience and know which content formats work best for your brand and your audience, you're likely to increase your sales because you're giving your customers everything they desire.
By diving into your insights on a regular basis, you can figure out what posts are generating the highest engagements and conversions. That will help you pivot and refine your Instagram strategy to ensure you're prioritizing content formats that will help you skyrocket your sales.
Ready to supercharge your success on social media?
Looking for an all-in-one content creation suite that allows you to manage your social media channels effortlessly and easily add product tags to your Instagram posts? Plann's product tagging feature is the perfect way to start driving sales from your organic Instagram content. Rather than manually tagging products, we've streamlined the process so it can all happen when you're batch-creating and scheduling your posts.
From mapping out your strategy and designing your graphics to saving plug-and-play hashtag sets, you'll find everything you need inside Plann.
Go on, redeem your 7-day free trial of Plann Plus. If you don't like it, keep using Plann for free!