7 Actionable Steps Toward Sustainable Blogging Success
Every blogger has been there before, waiting nervously for their traffic and income to increase. Growing a blog from the ground up can be tough, and sustainable success takes a good strategy and hard work. However, it's incredibly rewarding when your hard work starts to pay off and your audience numbers start to climb!
So, how do we spark that blog growth? How do we connect with our readers and show them that we can help solve their problems, provide value, and maybe even change their life for the better?
Grab a coffee and a notepad, because we've outlined seven steps you can take toward real blog growth in 2022.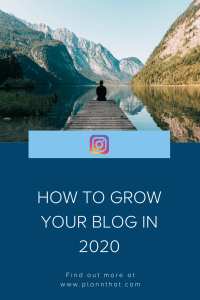 Go Back to Basics
One of the best ways to grow your blog is to go back to basics. Why did you start your blog? Do you have a wealth of knowledge to share with the world? Does your quick wit and insight allow you to connect with others just like you? Did you develop a service or product and use your blog to help take your audience on a journey?
Whatever the original purpose of your blog was – 2022 is the year to let go of everything holding you back and re-kickstart your blog's growth.
Reinvigorating blog growth by slimming down the clutter that all blogs get bogged down with is one small step that makes a big difference, (if 2022 is the year you start a blog, do yourself a favor by committing to a high-quality, low-clutter blog from the very beginning.) 
Go through your blog and keep an eye out for the following common mishaps that can happen to a blog that's been around the block:
Blog posts that are out of date or out of touch

Broken, unnecessary, or redundant links

References to services or products no longer relevant

Clunky navigation systems

Scope creep' where you expand beyond your niche in a way that's not working
Next, take the time to look at your blog with a fresh set of eyes. Ask yourself, 'what value does this offer my audience?' when it comes to every article, page and feature on your site.
If you take the time to give your blog a good spring cleaning (or a squeaky clean start), you can work on building sustainable growth in your traffic, followers, and income.
Get Your Goals in Order
If you've ever been on a road trip with kids (or as a kid yourself), you know the irritation that only asking 'are we there yet?' can cause. It's even more frustrating to ask that question when you don't know where you're going.
That's why writing your goals down is so critical for the growth of your blog. You have to know where you're going to keep yourself from getting frustrated.
A lot of blogging is guesswork, hard work, and trial and error. On the days you'd rather be anywhere else but sitting at your computer nursing cold coffee and trying to write a blog post, it helps to have a list of goals you wrote while you were in a much better mood.
So, what does blog growth look like to you? Is it a traffic number, income goal, or merely a tool to get you into the swing of publishing regularly? Whatever your goals are, it helps to have them. Pin them on your wall or your fridge, but keep them in mind every time you sit down to work on your blog. If you need a little extra motivation, get your audience involved. Income reports are an excellent way to bring curious readers to your blog.
Talk to Your Target Audience
One of the most sustainable ways to grow your blog is to make a point to keep in touch with your target audience. Hang out on the social media platforms that they do, participate in hashtags and discussions whenever possible. Reach out to other creators, bloggers, and influencers in the same niche talking to the same target audience, as this network will help you get to know your target audience even better.
Learning how to target your mythical target audience is one of the most difficult challenges of blogging. But once you've found your tribe, you're in for life. Work on creating a community rather than focusing on your follower count.
More than anything, in your blog posts, you should be talking to your target audience. Have a conversation! Don't let yourself get too psyched out with what a blog is supposed to sound like, and start a conversation with your audience. 
Level Up Your Content Marketing
As a blogger, content is king. High-quality content is the king who has a full treasury and a happy kingdom.
So, how do we consistently put out high-quality content and fill our treasury?
Diversify the content you offer.

If you're looking to grow your blog, you should also be looking to diversify your content. Use a vibrant mix of media to advertise your blog posts. From infographics to videos, give your readers something more than just a blog to keep them coming back for more (and telling their friends!)

Make it a priority to advertise your content. If coming up with a suitable picture and caption for Instagram is the last thing you do before hitting publish, 2022 is the year to change that. Pick the social media platforms where you can consistently reach your target audience, and make promoting your content on that platform a priority.
Give your audience consistency.

Humans are creatures of habit, and there's nothing we love more than a consistent schedule. If your audience knows you'll be publishing your latest edition in the '

This Hair-Brained Scheme of Mine,

' series every Thursday, you're much more likely to turn one-time visitors into engaged fans.

Always provide value.

While it may seem counter-productive to offer your best advice or product for free, it can bring in significant returns. That doesn't necessarily mean you should offer 16 different opt-in freebies for your email newsletter – make sure you're placing the

majority

of the value you provide for free within your blog posts themselves. If you put all your hard-won knowledge or insight behind your newsletter or a paywall, you won't have anything to draw in new visitors!
Rethink The Role of Your Social Feeds
We've all been there: opening and closing Instagram a few dozen times while trying to think about all the things you should be doing to represent your brand, but stopping short because you don't even know where to start. 
(Don't worry, we've got you covered on the 'gram, from the basics to beyond. Your possibilities are endless with an on-point, on-brand Instagram using our Plann app.)
In 2022, using social media will be more critical than ever when it comes to growing your blog. By carefully tending to your brand's online identity, you can become known to your target audience in a way that isn't possible with pure blogging alone. 
Your target audience, with (very) few exceptions, will spend much more time browsing their social media feeds than your blog. Make sure you show up in their feeds, offering insights or goodies that they can't afford to miss. Adding diverse content to your blog that you can share on social media, like videos or audio, adds extra allure to your feed that will lead right back to your blog.
Prioritize Your Email List
If you've been blogging for any length of time, you know that email lists are the end-all-be-all of connecting with your core audience. On social media, there are far too many ways for our audience to be distracted, even if they are on your fan page or looking at your latest post.
Your newsletter is like a private love letter delivered in the dead of night; a newsletter feels exclusive, valuable, and urgent when done correctly.
As we mentioned above, humans are creatures of habit, and a consistent schedule pays off. Keep your email newsletter on a regular schedule, ideally at a pace that feels more like a weekly treat than an overeager blogger. Your newsletter has been invited into your reader's inbox, and they can rescind the invitation whenever they feel you've overstayed your welcome or if they think it no longer provides value.
This said, to grow your blog, it's vital that you are continually looking to improve your email newsletter. Try offering new opt-in freebies or developing professional landing pages to boost your list. Tweak your schedule so that you hit your target audience when they're worried about the problem that you solve when your email hits their inbox. Diversify the content within your newsletter, for example, by offering an exclusive webinar only to those on your email list.
Keep Your Eye On The Prize
It can take time for your work to set your blog's growth in motion, but with time and consistency, you'll begin to see results. Bloggers who see the most growth – in their traffic, income, and recognition – are often those who aren't afraid to try something new. 
Be the blogger who's willing to take a leap to make it to your goal! Always be on the lookout for ways you can engage, entertain, or inform your target audience. Once you're in the habit of writing and managing your blog with your ideal reader in mind, you'll be on your way to long term blog growth.