Remember the days when Facebook was mostly text, and all our status updates started with "Christy is _________"? Boy, has the social media giant come a long way!
In 2020, you're more likely to see photos, videos and animated GIFs as you scroll through your feed than standard text updates.
The only problem?
Keeping up with Facebook's photo dimensions is a daunting task. 
Now that Plann has your Facebook Autoposting sorted, we want to make sure your images and vid dimensions are tip-top compliant!
By the time you've finished reading this post, you'll have the most accurate Facebook image sizes for:
– Facebook Image Upload Size
– Facebook Profile Photo Size
– Facebook Cover Photo Size
– Facebook Page Cover Photo Size
– Facebook Event Cover Photo Size
– Facebook Group Cover Photo Size
– Facebook Ads Photo Size
Want to keep this info close by for future reference? Keep scrolling for our handy Facebook dimensions cheat sheet!
Facebook Image Upload Sizes
For picture uploads to your personal timeline or a Facebook business page, the maximum width is always 492px. The height will change depending on the orientation of the image.
For example:
– Square: 492px by 492px
– Portrait: 492px by 738px
– Landscape: 492px by 276px
When you're uploading multiple images into Plann or straight into Facebook, the grid layout size is determined by the first image in the sequence.
For example, if the first image is square, and the second is a portrait, Facebook will display both images at 492px by 492px in the timeline. 

Facebook Profile Picture and Page Dimensions
Your Facebook profile picture appears on each post you share and every comment you make. It's an important part of your online presence and you need to make sure it looks snatched!
The 2020 dimensions for a profile picture is 168px by 168px or a ratio of 1:1. 
But that doesn't mean you need to upload an image with such small dimensions. The highest resolution Facebook allows for profile pictures is 2048px by 2048px.
By creating a profile picture with the highest resolution, you'll always look pixel-perfect whether someone sees your picture on their timeline or is stalking your profile.
Facebook Profile Cover Photo Dimensions
Your cover photo on your profile page is prime real estate. It's the perfect place to show off your adorable cats, your quirky sense of humour or that time you went to Iceland and saw the Northern Lights!
For the best results and zero pixelating in sight, create a cover image with the dimensions of 2037px by 754px. It will give you the best quality results whether you're viewing your profile on a phone, iPad or desktop.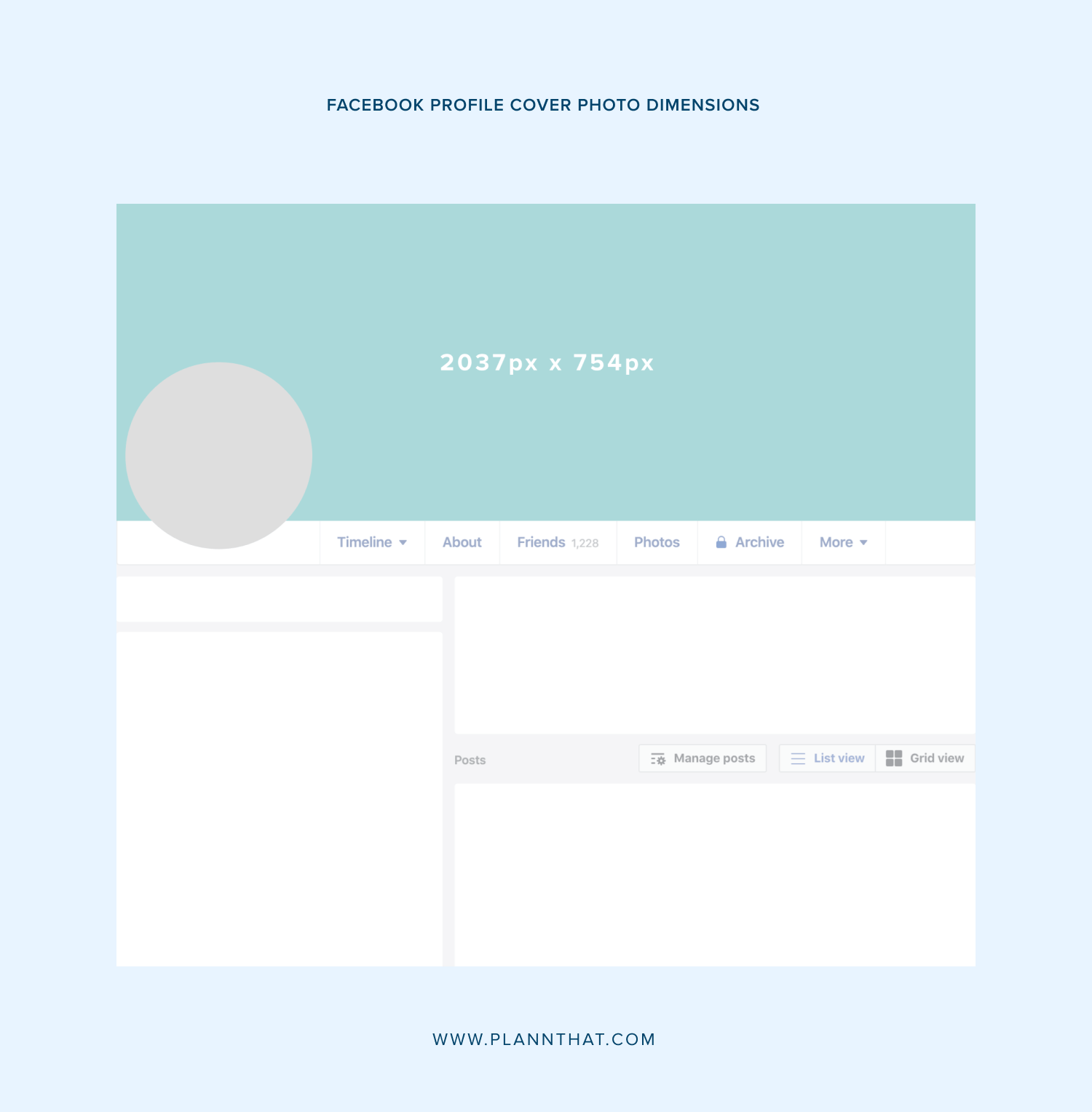 Facebook Group Cover Photo Size
Don't get lazy with your Facebook group cover photo! It's a super visual and easy way to let users know what your group is all about and convince them to join your tribe.
To make sure your cover image will display on all retina displays, create a picture with the maximum dimensions of 1640px by 922px.
Tip: When designing your cover photo for your Facebook group, keep all the important elements in the viewable area!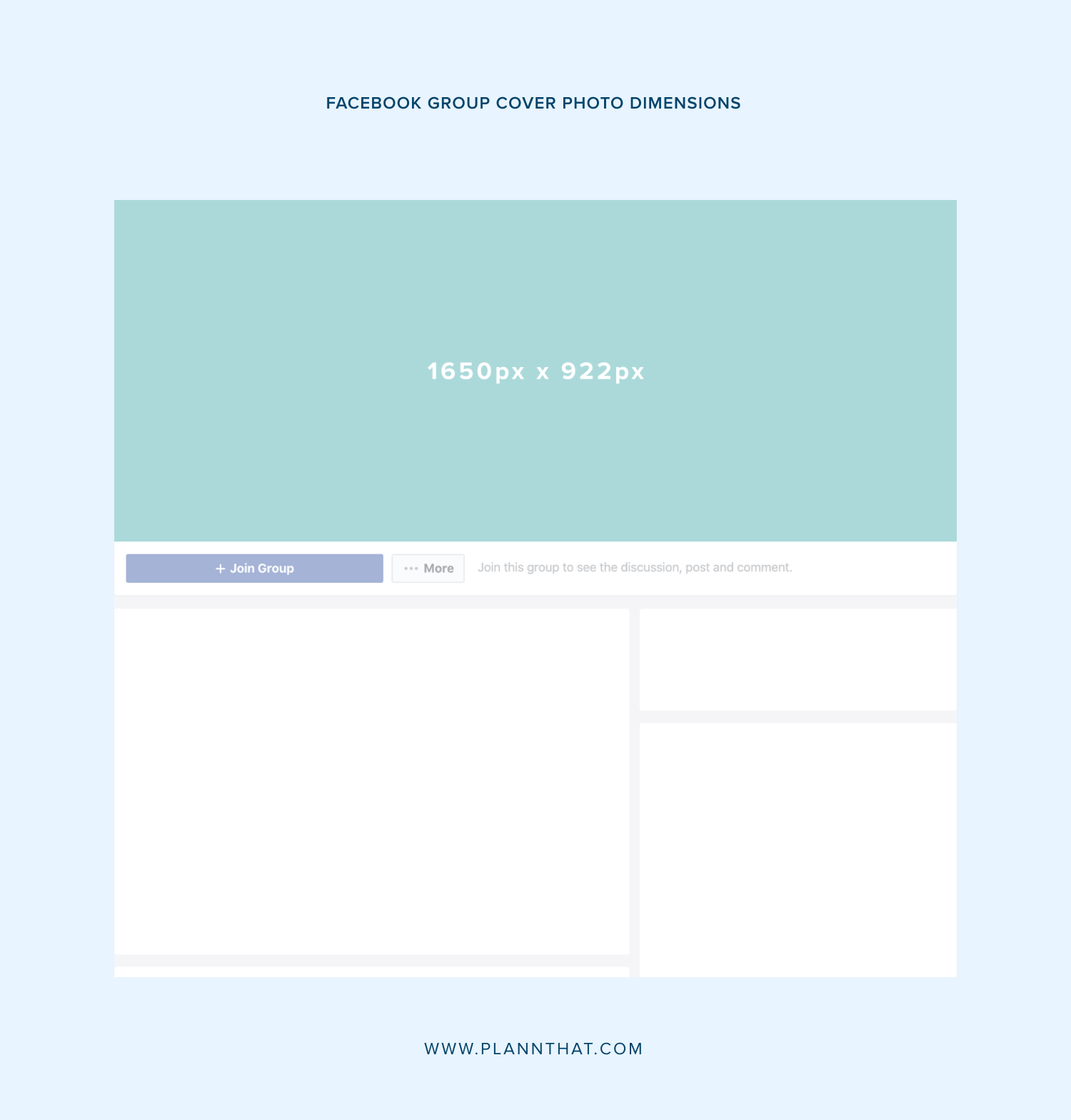 Facebook Event Cover Photo Size
With 1.49 billion active users (and counting), Facebook is the best platform to reach people and get them interested in attending your event.
But if you have a dull, pixelated mess as your cover image, you're not going to entice people to click that "Yes" button.
When creating your Facebook event cover image, upload an image that's 1000px by 524px with an aspect ratio of 1.91:1.
Stumped when it comes to design? Canva lets you create stunning covers for your event in minutes that will help you rack up those RSVPs!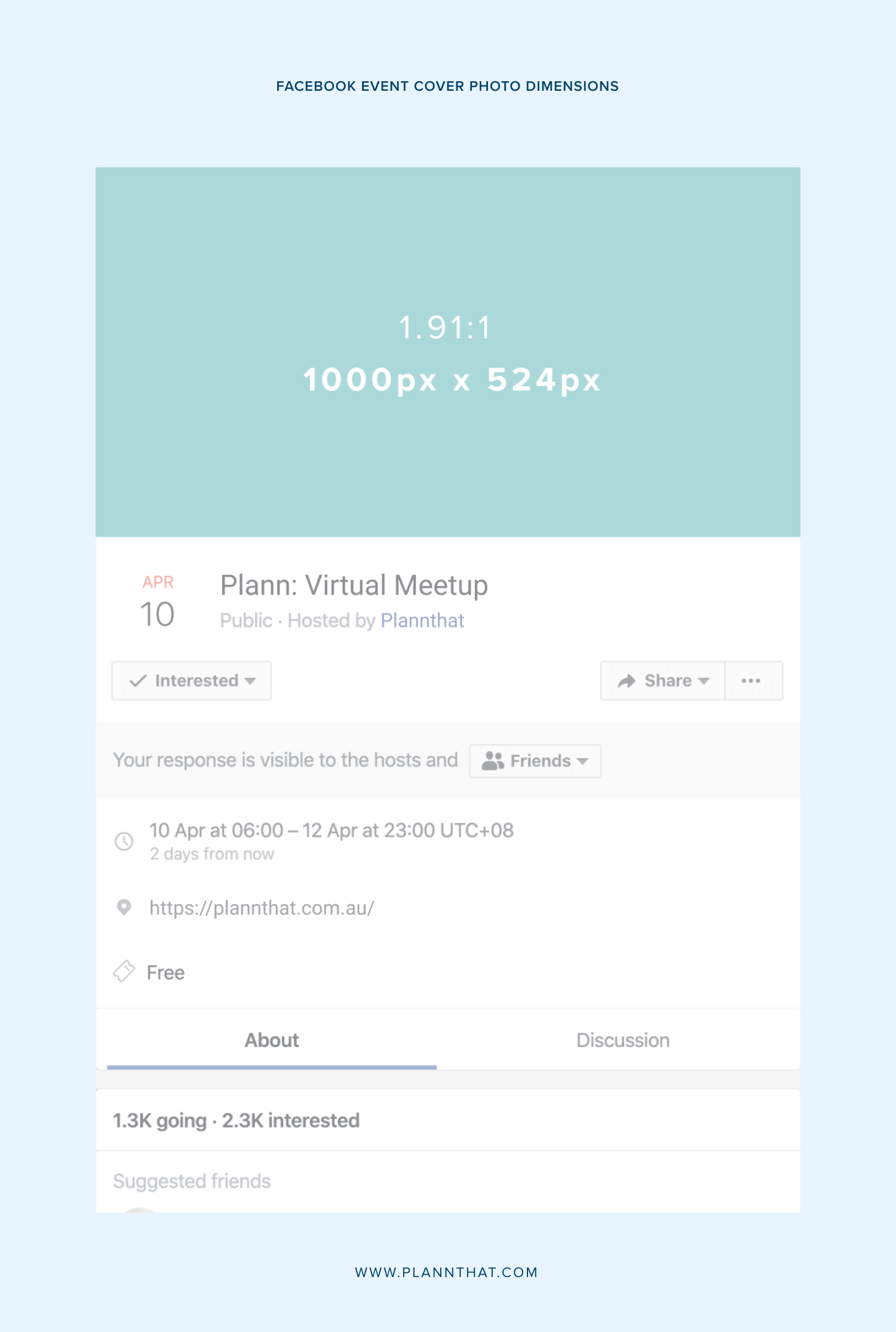 Facebook Business Page Cover Dimensions
Whether you're an influencer or business owner, the cover image for your Business Page is incredibly important. It's a way to visually connect with your audience, share what your brand is about and intrigue them enough to scroll down further.
The minimum size you can upload is 820px by 312px. However, you should create images with the dimensions of 1958px by 745px for high resolution.
The easiest way to do this is with Canva. You can create a custom workspace by entering any dimensions you want. The app also has pre-built Facebook cover photo templates!
Say goodbye to spending hours trying to find the perfect font pairing!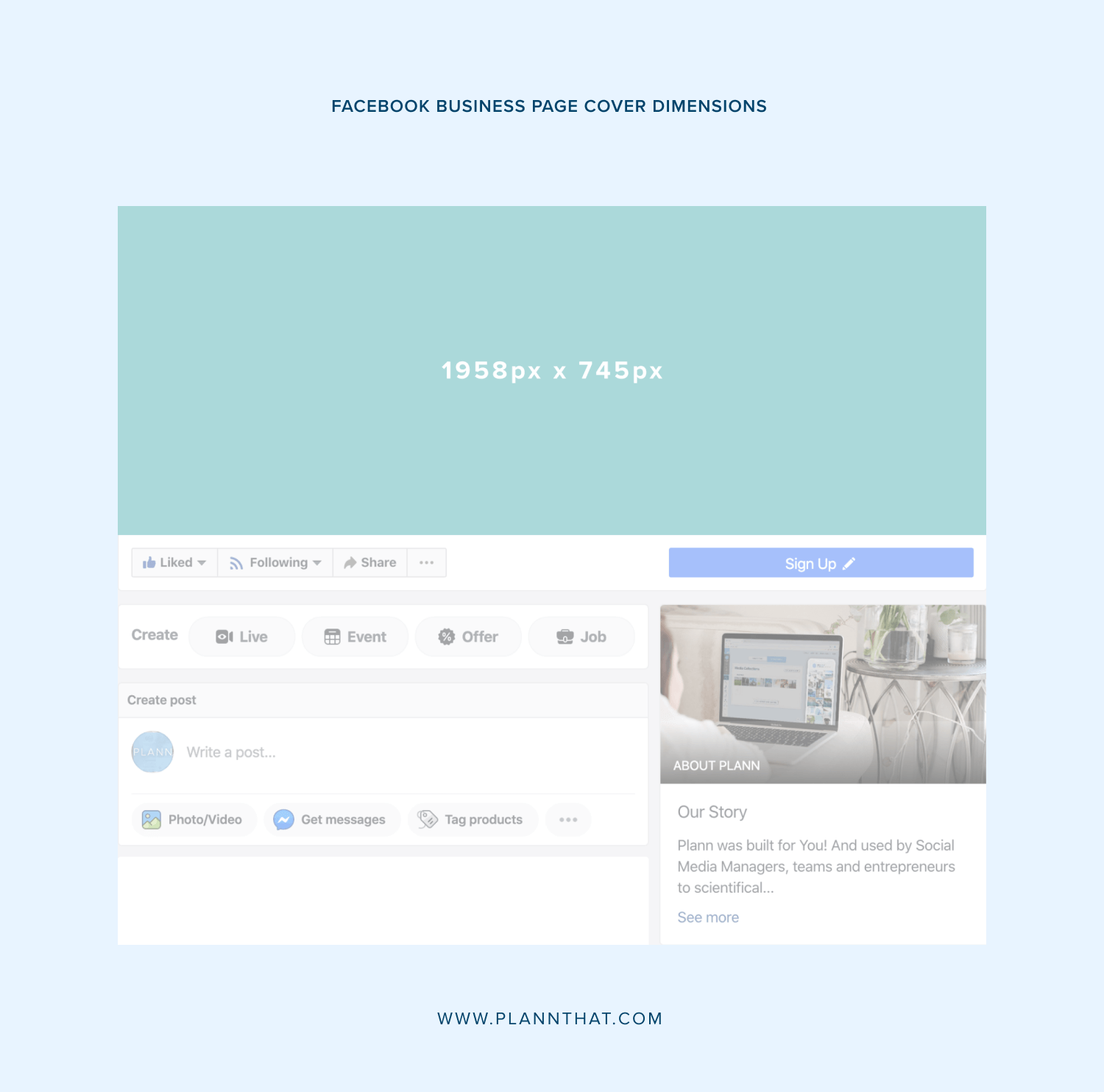 Facebook Link Post Image Size
What's the most frustrating part about Facebook for bloggers?
Sharing links on Facebook!
In the past, you could customise the image for your link before posting. Since Facebook has removed this option, the link post image is automatically pulled from the website.
So if your dimensions are wack on your blog post, the link image won't fit the box, or it might pull through an image you don't like.
To solve this, you need to make sure you have an HTML markup known as Open Graph on your site (it tells Facebook which image it should use) and an image with the correct dimensions.
For a high-resolution image, you want a link post image with dimensions of 1200px by 628px.
Facebook Ad Dimensions
There are TONS of different Facebook Ads. While most of the formats use the same image size and ratio, there are a few that differ. 
Here are all the Facebook Ad formats with their dimensions:
Facebook Page Likes Campaign Image Sizes
Image size: 1200 x 444 px
Image ratio: 1.9:1
Facebook Offers Photo Sizes
Image size: 1200 x 628 px
Image ratio: 1.9:1
Lead Generation Ad Photo Sizes
Image size: 1200 x 628 px
Image ratio: 1.9:1
Clicks to Website Ads Image Sizes 
Image size: 1200 x 628 px
Image ratio: 1.9:1
Facebook Apps Image Sizes
Image size: 1200 x 628 px
Image ratio: 1.9:1
Facebook Ad Carousel Photo Sizes
Image size: 600 x 600 px
Image ratio: 1:1
Start Creating Perfectly Sized Facebook Photos
Psst… Have you heard? Plann and Canva have teamed up? You can create, design and schedule all your social media graphics with Canva – without leaving Plann and then autopost them to both Facebook and Instagram.
Try out a new streamlined workflow for your social media creation and scheduling with Plann's 7 Day Free Trial.