It's official: TikTok is no longer a lip-syncing app for teenagers. As the third biggest social media platform in the world, it's a gold mine for conversions: if you know how to drive traffic from TikTok to your website.
The only problem?  It's not that easy to get people off the app.
Unlike Instagram, there is no 'Swipe Up' or link sticker or built-in e-commerce shopping features. All you have is one link in your bio.
The good news is, if you know how to use it wisely, one link is all you need to turn TikTok into a traffic driving machine.
Whether you're looking to get more clicks or more sales, use these five easy strategies to drive more traffic from TikTok.
How To Use TikTok To Drive Traffic To Your Website
Ready to start leveraging your TikTok presence to improve your monthly website views? Here are five easy ways you can use the app to grow your traffic.
Give Your Profile a Makeover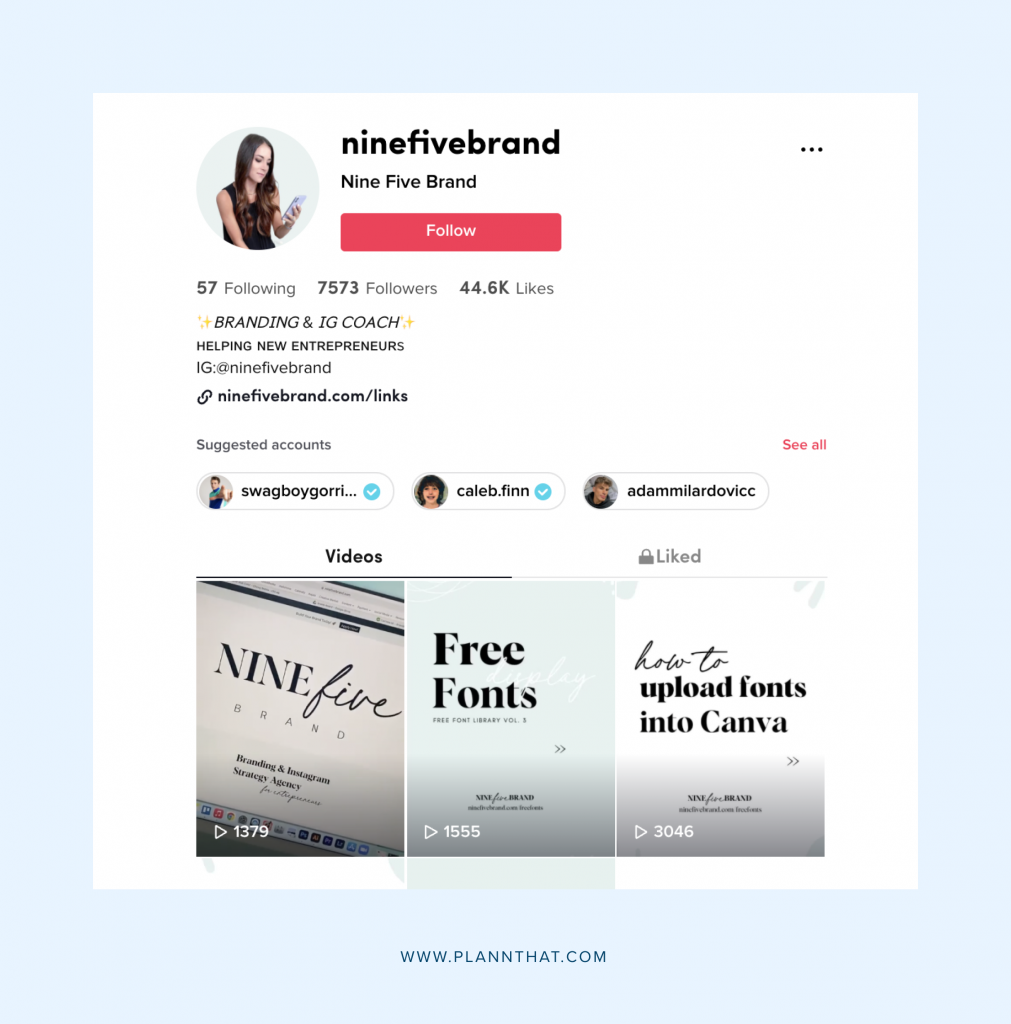 Before you can start getting website traffic from TikTok, you need to give your profile a makeover.
Your bio needs to answer this question: Who is your audience, and how do you give your community value?
For example, are you a social media coach or a vegan food blogger? Are you a sustainable athleisure brand or a productivity app?
Make it crystal clear who you're creating content for.
Next, you need to make sure your profile link supports your ultimate TikTok goal. As one of the few places where you can redirect people to your website, it's super-valuable real estate.
Don't just send people to your homepage and hope for the best .
Use the link to create stickiness with your brand.
• Selling t-shirts? Link to the latest collection you're promoting
• Running a yoga retreat? Link to the sales page
• Promoting a free ebook? Link to the sign-up form
Doing this gives people a reason to click on your link and makes sure you're getting targeted traffic from people who like your brand and have the problem your product, service, or blog solves.
Not sure how to add a link to your TikTok bio? Follow these steps:
1. Switch to a business account
2. Go to the Me tab and tap on the three-dot menu
3. Tap on Manage Account > Switch to Pro Account > Business
4. Follow the prompts to set up your business account
Once you're done, go back to the Me tab and tap on Edit Profile. Add your link in the website box and tap Save.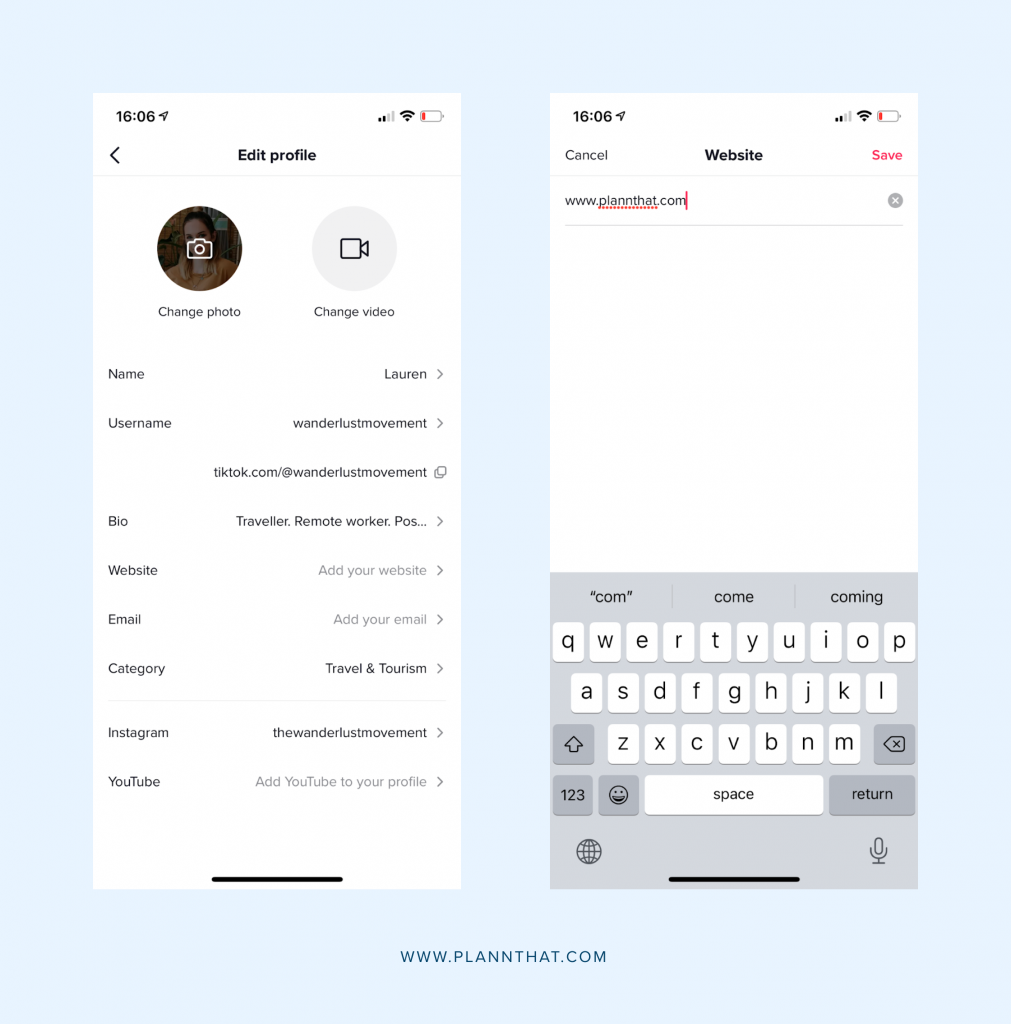 Create a Call-to-Action
The final piece for your TikTok profile makeover is a strong call-to-action. Whatever your link is promoting, you want to draw attention to that with a single sentence in your bio.
For example, Hot Topic uses the CTA 'Shop our TikTok feed' above a link to their website that features all the products in their videos.
This makes it easy for users to shop and automatically increases website traffic and sales.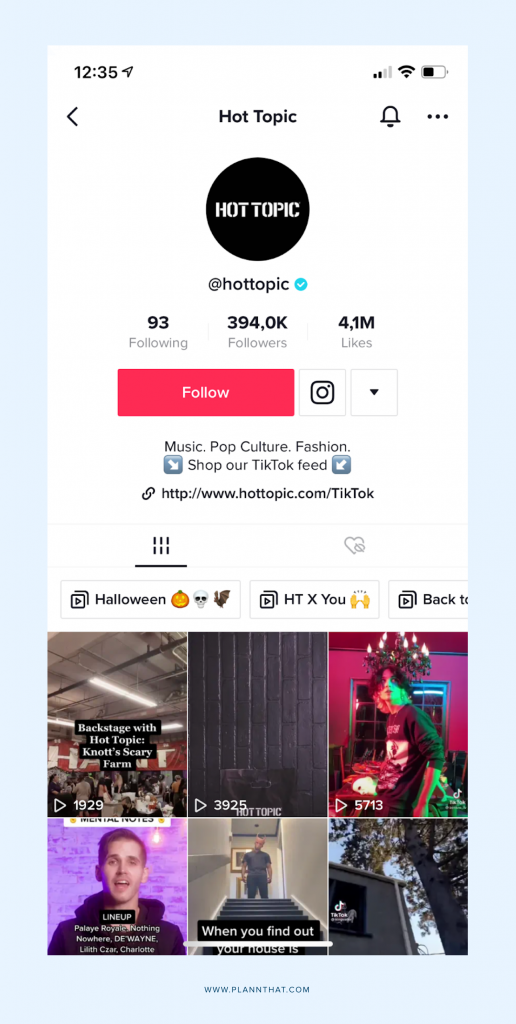 Trying to grow your email list? Mention your freebie in your bio.
Let's say you have a free sales training. You can say, 'Sign up for my free training to sell more this holiday season!'
Anyone who taps through to your bio and finds your content relevant will most likely want to sign up. By stating "what's in it for them", you automatically and organically grow your email list and website traffic in your sleep.
Use TikTok Paid Ads
Got a budget? Running TikTok ads is a great way to build traction and drive traffic. 
The service allows you to include an external link in your video, giving you another way to drive traffic directly to your website: Something you can't do with normal TikTok content.
One brand seeing success with this strategy is Comdirect. The brand received over 17,000 click-throughs, generating a lower CPC by 33%.
If you want to see more website traffic from TikTok and don't want to rely on an organic timeline, paid ads could be the best solution for your brand.
Get Creative with Your Content
Want people to visit your website? Level up your content.
Pair up your products or services with a TikTok trend, and you'll see an increase in views, followers, and website traffic.
For example, if you're a money coach, share tips on how people can save or educate your audience on different investment accounts. Both options provide value and will get viewers interested in what else you offer.
You can also experiment with trends. HighSnobiety uses ASMR to subtly promote their sneakers by having a model step on various foods. Remember, the more views you get, the quicker you'll go viral, and the more people will end up on your site.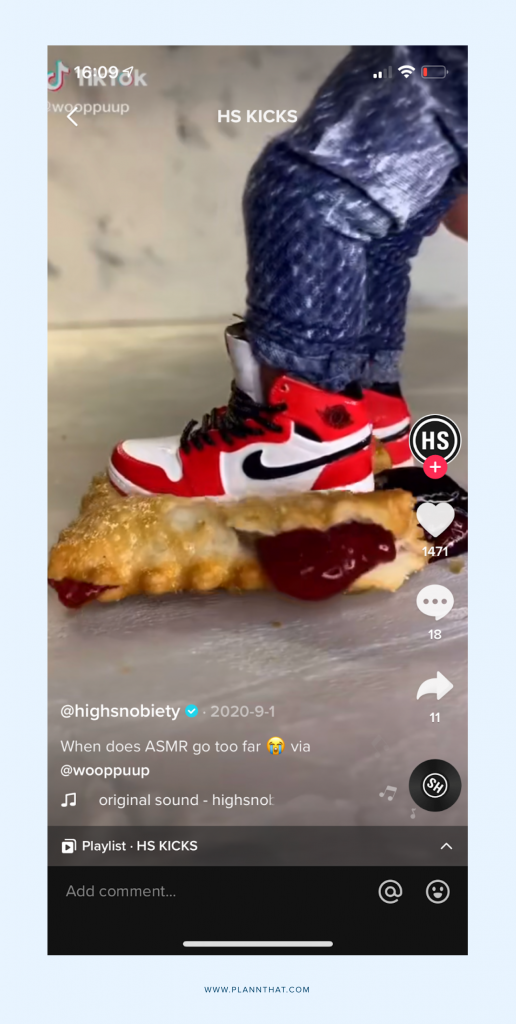 Tease Your Website Content in Videos
Going hand in hand with levelling up your content, start brainstorming ideas for teasing your website in videos.
• Got a new blog post with ten tips for finding cheap flights? Share 1-3 tips in a video, and end it with a call-to-action to check out the full post on your website.
• Launching a free eBook that teaches people how to start freelancing? Create TikToks about a topic in the book and direct your audience to your profile link to visit your site and download your full strategy.
• Sending out a newsletter? Encourage your audience to sign up by teasing the content you only release in your weekly blasts.
The key to enticing people to leave the app and visit your site is by offering something valuable and irresistible in return.
Plann Your TikTok Strategy
Let's get you going viral on TikTok! Sign up for a free Plann account today and use our content planning features to upload, store, and manage all your video files in one place.