Ready to give your real estate Instagram account a makeover?
You're in the right place!
While Facebook is still the most popular social media platform for realtors, Instagram shouldn't be overlooked. With 1.21 billion monthly active users, you're sitting on a potential gold mine – if you use the platform correctly.
Instagram can help you showcase your properties and service in an engaging and creative way while driving traffic to your website, boosting your follower account and ultimately generating more leads and sales.

…But what strategies should you use to boost your Instagram presence as a real estate business owner?
Keep reading! We've compiled five practical tips for the real estate industry that'll elevate your Instagram account.
1. Show Off Your Real Estate Listings
What sells real estate listings on Instagram?
High-quality photos and videos.
If it's within your budget, hire a photographer or videographer to capture your properties in all their glory. Get creative with the angles and throw in some aerial views to capture buyers' attention with unique perspectives.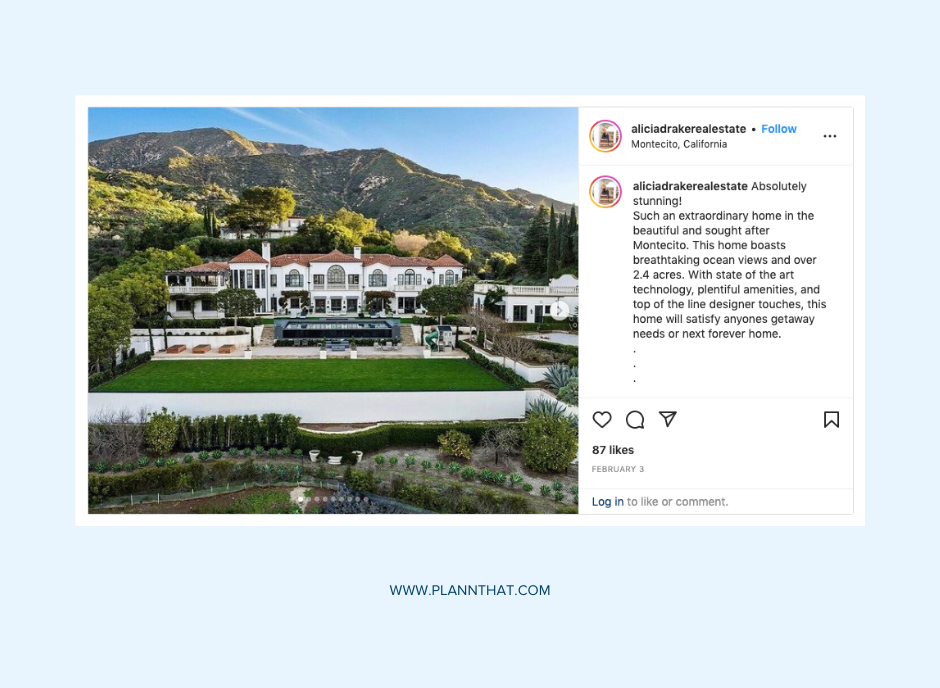 On a budget? Use your smartphone.
If the light is good (remember to turn on the lights!), and you shoot in 4k 6fps, you'll produce quality content highlighting the home.
Add a Lightroom filter, and you're off to the races with engaging content that'll stop scrollers in their tracks.
…There's only one final step left to add some pizzazz to your listings.
Your caption.
Highlight each property's key features and include a clear call-to-action (like "DM us to schedule a meeting") to kick your followers into gear and drive tangible action from your audience.

View this post on Instagram
2. You're The Expert. Act Like It
What does that mean? Show off your personality while educating your audience.
Boring captions describing how many bathrooms your listing has are a good start, but you can do better.
Use that valuable real estate space on Instagram (wink) to share your insider knowledge. Help your followers with tips and tricks about the buying or selling process, and be the first to jump on your Stories or Reels to chat about important market trends in your local area.
An account that does this well is The Elmes Group. Along with new listings, this real estate business establishes its expertise with actionable advice about why low-interest rates are an excellent time to buy a luxury property.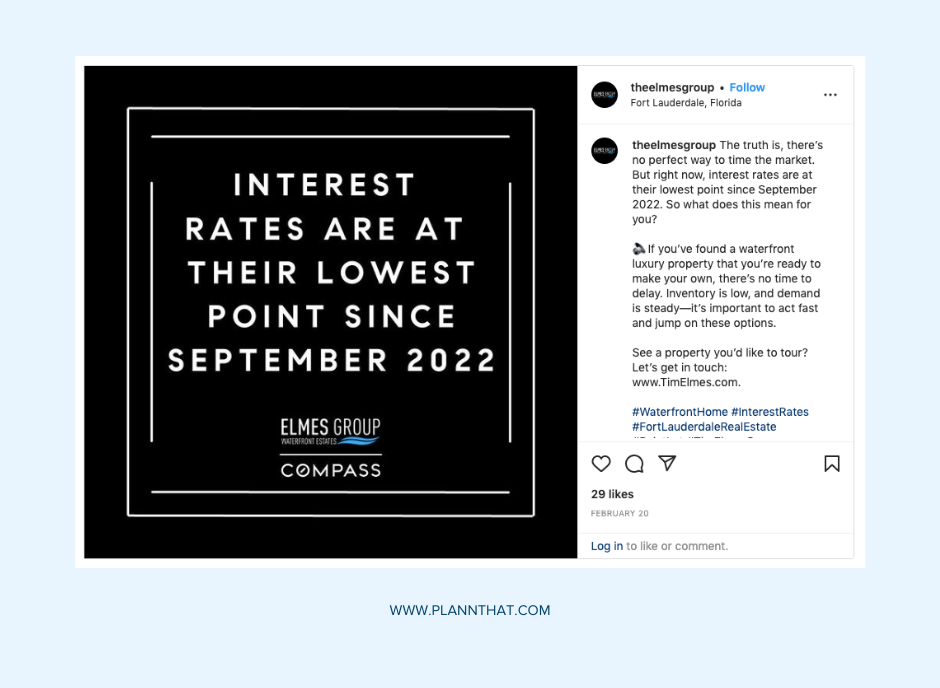 3. Create Intrigue With Your Instagram Posts
What is the quickest way to grab attention on Instagram?
Break the normal pattern.
It's common to see real estate Instagram accounts posting an exterior shot of a house. While buyers do want to see what the listing looks like, they don't just want to see the facade and front door.
To shake things up, try something different.

• Show off the neighbourhood: Take a picture of the local farmer's market or trendy cafe. Find those lifestyle moments that'll make a buyer want to move there.

• Experiment with lifestyle shots: Give your followers a taste of what it's like to live in the space. Roast some marshmallows on the fireplace, jump in the pool or host a dinner party. While this isn't always possible, it's worth adding to your content ideas bank.

• Create an Instagram Reel: Reels are the best way to gain exposure on Instagram. Create an exclusive virtual walkthrough of the space or summarize your top three favorite features from a new listing.

• Tease your upcoming listings: Create a "coming soon" post to drive anticipation.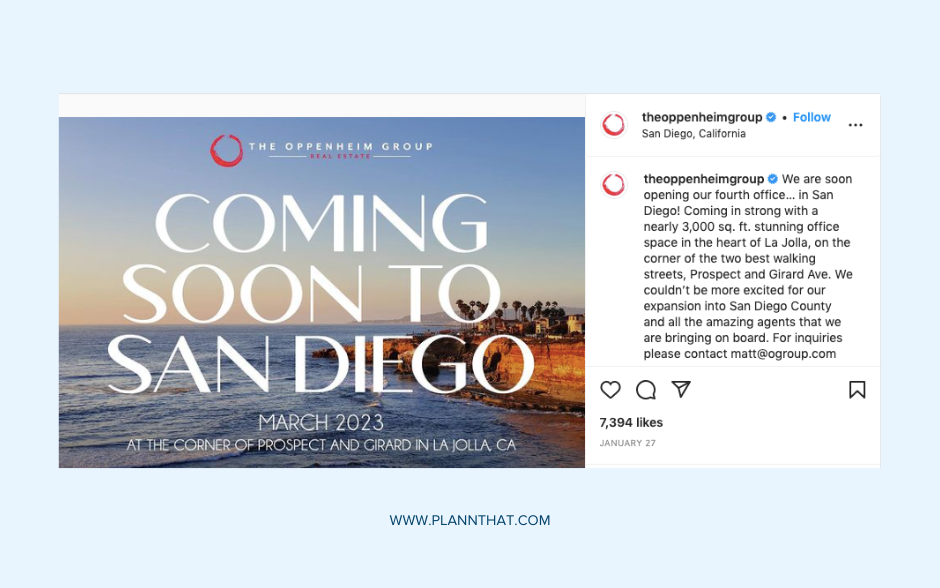 4. Promote Your Business Results

Just sold a property? Tell Instagram all about it.

Why?

It builds transparency and trust. When you share news with your audience, you're doing two things:

1. Building your reputation: It shows you're a reliable real estate agent with a trustworthy business.
2. Creating powerful social proof: It strengthens your relationship with your audience and improves the likelihood of someone wanting to buy or list with you.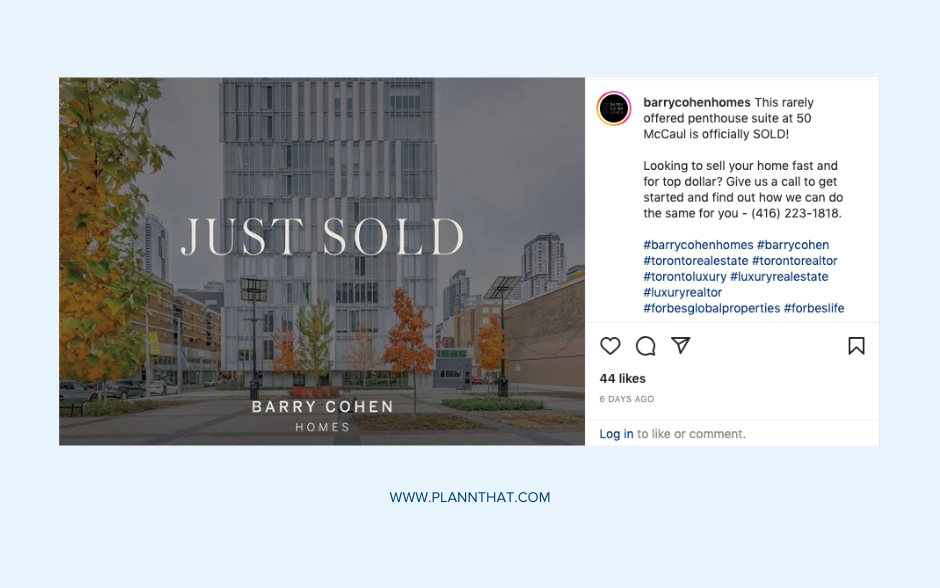 Another powerful real estate marketing tactic is posting your success stories.

Adding testimonials to your Instagram content calendar can build trust and credibility with potential clients. Before deciding on a real estate agent, people want to know the person is reliable and can close sales.

Sharing testimonials from happy clients shows your track record and ability to help homeowners achieve their real estate goals.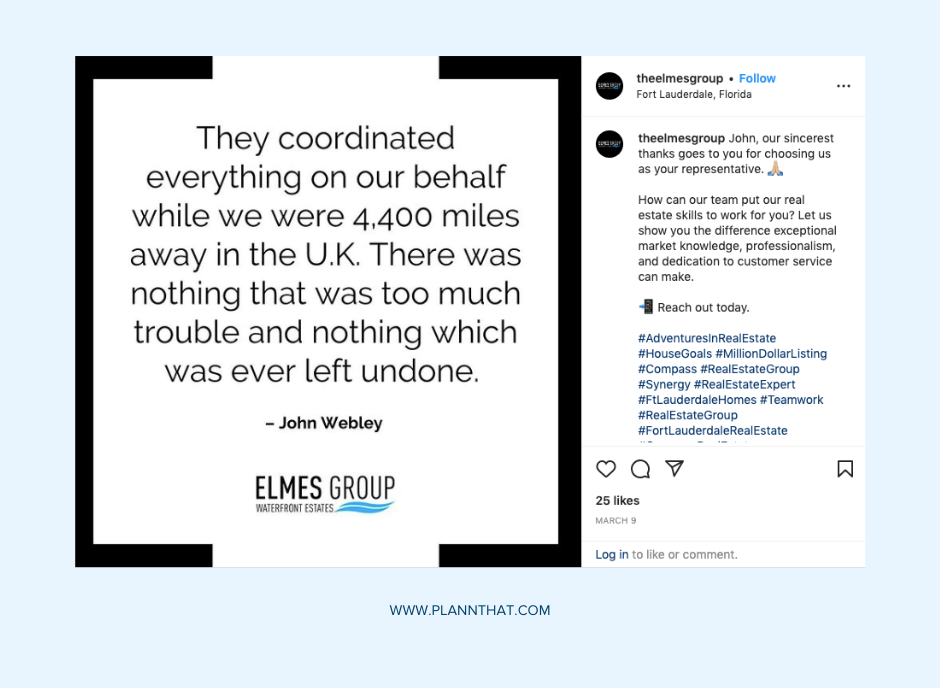 5. Use Instagram Ads to Grow Your Local Market

Finally, throw some paid advertising into the mix to take your real estate Instagram strategy to the next level.

Why?

Instagram, owned by Meta, has an incredible ad targeting system that lets you drill down your audience.

You can target specific:

• Demographics
• Interests
• Locations
• Behaviours
• Languages
• Connections to pages
You can even create lookalike competitor audiences to tap into the audiences of other agencies in your local area!
Running tailored Instagram ads is the perfect way to promote a listing and get it in front of your dream clientele. And the best part?
You can customize your ads to fit your budget and specific goals. Whether you want to increase brand awareness or drive traffic to your website, Instagram ads can help you achieve your goals. So, don't be afraid to give them a try – you might just be surprised at the results!
Plann Your Instagram Takeover As A Real Estate Agent
You've made it. You've got your real estate Instagram strategies. Now what?
It's time to Plann your real estate posts and create a consistent posting schedule!
Sign up for a 7-day free trial of Plann Pro today, and put all your strategy into action. Use our visual content calendar to batch-create your Instagram posts for the month.
Find inspiration with done-for-you caption starters and thousands of high-performing hashtags at your fingertips. Plus, you cal easily repurpose your Instagram content to your other social media channels with a single click, too.