One of the many joys of social media is that cute dogs are only ever a few clicks away! Because, no one can be sad in a world full of famous Instagram dogs, right?
When it feels like things just aren't going your way, there's no better way to cheer yourself up than by searching Instagram for dogs to brighten your day. You'll be feeling more paw-sitive in no time!
Not only that, but you can even learn a thing or two from these adorable social media superstars. Dog owners from around the world are combining the cute factor with a strong social media strategy to create a fanbase that would put Kim Kardashian to shame. And, the best part is — many of these accounts even use Plann!
Here are 10 delightful dogs you should be following on Instagram!
1. @henrythesmol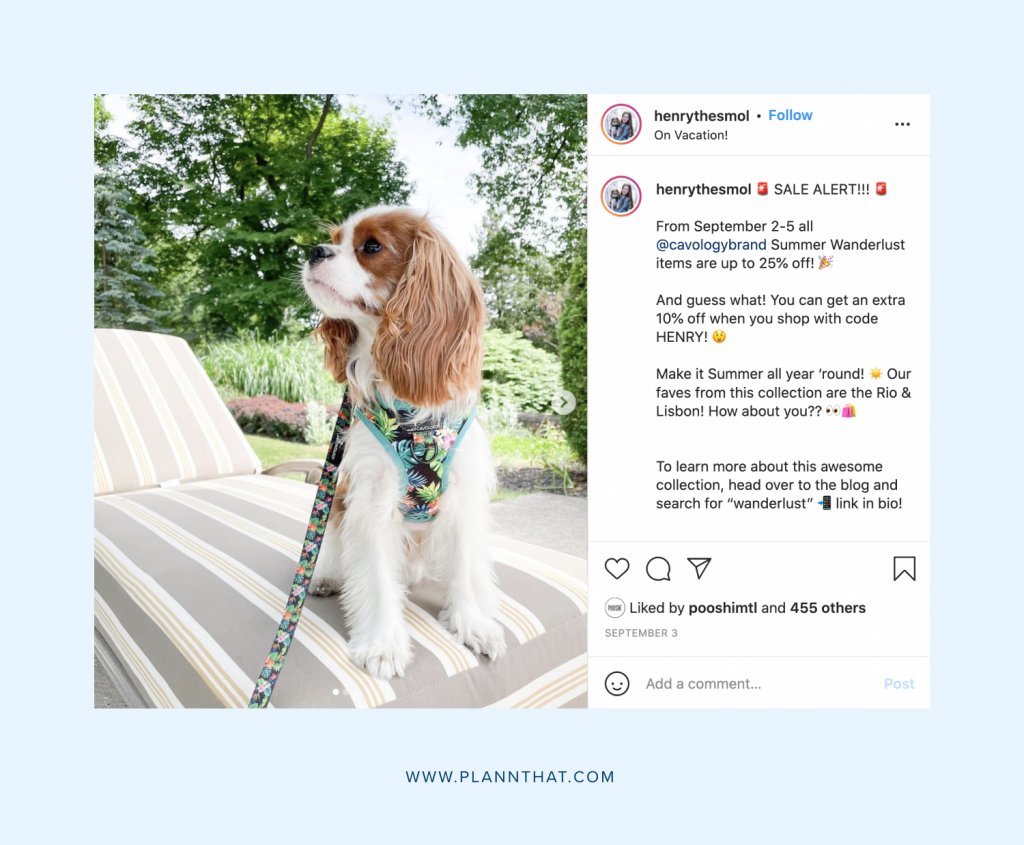 Henry the Smol is a Blenheim Cavalier King Charles Spaniel living in Montreal, Quebec. Henry's 11k followers love seeing his opinions on all things treats, toys, and dog-friendly destinations.
Follow Henry's adventures and you'll learn something new along the way! Henry's mum, Cara, is a proud Plann'r who regularly shares tips and tricks to help other bloggers and dog parents grow on social media. What's not to love?
Follow @henrythesmol
2. @odethegroodle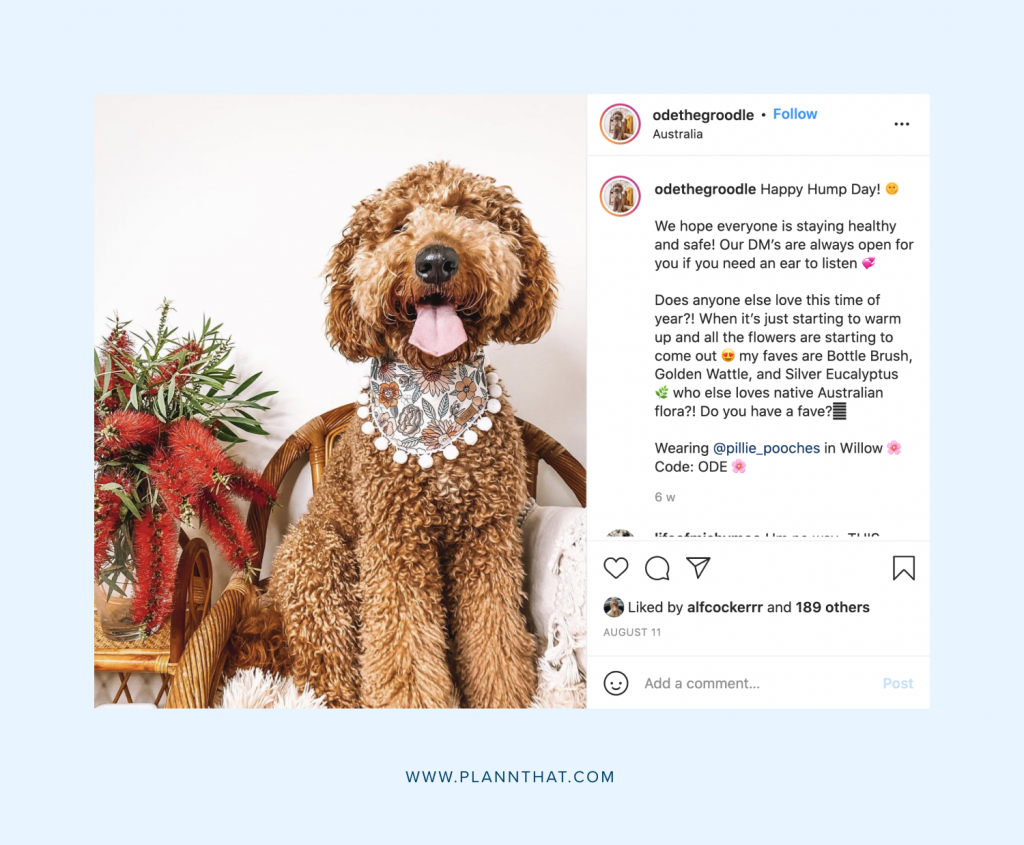 Ode is an adorable standard groodle from the east coast of Australia, and his Instagram adventures are a whole lot of fun! Ode's mum, Elyssa, helps him share all his favourite things online.
Ode's faithful followers can expect to hear about plenty of great pet products, ranging from toys and treats to leads and collars. All products are modelled by the cutest pup in town!
Follow @odethegroodle
3. @myaussietribe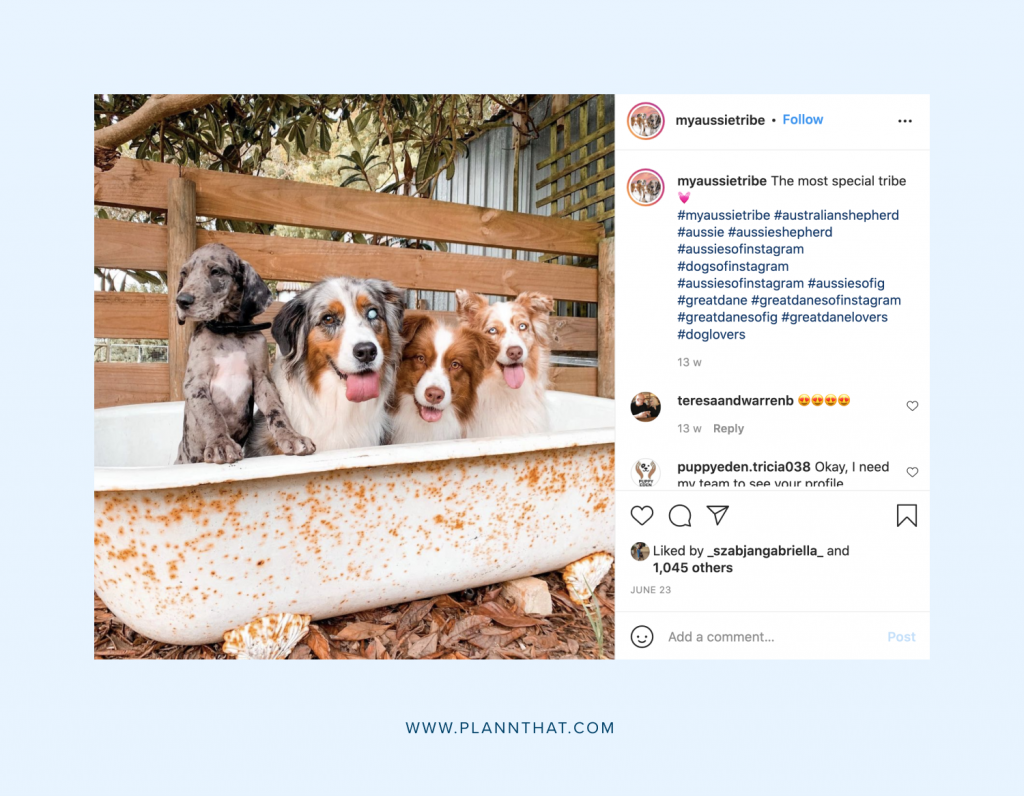 Meet Django, Blu, Jäger, and Banks, the adorable Instagram dogs who are on a mission to explore Australia! Together, these three Australian shepherds and their Great Dane pal are brightening Instagram feeds around the country.
Django, Blue, Jäger, and Banks love all things adventure. They share their visits to some of Australia's most beautiful destinations, pausing for toys and treats along the way, of course.
Follow @myaussietribe
4. @gusandtaytakenyc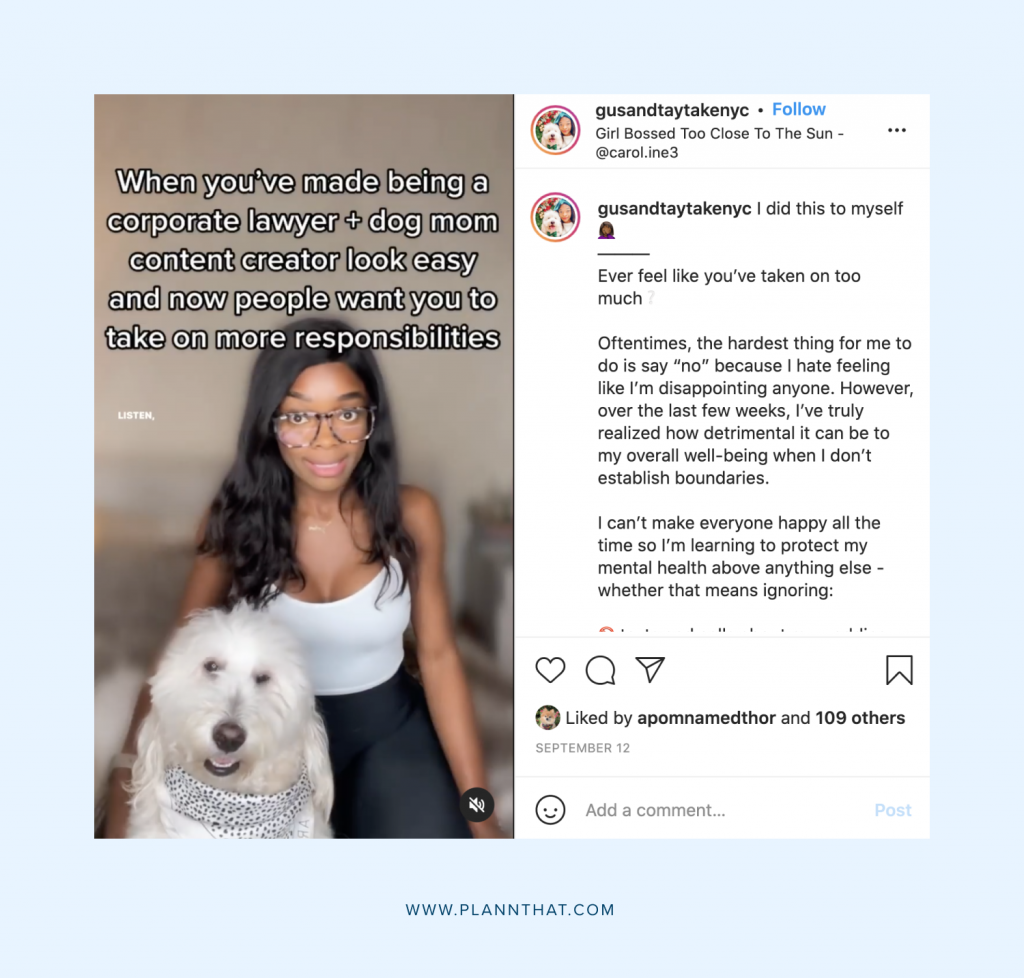 Dedicated Plann'rs Gus and Tay are friends for life! Together, they discover the best dog-friendly locations New York City has to offer. Get ready for a laugh as Tay shares regular doses of dog mama humour.
Described as a total diva and a not-so-cooperative pupfluencer, Gus is nonetheless happy to share his adventures with his 15k Instagram followers. He and his mum even offer social media tips to help other content creators!
Follow @gusandtaytakenyc
5. @puppies.n.pinot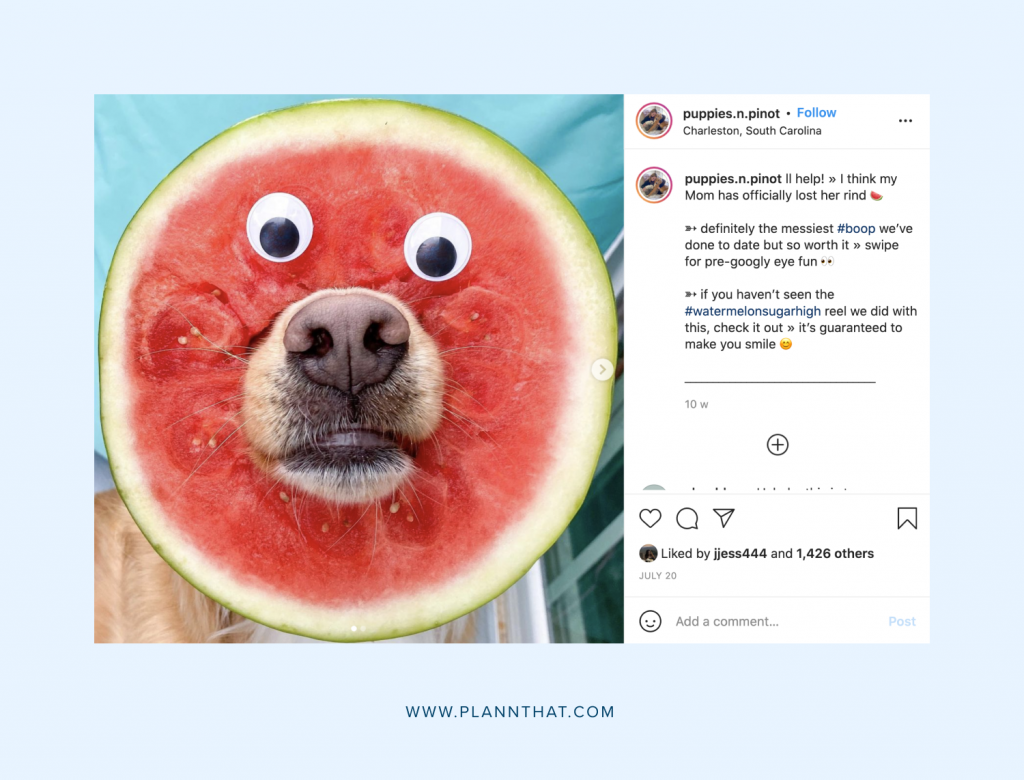 Brie, Charlie, and Harbor are proud to run one of the best dog pages on Instagram with the help of their owner, Destiny. The adorable trio share lots of pet product posts, along with cute snaps of their day-to-day life.
It's no wonder these adorable dogs have earned themselves over 36k followers. Keep an eye out for the pups' takes on Instagram trends and some of the cutest dog photos around.
Follow @puppies.n.pinot
6. @itsdougthepug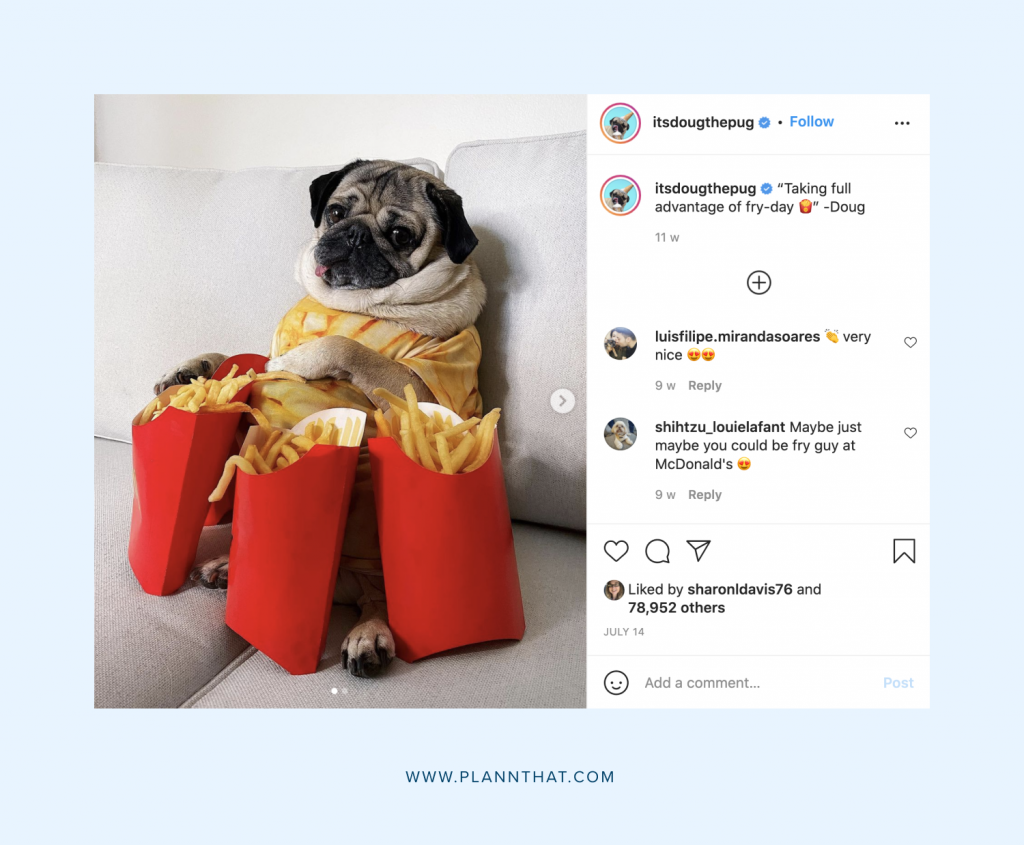 With over 3.9 million followers, Doug is one of the most famous Instagram dogs out there! He's made plenty of A-lister celebrity friends, including Demi Lovato, Cole Sprouse, Katy Perry, and the cast of The Big Bang Theory — and, it's not hard to see why.
When Doug isn't sharing his adorable costumes and favourite dog-friendly locations online, he's giving back to the community at Doug the Pug Foundation, which supports children battling life-threatening illnesses. Talk about a dog-gooder!
Follow @itsdougthepug
7. @jessie_and_blue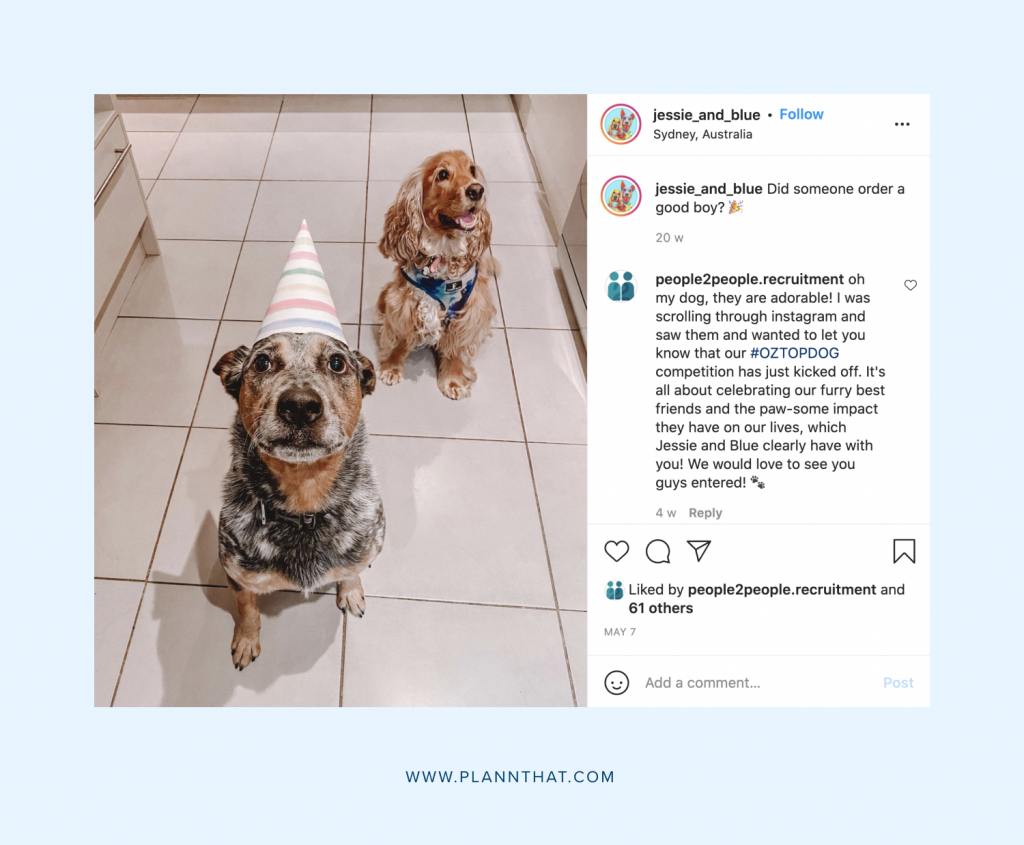 Jessie and Blue are a cocker spaniel and cattle dog pair based in Sydney, Australia.
With the help of their dedicated owner, Jessie and Blue share their favourite toys and treats with the world and are strong believers in the power of a good filter. These friends are serious about Instagram modelling, and it takes work to look this adorable all the time!
Follow @jessie_and_blue
8. @thelilacfrenchie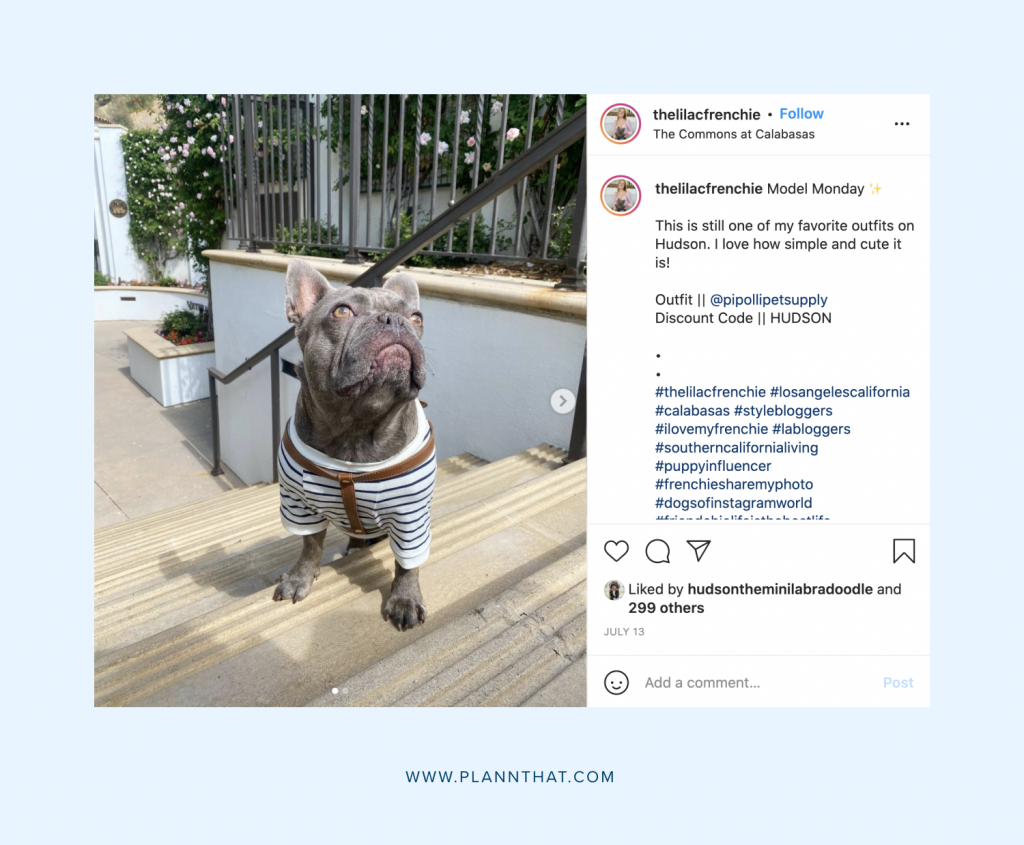 Meet Hudson, the most stylish dog in Los Angeles! Over 25k followers love staying up to date with this handsome dog's latest high-fashion choices.
Hudson's owner, Bailey, is proud to support his pupfluencer career; filming Reels and snapping photos to help him share his favourite brands and trends with the world. The duo also share helpful tips to help other dog pages on Instagram grow.
Follow @thelilacfrenchie
9. @aspenthemountainpup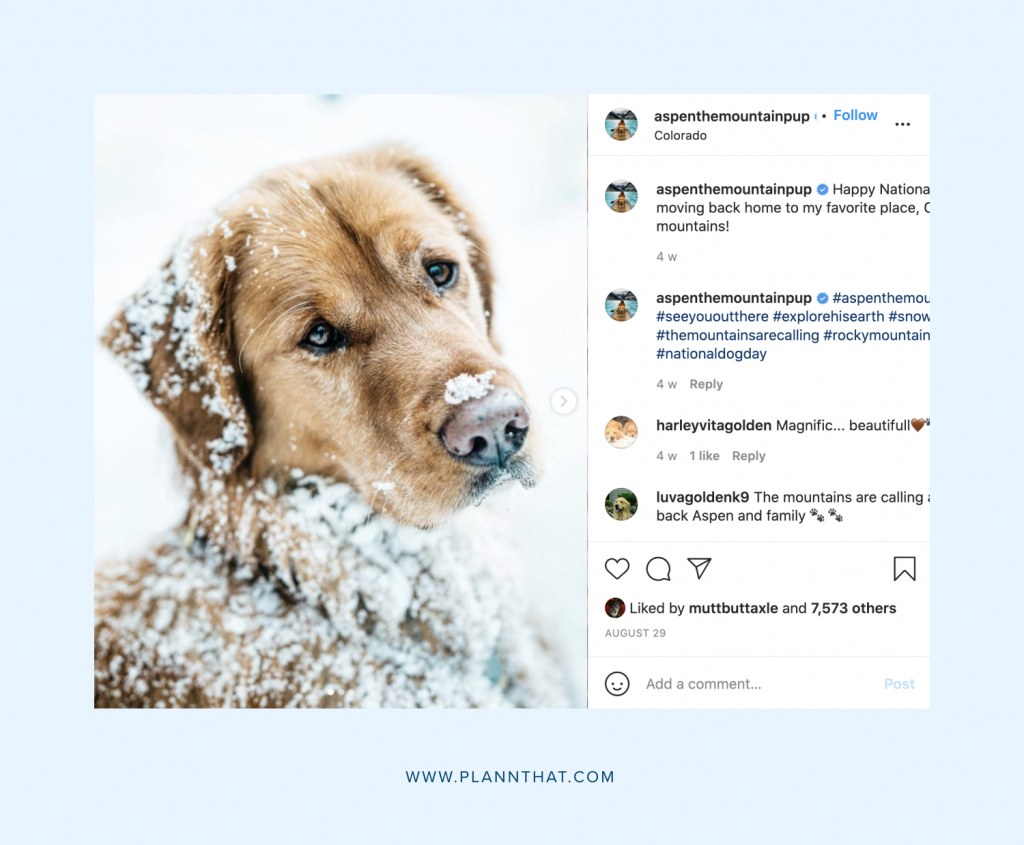 A golden retriever taking on the world, Aspen is well known on Instagram for his good looks and trademark adventure shots. You'd be hard-pressed to find a more well-travelled pup!
When he's not posing as the face of brands, he's always looking forward to his next big adventure!
10. @dogwithsign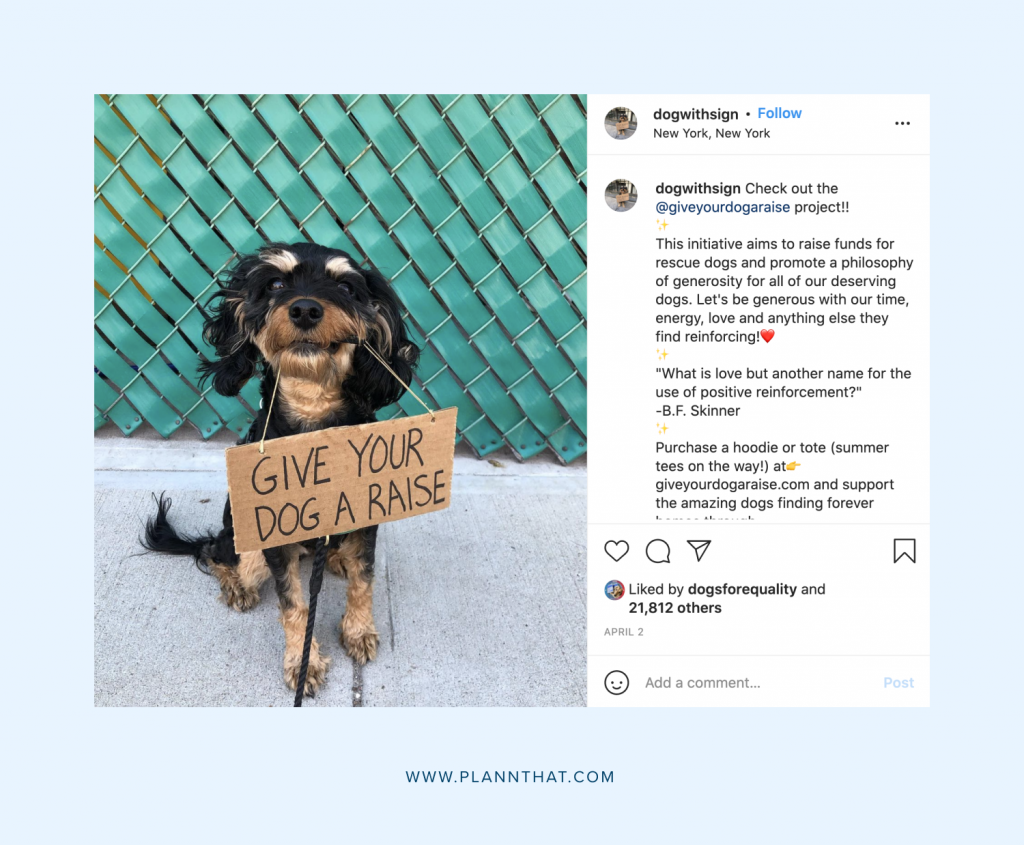 Baboy is a social media superstar with plenty of opinions to share! From politics to dog toys, this cute pooch has something to say about everything.
On Instagram, Baboy uses cardboard signs to make his voice heard. He regularly reminds his 191k followers that "all dogs are good dogs" and "toilets are just big water bowls."
Follow @dogwithsign
Start making your pup Insta-famous with Plann
Ready to help your pooch achieve the superstar status it deserves? Plann has everything you need to run successful dog Instagram account — including content ideas so you never get stuck on what to post!