Back in the day (okay, a few years ago) we used to have to live by the motto 'YOLO' on Instagram — You Only Link Once. You had to be so selective about what you put in the bio section of your profile, because there were was no way to include multiple links. But, not anymore! Thanks to tools like EasyLink, you can now add multiple links on Instagram.
It's an easy way to direct your Instagram followers to anything you're trying to promote — whether it's a new blog post, a freebie to build your mailing list or a promotion — without having to switch out your links every time. Here's how to do it!
What do I need to set up multiple links on Instagram?
All you need is a linking software, like EasyLink. You can also create your own 'links' page on your website if you're trying to keep some of that good SEO juice, but that can be a bit more of a hassle to set up!
How to add two or more links in your Instagram bio
Here's our tutorial on how to add multiple links on Instagram in 5 minutes!
1. Create your EasyLink page with your Plann account
2. Navigate to EasyLink from your Plann Home
3. In the top right, you can set your custom URL for you to copy/paste into your Instagram bio, super easy!
4. From here, select the links you'd like to add, and as easy as it is to drag and drop your Plann images, you can organise your links.
5. Copy and paste your link into your Instagram bio and your audience will be able to click through and choose their next interaction with you.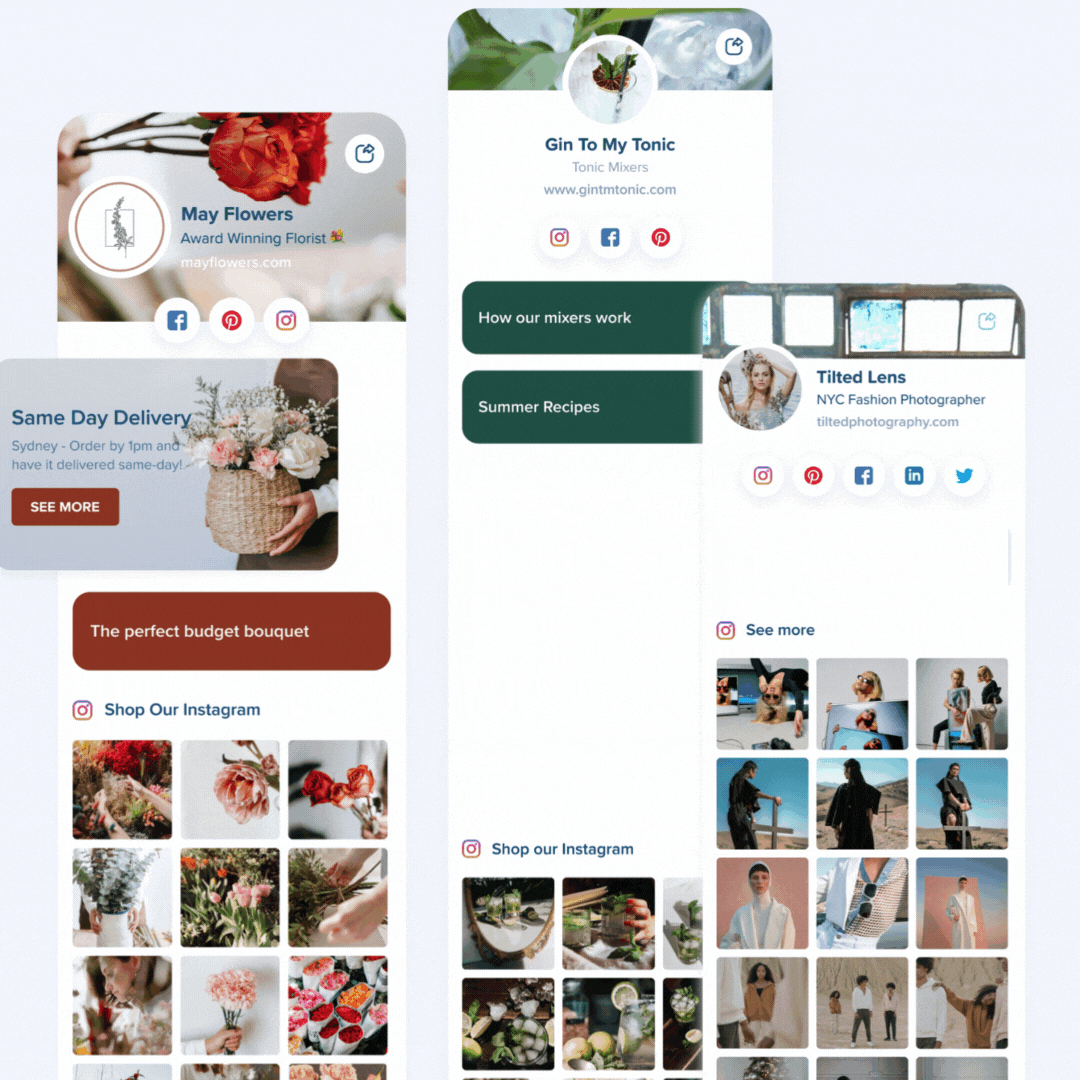 Wait, why do I want multiple links on Instagram?
It means if you're sharing content (like a blog post) and you've also got a website you'd like people to visit, you can ask them to visit both! Or in some cases, you might want to link to 4 or 5 things if you have a store, or even to promote your most popular blog posts.
The best way to get people to click outside of Instagram has always been to 'add value', it's a pretty big ask to stop people from scrolling for two seconds, and this doesn't change, you're still going to have to get people to click your link and add the same amazing amounts of value.
What does change, is what you can offer once they've clicked on your bio. Once they're on your EasyLink, you can direct them to virtually endless amounts of resources. That's more opportunities to get them onto your website where they can potentially buy from you.
How to choose your links in bio
We recommend you have a think about what you think is the most important link for your business to be listed first. Is it content, a special offer or a helpful resource?
As marketers, it's best to always be testing and optimising so we'll also be moving things around after a few days to see what works best.
Obviously you don't want to over-kill, but it's good to think about the purpose behind each of the links if you're thinking of adding more than 3 or 4.
Want to get even more organised with your social media?
Our aim is to help more determined Instagrammers be successful and to catapult your beautiful brand.
We designed our visual planning app Plann in order for you to make your mark on Instagram, where you can organise and design a follow-worthy feed right from your mobile.