When it comes to sharing your expertise with the world, social media has to be one of the best platforms to do just that. Especially when you're first launching your business, sharing inspiring and educational content can help you build trust, connection and spark conversations with potential customers. 
That's exactly what Negar Jay (Founder of self-help platform Innervibration) has successfully achieved.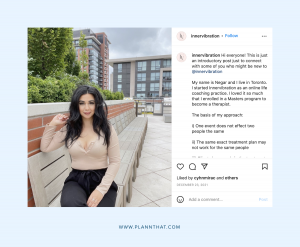 With an impressive 16k+ followers on Instagram and an impressive 20k+ TikTok followers, Innervibrations is the go-to destination for content about self-image, self-doubt, reprogramming value systems and so much more. 
From inspiring quotes to daily affirmations, Negar has created an engaged community of like-minded followers looking to level-up their mindset and create an abundant life. 
In this conversation, we chat to Negar about how she has used social media to grow her self-help coaching business, her favorite content creation tools and her top tips for brands looking to succeed on social media in 2022.
Building a thriving social media community as a self-help coach
"My favorite thing about social media is engagement and community building, as well as authentic and real human connection. The conversations that turn into friendships from DMs.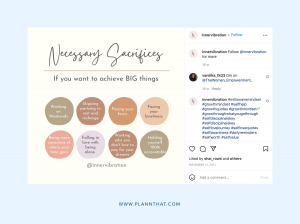 I value understanding people and forming relationships with my audience. I reach out to my audience alot and I have learned about them and know intimate things about them.
I have had collaborations, partnerships, speaking engagements, podcasts, interviews, and made a ton of friends all from social media." 
Life before and after Plann
"When I first started Innervibration, I had to set reminders to post every few hours. Not only that, I was constantly pressured to write the captions and then go to my notes app for a list of hashtags- it was a whole hot mess!  
At the time (and still now) social media has been the biggest way for me to find new clients and it was exhausting for me.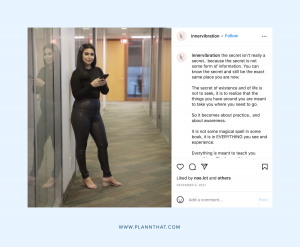 Life on social media before my angel Plann app was exhausting and felt like a chore. It felt like something I 'had' to do and now it's something I LOVE to do. It's become a creative avenue for me. 
The very first thing I noticed when I started using Plann was how easy it suddenly felt. How easy it felt to create, how easy it felt to share, and how fun it was to plan content for 150 days in advance and then focus on what's most important in my community: engagement and relationship building! 
Plann has made it possible for me to get noticed and has brought me so much more than clients. Plann has brought me an abundance of opportunities!"
And Negar's favorite Plann feature?
"I love many features on Plann that I use on a regular basis. I love the ability to auto-post, meaning I can schedule it and forget about it! It's amazing! 
I love how easy and simple the app is to use. I am definitely not a techie, that's why I needed Christy and her team to work their magic.

The app is basically everything you need as an influencer or content creator (and everything you didn't even know you needed) in a compact app that is made for people who are creative.
It gives you what you need quickly and easily. Another feature of Plann I love is that you can schedule posts, Reels, videos and stories! And not to sound like an infomercial, but I also love that you can reply to your comments directly from the Plann app, too."
Top tips for brands looking to succeed on social media in 2022
"My first tip is to be authentically and unapologetically YOU. Know your brand! Visuals speak volumes. 
Try new strategies, get creative, and don't be afraid of getting less likes. Use all of Plann's features to play with your content and see what you're most happy with. Aesthetics development for your brand should be fun and a creative process with a tonne of experimentation.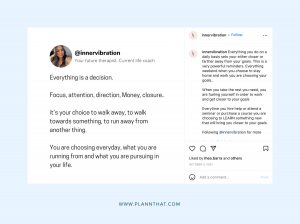 And in case no one's told you this, you are allowed to change your brand and let it evolve!
I am no expert and I'm constantly learning, but my best advice is to post fiercely. Do not get caught up in the likes. Social media is a world where you can do anything you like. 
Take advantage of this creative space and bring your A-game, every day! Consistency is priceless.
Stay in the game long enough to be noticed. Earn your audience's attention. Bring value through every post. You can do amazing things and there is room for us all to succeed here."
What's next for Innervibration?
"I am open to everything and anything. I am so excited to be launching my website this year and to be able to share my free training content. 
I am in the process of completing my Masters degree and will soon be licensed as a Psychotherapist. I look forward to expanding my practice and helping more people with anxiety, depression, self-image, purpose, career transformations, reprograming thinking structures/value systems, self doubt and so much more. I want to finish school and invest more time in growing Innervibration. I want to do everything the universe guides me to do. It's exhilarating what we can do on this platform, and Plann made this possible and easy for me."
Ready to supercharge your success on social media?
Looking for an all-in-one content creation suite that allows you to effortlessly manage your social media channels? From mapping out your strategy and designing your graphics to saving plug-and-play hashtag sets, you'll find everything you need inside Plann. 
Go on, redeem your 7-day free trial of Plann Plus. If you don't like it, keep using Plann for free!