What's the best gift you can give someone for Valentine's Day? A bouquet of roses? An all-you-can-eat-dinner? A huge block of chocolate? While all of these are pretty up there, we have to say there's one that trumps them all — the gift of more time. Yep, it's the most priceless resource there is! Because, more time = less stress, and more time doing what you actually want to do!
And that's exactly the gift we're allowing you to give your business bestie or gal pal this Valentine's Day, with our 'Gift one, get one' special' And the best part is, it's a gift not only for someone else, but also for yourself. Win-win!
It's simple. If you invite someone to Plann (whether it's a friend, colleague, business collaborator or community member) and they purchase a subscription, you both get a $10 credit applied to your accounts. That means you both get to experience all of the awesome, premium features our paid accounts have to offer, for a fraction of the price.
Check out the video to see what it's all about below:
How to claim the 'Get one, Gift one' offer
1. Login to your Plann account here https://www.plannthat.com/login/ or sign up for a brand new account here https://www.plannthat.com/register/

2. Click your profile pic in the top right and then navigate to 'Settings'

3. Scroll down to the bottom right to find your sharable link which will give you and your business bestie or gal pal $10 off!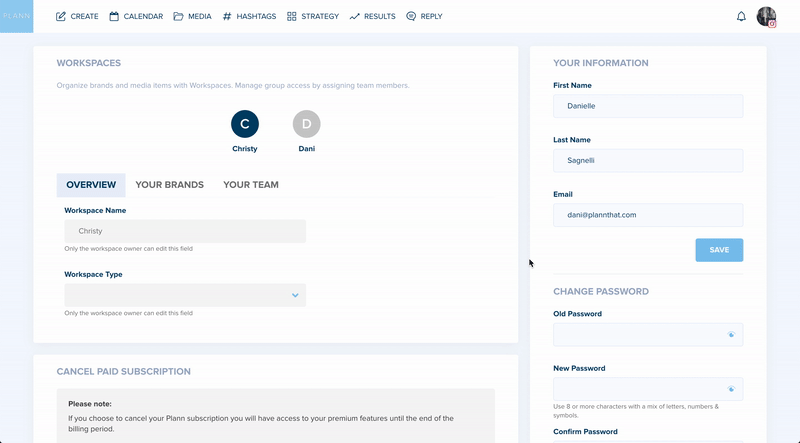 This offer is only available via desktop, so be sure to login to Plann on your computer or start your free trial today!
What time-saving features will I get with a paid Plann account?
We know, the free version of Plann is pretty epic — what more could we possibly offer with a paid plan? Well, believe it or not, Plann Plus gives you access to even more awesome features mean social media planning waaaay faster and less stressful. Including:
All paid Plann Plus features include:
Unlimited

posts + stories

Unlimited

designs with Canva

Unlimited

stock image libraries

Unlimited

media uploads and collections

Reply

to all comments + mentions

Advanced

Instagram analytics

Priority

customer support

Unlimited

strategy tools and hashtag sets

Professional

image editing tools

Customizable

brand marketing calendar
And more!
Share the 'Get one, gift one' offer
Ready to share the love and let your community know about this awesome offer but not sure how to bring it up with your audience without feeling awkward? We got you boo!
To make it super easy, we've created a bunch of swoon-worthy templates in the right dimensions for you to share on your socials. Feel free to download them (either use them as is, or add your own creative flair) and pop them straight on your Instagram grid, Stories or on Facebook <3
Access our 'Get one, gift one' Valentine's Day templates here:
Facebook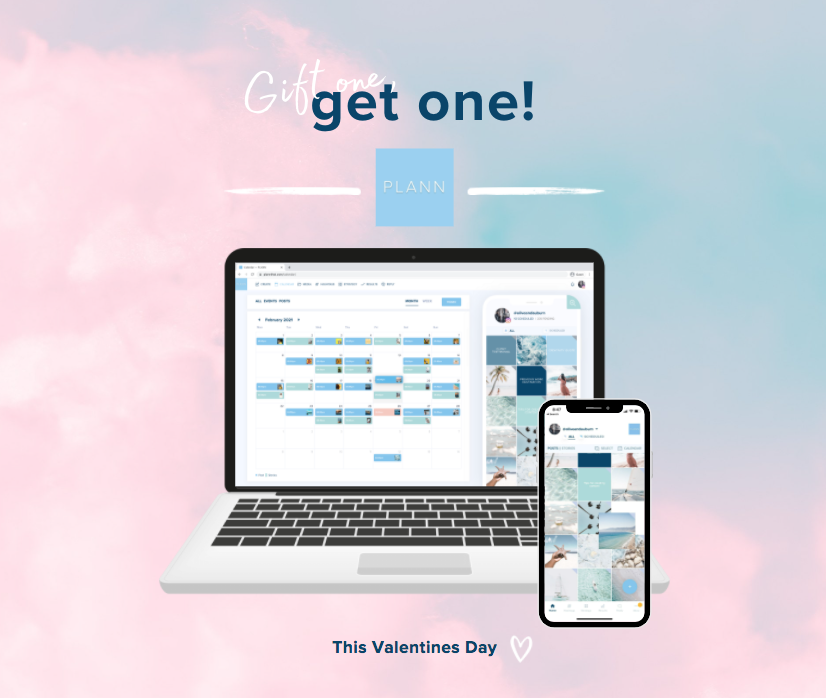 See the Facebook templates
Instagram grid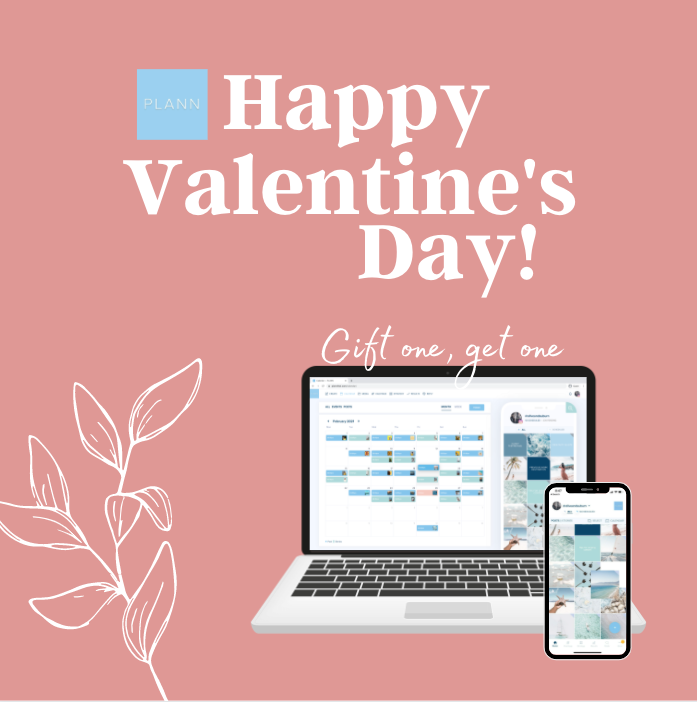 See the Instagram grid templates
Instagram stories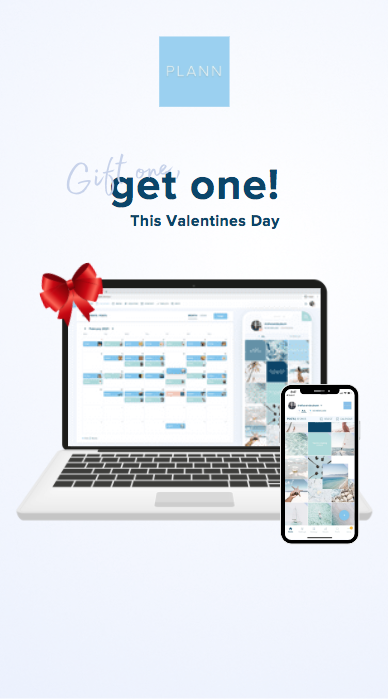 See the Instagram stories templates
LinkedIn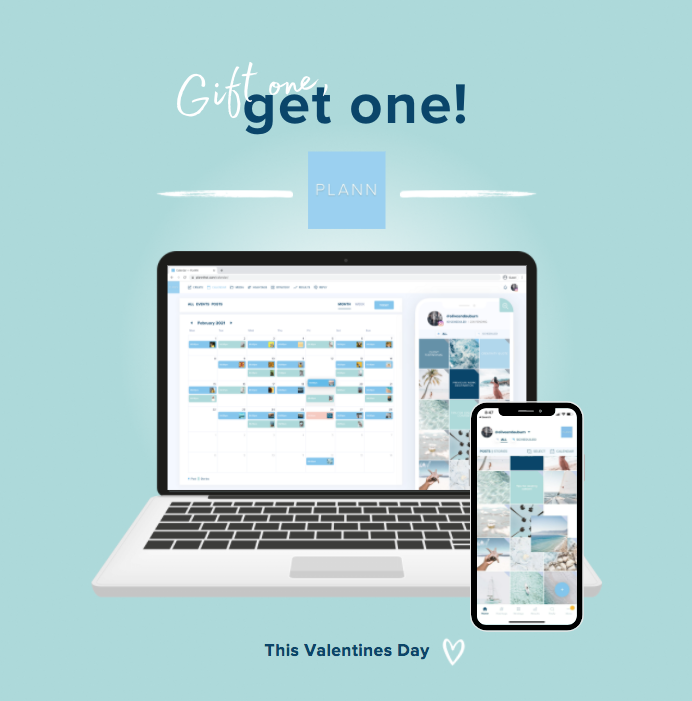 See the Linkedin templates
'Couple up' your templates with some lovey-dovey captions
You can copy and paste the below captions, to help spread the love/news!
"Because I love you all so much, I have a gift for you! I've partnered with Plann to give you $10 credit towards their suite of time-saving social media tools! Just head to the link in bio to claim your discount!"
"Valentine's Day is just around the corner, but it's YOU who gets the gift! Swipe up to grab $10 off Plann's next-level social media scheduling tools"
"This Valentine's Day, I'm giving you all the gift of more time, with $10 off Plann's epic social media creation and scheduling tools. Swipe up to grab yours!"
Just add your unique link from inside your Plann account (see above for details on how to find it) either in your caption, in your bio or as a swipe-up in your Stories to direct your followers.

We'll be able to trace it back to you and gift you $10 for each of your biz besties you refer! Hello, total lovefest!
You can also share the offer on your social media and digital channels, including your Instagram captions, story swipe-ups, blog posts and email newsletters.
If you know people who would really benefit from a Plann account, consider politely DMing them to offer them the discount!
Terms & Conditions
Gift one, Get one' Valentine's Day offer valid 12:01am Thursday February 11 PST to Sunday February 14 11:59pm.

Read full t&cs here.