Chaotic: it's the best word to describe the times we're living in right now — but the same doesn't have to apply to your Instagram account! Sure, if you work in a team and have multiple people managing your brand's socials or you outsource your social media management, things might be feeling a bit discombobulated right now. You may feel as though your content plans have gone out the window, or that it's tough to keep track of who's posting what. These are especially tough waters to navigate if you're used to working in an office and being able to ask teammate a question without even swivelling around your chair!
But thanks to the wonders of technology, there are amazing apps (cough, Plann!) that can make collaboration easy and streamlined. With the right approach, your socials can not only survive in these challenging times, but actually thrive and grow! Read on for 5 tips for keeping your socials pumping along with a remote team.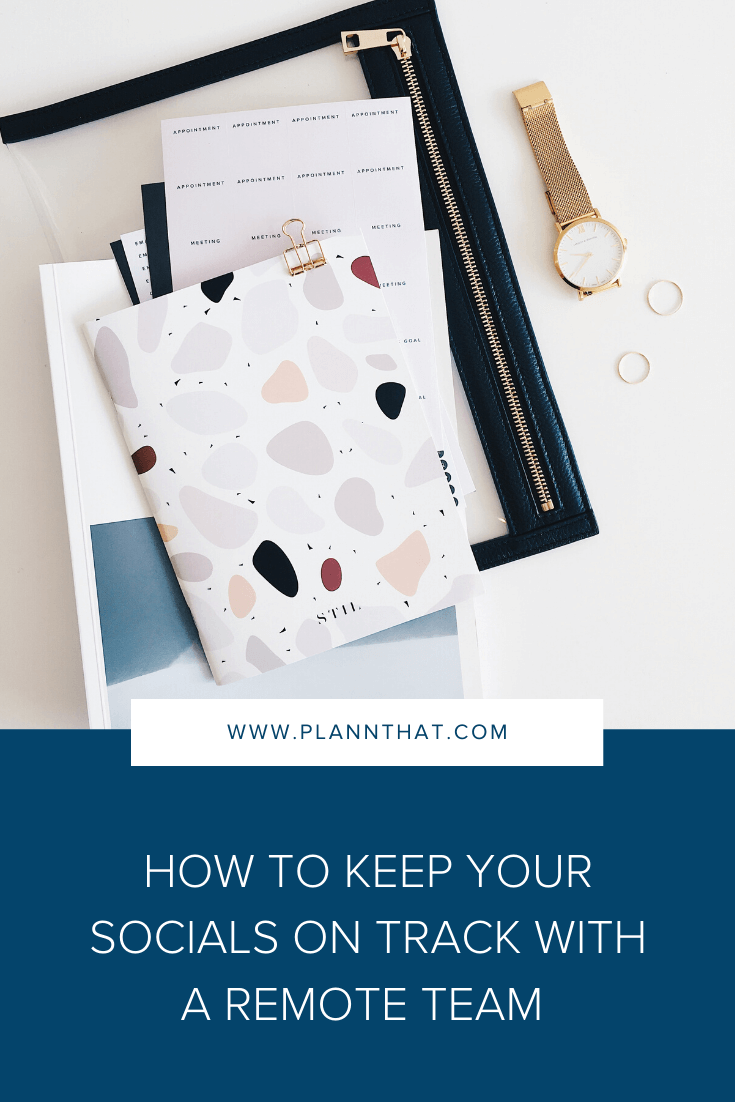 Get on the same page
Now is the perfect time to regroup with your team and get clear on what exactly your goals are on social media. For example — perhaps if you're a salon owner and are currently on lockdown, your goal isn't to get new customers, but to keep current customers engaged. Or, maybe your goal is to increase your reach, so that you can spread your positive message further in these challenging times.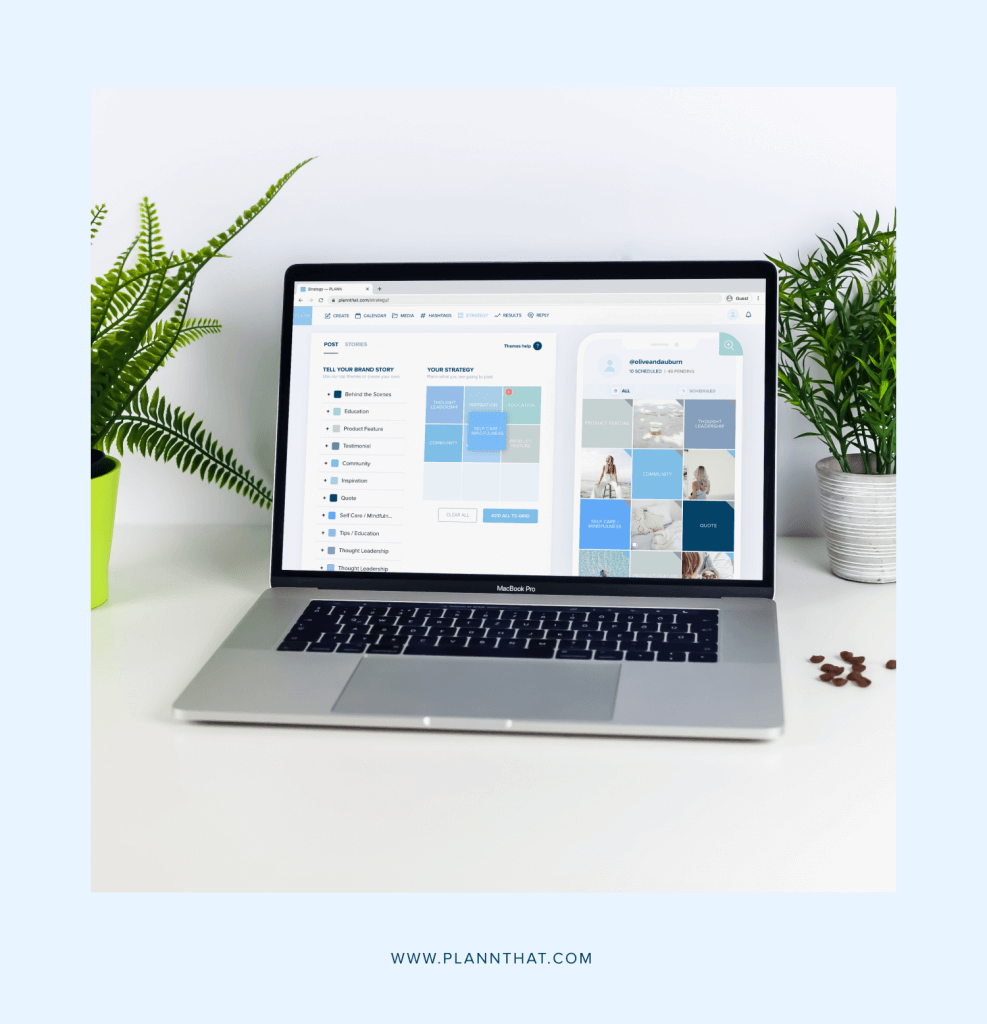 Consider doing a virtual call with your team to discuss what your objectives for the foreseeable future. Then, you can use Plann's strategy feature to figure out the mix of content you're going to use on your feed in line with your goals.
…and the same tools!
Think about your average office — you wouldn't have one person on a PC, another on a Mac, and another on a Nexus, right? That would be madness! Well, the same goes for your social media management tools. Collaborative content creation is SO much easier when you're all on the same platform. With Plann, we have pricing plans to accommodate teams of all sizes, so that you each have access to the same dashboard. This makes it super for one (or multiple people) to create, approve and schedule content without crossing wires.
Streamline your content creation
When it comes to collaborating on your socials, you'll want to make sure everyone is clear on who is posting what, when. Otherwise, you might end up with too many chef's in the (metaphorical) kitchen, which can lead to content double-ups or a messy grid. So, a clear workflow is essential! 
Rather than just posting on the fly, it tends to work best if you use an app like Plann to create your content ahead in batch. Then, depending on your team, you could have a set person who sources the imagery, another who writes the captions, another who schedules and so forth.
Oh, and guess what? Thanks to our brand spankin' new Canva integration, you can also streamline your graphics creations! Without even leaving the Plann app, you and your team will be able to create consistent and striking graphics and schedule them straight to your social media feeds. No more clogging up each other's inboxes with huge image files! 
Monitor your results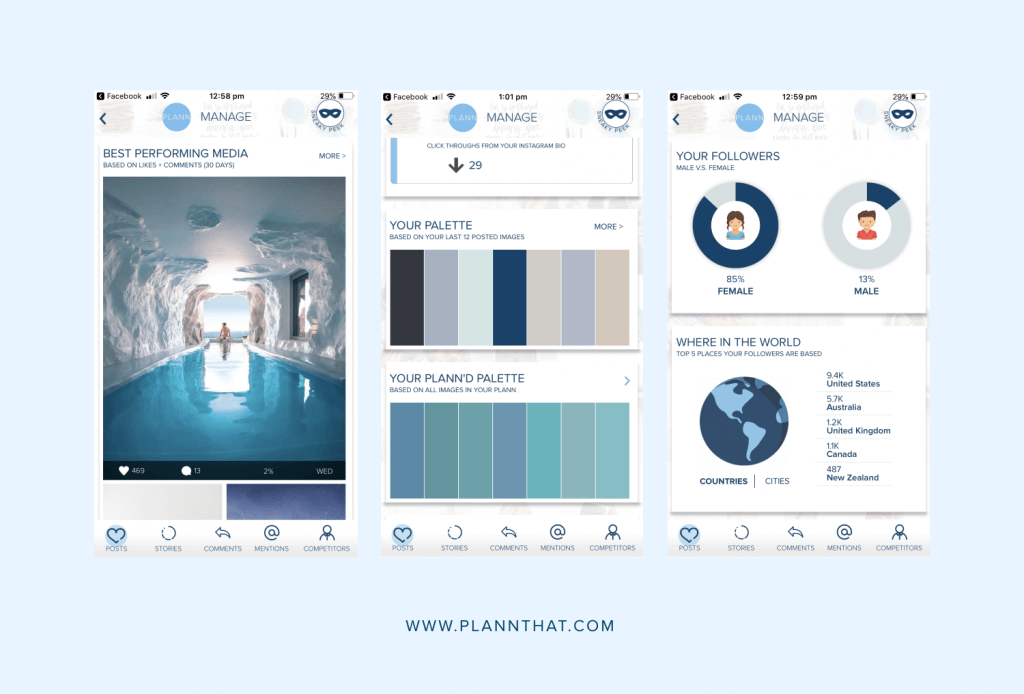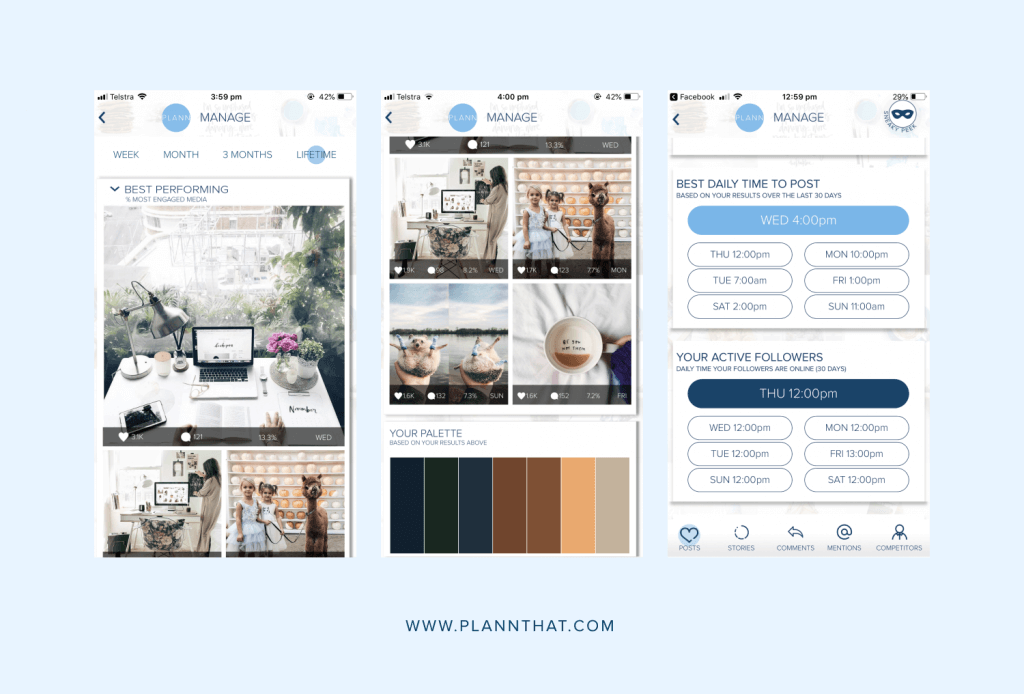 In these unprecedented times, it's more important than ever to keep an eye on what's working on your socials — and what's not! A lot can change in different circumstances, from when the best time to the post is to what kind of content is performing best. By using Plann's 'results' feature, every member of your team will be able to access advanced analytics on optimal post times, the best performing color palettes and more. This takes a lot of the guesswork out and ensures that nobody is just posting for the sake of posting. Instead, every post will be strategic, intentional and packed with value!