Looking for a Preview app alternative?
SAY HELLO TO PLANN
IS PLANN A GOOD PREVIEW APP ALTERNATIVE?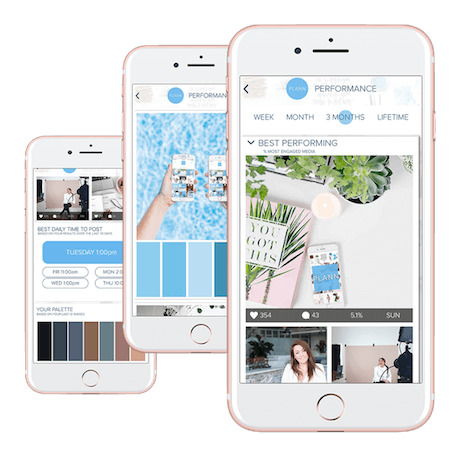 Both PLANN and Preview offer in-app editing tools to help you to create content for the perfect Instagram grid.
With the Preview app your Instagram content will automatically have a message at the bottom of the caption promoting Preview that you will need to pay to have removed.
PLANN and Preview have quite a few differences – differences worth noting here so that you can make the best and most-informed decision for you and your Instagram account.
Let's dive into a full-length comparison of the Preview app and PLANN's features.
Features

Schedule Instagram Feed Posts
Schedule Instagram Stories
Visually Plan Instagram Grid
Hashtag Manager
Full-Feature Photo Editor
Advanced Instagram Analytics
Instagram Strategy Planning
Available on iOS
Available on Android
How Many Accounts Can You Manage?
How Many Team Members Can You Have?
Pricing

PLANN

UNLIMITED
UNLIMITED
Free - $12/month

Preview

Additional Price
Additional Price
UNLIMITED
Unavailable
Free - $9.99/month
Thinking about Switching from the Preview app to PLANN?
Here's 3 Questions to Consider First
Brands That Use + Love Plann


'I love this app!

Plann helps me feel on top of my Instagram game and allows me to be thoughtful and intentional with my plan for the week.

Plus, when I sit down to plan out an entire week of posts, I'm spending way less time trying to get past writer's block or wondering what I should post next.
It helps me to see the big picture on Instagram and allows me to be intentional, strategic and have fun with it all without the pressure of posting in real time.

Plann also has awesome analytics and lets you know when to post, what hashtags are moving the needle the most, and what your top recent posts have been.'

@jennakutcher | 500k+ followers
So, Preview App or Plann?
At the end of the day, the final decision is up to you. But here are a final few things you might like to know.
Plann exists to empower people just like you to do what they love, whether that be running a business, exploring their creative talents or writing a passionate blog – we're here to help lift some of the pressure off your shoulders.
Christy Laurence, the founder of Plann, used creativity to battle through the recovery of freak brain trauma, eventually leaving her day-job to design this nifty app to help others make a living doing what they love.
We're also a completely self-funded app that has been built from the ground up with grit, passion, and a mission to help everyone and anyone create success for themselves with Instagram.
Whether you decide to join the Plann family now, or someday in the future, we're here and waiting to welcome you with open arms.
xx
Team Plann