In April 2022, Instagram announced the expansion of product tagging straight into Feed posts.
Product tagging on Instagram can help eCommerce brands transform their Instagram profile into digital storefronts and make the shopping experience even easier. Now, sales can happen in minutes, without even leaving the Instagram app.
Tagging products on Instagram can be a brand's secret weapon for creating a seamless shopping funnel where users are moved from discovery to purchase in just a few clicks. Product tagging can save you a lot of time and money so you're not forking out a ton of money on marketing and ads.
Instead, you can curate beautiful and engaging content and give your audience all the product information they need right on your brand's Instagram feed.
The best bit? Tagging your products has never been easier thanks to an exciting new feature from Plann (stay tuned for more details!). Let's dive into all the reasons you should be using the product tagging feature on Instagram today!
Why Instagram is the perfect platform for eCommerce brands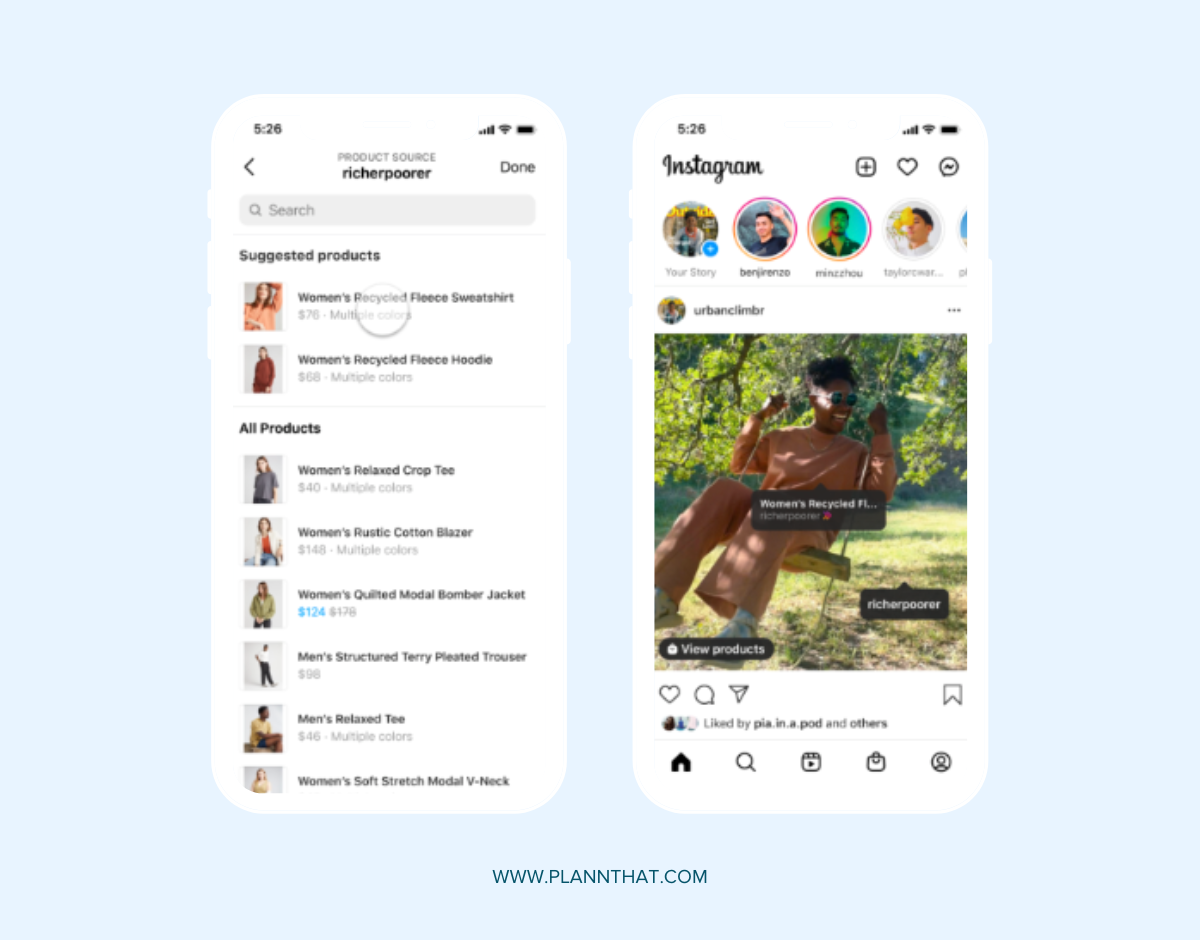 Instagram has shifted the way we shop online, giving brands a powerful way to create brand awareness, build engaged communities and provide users with an easy way to make in-app purchases.
Did you know that 1 in 2 people use Instagram to discover new products, services, and brands and 44% of people use Instagram to shop weekly? Yep, Instagram is a pretty powerful platform for eCommerce brands to take advantage of!
With social commerce features like product tagging and the shopping tab, you can turn your Instagram profile into a shoppable digital store. Instagram is the perfect place to use cost-effective marketing tools to sell your products directly to your ideal customers.
How Product Tagging through Plann is changing the game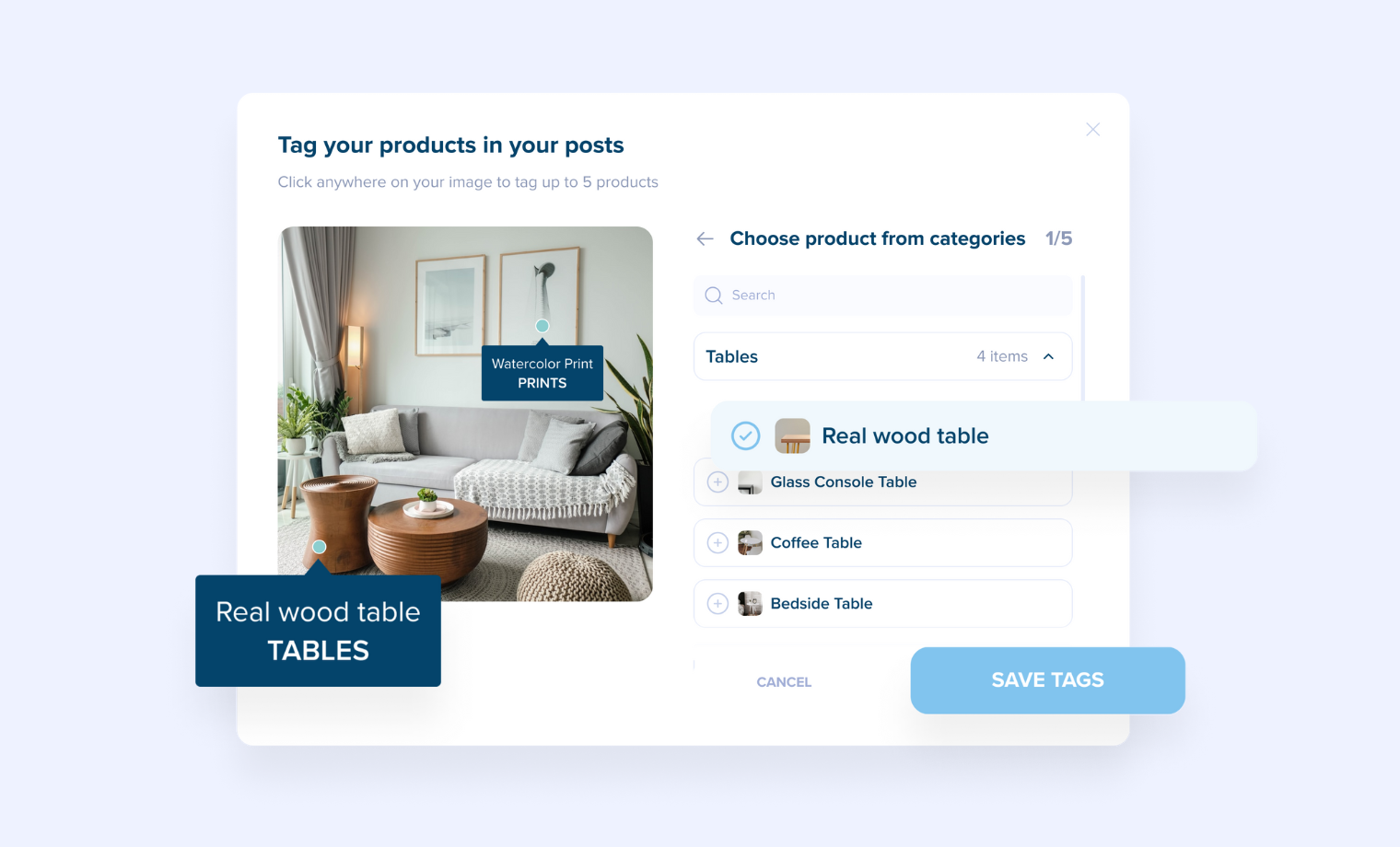 If you're an eCommerce brand that's created a digital storefront through Instagram Shop you've probably got a stack of products in your catalog. You've probably even made a bunch of Insta-worthy content explaining your product's benefits, features, and prices.
But, when you're running an eCommerce brand you likely have a million things on your mind, from creating new packaging and sending out orders to your next product launch. It can get a little overwhelming and sometimes hard to remember to post on Instagram.
That's why the team at Plann has included Instagram Product Tagging into our content creation suite. With Plann, you can actually tag your products in our desktop workspace before they go live and easily turn your Instagram feed into a beautifully curated and shoppable storefront. It's a serious game changer that will save you so much time!
Plann's product tagging feature is the perfect way to start driving sales from your organic Instagram content. Rather than manually tagging products, we've streamlined the process so it can all happen when you're batch-creating and scheduling your posts.
You can start auto-posting single image posts, Reels, and carousel posts with up to 5 products tagged. All you'll need is an Instagram business account and once approved for an Instagram Shop your products will be visible within Plann – then, you're ready to start tagging and scheduling.
Why you need to be using Instagram Product Tagging as an eCommerce brand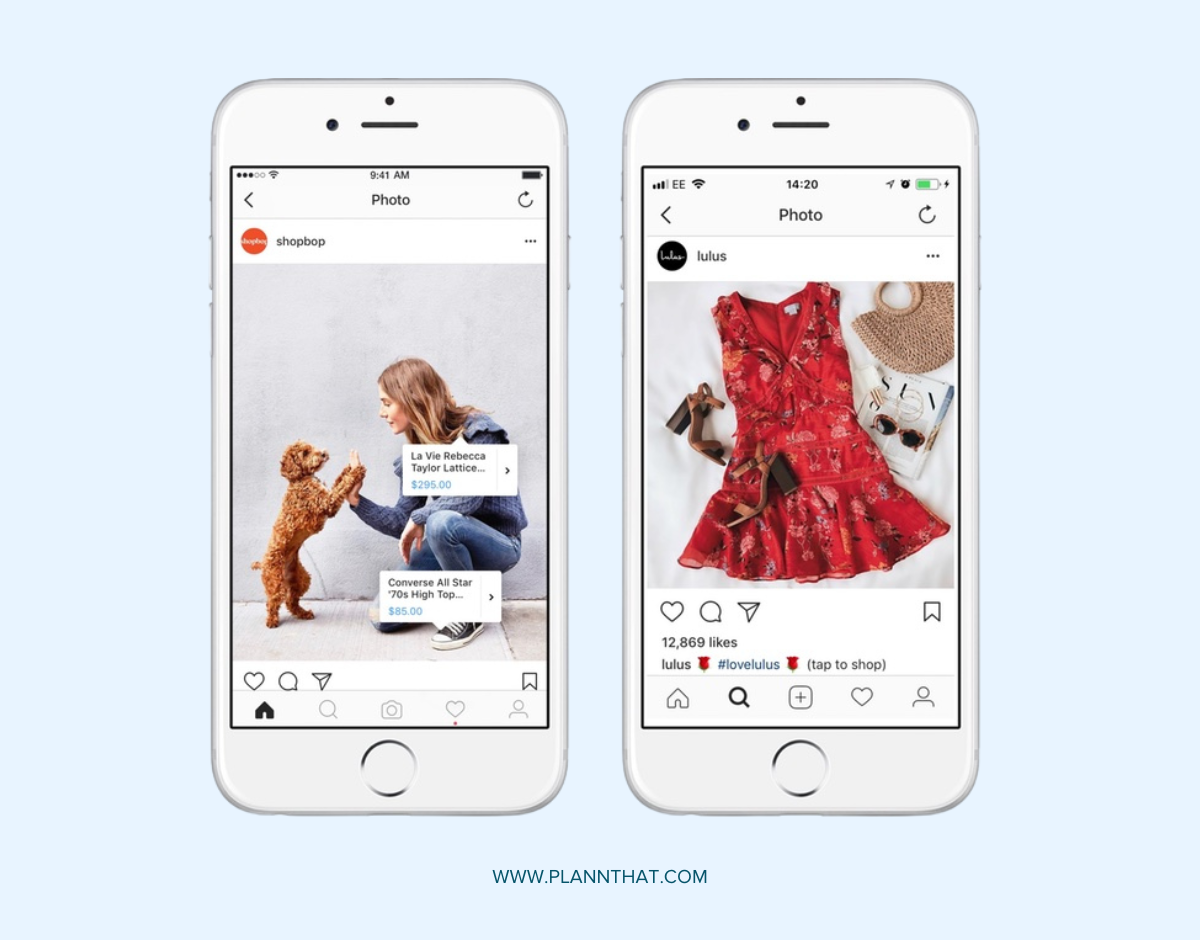 Instagram offers a range of benefits for businesses, especially eCommerce brands. Their latest feature product tagging is no different. It's a savvy way to create beautiful, engaging content that makes the shopping experience simple and easy for your customers.
With product tagging, you don't need to fork out money for paid advertising on Instagram. Instead, you can turn your engaging lifestyle content into shoppable posts that inspire your audience to take action.
Still not convinced? Let's dive into why you should be using product tagging for your Instagram storefront.
Promote your products in an engaging way
We all know Instagram is a visual app, with beautifully curated content designed to inspire audiences. With Instagram product tagging you can give all the information on your products without compromising your brand identity and aesthetics.
Wave goodbye to ads and sponsored posts that can ruin your feed and turn your audience away. With product tagging, you can focus on sharing beautiful photography, Reels, and lifestyle content that inspires and engages your audience (and motivates them to make a sale).
Streamline the path to purchase
With product tags you can remove points of friction in the sales journey. Customers can quickly and easily discover a product while scrolling through your feed without having to head to your website to find more information.
In just a few clicks, customers have everything they need to find product information and price points, all without leaving the app. With a streamlined path to sales, you're likely to increase customer satisfaction by giving them everything they need through one app.
Plus, with more users shopping on mobile devices than ever before, offering a frictionless shopping experience through Instagram is a winning strategy to drive meaningful results from your social media marketing.
Boost the ROI of your organic Instagram marketing
We're already seeing a shift in consumer behavior, where Instagram users are getting increasingly sick of seeing ads and sponsored posts all over their feeds.
Running ads on Instagram can be costly and with people turning away from them, there's no better time to focus on your organic Instagram marketing instead.
Instead, it's worth focusing on curating your feed and turning your organic Instagram content into a digital storefront through product tags. This enables you to still build awareness of your product offerings without bombarding audiences with ads.
Ready to supercharge your success on social media?
Looking for an all-in-one content creation suite that allows you to manage your social media channels effortlessly and add Instagram Product Tags with ease?
From mapping out your strategy and designing your graphics to saving plug-and-play hashtag sets, you'll find everything you need inside Plann.
Go on, redeem your 7-day free trial of Plann Plus. If you don't like it, keep using Plann for free!