Calling all bloggers: are you ready to grow your traffic with Instagram?
Maybe you've tried promoting your blog using other strategies, and you're getting crickets.
Or maybe you know Instagram has traffic-driving potential, but don't know where to start.
No matter where you are with your Instagram blog journey, this post is for you.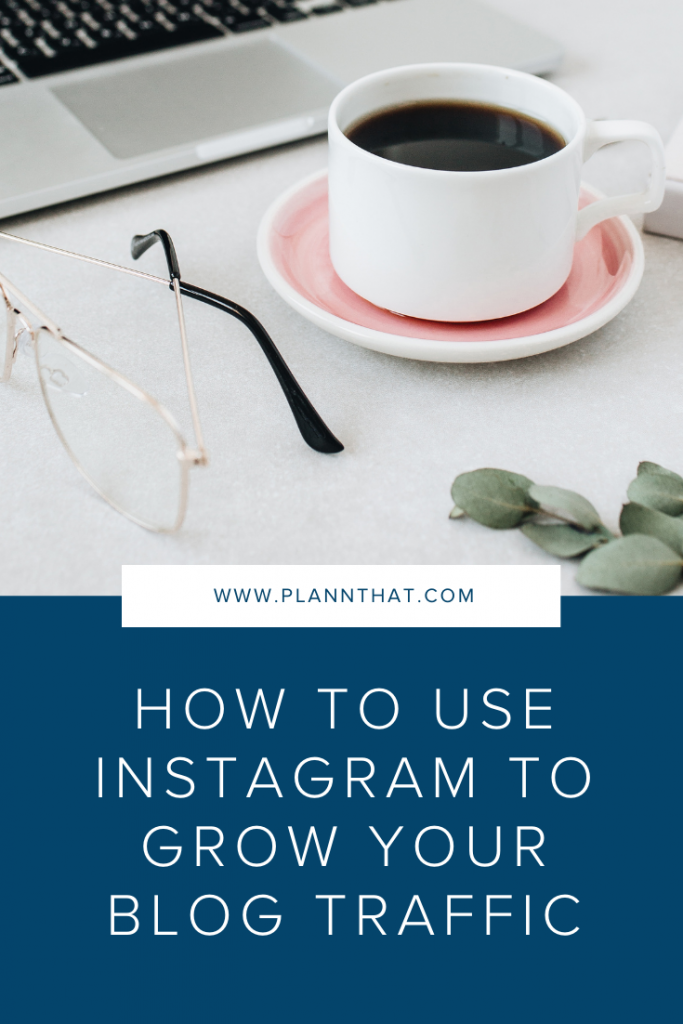 By the time you get to end, you'll know how to set up a blog on Instagram to:
• Maximise your reach
• Grow your blog traffic
• Get more swipe ups on your content (even without 10k followers!)
By putting these simple strategies in place, you'll find promoting your blog on Instagram a breeze and have more of the right people reading (and loving) and your content.
4 Ways to Promote Your Blog on Instagram
1. Change Your Instagram Profile Category
The first step in mastering Instagram as a blogger is to whip your profile into shape.
If you haven't already, change your Instagram profile type to 'Creator'
It's designed specifically for content creators and influencers and comes with features like:
• Splitting your inbox into Primary and General
• Automated and saved replies
• Partnership labels for sponsored content
But it also lets you add a category to your profile like 'Personal Blog' or 'Digital Creator'. This tells new followers exactly who you are and what you do.
Here's how to put 'Personal Blog' in your Instagram bio:
1. Go to your profile and tap on 'Edit Profile'
2. Scroll down and tap on 'Category'
3. Select 'Personal Blog' from the drop-down list
4.  'Done' to save your selection
To make sure the 'Personal Blog' label shows on your profile, tap on 'Profile Display' underneath 'Category.' Turn on 'Display category label.'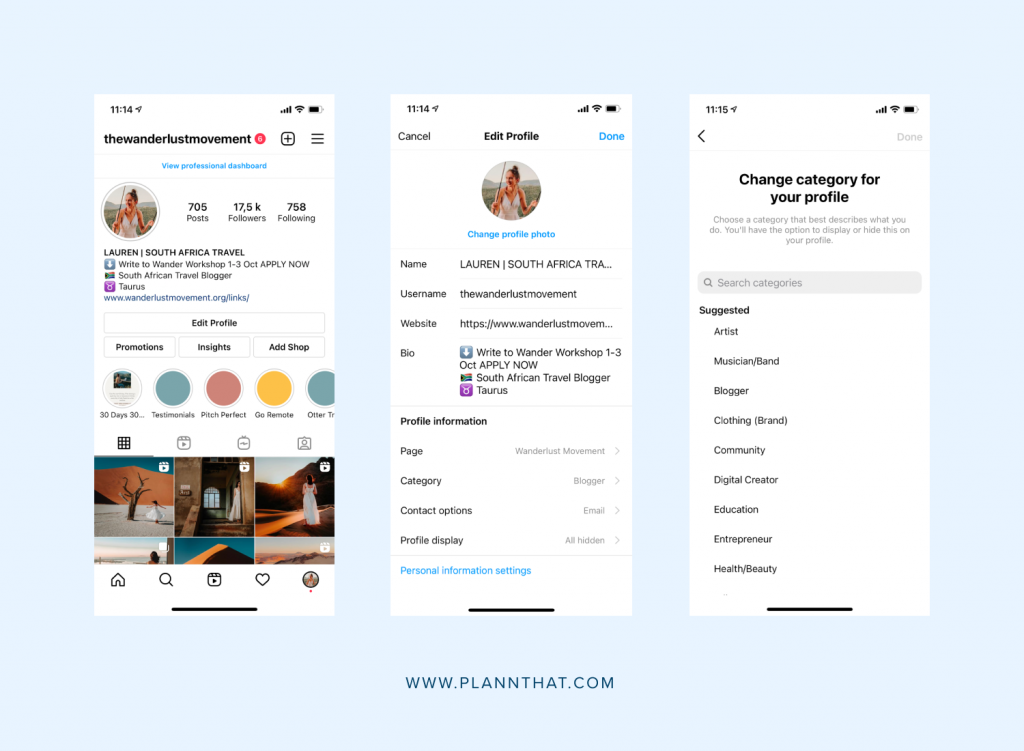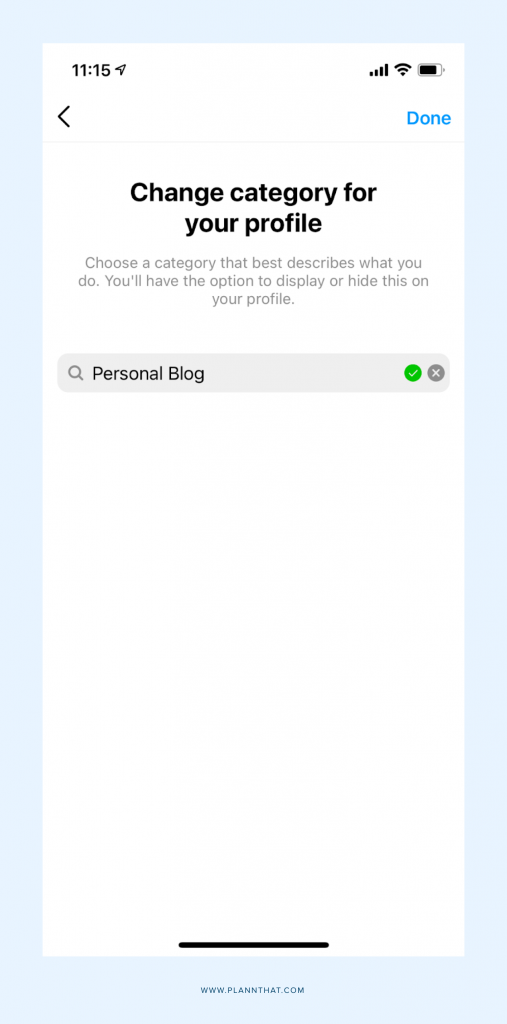 2. Create a Social Links Page on Your Blog
Your 'link in bio' is powerful online real estate.
It re-directs followers to your blog and can help you:
• Grow your email list
• Blog traffic
• Make sales (affiliates + digital products)
But simply using your blog's homepage URL won't do the trick. You need to have a social links page to re-direct your followers to multiple places at once.
For example, you can have links to your:
• Free e-book
• Waiting list for your next retreat
• Latest and top-performing blog post.
• Sales page for your online course
• Referral links to Amazon products
Why is this better than a normal link?
It gives you multiple chances to get people off your Instagram feed and into your content, where they can convert. Your conversion goal can be anything from email list signups to buying your digital products.
But , followers who stay on Instagram ONLY are dead weight. You're using Instagram to promote your blog, so your end goal should be getting people off of the app and reading your posts.
Plus, creating a Social Page link on your blog instead of using a social linking site means you don't have to share your website traffic.
"Alexa, play Greedy by Ariana Grande!"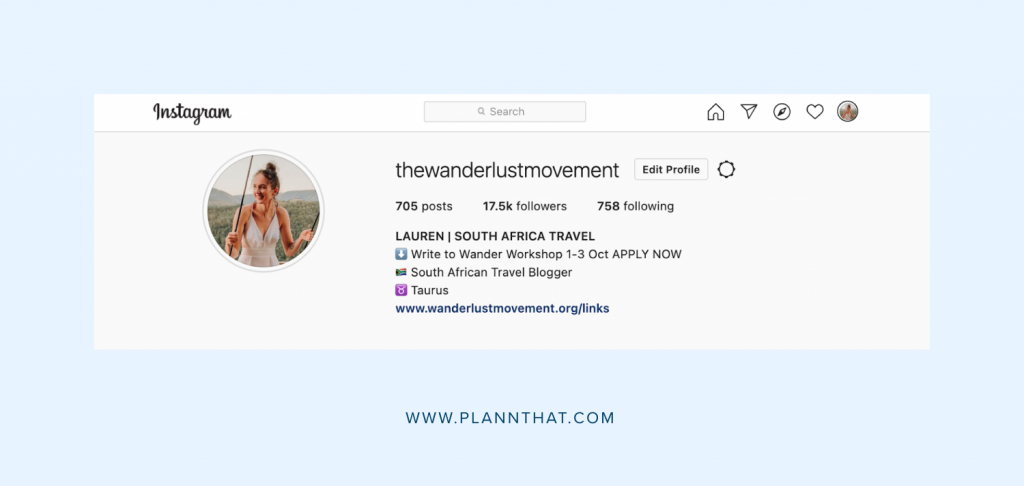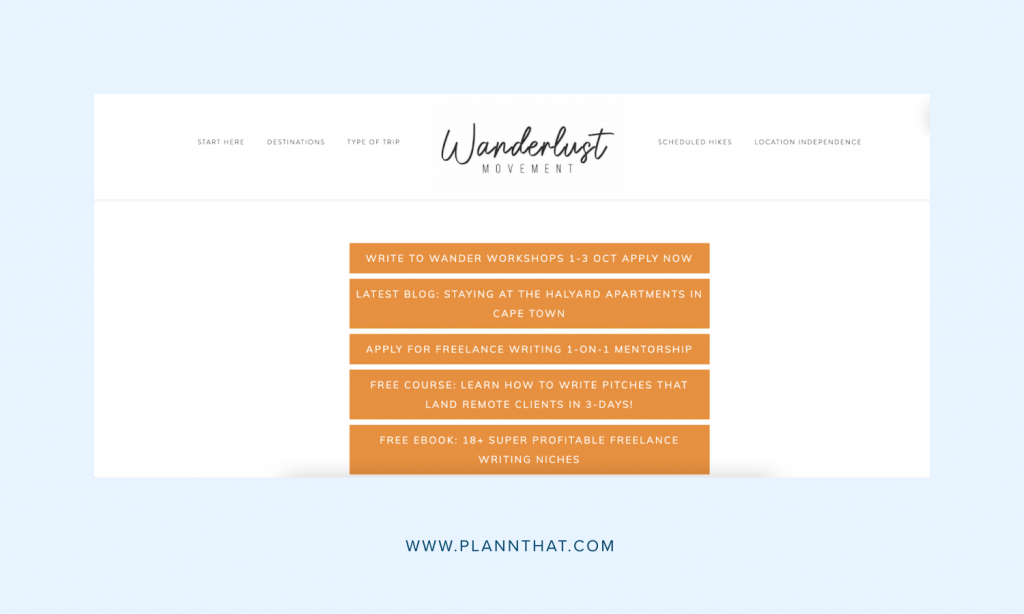 You can create this using your website management software, or using the link in bio templates on Canva!
3. Promote Your New and Old Blog Posts on Instagram Stories
Instagram Stories is one of the best ways to promote your blog.
Add a 'Swipe Up' link, and you can re-direct your followers straight to your blog. 
No extra steps required — just cold, hard website traffic.
But wait.
What happens if you don't have 10k followers to get the Swipe Up feature?
Good news, everyone!
You don't need to chase the magical 10k number anymore. Instagram is rolling out a link sticker that will be available to everybody!
Okay, so now that everyone will soon have the power of Instagram Story links, how do you use it to promote your blog?
Follow these steps to create a winning Instagram blog Stories strategy:
1. Go onto Canva and create a 3 Story template for new blog posts
2. Add in relevant images and change the blog post title
3. Export and share to Instagram Stories
4. Add a 'Swipe Up' link or use the new link sticker 
Why do you need three Stories?
Well, if you put all the relevant information in one Story frame, there's a chance your followers won't see it. Most of us are tapping through Stories and aren't actively taking in what we see.
By creating three slides with engaging visuals, you can build a story, disrupt their automatic tapping, and grab their attention.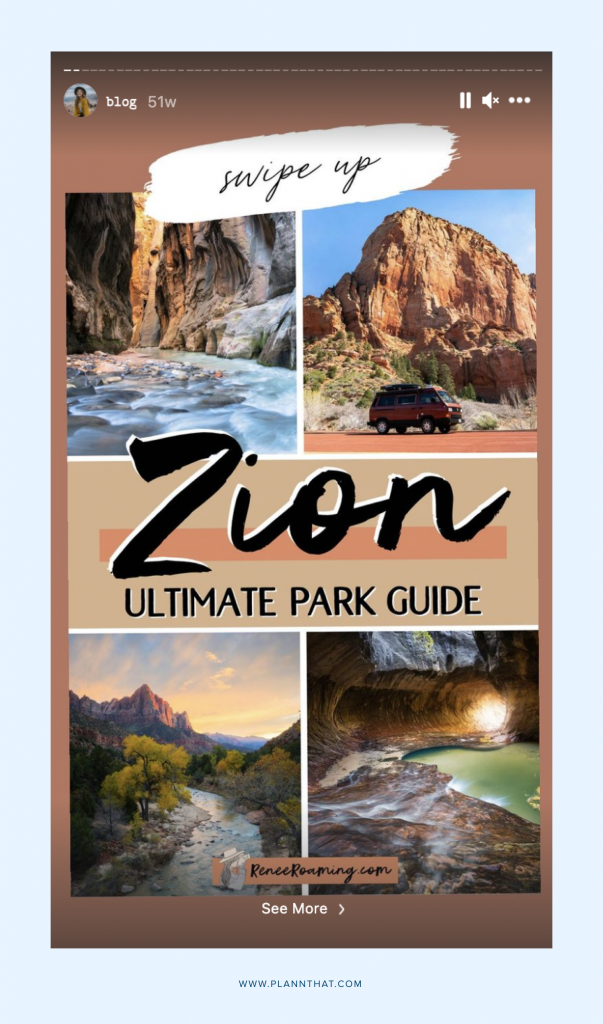 4. Schedule a Feed Post for Each New Blog Post
Once your bio is updated and your Stories are live, it's time for the final ingredient in your Instagram blog promotion strategy: the feed post.
Your feed post (which can be a static image, a carousel, or a Reel) should encourage your followers to read the full blog post.
You want to use the caption to tease the content on your website.
If you're penning a post like '5 Secret Spots in Paris No One Knows About', you could write a caption mentioning the names of each place.
Then, end your post with a call-to-action (CTA) to tap the link in your bio to get all the details on where to find each spot and the best times to take photos there.
Remember, your end goal is to get people off Instagram and onto your blog. Make sure your captions support this goal, and you'll crush your promotion strategy.
Struggling with writing captions? Here are some tips to keep in mind:
1. Use a hook. Your first sentence needs to grab people's attention and stop them mid-scroll.

2. Be relatable. Share stories from your life that relate to your blog's purpose and how you overcame a problem.

3. Tell your reader what to do. Use your CTA to get people to check out your blog for the full solution to the problem in your caption.
How to Use Instagram to Grow Your Blog: Bonus Tips
Here's a quick-fire round of tips to keep in mind when using Instagram to grow your blog:
• Engage with your community. Reply to all your comments. Use engagement stickers to get more DMs. Check out your follower's profiles. Build up those relationships!

• Use high-quality photos. Canva has tons of free and paid stock photos for you to use and template designs

• Do your hashtag research. Don't use #blog, because it has literally millions of entries and will be way too competitive. Find hashtags related to the topic of your blog like #personalfinance #veganblogger.
Grow Your Blog With Instagram
Now that you know how to set up a blog on Instagram and promote your content, it's time to start scheduling.
Why?
Plann'ing out your Instagram posts in advance helps you:
1. Save time
2. Stay consistent
3. Never have to worry about what to post
Sign up for a free Plann account today and start batching your content for your Instagram blog.