What's the best social network to grow your photography business? 
Instagram.
Without a shadow of a doubt, the photo-sharing (and now video) app is the holy grail marketing tool for any business which relies on visuals.
By using all the features on the app and adding a dash of strategy, you can grow your following with people who actually care about your work — and make sales right from your profile.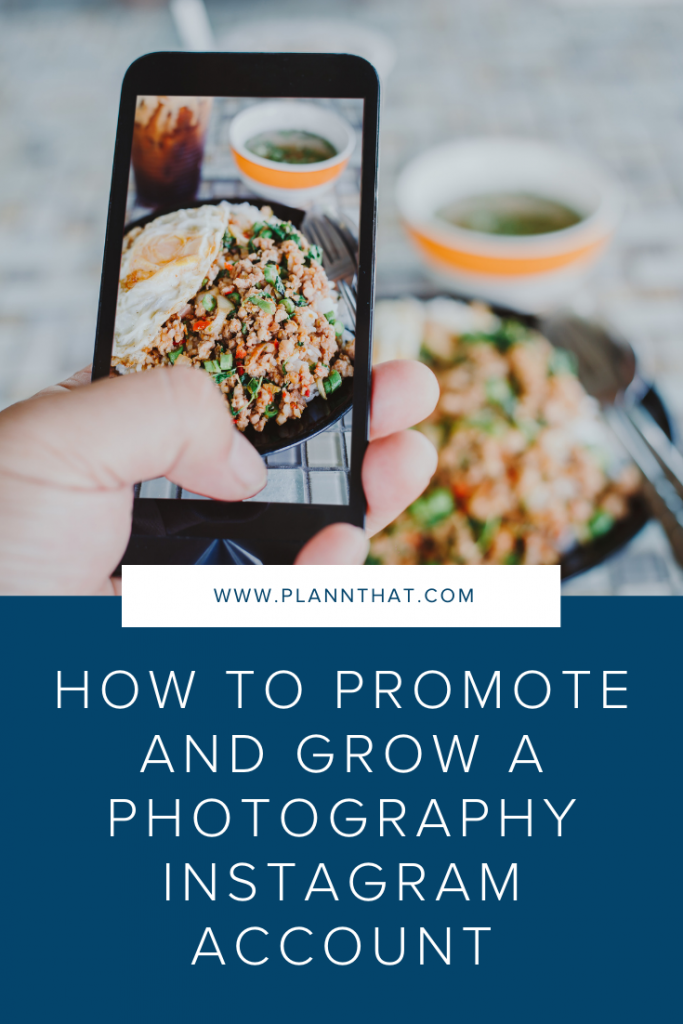 Not sure where to start? 
Below, you'll find 6 gamechanging Instagram photography account tips to level up your content strategy and start making money from your images.
6 Must-Know Instagram Tips for Photographers
Find Your Photography Niche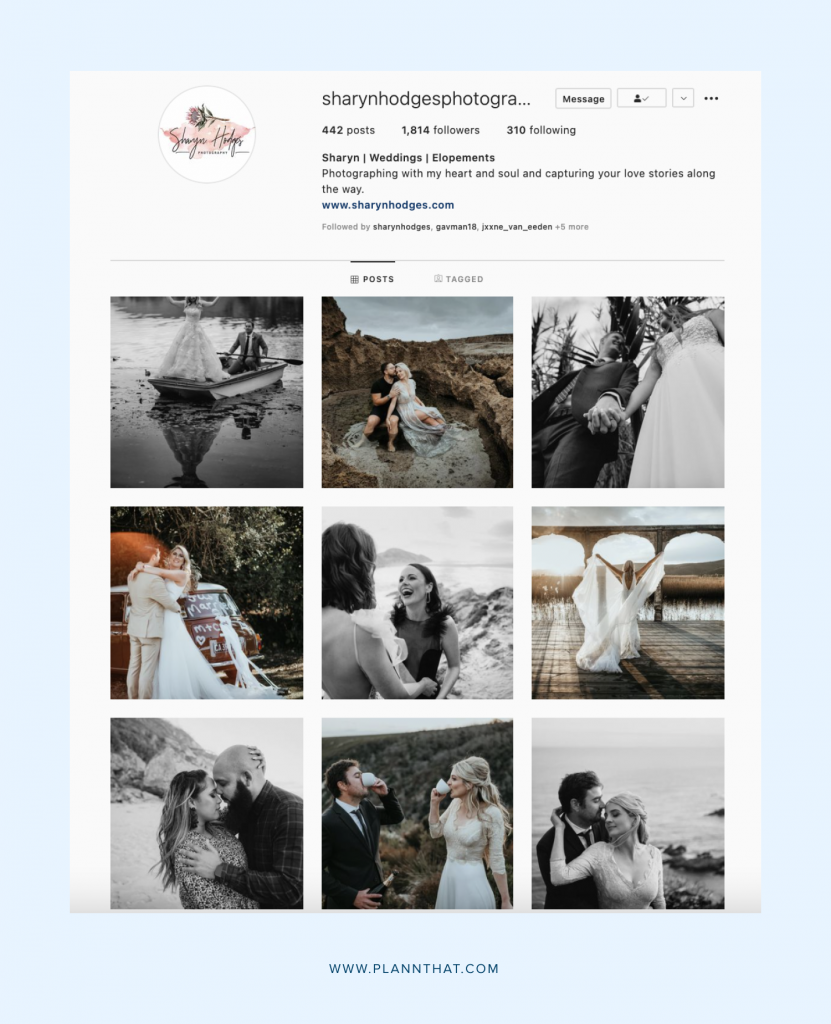 The first step to growing your photography Instagram account is nailing down your niche.
Struggling? You're not alone.
It can feel scary and overwhelming trying to decide what you want to be known for — especially if you're someone who has multiple interests. 
So why is niching down important?
• It helps you stand out from the billions of other accounts on Instagram
• It tells new followers what to expect from you
• It attracts fans who are passionate about your style of photography
• It creates brand awareness and associations
Let's say one of your followers needs a portrait photographer. If you've branded yourself as one, and you follow all the other tips here, there's a high chance you're going to be front of mind for the gig.
Ready to niche down? Here's what to think about.
• What is your central theme? e.g. hiking
• What subject types do you love? e.g. architecture
• What is your photography style? e.g. minimalist
You can use any one of those answers as your photography niche. A focus will give your account a topic, and the consistency of that theme will capture your audience's attention and keep it.
Once you have your niche locked down, add it to your Instagram photography account bio so people know right away what your account is about.
Use the Right Instagram Hashtags for Photography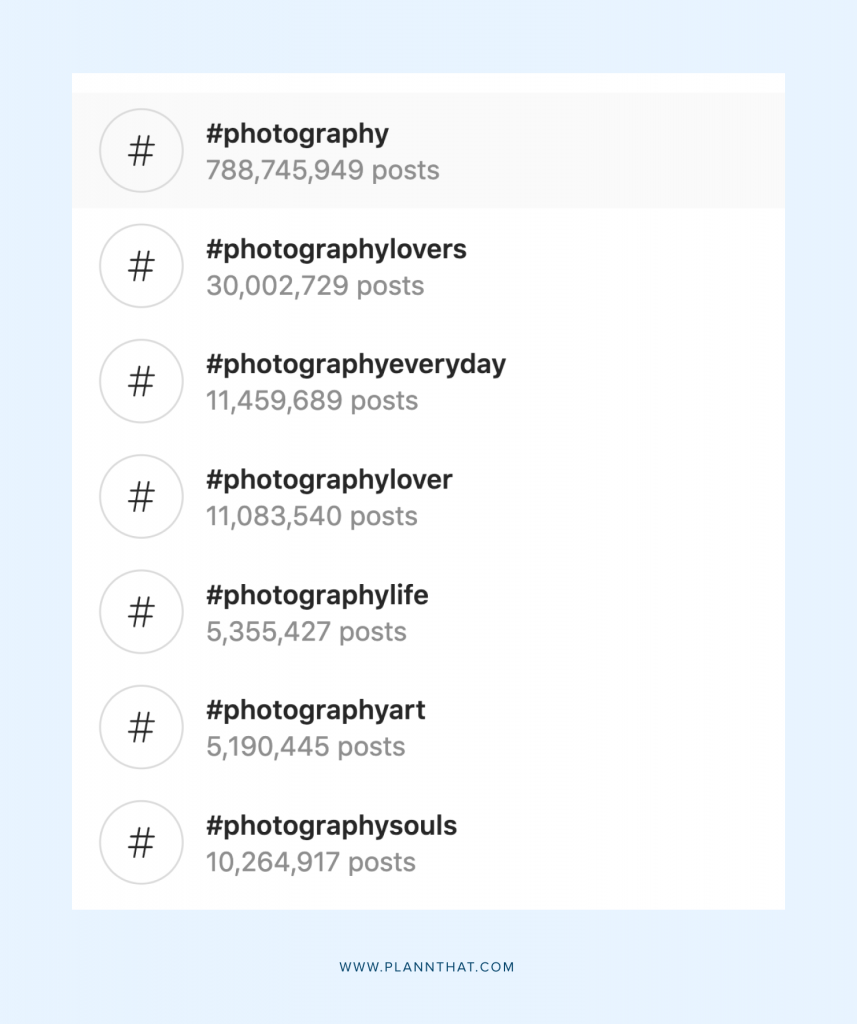 If you're stuck on how to get photography Instagram followers, your hashtag strategy is the key to your account's success.
It's how new people discover your account, and it can give you a boost in engagement with the 'ol algorithm.
Not seeing any traction with your photography hashtags?
You're probably using generic, unrelated, or over-saturated hashtags.
For example, let's say you're a landscape photographer.
#photography has 787,412,674 posts. If you use that tag, your photo will get buried in a matter of seconds, giving you zero chances of exposure.
Meanwhile, #landscapephotography has 247,370 posts. It's still a popular hashtag, but the competition isn't as intense. You can still stand a chance of your work staying at the top of the feed or landing a spot in the 'top posts' feed.
Here are some photography hashtag research tips to keep in mind:
• Use the location e.g. #explorebc
• Tag the brands you're using and use their brand hashtags, e.g. Canon uses #liveforthestory, and Nikon uses #NikonNoFilter.
• Find tags to describe your photo e.g. #astrophotography #milkyway #stars #space #nightphotography #nightsky #milkywaychasers
• Use your photography technique, e.g. #longexposure #amazing_longexpo
Want a deeper dive into photography hashtags? Check out our ultimate guide on Instagram hashtags for photography that will get you noticed.
Create a Consistent Aesthetic for Your Instagram Photography Portfolio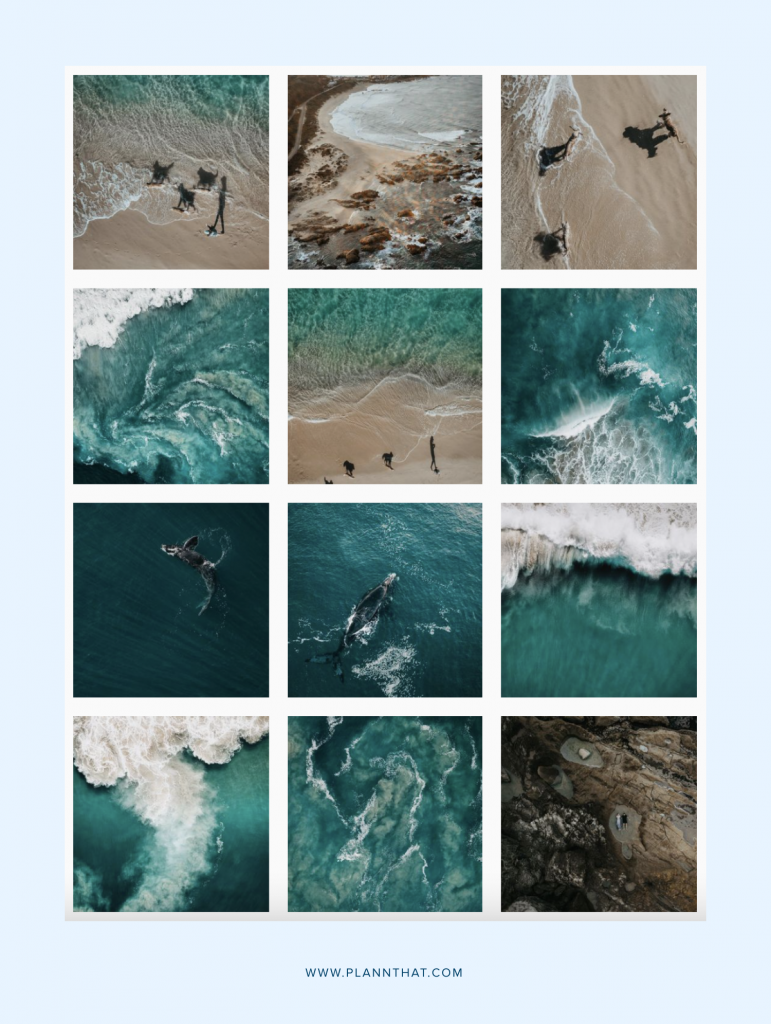 Want to know how to get your photography noticed on Instagram? Start with your aesthetic.
Much like your niche, it's incredibly important in helping you stand out from all the other photographers on the app.
So, what is a photography aesthetic?
It's made up of your theme, color palette, and editing style.
You want to keep all of those three things consistent to make your feed work cohesively.
But having an aesthetic does more than making your account look pretty. It also helps with brand recognition.
So how do you develop an editing style, decide on your colour palette and theme?
Well, it all comes down to who you are as an artist and what you like.
• Do you prefer a moodier edit or something light and whimsical?
• Do you want to flex your photo manipulation skills or keep things natural?
• Do you love blue-toned shadows, or is keeping things black and white more your style?
If you're not sure, look at other photographers' work that you love. Do you notice any trends in their work?
Start experimenting and see what works best for your creative process. You can play with editing tools without even leaving Plann, by clicking the little magic wand inside our 'create' mode. Want more tips on editing your photos? Check out this handy guide.
Build a Community of Photographers on Instagram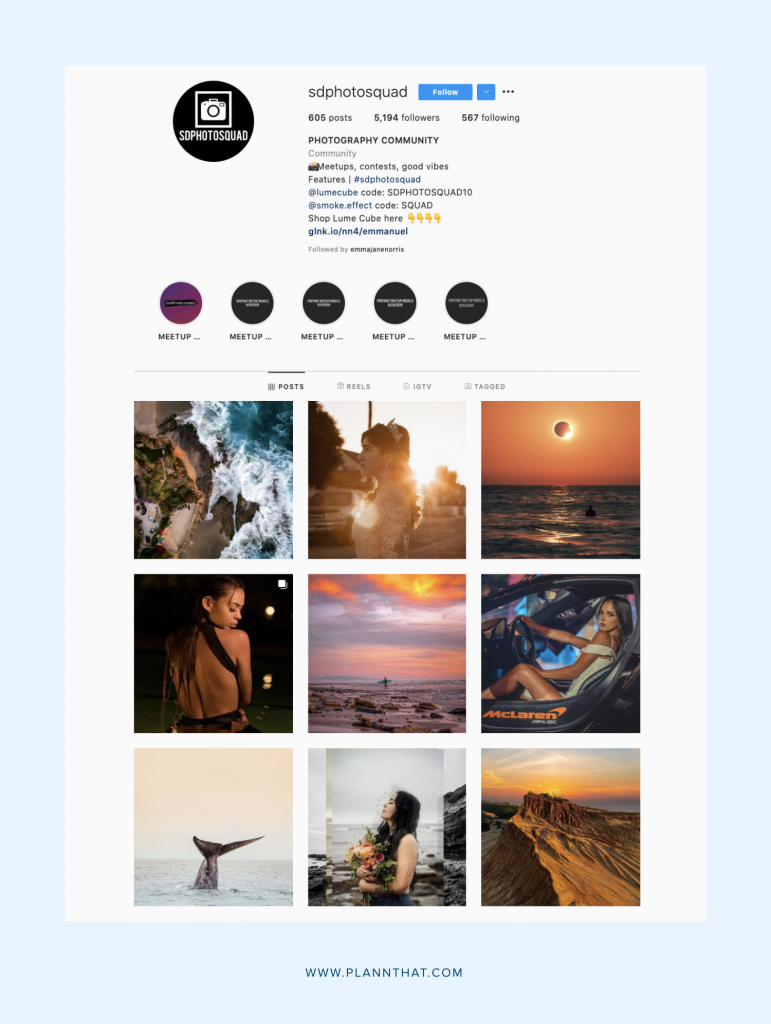 Sure, growing an audience full of potential customers is important to sell your work. But don't forget about your other creatives, too!
Seek out other photographers and brands you admire (in and outside your niche). Engage with their work, like, comment, share, and you'll build up a support network.
Having a photography community on Instagram is a great way to get your name out there, grow your audience by piggybacking on theirs, and potentially send a few referrals your way.
You can take this a step further by collaborating. Here are some ideas:
1. Organise a shoot together
2. Host a giveaway
3. Create a workshop or gallery event
Tag Photography Feature Accounts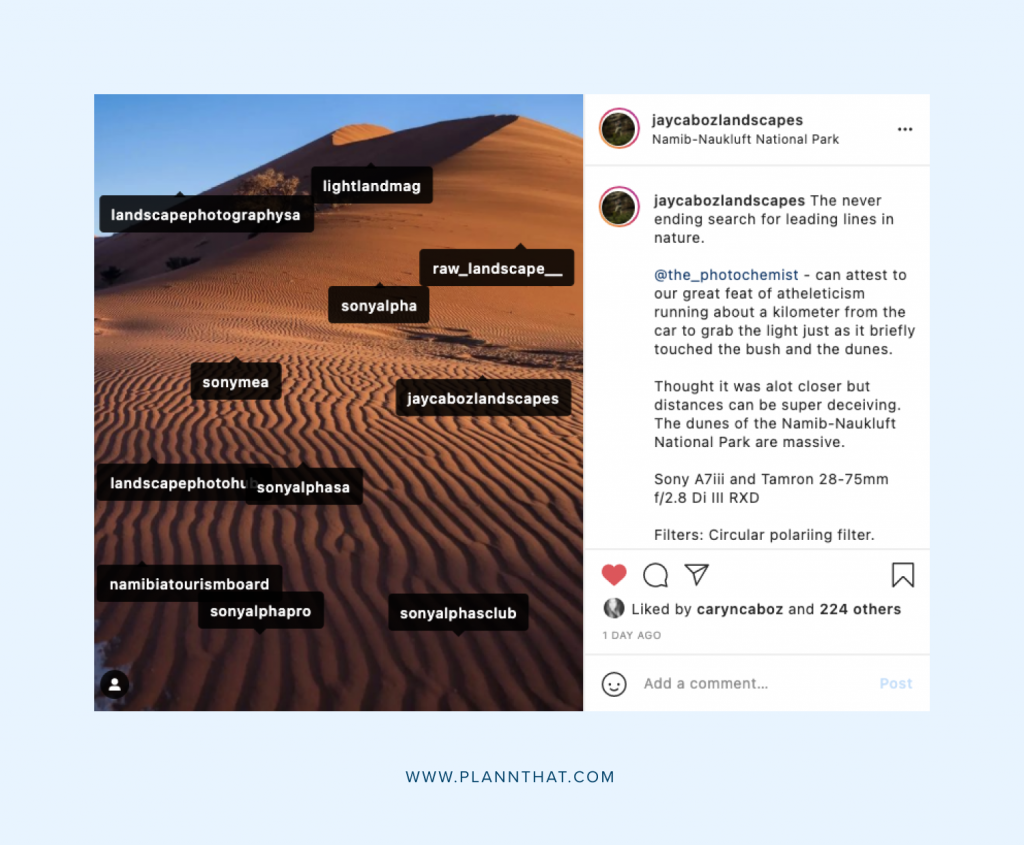 Want more exposure and relevant followers? Tag photography feature accounts.
These "hubs" curate and share images based on a particular theme or topic. It can be anything from a colour scheme to a subject matter.
Put your sleuth hats on and find them, follow them, and use their dedicated hashtag.
…But how do you find these feature accounts?
1. Start searching specific keywords related to what you do on Instagram.
2. Check what accounts other photographers are tagging in their photos.
Use Storytelling to Share and Sell Your Images
Don't rely on your images to do all the work.
Combine your work with powerful stories to evoke an emotional response from your followers.
Why is storytelling so powerful?
We, humans, are natural storytellers. Our brains are constantly weaving narratives, and in those narratives, we find meaning.
Stories help us link points of information and help us understand the world around us.
When you use storytelling in your captions, you transport your followers to that point in time, engage their imaginations, and you create a bond.
This relationship-building is what sells anything. Whether you're selling high-end coaching courses or photographic prints, the more people know, like, and trust you, the more sales you will see.
Not sure what to write in your captions? Use Plann's content prompts inside our strategy tool to kick start your inspiration, or check out our ultimate copywriting guide.
Start Plann'ing Your Instagram Strategy
The last piece of the puzzle?
Tying all of these Instagram photo tips and tricks together to create a consistent content calendar.
Sign up for a free Plann account today, and schedule your photos for the next day, week, or month in advance. Keep all your hashtag research in collections, and post when your audience is online for maximum exposure and engagement.