Food, glorious food!
Yes, it's our life force, but it's also so much more. It's joy, pleasure, and the thing that connects us all together. For so many of us, the best memories of our lives were accompanied by a delicious feast or celebratory beverages.
It's no surprise then that food is a seriously hot topic on Instagram. You only have to look at the hashtags #foodporn, #foodie, and #foodphotographer — which all have over 80 million results — to see that people loooove to post about food. This can make it extremely competitive for those who cook, document, or serve up food for a living (like hospitality businesses)
The good news is, there are plenty of food and drink accounts who get it oh-so-right — and many of them use Plann to grow their brands! Whether you're a hospitality business looking for guidance for succeeding on social or just want some more foodspo, these are the accounts you should be following.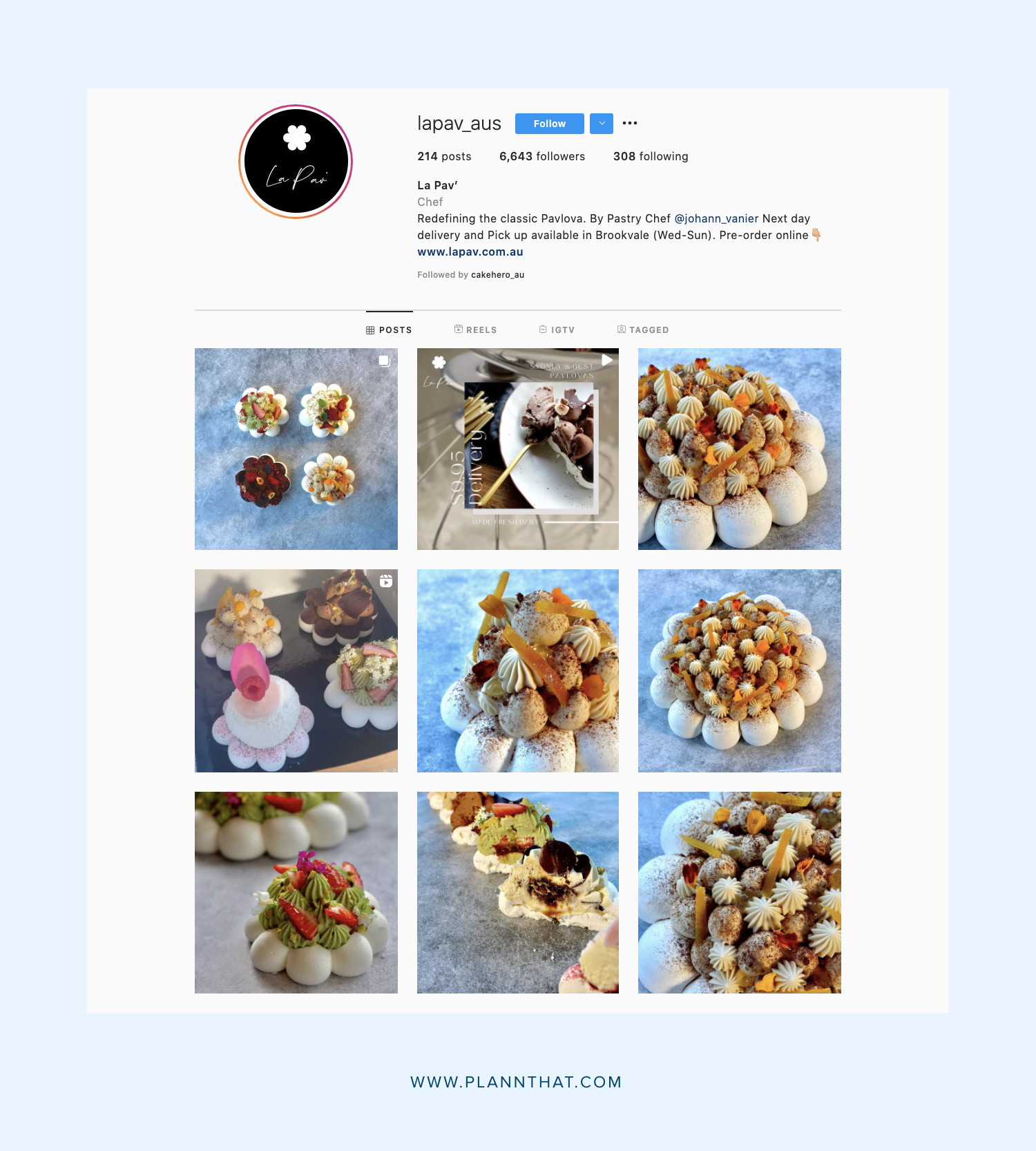 Ah…. the humble Pavlova. It's the classic sweet dish at any Aussie or Kiwi BBQ (for the uninitiated, it's a meringue-based, usually topped with whipped cream and fruit) But, we're willing to bet you've never seen a pav quite like Johann Vanier's before. The pastry chef has reimagined the pavlova by turning it into pieces of art. From the romantic raspberry and rose combo to the signature chocolate and hazelnut pav, their Instagram feed showcases their delicate creations for our viewing pleasure. They all happen  to be gluten-free and crafted from locally sourced ingredients too, so they're practically a health food (that's what we're going to tell ourselves, anyway!)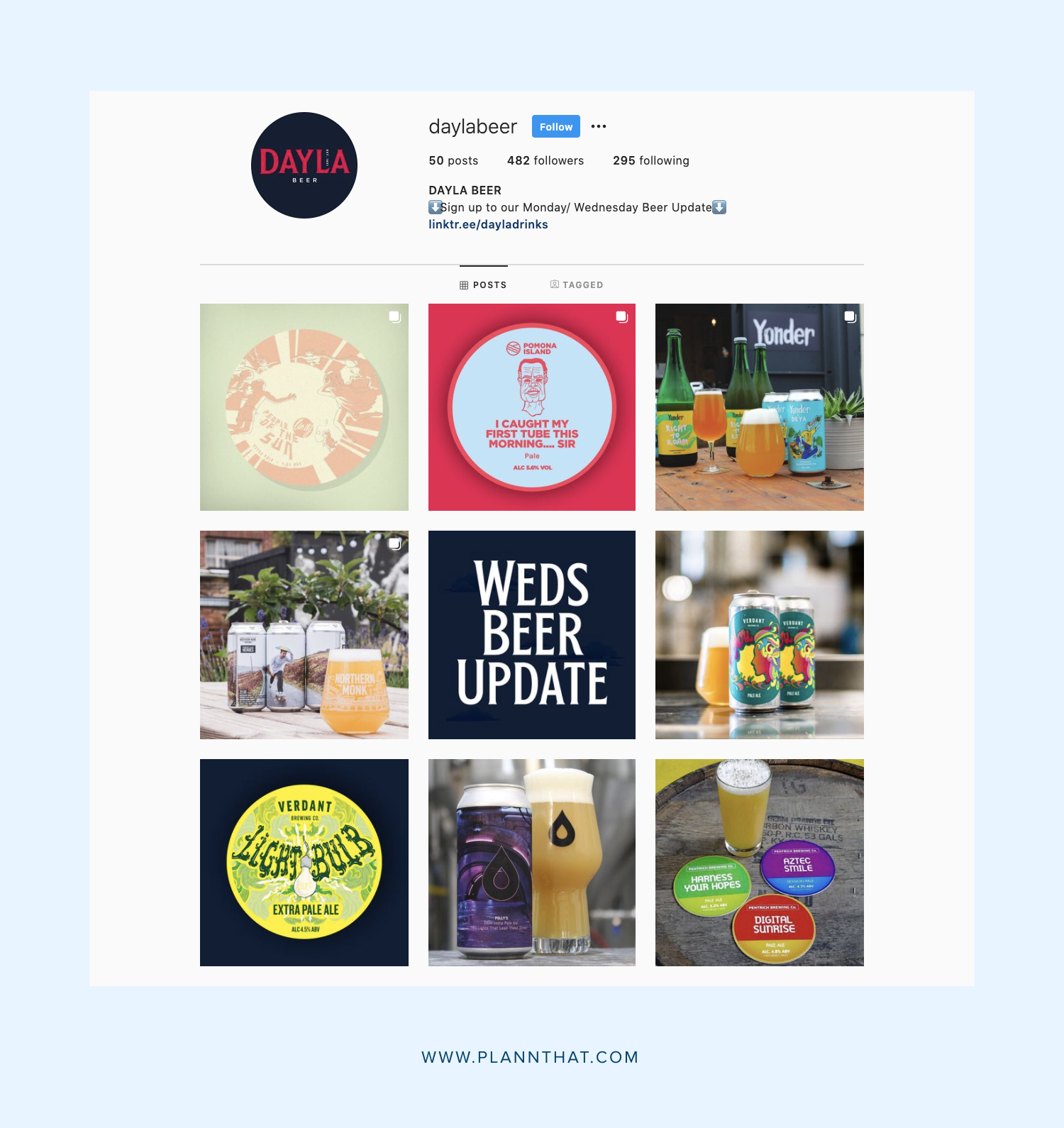 While some might argue that beer doesn't need much marketing, the brewing industry has become an incredibly competitive one. These days, to stand out, you need strong branding, a unique point of difference, and a solid social media strategy. We would argue that Daya Beer has all three down pat. From their eyecatching bright packaging to their innovative flavors ( peach, apricot, tangerine, and white grape pale ale, anyone?) they're hard to ignore! They do a great job showcasing all of this on their digital channels too, with beer announcements every Monday and Wednesday.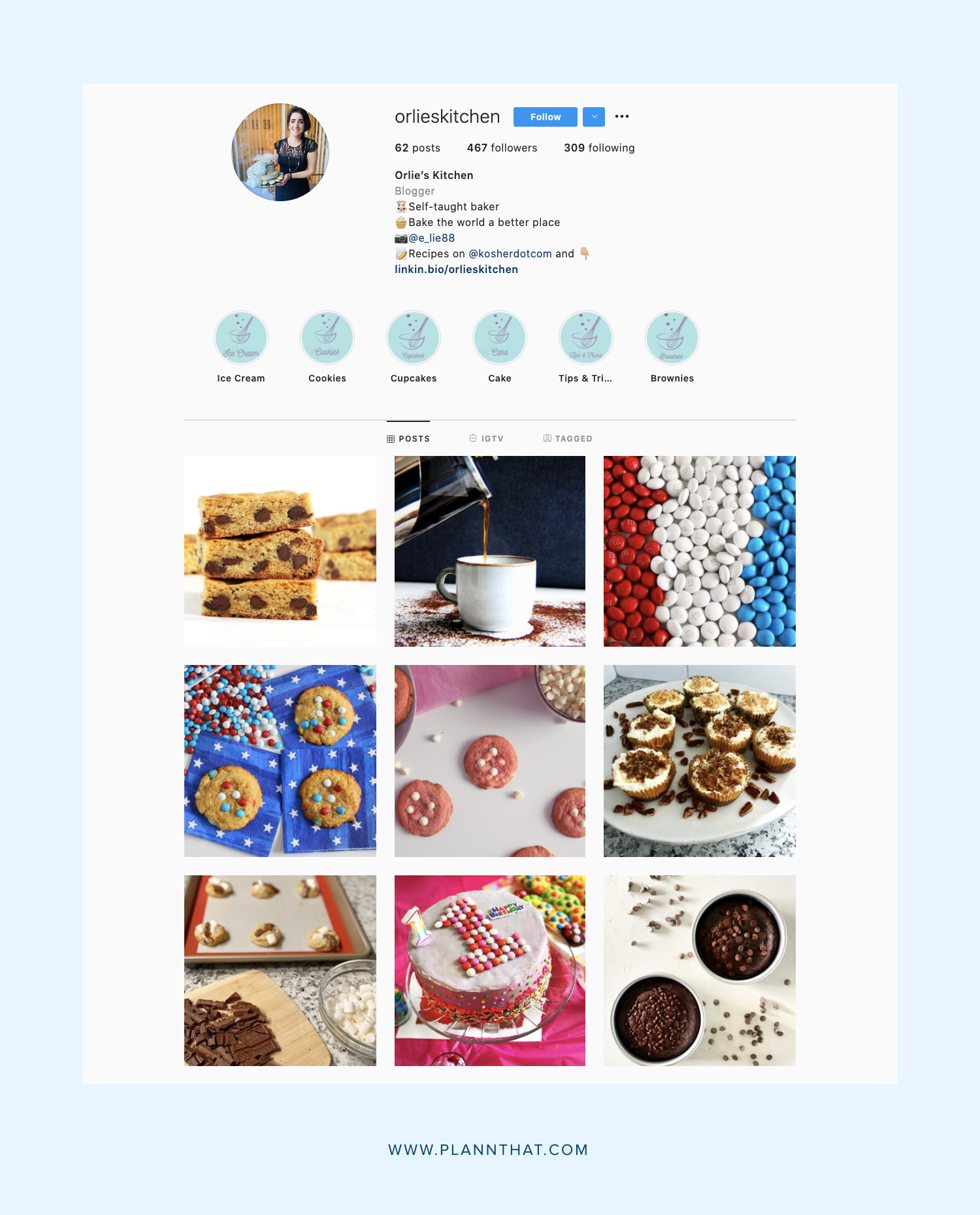 Been thinking about getting into baking (or, rediscovering a lost love) but don't know where to start? Give Orlie a follow! The self-taught baker and food photographer behind Orlie's Kitchen makes getting creative in the kitchen fun and easy. From her no-bake cheesecake to her colorful slices, she's all about baking the world a better place (see what she did there?) — one treat at a time. All of Orlie's recipes are simple enough that even someone who has little to no baking experience can make her delicious desserts. Works for us!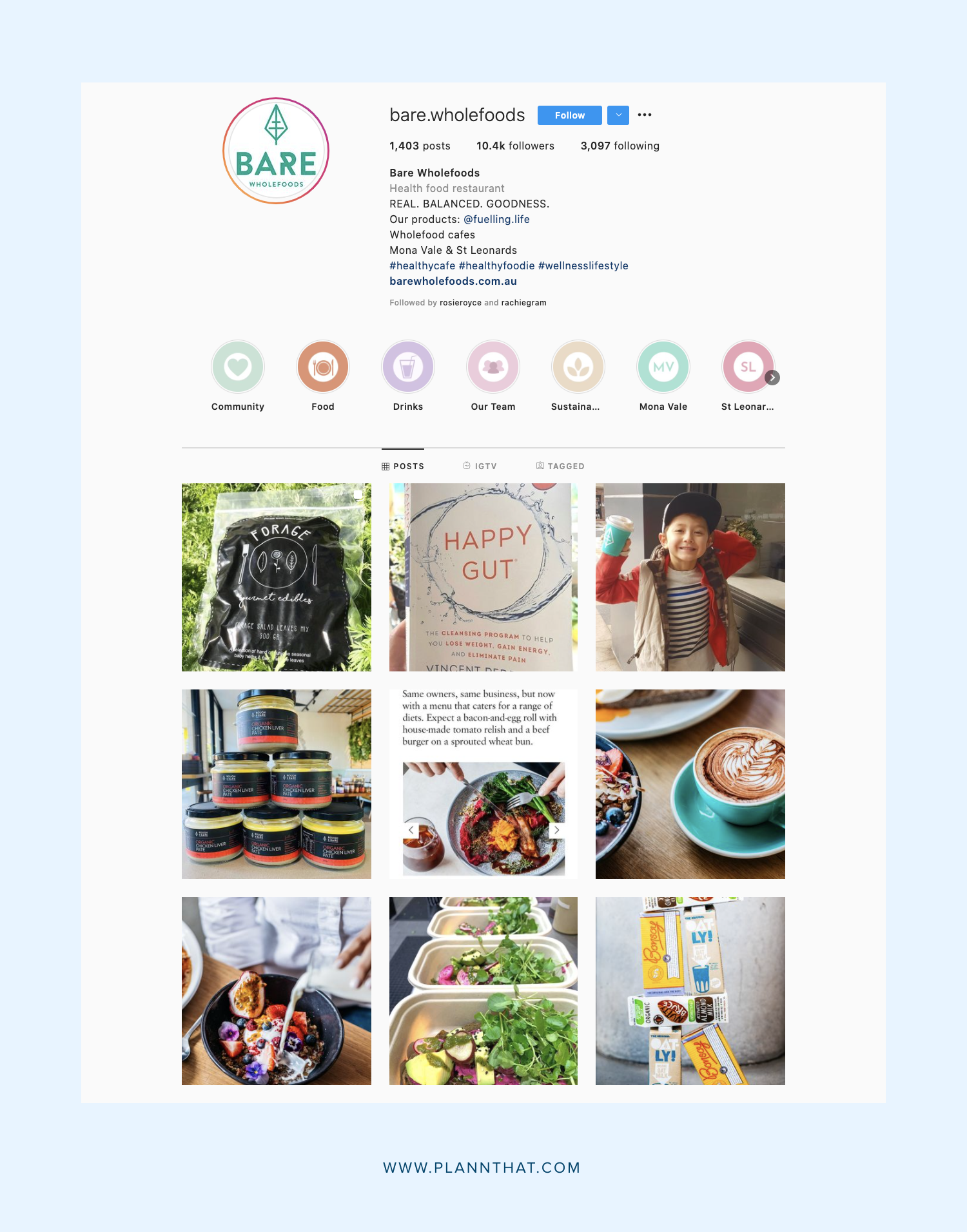 It's hard to think of a place more deserving of the term 'Instagram-worthy cafe' than Bare Wholefoods. From their bright, wholesome meals to their gorgeous decor, they've got it all going on. Another thing this account does well, and perhaps one of the things that have allowed them to crack that elusive 10,000 follower count? Highlighting their community. Whether it's sharing the stories of their regulars or reposting user-generator content, they know that the power is in their people.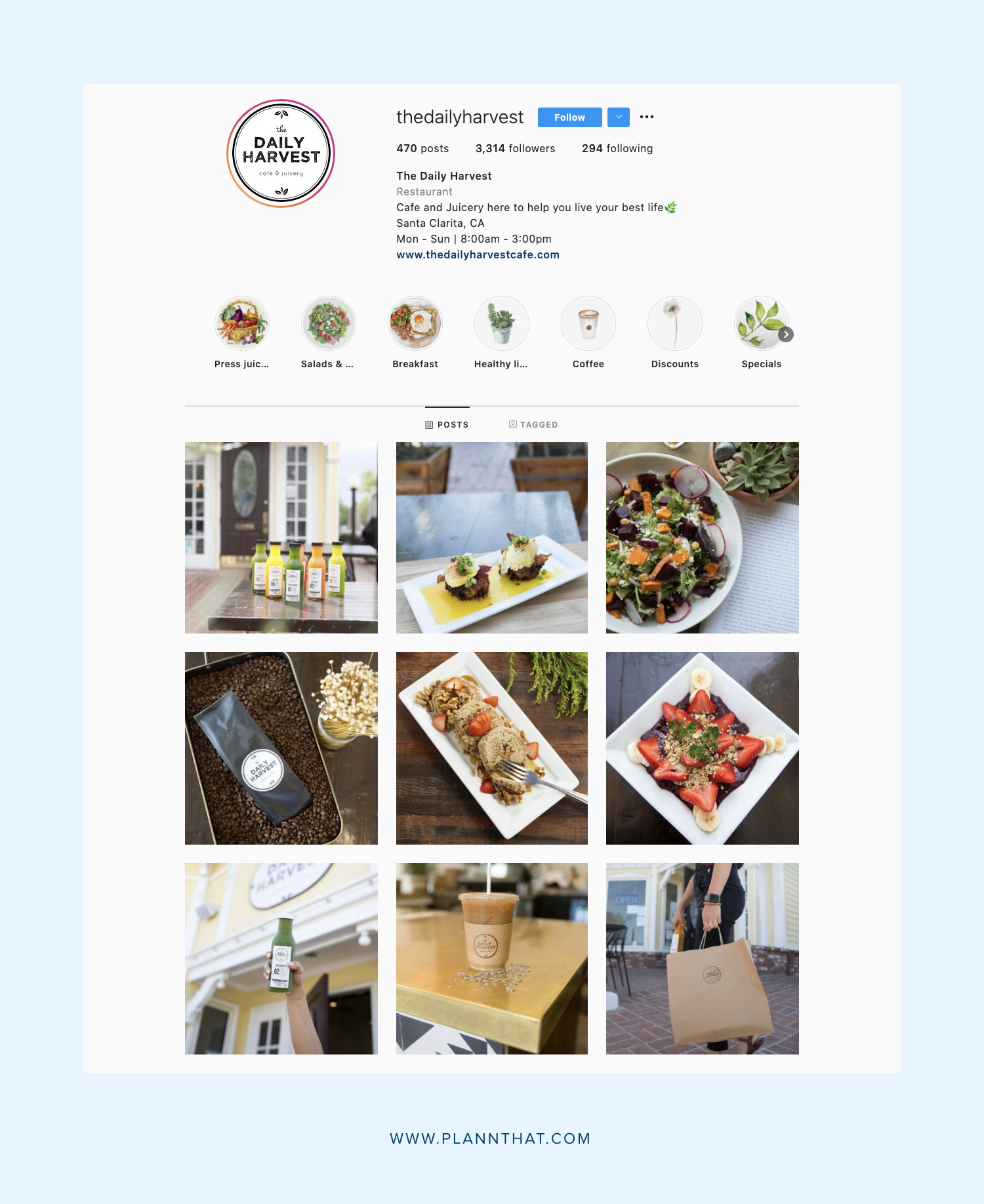 Freshly squeezed juice… brewed coffee… a healthy breakfast in the sunshine. These are some of the little pleasures in life, and The Daily Harvest's Instagram account is a homage to it. This California cafe and juicery is all about helping its customers live their best life. And, fittingly, what they do an amazing job at on their Instagram is showcasing the lifestyle of their brand. We feel healthier and happier just looking at their Instagram account!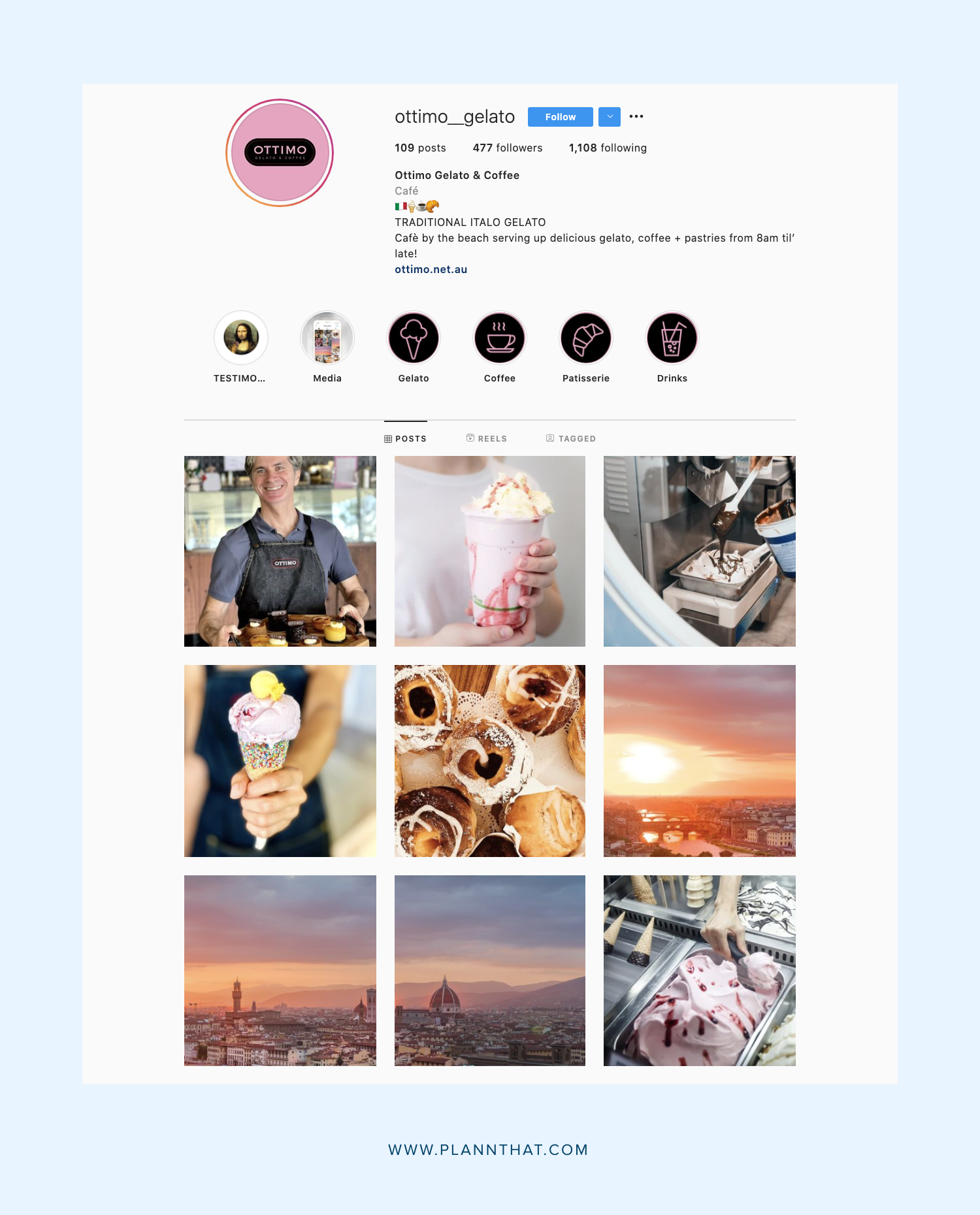 I scream, you scream, we scream for Ottimo Gelato! Of course, ice cream is always delightful to look at… but, this Aussie gelateria is easily one of those most aesthetic Instagram accounts we've seen from a food brand. They're all about serving up authentic Italian gelato in a modern, beachside location, and their feed fuses this together in the most beautiful way.  They're a great example of an account that features images of lots of different things, but are able to make it all look consistent through editing.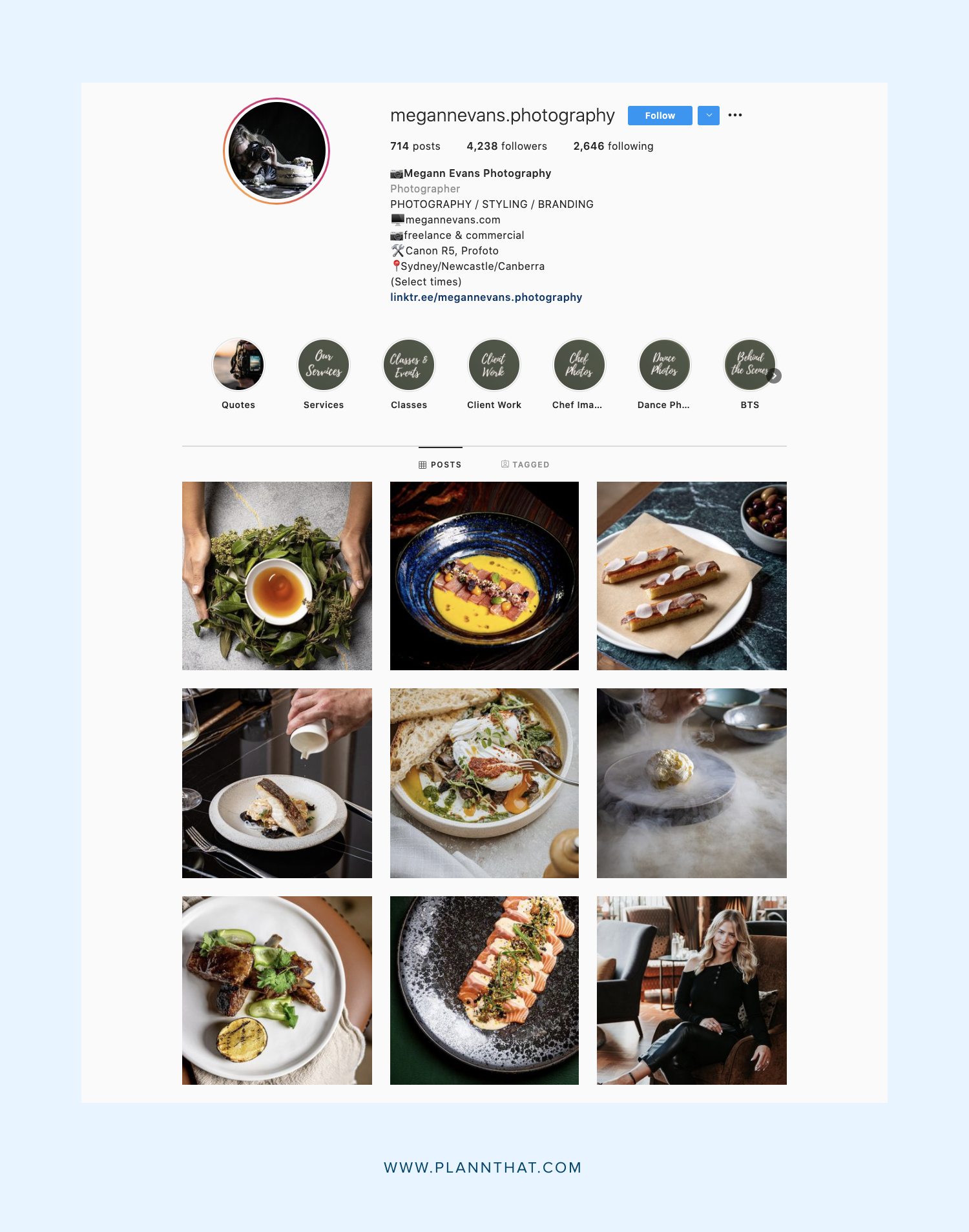 This is a different type of food and drink account, but it's well worth the follow nonetheless! Megann is a photographer, but she's also so much more than — she's a food stylist and branding expert, too. That's to say, she knows a thing or two about how to make food look incredible in photos. Not only is her feed a feast for the eyes, but she shares great, practical tips. So, if you're a hospitality business owner and marketer and want to learn to take better pics of food, give his account a follow!
Want to grow your own food and drink account to viral status? From scheduling and creation tools to content ideas specifically for hospitality businesses, Plann has the ultimate recipe for your success. Start your free trial and start brewing up some thumb-stopping content, today!